Florida's "Don't Say Gay" Bill Demonizes the LGBTQ Community
The "Don't Say Gay" bill (HB 1557/SB 1834) has passed its first Florida House Committee. This dangerous bill — sponsored by Representative Joe Harding and Senator Dennis Baxley — blocks teachers from talking about LGBTQ issues or people and undermines existing protections for LGBTQ kids in schools.
This legislation is meant to stigmatize LGBTQ people, isolate LGBTQ kids, and make teachers fearful of providing a safe, inclusive classroom. The existence of LGBTQ students and parents is not a taboo topic that has to be regulated by the Florida Legislature.
HB 1557 only has one committee left in the House of Representatives before it moves to the floor for a full vote.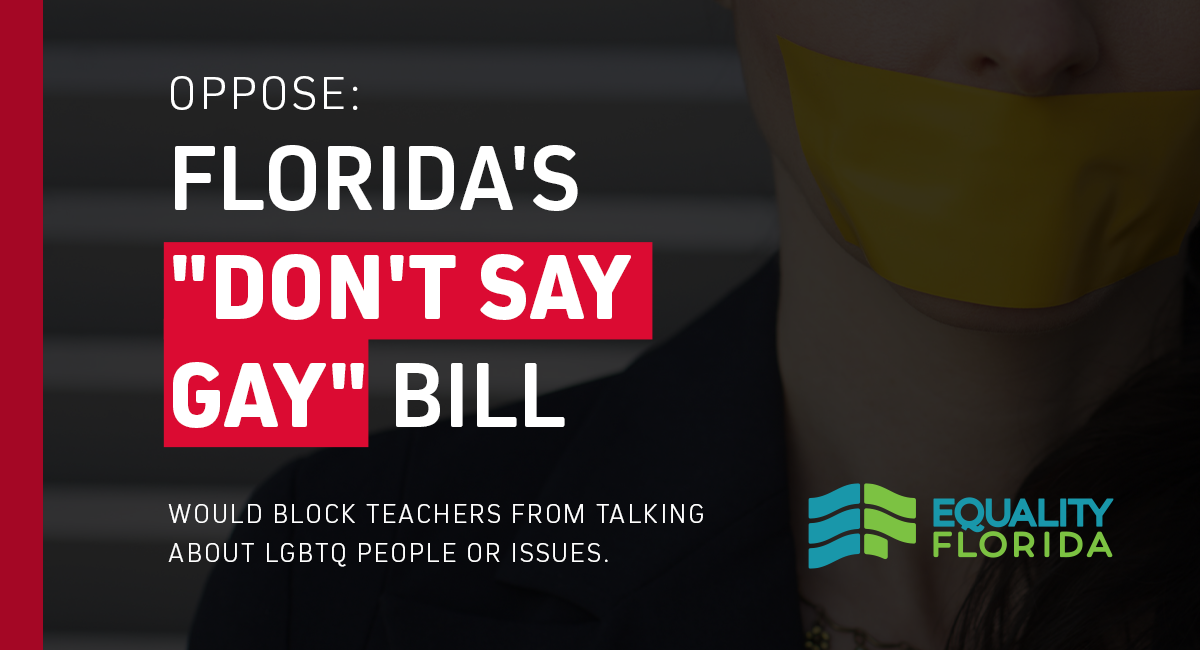 Governor Ron DeSantis has publicly called for putting cameras and microphones into classrooms to monitor teachers. He wants more surveillance in every part of our lives — empowering legislators to police classrooms, doctor's offices, the workplace. This isn't freedom, and it certainly doesn't make us safer.
"LGBTQ people are a normal, healthy part of society. We are parents, students, and teachers. We are your family... This bill is about erasing our existence."
- Jon Harris Maurer, Public Policy Director
This is just another way for Governor DeSantis to score political points with extremists as he positions himself to be the GOP presidential candidate. But for our community, this bill will have devastating real-world consequences — especially for LGBTQ youth who already experience higher rates of bullying and suicide. Lawmakers should be providing more support for these students instead of trying to force LGBTQ people back into the closet by policing identity or stopping kids from talking about their same-sex parents.
It's up to us to hold Governor DeSantis and extremist bullies in the legislature accountable for attempting to demonize our community and our families.
Here's the deal: the "Don't Say Gay" bill is a part of DeSantis' surveillance state slate — a divisive and dehumanizing roster of bills that has the government interfering in our most personal decisions and seeks to ban honest conversations about race, gender identity, and sexual orientation. He's using it as a launching pad for his presidential ambitions, even if it puts our youngest and most vulnerable at risk.
We see right through his disgusting strategy and we're going to push back against these authoritarian tactics. We're going to need your help every step of the way to keep this "Don't Say Gay" bill from ever becoming a draconian law. 
Equality Florida's Virtual "Resist Anti-LGBTQ Slate" Press Conference:
What's Next? Take Action.
YOU can take action to help stop this dangerous bill by emailing Florida lawmakers. The bill's next two committees of reference are the House Judiciary Committee and Senate Education Committee.
Equality Florida Lobby Days
Join us for our annual Lobby Days and speak directly with lawmakers about issues impacting the LGBTQ community. You can attend in-person on February 7th-8th and our virtually/remotely on February 9th-11th. Learn more.