ALACHUA COUNTY TO FILE AMICUS BRIEF IN SUPPORT OF FLORIDA MARRIAGE EQUALITY LAWSUITS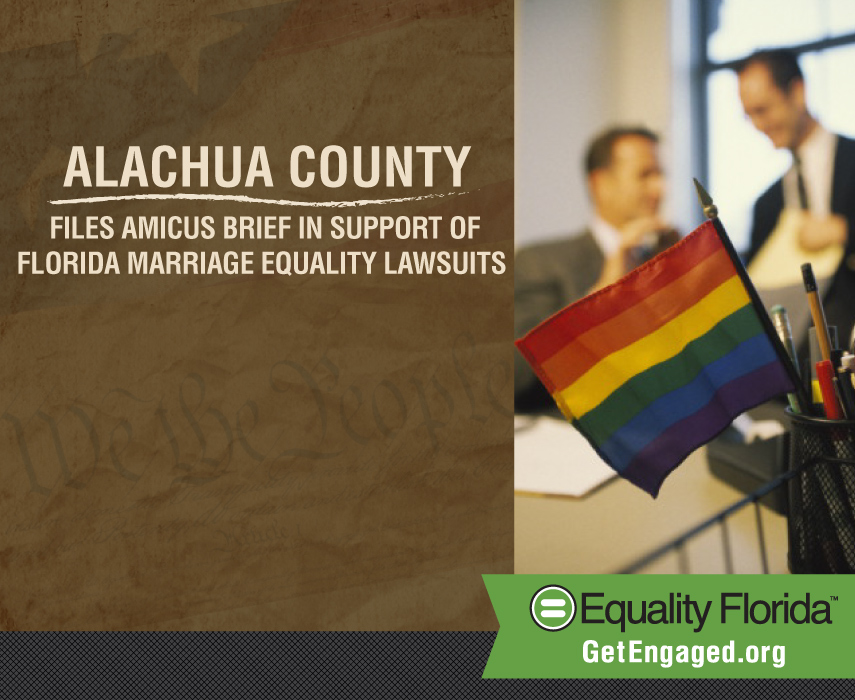 The Alachua County Board of County Commissioners has taken a public stance in favor of the freedom to marry for same-sex couples, by voting to sign on to an Amicus Brief that was drafted and filed by a growing list of local governments in all marriage equality lawsuits in Florida.
Literally translated from Latin as a "friend of the court," an amicus brief may be filed by someone who is not a party to the litigation, but who believes that the court's decision may affect its interest.
The filing of the amicus brief comes on the heels of Attorney General Pam Bondi's November 14th and November 17th appeals to Florida court judges' rulings declaring the State's ban on marriage equality unconstitutional. The amicus brief details how the ban on same-sex marriage hurts Florida's residents, harms local governments as employers, and denies Florida's taxpayers hard-earned tourism revenue.
Alachua County joins the City of Miami Beach, Broward County, Orange County, the City of Orlando, the City of Tampa, the City of St. Petersburg, the City of Gainesville, the City of Tallahassee, the City of Key West, the City of Wilton Manors and the Village of Biscayne Park in speaking in a clear and unified voice of local governments in support of marriage equality in Florida. The brief will be filed in all of the marriage cases making their way through the Florida courts.
"Equality Florida applauds Alachua County as the first North Florida county to sign on to the amicus brief in support of marriage equality," said Mallory Garner-Wells, Public Policy Director of Equality Florida. "Five Florida judges have already ruled the ban on same-sex marriage unconstitutional. With every passing day, the denial of marriage equality causes irreparable harm to our families. Once again, we call on Attorney General Bondi and Governor Scott to stop the senseless appeals."