HISTORIC: Joe Biden & Kamala Harris WIN 2020 Presidential Election
Let the celebration begin: Joe Biden and Kamala Harris have been elected the next President and Vice President of the United States!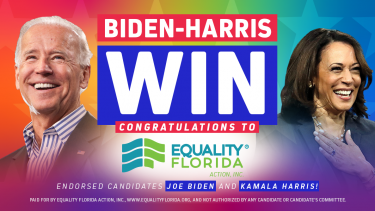 For months, you've been on the frontlines with us: calling and texting voters, donating, marching, and making sure we didn't leave a single vote on the table. Because of you, we just elected the most pro-LGBTQ presidential ticket in U.S. history!
This election cycle was a breakthrough: Together, we launched the largest, most ambitious voter mobilization program in Equality Florida's history. And even though Trump carried Florida, we forced him to divert more resources here than to any other state, draining his campaign's energy and helping propel Biden-Harris to a national victory.
You helped us build the largest election machine in our history and together we turned out more than 1 million pro-equality voters in Florida.
Here's the breakdown:
With YOUR help, we expanded our field team to 15 staff and 415 volunteers.
We sent more than 1.7 million text messages and made 467,000 live phone calls to help educate voters on how to vote safely and draw a bright line between candidates who support our families and those who'd harm us.
We also sent 650,000 pieces of mail and launched digital ads that generated nearly 18 million impressions to help get out the vote.
Simply incredible -- and we couldn't have done it without our supporters, volunteers, donors and interns!
Exhale, celebrate, and savor this moment. Because this victory is a turning point. Our work isn't done. In fact, the hard work is just beginning. It's so important that we don't get complacent and squander the opportunity for big, structural, and lasting change.
Together, we'll rebuild America into a country that protects the vulnerable, respects equality, and lives out the principles of equality and justice for all.
For a better future for ALL,
Nadine Smith
Executive Director
Equality Florida