Remember And Honor The 49 With Action
June 12 will forever be one of the hardest days for the LGBTQ community. On this day in 2016, hate walked into Pulse Nightclub in Orlando and opened fire. Forty-nine souls, guilty of nothing more than being themselves, were taken that night. Today and every day, we grieve for the futures they deserved but were robbed of.
The attack on Pulse changed how we see the fight for equality. If we are going to create a world where the next generation of LGBTQ folks are safe, we will have to uproot hatred, discrimination, and violence of all kinds in our culture.
Today, as we mark three years since Pulse, renew your commitment to honor the victims with action. Watch Equality Florida's remembrance video and use #HonorThemWithAction on social media to share what you're doing to create change and end anti-LGBTQ bigotry.
If the legacy of Pulse is going to be one of equality for all, we need your help to #HonorThemWithAction.
Every time we stand up to hate, push back against bullying, and reject violence, we are honoring the 49 victims of Pulse with action. That mantra has guided every minute of our work since 2016 and we hope you will join us in the fight. Spread the message. Share the video. Tell the world how you #HonorThemWithAction.
June 12, 2016 changed who we are as a community. Today, and every day, we honor the 49 with courage, honor them with strength, and honor them with action.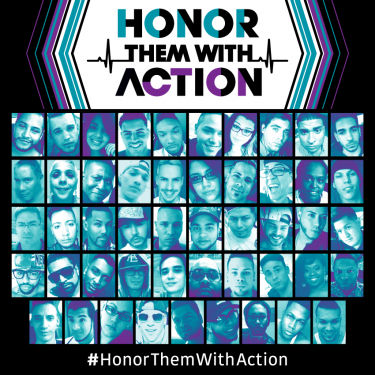 Stanley Almodovar III, 23 years old
Amanda Alvear, 25 years old
Oscar A Aracena-Montero, 26 years old
Rodolfo Ayala-Ayala, 33 years old
Antonio Davon Brown, 29 years old
Darryl Roman Burt II, 29 years old
Angel L. Candelario-Padro, 28 years old
Juan Chavez Martinez, 25 years old
Luis Daniel Conde, 39 years old
Cory James Connell, 21 years old
Tevin Eugene Crosby, 25 years old
Deonka Deidra Drayton, 32 years old
Simon Adrian Carrillo Fernandez, 31 years old
Leroy Valentin Fernandez, 25 years old
Mercedez Marisol Flores, 26 years old
Peter O. Gonzalez-Cruz, 22 years old
Juan Ramon Guerrero, 22 years old
Paul Terrell Henry, 41 years old
Frank Hernandez, 27 years old
Miguel Angel Honorato, 30 years old
Javier Jorge-Reyes, 40 years old
Jason Benjamin Josaphat, 19 years old
Eddie Jamoldroy Justice, 30 years old
Anthony Luis Laureano Disla, 25 years old
Christopher "Drew" Andrew Leinonen, 32 years old
Alejandro Barrios Martinez, 21 years old
Brenda Lee Marquez McCool, 49 years old
Gilberto Ramon Silva Menendez, 25 years old
KJ Morris, 37 years old
Akyra Monet Murray, 18 years old
Luis Omar Ocasio-Capo, 20 years old
Geraldo A. Ortiz-Jimenez, 25 years old
Eric Ivan Ortiz-Rivera, 36 years old
Joel Rayon Paniagua, 32 years old
Jean Carlos Mendez Perez, 35 years old
Enrique L. Rios, Jr., 25 years old
Jean C. Nives Rodriguez, 27 years old
Xavier Emmanuel Serrano Rosado, 35 years old
Christopher Joseph Sanfeliz, 24 years old
Yilmary Rodriguez Solivan, 24 years old
Edward Sotomayor Jr., 34 years old
Shane Evan Tomlinson, 33 years old
Martin Benitez Torres, 33 years old
Jonathan Antonio Camuy Vega, 24 years old
Juan P. Rivera Velazquez, 37 years old
Luis S. Vielma, 22 years old
Franky Jimmy Dejesus Velazquez, 50 years old
Luis Daniel Lestat Wilson-Leon, 37 years old
Jerald "Jerry" Arthur Wright, 31 years old