BREAKING: Governor Rick Scott Allows Appeal of Recent Marriage Ruling!
Appeal filed to U.S. District Judge Robert Hinkle's ruling
declaring Florida's Marriage Ban Unconstitutional: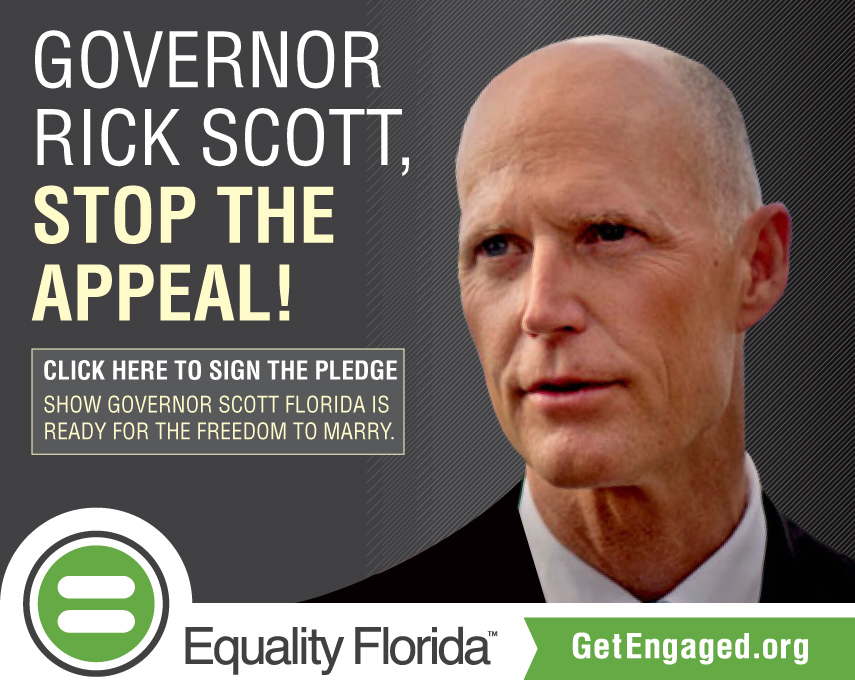 Background: Late this afternoon Florida Attorney General's office filed the appeal on behalf of three defendants - a clerk of court along with two Rick Scott employees who serve at his pleasure - Craig J. Nichols, Florida's Secretary of Management Services and John H. Armstrong, Florida's Surgeon General.
"Make no mistake, the responsibility for today's appeal belongs to Gov. Scott. This appeal would not be moving forward without his full support.
The Governor's continued strategy of trying to hide behind the attorney general and even his own employees is a shameful display of election year cowardice.
The responsibility is his and so is the remedy. Gov. Scott can still use the power of his office and call for an end to the these costly and hopeless appeals and allow Florida's ban on marriage equality to end this month.
If Gov. Scott insists continuing his crusade to keep people who love each other from marrying, he should stop mumbling and hiding and take full responsibility for the continued suffering the ban inflicts every day it remains in place.
Four years ago this month, then Gov. Charlie Crist faced a nearly identical scenario when an appeals court declared Florida's notorious ban on adoption by gay and lesbian people unconstitutional. Crist showed true leadership, responding the same day by publicly embracing the decision, calling for an immediate end to the ban and paving the way for thousands of prospective parents to begin adopting the children they loved.
We call on Governor Scott to stop these senseless appeals which if withdrawn would allow the marriage ban to fall on September 22, the 4 year anniversary of the day the adoption ban ended.
It's time to allow loving and committed same-sex couples to marry in the state they call home."
- Stratton Pollitzer, Deputy Director, Equality Florida
TAKE ACTION: Show Governor Scott you hold him responsible for delaying marriage equality. Sign the pledge and call on him to end the appeal now by clicking here!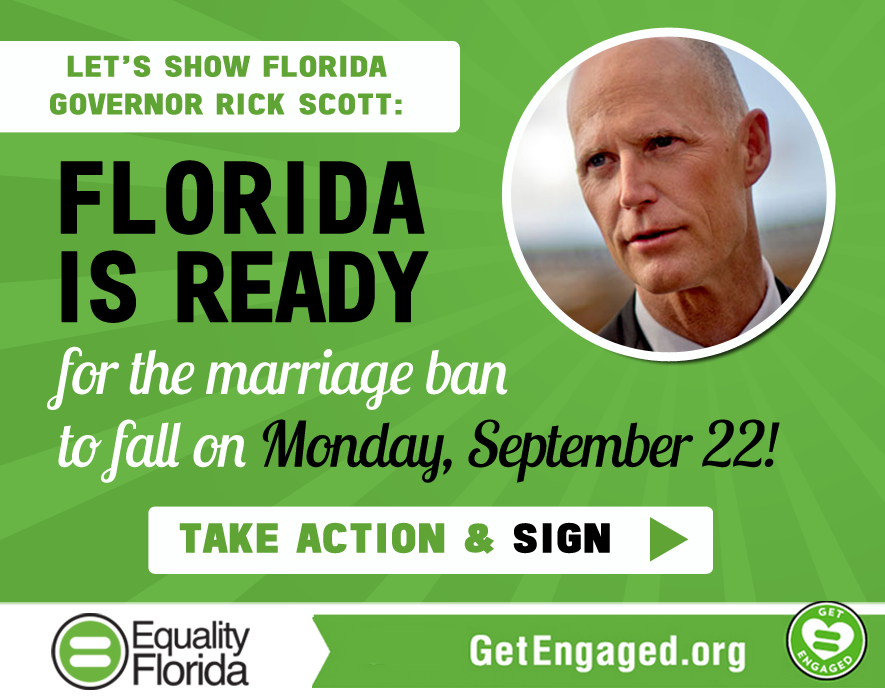 LINKS: 
1. To read the motion to appeal, click here.