Equality Florida's Statement on The Inauguration of Biden-Harris Administration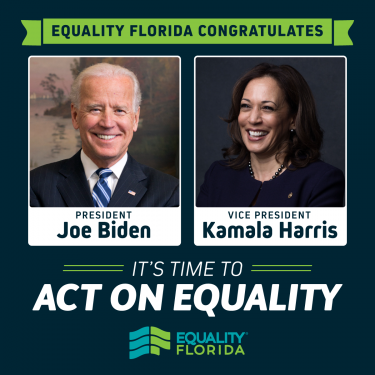 Statement on the Inauguration of the Biden-Harris Administration from Equality Florida's Executive Director, Nadine Smith:
'There's no doubt that the Trump Administration was catastrophic for the LGBTQ community, with our transgender siblings taking the brunt of the assault. That the new administration has promised to address racial inequity head on and advance the most pro-LGBTQ slate of policies in US history is cause for optimism.
President-elect Biden has called transgender rights the "civil rights issue of our time". He has recognized the epidemic of anti-trans violence and has promised to roll back damaging Trump era discrimination including the ban on transgender military service members. He has promised to take on the broken criminal justice system, immigration reform, and gun safety, issues that disproportionately impact LGBTQ Americans. He has also said that implementing the Supreme Court's Bostock ruling across federal agencies and codifying nondiscrimination protections by passing the Equality Act will be among his first priorities.
Now is the time for the LGBTQ community to celebrate the end of an Administration determined to undermine our safety and well-being, find joy in a renewed focus on equality, and commit ourselves to the work of ensuring the Biden-Harris Administration and leaders in Congress make good on their promises.'