The Year For LGBTQ Equality Is Here
Last week, we witnessed in shock and horror as Trump supporters violently attacked the U.S. Capitol in an attempt to dismantle our democratic process. A police officer was murdered and dozens more were hospitalized before Congressional leaders, their staff, and the Vice President were finally safe.
This treasonous display of violence stands in stark contrast to the historic voter mobilization in Georgia that led to Rev. Raphael Warnock and Jon Ossoff's victories - securing pro-equality majorities in both the U.S. Senate and House. That contrast represents the choice our nation must make: fear or equity, rage or love, the worst and the best our country can be. We won't let hate win. We're committed to building an America that works for all of us.
Last year we faced anti-LGBTQ legislation that would have eroded our basic rights, stripped our health care, and left us more vulnerable in the midst of a global pandemic - all while hate violence continued to spike across the country. We defeated those efforts. And that's what I'll remember most about 2020... not the challenges themselves but HOW we faced them: together.
Even in the darkest hours of hate and discrimination, Equality Florida's supporters, volunteers, donors and staff proved that love really does conquer all. We defeated every single anti-LGBTQ bill last legislative session and elected pro-equality champions to all levels of government - including the first out Black LGBTQ state lawmakers to the Florida Legislature. And, in just a few days the most pro-LGBTQ U.S. Presidential administration in history will be sworn into office. Now, it's time to build on these victories and create real, lasting change for our community!
In 2021 we have the opportunity to finally pass state and federal LGBTQ nondiscrimination protections. Take Action.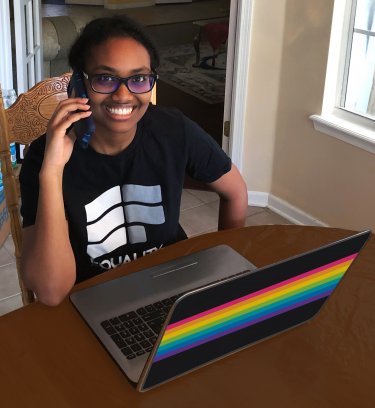 This year, we have the chance to not only undo the harm caused by the Trump administration but pass historic federal legislation protecting our community from anti-LGBTQ discrimination.
We're also gearing up for the 2021 Florida Legislative Session. Last year, our statewide LGBTQ nondiscrimination bill was the MOST co-sponsored bill. But Republican leadership refused to let the bill be heard or voted on by lawmakers. We need your help to keep the pressure on our elected officials and remind them constituents will hold them accountable. By joining our virtual Lobby Days team, supporters will have a chance to speak directly with their Florida state legislators about the need for LGBTQ protections and other issues important to our community.
We've been through so much together over the last year. Let's make 2021 the year of long-lasting, meaningful change for LGBTQ equality in Florida - and across the country.
For Equality,
Nadine Smith
Executive Director
Equality Florida