LGBTQ Health Equity
LGBTQ patients face serious barriers to care, with over 70% of transgender people and nearly 56% of LGB people reporting experiences of serious healthcare discrimination; in the midst of the COVID-19 pandemic, these barriers have been significantly heightened, particularly for LGBTQ patients of color.
To combat systemic inequities in healthcare, we officially launched our LGBTQ Health Equity Program in 2021. Through our partnerships with health care systems, we fill a major gap in the cultural competency of medical professionals; medical training in the United States typically provides no more than five hours devoted to an understanding of the unique needs of LGBTQ patients. This cultural incompetence communicates a message of exclusion to LGBTQ patients, from intake forms to inadequate disease screenings, missed diagnoses, and inappropriate care. By educating medical professionals on the needs of LGBTQ patients, we can ensure that LGBTQ patients receive proper diagnostic screenings, earlier diagnoses, and treatments, especially for diseases that disproportionately impact the LGBTQ community, such as cancer and HIV.
LGBTQ people of color, transgender and nonbinary people, youth, seniors, and all LGBTQ people people living at the intersection of multiple identities face some of the highest risks associated with COVID-19. Discrimination and stigma by employers leads to lack of financial stability, lack of insurance, and lack of access to preventative health measures and early detection. LGBTQ people face higher risks of immunocompromisation and chronic illness, and access to inclusive healthcare is lifesaving and urgent during the pandemic and beyond.
Fights for LGBTQ Care:
AHCA/Medicaid
The Agency for Health Care Administration enacted a rule in August 2022 that barred transgender adults and children from receiving Medicaid coverage for gender-affirming care. This affected the nearly 9,000 transgender individuals on Medicaid, including those who depend on this coverage for their lifesaving gender-affirming care. Equality Florida worked quickly to convene healthcare providers, advocates, and partners to mobilize around the AHCA ruling when it was initially proposed. We helped empower our network of providers to advocate on behalf of their trans patients in public spaces. Our team has continued to follow this since its passage, assessing the landscape for patients on Medicaid and working with providers to find innovative solutions so trans folks can get the care they need.
Monkeypox/Meningitis
In 2022, the Centers for Disease Control and Prevention and the Florida Department of Health discovered outbreaks of meningococcal disease and monkeypox in Florida. Both of these outbreaks have disproportionately affected gay, bisexual, and mex who have sex with men. Equality Florida has been one of the most proactive leaders statewide to address monkeypox. We have been tracking the outbreaks since they were first identified. After Florida's first monkeypox cases were discovered, we received an influx of questions and concerns from community members, partner organizations, and staff and began fielding those questions using all of the latest information we could find. Our first step was to hold a statewide virtual town hall to inform the LGBTQ community about the outbreaks. This live stream was viewed on Facebook by over 800 people in six weeks, demonstrating its effectiveness as well as the desire for public education.
Gender-Affirming Care
Equality Florida has been committed to fighting for access to gender-affirming care in Florida, especially for trans and non-binary youth. The Florida Department of Health, Surgeon General, AHCA, and the Board of Medicine have all published statements, reports, and/or policies spreading misinformation about gender-affirming care. We have worked to mobilize our provider network and partners to speak out on behalf of trans kids and dispel falsehoods. When the Board of Medicine moved forward with the Surgeon General's recommendation of restricting gender-affirming care for minors, we quickly responded, whether that be providing testimony at their meetings or speaking with our providers to learn how this would affect their practices. We recognize that gender-affirming care is lifesaving care, and that access to care for trans folks is a health equity problem we all need to combat.
Please email [email protected] to inquire about getting your practice or healthcare system involved in making healthcare more LGBTQ inclusive!
Trainings and Services We Offer:
LGBTQ Basics and Terminology Trainings
Affirming Care Trainings
Policy Audits and Recommendations
Consultations on Best Practices
Meet Our Team: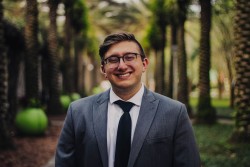 Andrew Lent (he/him)
Health Equity Manager
[email protected]
Andrew Lent is Equality Florida's Health Equity Manager. In this role, Andrew builds partnerships with healthcare organizations to increase LGBTQ+ cultural competence and inclusion in healthcare systems through training programs.
Most recently, Andrew was an Advocacy Intern at AARP Florida, assisting during the Florida legislative session and conducting outreach to help create a more age-friendly Florida. Before that, he did street outreach with those experiencing homelessness in the Tampa Bay area, providing resources, health referrals, and support for those in need.
Andrew holds a Master of Public Health degree, with a concentration in health policies and programs, and a Bachelor of Science in Public Health from the University of South Florida. He currently sits on the Jacksonville Mayo Clinic's Center for Health Equity and Community Engagement Research's Community Research Advisory Board. Andrew aims to utilize his public health background and advocacy experience to help lessen health disparities among LGBTQ+ Floridians.
Links and Resources:
LGBTQ Affirming Care Series:
Elder Care:
Youth Care:
HIV Care: