At Equality Florida, we take pride in the rich tapestry of talents and backgrounds within our team who work passionately to make our mission a reality. We invite you to get to know the passionate individuals behind the scenes and at the forefront of our work, each bringing unique perspectives, skills, and experiences to secure full equality for Florida's LGBTQ Community.
Our team thrives in their departments; the Executive team provides vision, Development secures resources, Communications amplifies our message, Operations ensures efficiency, and Field fosters community ties. The Grants department secures vital funding, Finance ensures transparent resource allocation, and our Legacy Society honors enduring generosity.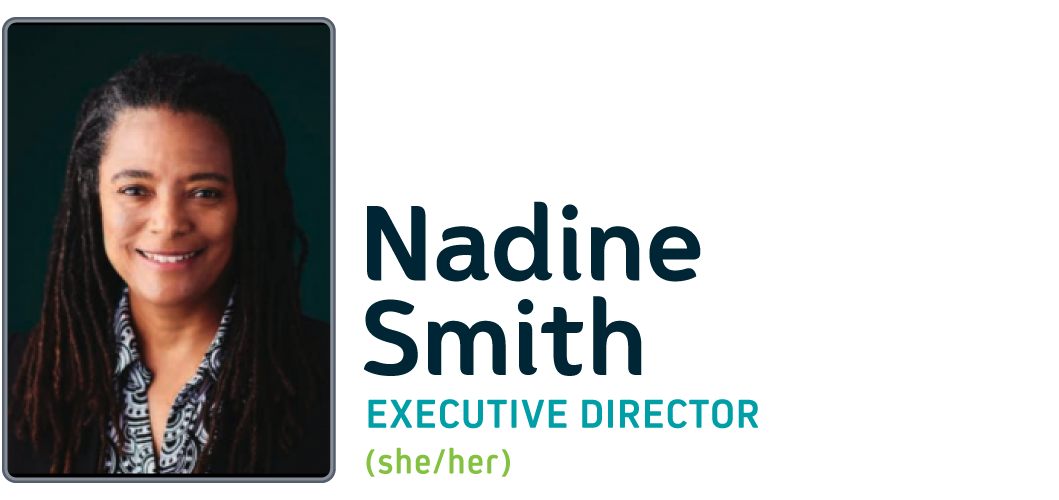 Nadine Smith is the Executive Director of Equality Florida, the state's largest organization dedicated to ending discrimination based on sexual orientation and gender identity. In 2022, she was named to the Time100, TIME's annual list of the 100 most influential people in the world
An award-winning journalist turned organizer, Nadine was one of four national co-chairs of the 1993 March on Washington. She was part of the historic meeting between then - President Clinton - the first Oval Office meeting between a sitting President and LGBTQ community leaders. She served on the founding board of the International Gay and Lesbian Youth Organization.
She is a Florida Chamber Foundation Trustee and served on President Obama's National Finance Committee.
Nadine has been named one of the state's "Most Powerful and Influential Women" by the Florida Diversity Council. She has received the League of Women Voters' Woman of Distinction Award, in 2018 was named one of the 100 Most Influential Floridians by Influence Magazine. She currently serves as chair of the U.S. Commission on Civil Rights Florida Advisory Committee.
She lives in St. Petersburg with her wife Andrea and son Logan.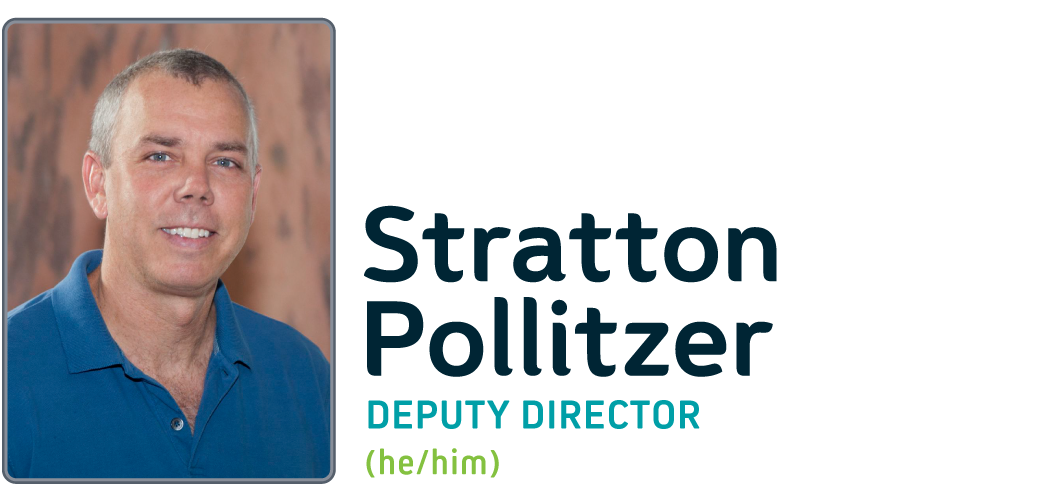 Stratton is the Co-Founder and Deputy Director of Equality Florida and has co-led the organization since its inception in 1997. Recognized nationally as an expert in LGBTQ nonprofit development, Stratton pioneered programs that grew Equality Florida from one of the first LGBTQ groups in the South into the largest LGBTQ state-based advocacy group in the country. A former Montessori school principal and 4th generation educator, Stratton oversees Equality Florida's Safe and Healthy Schools project, the largest LGBTQ safe schools program in any state in US history, which has trained over 40,000 principals, counselors and teachers from all 67 Florida school districts. A political science graduate of Emory University, Stratton is the recipient of the Harvey Milk Honors Medal. Stratton and his husband Christopher are the fathers of twins, Benjamin and Sarah, who are six months older than Equality Florida.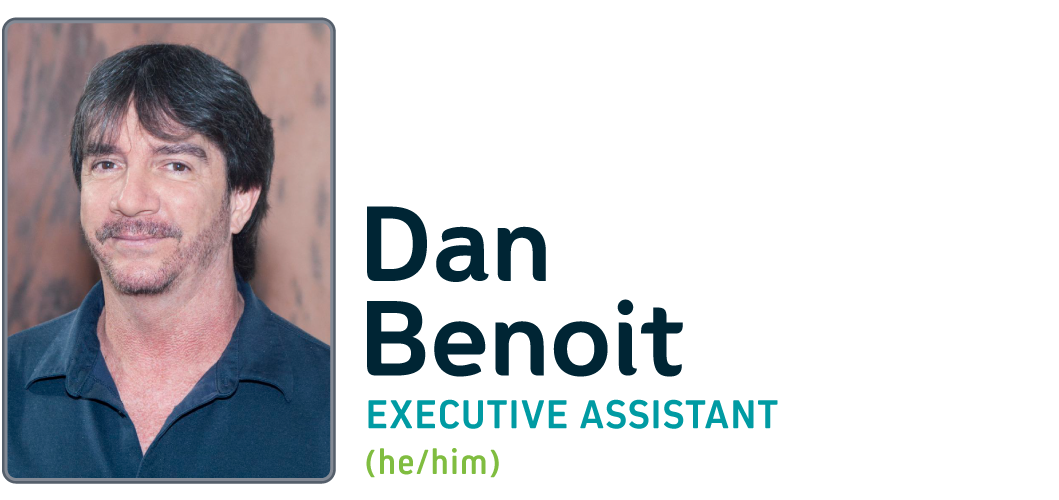 Dan Benoit joined the Equality Florida team as a volunteer in 2005, helping out in the Tampa Bay area with anything that was needed. After two years of volunteer service, he joined the team as our Administrative Assistant. He quickly organized our general office procedures and handled all incoming corporate calls, emails, direct mail and corporate deposits. Shortly after taking over those administrative functions, he added on the responsibility of coordinating many of the final gala logistical pieces across the state and attending in-person the Tampa Bay events to oversee those gala logistics. He also handled many of the large mailers across the state and continues to coordinate all of our event insurance contracts.
In 2012, Dan was promoted to Executive Assistant. In addition to his existing administrative duties, he added on the responsibility of managing our CEO's travel itinerary, work calendar, meeting schedule and any other needed logistical items. He also works closely with accounting to manage her expense reimbursements and our corporate credit cards.
Prior to joining the Equality Florida team, Dan managed his own pet store in New Hampshire for several years, then eventually become the owner. Prior to that enterprise, he obtained over 20 years of experience in the retail management industry. Dan's varied experiences and entrepreneurial personality has made him a valuable member of our core operations.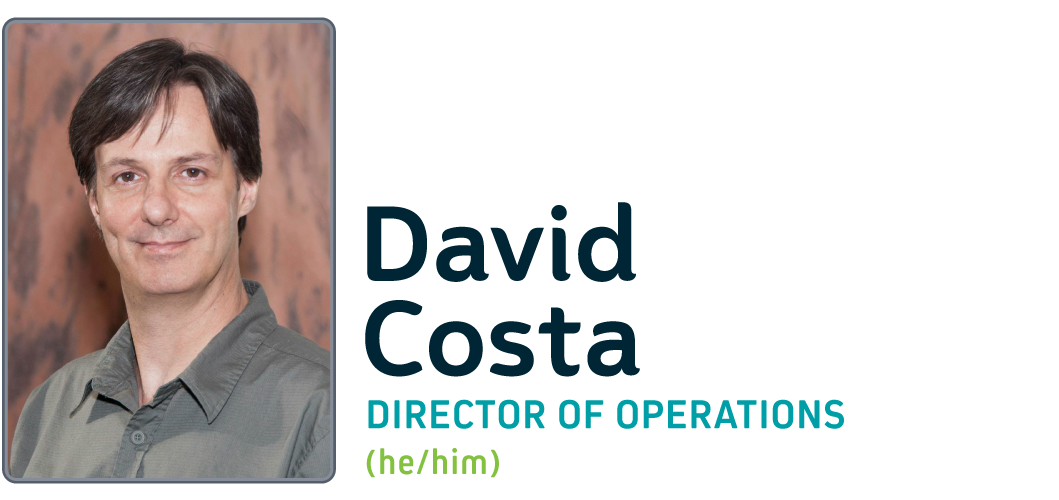 David Costa has been a part of Equality Florida since 2003, starting as a full time contractor and then moving into a full time staff position. Over the years he has worked closely with every department and is currently our Director of Operations. He directly manages our Database Team and our Communications Department. He also oversees the project management aspects of our annual plan, core goals and special projects.
David came to Equality Florida with over 20 years of experience in the private sector, mainly focused in Human Resources. His work with several professional employer organizations gave him exposure to thousands of corporations and their infrastructure models. These experiences have made him an invaluable resource as Equality Florida continually adapts and changes its technology tools and organizational structure to meet current trends and rapid growth.
David graduated with top honors from Florida State University College of Law in 1995, with course work completed oversees at Oxford University. While in law school, he focused on corporate and employment law. He also served simultaneously as Editor in Chief of the Journal of Transnational Law & Policy, Managing Editor of the Journal of Land Use & Environmental Law and Writing & Research Editor of the Florida State University Law Review.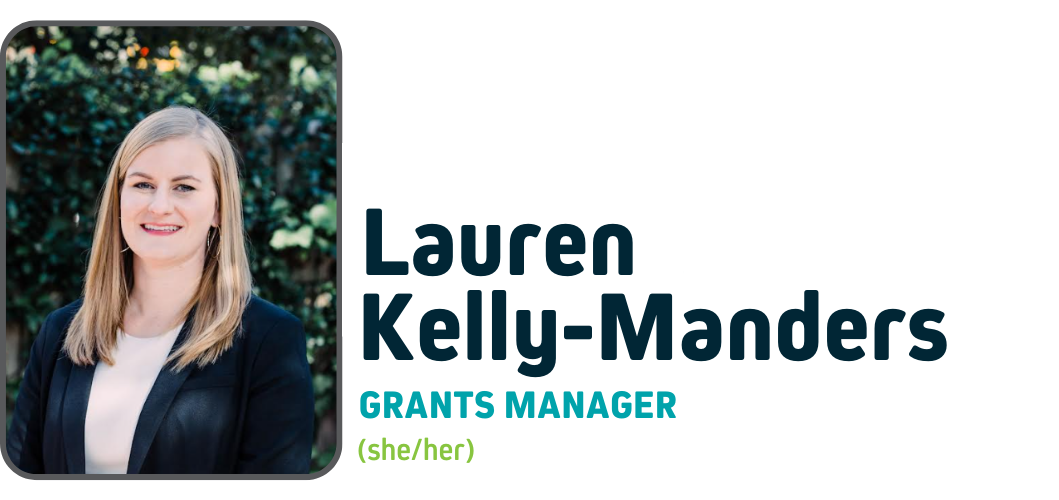 A longtime Tallahassee steering committee member, Lauren Kelly-Manders is a native Floridian who is excited to continue her path of service to the LGBTQ+ community as Grants Manager.
Lauren has eight years of combined experience in higher education program management at the FSU College of Law and in grants administration in FSU's Office of Research during two years of record-breaking research funding. Before joining Equality Florida, Lauren served as the Director of Institutional Giving for the Florida State Parks Foundation, the non-profit organization supporting Florida's nationally recognized, award-winning state parks system.
She is a founding member and the immediate past chair of Mayor John Dailey's LGBTQ+ Advisory Council and is deeply committed to racial and social equity. She sits on the board of Tallahassee Pride and co-chairs the United Partners for Human Services' LGBTQ+ Task Force.
Outside of volunteering, Lauren takes advantage of local bike paths and running trails and loves to spend time reading, gardening, learning about native plants, and photographing landscapes and wildlife. Lauren is a two-time alumna of Florida State University with degrees in Criminology and Education Policy. She resides in Tallahassee with her wife, Rebecca.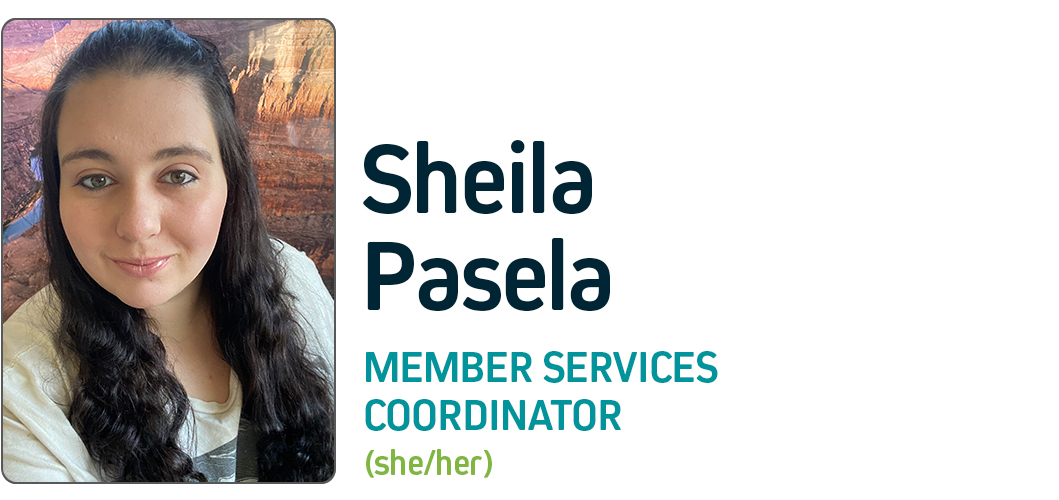 Sheila Pasela is the Member Services Coordinator. She has been with the company since 2020. Sheila helps with any of the incoming donations, thank you letters, updating records, & any questions donors may have a concern about with their donations.
Before joining the Equality Florida team, Sheila worked as a Certified Nursing Assistant for Nursing homes & Home Health facilities. Outside of work she lives with her husband and two children. A huge animal lover. She enjoys being outdoors, trying new places to go, reading, cooking especially seafood, spending time with her family & animals.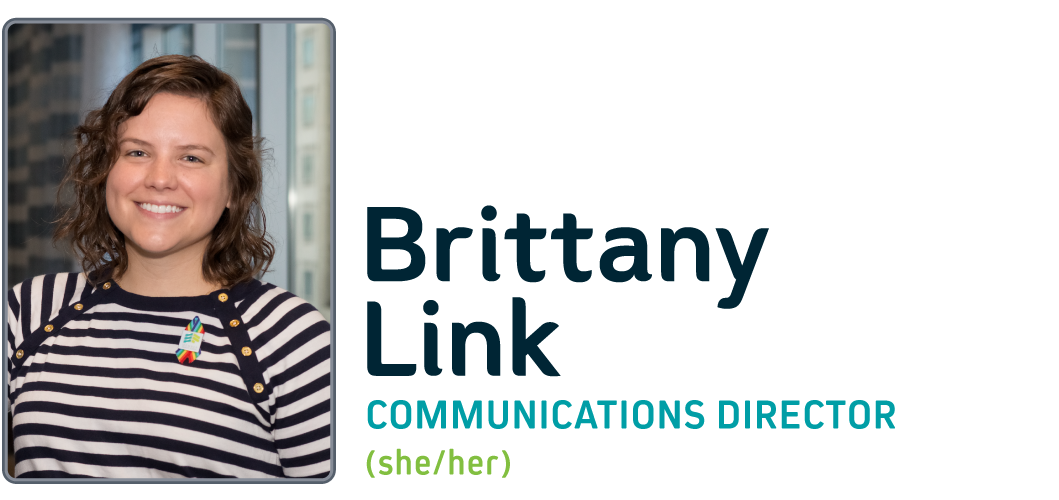 Brittany is Equality Florida's Director of Communications and has been with the organization since 2012.
Brittany is responsible for leading the communications department — including developing and implementing strategies that tell the story of Equality Florida's work in a clear and concise way, amplifying voices to change hearts and minds, and building relationships online and offline to help grow the movement. She works closely with the Press Secretary and Communications Associate to craft messaging and set the strategy for educating and activating Equality Florida supporters and the general public.
Brittany is a graduate of the University of Florida and holds a Master's Degree in Political Science with a concentration in Political Campaigning. She is also a graduate of Kennesaw State University and holds a Bachelor's Degree in Political Science with a concentration in Government and Professional Politics.
She currently resides in Athens, GA with her partner Kellie and their two pups, Kira and Zuko, and kitten, Biscuit. Outside of work, all four can usually be found hiking the beautiful trails North Georgia has to offer.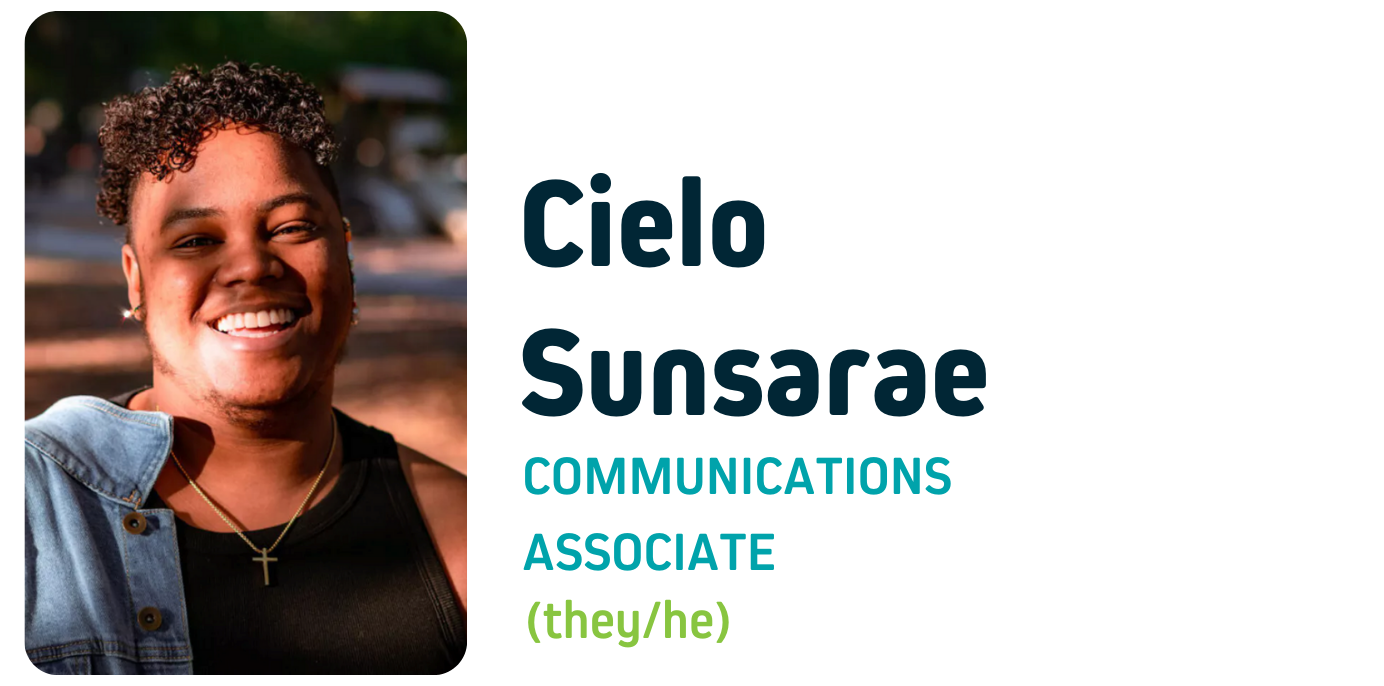 Cielo began as a volunteer in Spring 2021, working his way up from an Equality Captain and Field fellow, and is Equality Florida's Communications Associate.
Cielo is a Non-Binary LGBTQ+ Activist, Sexuality Educator, and an established champion for BIPOC and LGBTQ+ equality. He employs an intersectional lens to advocacy work with his passion for the LGBTQ community, people of color, and people with disabilities.
Cielo is a graduate of the University of North Florida and holds a Bachelor's Degree in Psychology with a minor in Leadership. He has been named one of eighteen "influential LGBTQIA+ people of the Black diaspora" by the University of North Florida LGBTQ Center, received the Youth Voice For Equality Award in 2021, and is among the UNF Top 50 LGBTQ+ Leaders. In April 2023, they were awarded The "Louis Mitchell Foundation Award for Empowerment'' award, which acknowledges those who increase spiritual, political, or social strength through service, personal encouragement, and availability to the Black Trans Community. Most recently,  they've been nominated for LGBTQ Nation's Hero Who Lent a Helping Hand Award.
Cielo is also the Founder and Executive Director of The Queer Trans Project, a national LGBT+ organization. He is a Content Creator and uses his Tiktok platform of 80K+ followers to shed light on issues impacting the Black, Trans, Fat, Queer, and Disabled communities.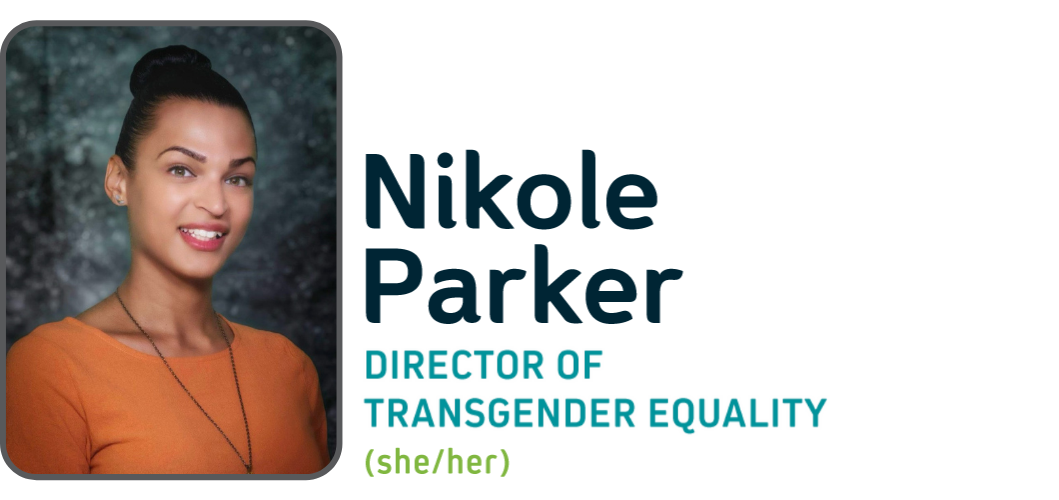 Nikole Parker is an Orlando native of Black, Puerto Rican & Italian descent. At the age of 19 she left her job and childhood home to begin her journey to living authentically. After 3 years of black-market hormones and unsafe lifestyle practices, she came back to Orlando to begin her next chapter. Nikole's passion is advocating for human rights, protections for all and the importance of everyone having a seat at the table.
Nikole is the Director of Transgender Equality at Equality Florida. Nikole is also the Co-Founder and Director of Operations for the Gender Advancement Project (GAP) and sits on the board of The Center Orlando.
She sat on various non-profit board of directors &/or advisory councils including the onePULSE Foundation Memorial Task Force, Orlando United Assistance Center, Contigo Fund, Spektrum Health, Peer Support Space, Orlando Trans Collective and the Central Florida LGBTQ+ Relief Fund. Nikole was also recognized as one of Watermark's Most Remarkable People of 2018. Nikole was honored with the Humanitarian of the Year award that same year. In 2019, Nikole was nationally recognized by Congressman Darren Soto in honor of LGBTQ+ Pride Month and her biography was read into the Congressional Record.
Through advocacy Nikole hopes to encourage open dialogue on gender issues, state and federal protections for all and linkage to proper transitioning resources. Her hope is to teach people that the black-market way of transitioning isn't the only way.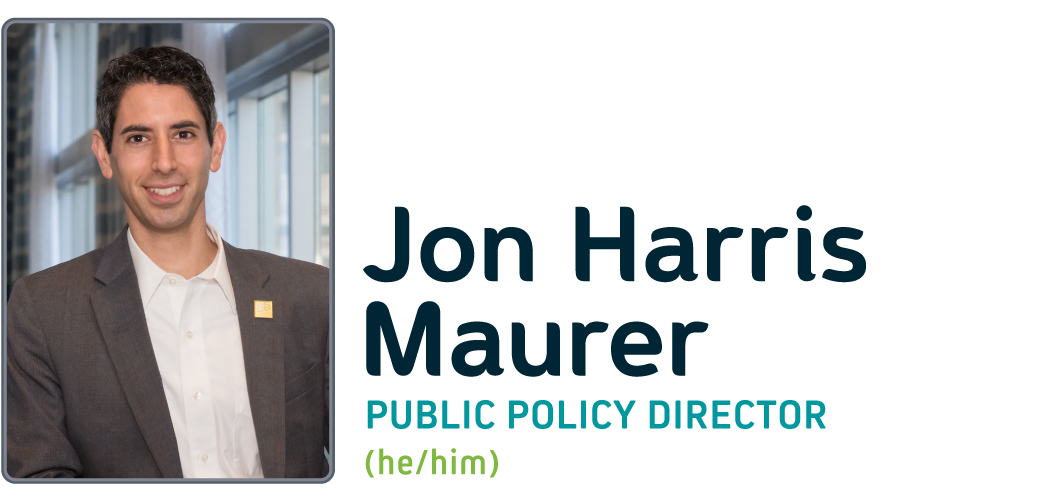 Strategically positioned in downtown Tallahassee, Jon Harris Maurer literally keeps an eye on the Florida Capitol as Equality Florida's Public Policy Director. He previously served as Equality Florida's Government Affairs Manager and in nearly every volunteer role from petition signature gatherer to Statewide Board Co-Chair.
A Fort Lauderdale native, Jon Harris moved to Texas to attend Rice University. He later served as a legislative aide in the Texas House of Representatives and then worked on the Annise Parker for Mayor campaign in Houston, which successfully elected the first openly lesbian mayor of a major American city. While in law school at Florida State University, he worked as a policy intern for the Florida House of Representatives State Affairs Committee and served as Editor-in-Chief of the Law Review. He then spent more than five years in private practice at a boutique environmental and administrative law firm, honing his skills in legislative analysis, compliance counseling, and advocacy.
Outside of Equality Florida, Jon Harris devotes time to various professional organizations and recently participated in Leadership Florida – Connect Class VIII. He volunteers with Children's Home Society and can be found playing volleyball with the Tallahassee Gay Athletic Association or watching Golden Girls reruns with his spouse Nate and their dog Pascal.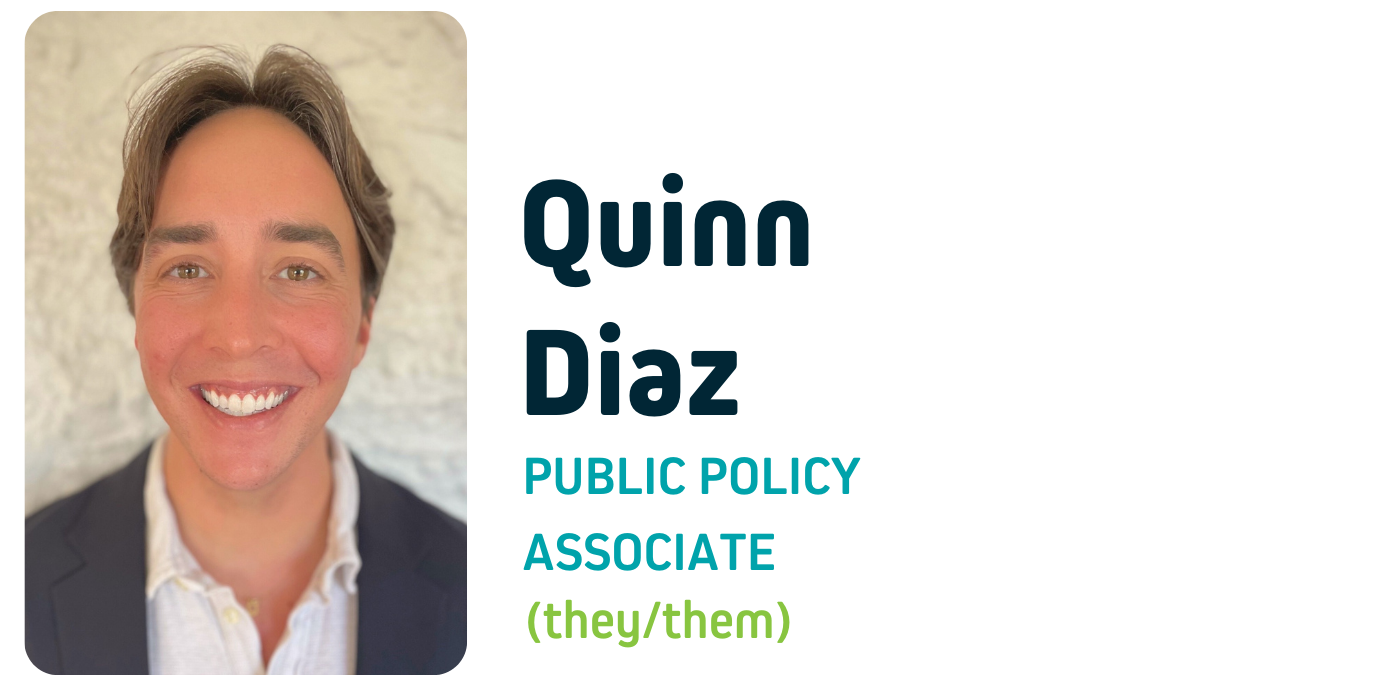 Quinn Diaz is the Public Policy Associate for Equality Florida.
Before joining Equality Florida, Quinn worked as the primary strategist for statewide police reform initiatives at the ACLU of Florida and supported grantmaking programming to Black- and brown-led community-based organizations working to reduce the role of police in their communities.
Prior to relocating to Florida, Quinn worked for seven years in the Massachusetts state legislature. As a legislative aide in the House of Representatives, Quinn focused on harm reduction and drug law reform, reducing mass incarceration, and expanding access to higher education for students with intellectual and developmental disabilities. In their Senate role, Quinn directed communications, district affairs, and outreach for the Senate President Pro Tempore, while specializing in criminal legal reform, strategies to reduce opioid-related overdose deaths, data privacy, and traffic safety. Quinn also served as Chair of the LGBTQ+ Staff Caucus and led the effort to install the first gender neutral restroom in the Massachusetts State House.
Quinn grew up in Pennsylvania and graduated from Emerson College in Boston with a Bachelor's of Science in Political Communication: Leadership, Politics & Social Advocacy. They live in Indialantic, where they volunteer in local sea turtle conservation efforts and as Chair of the Brevard County Young Democrats Committee.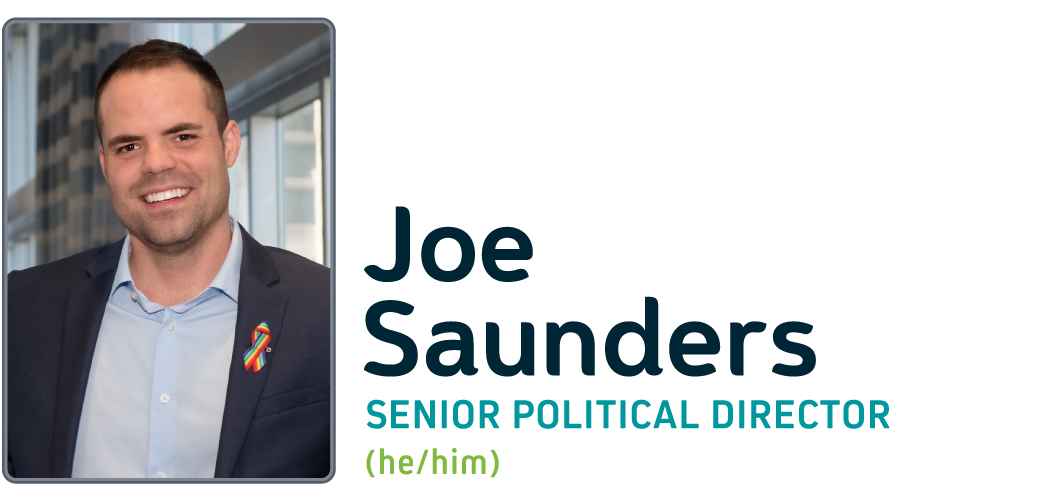 As Equality Florida's Senior Political Director, Joe leads the policy and political programs for the country's largest state-based LGBTQ rights organization.
An award-winning progressive leader, Joe's skills live at the intersection of strategic communications, policy, elections and movement building.
A student of the movement for LGBTQ rights, Joe began his career in progressive politics as an activist at the University of Central Florida in Orlando. Since then he has led ballot measure campaigns to preserve LGBTQ protections, won local policy campaigns protecting millions of Floridians from discrimination, and held senior roles in the fight to win marriage equality in FL. In 2012, Joe was elected to the Florida House of Representatives becoming the first LGBTQ state lawmaker in Florida to take the oath of office. As a state representative, Joe served as the lead sponsor of the "Competitive Workforce Act", legislation that would finally ban discrimination against LGBTQ Floridians.
Following his tenure in the Florida House, Saunders joined the staff of the Human Rights Campaign, the country's largest LGBTQ advocacy organization. In this role he managed legislative and election programs in fourteen states, holding leadership positions in civil rights campaigns across the Southern U.S. In 2016, Joe served on the leadership team for the Turn Out North Carolina coalition, the successful effort in North Carolina to defeat anti-LGBTQ incumbent Gov. Pat McCrory - a champion of the notoriously anti-LGBTQ HB 2. In 2017, Joe worked across the pond as the Director of GOTV Programs for U.K. Parliament candidate Simon Hughes - a former United Kingdom Minister of Justice and openly LGBT candidate.
A nationally recognized progressive leader and strategist, in 2016 Joe was honored by Out Magazine as part of the "Out 100" list of national LGBTQ leaders and is a regular commentator in national and state press outlets.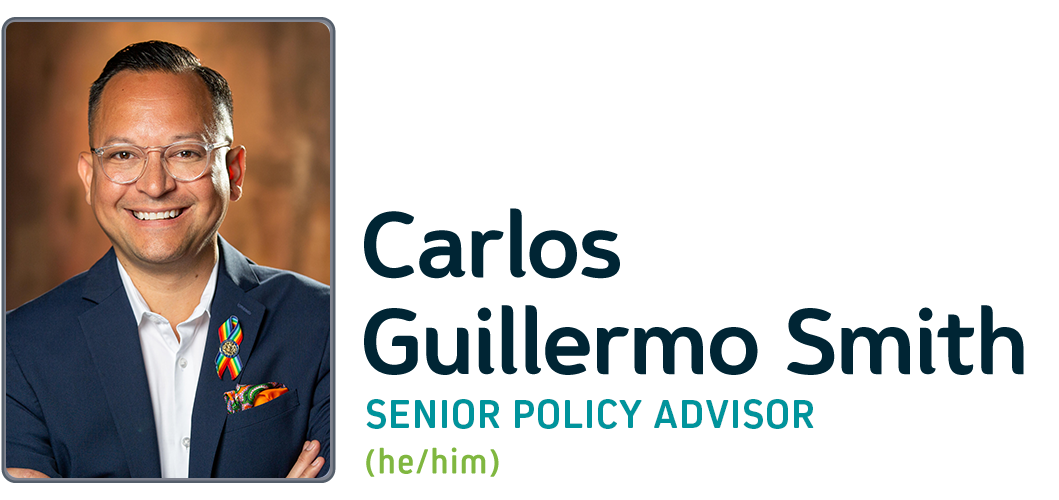 Carlos Guillermo Smith has been with Equality Florida since 2015 and now serves as Senior Policy Advisor to the organization.
Carlos made history as Florida's first openly-LGBTQ Latino lawmaker with his election to the Florida House of Representatives in 2016, where he served three consecutive two-year terms. In the aftermath of the Pulse nightclub shooting in his community, Carlos championed the needs of survivors and families and became a national leader in gun violence prevention. A graduate of the University of Central Florida, Carlos is a respected civil rights leader who has been recognized by organizations such as the Elizabeth Taylor AIDS Foundation, the Florida Alliance for Arts Education, Florida PTA, Hispanic Federation, the League of Women Voters of Florida, the LGBTQ+ Center Orlando, and the Puerto Rican Chamber of Commerce for his public service and advocacy. Orlando Magazine has named him as one of Orlando's 50 Most Powerful People annually since 2018.
Carlos lives in East Orlando with his husband, Jerick Mediavilla, an educator from Corozal, Puerto Rico.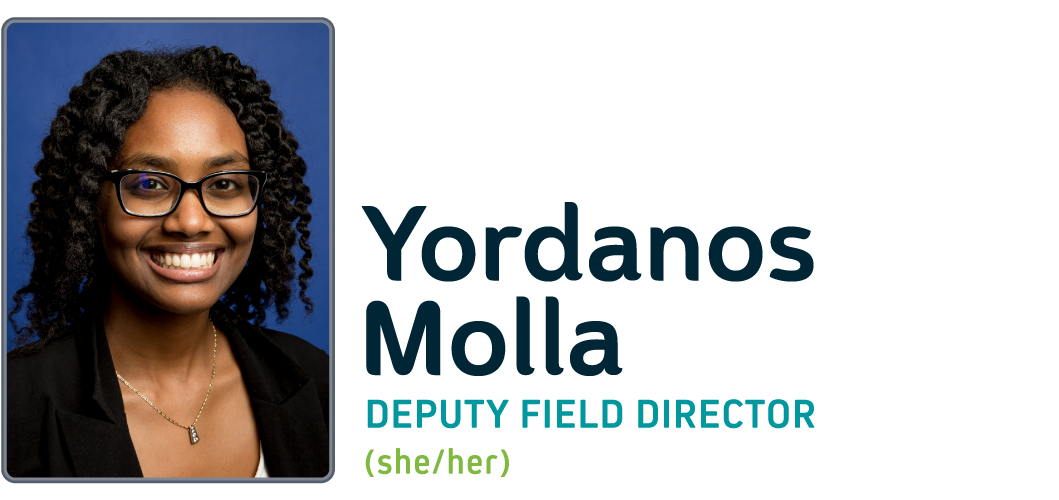 Yordanos Molla (she/her/hers) is the Deputy Field Director at Equality Florida. She is responsible for mobilizing volunteers, building relationships with coalition partners, and managing electoral programs. Yordanos brings diverse work and volunteer experience from organizations such as World Relief, the Human Rights Campaign, Advocates for Youth, and Black Youth Project 100. She is passionate about grassroots activism and uses an intersectional framework in her social justice work. 
 
Yordanos first became involved with Equality Florida as a field and public policy intern. Here she was instrumental in the execution of Lobby Days and electoral campaigns. She then moved to D.C. to pursue graduate school and led organizing efforts for reproductive justice, LGBTQ+ rights, and racial justice during her time there. 
 
Yordanos is a graduate of American University with a Master's in Ethics, Peace, and Human Rights. She also holds a Bachelor's degree in International Studies and Women's and Gender Studies from the University of South Florida. 
 
In her free time, she enjoys reading radical books, painting, learning to play the keyboard, and travelling. She is committed to political education, community organizing and care, transformative justice, and liberation for all marginalized communities.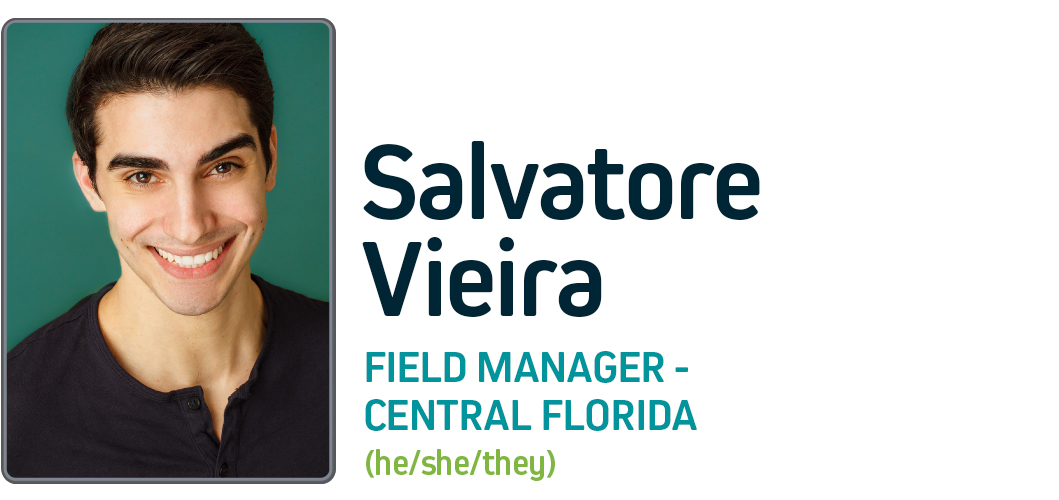 Salvatore Vieira (he/him/his) is the Central Florida Field Organizer at Equality Florida. He is responsible for volunteer engagement through the field electoral programs, legislative session, and pride programs, as well as developing and maintaining our volunteer leadership program - the Equality Captains. Salvatore is very passionate about grassroots organizing, and believes whole-hertedly in amplifying and uplifting marginalized voices.
Salvatore got his break into political activism as a volunteer turned field organizer for Senator Elizabeth Warren's campaign for President during the primary. He went on to work with Organizing Together 2020 before making his move into the nonprofit world with Equality Florida.
Prior to finding his voice as an advocate, he received his B.F.A in Musical Theatre at the University of Central Florida, and performed in theatres along the east coast! He is so proud to be a part of the Equality Florida mission!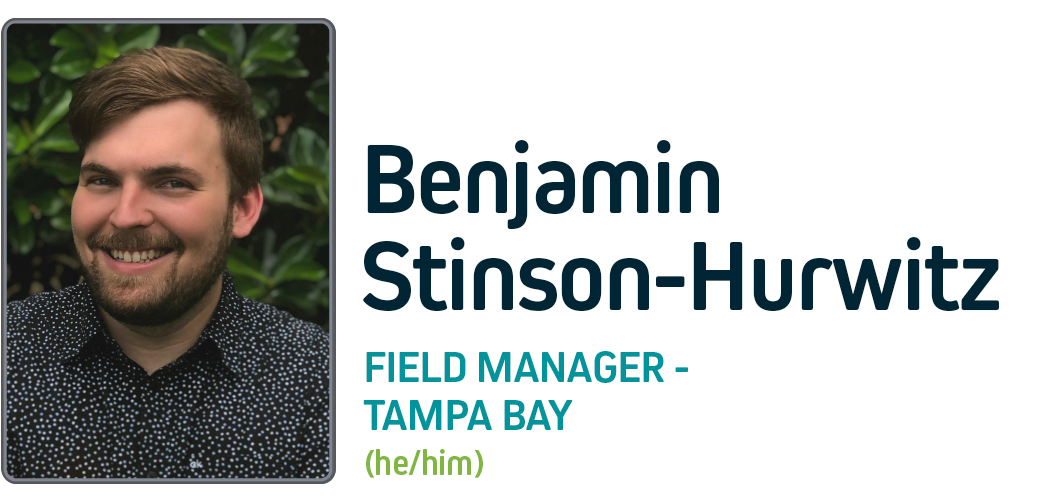 Bio: Coming Soon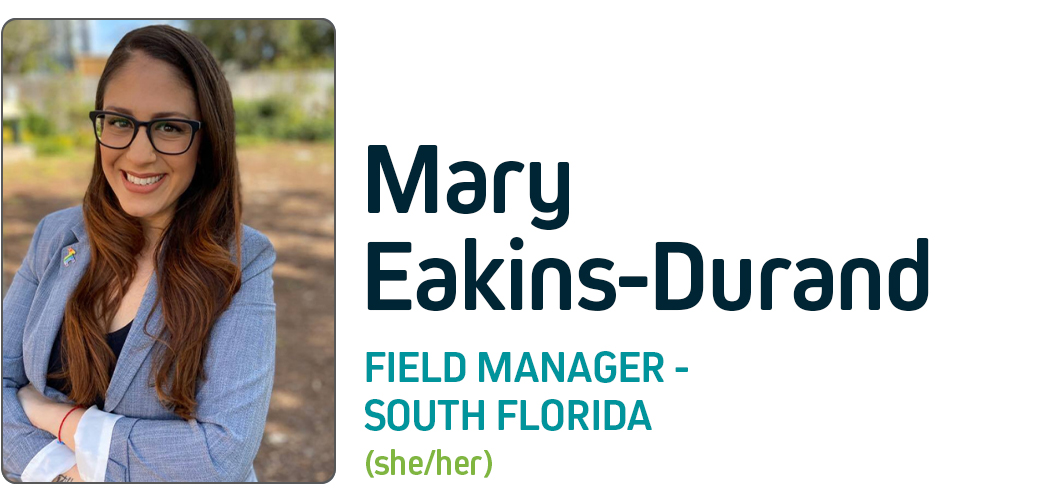 Mary Eakins (she/her/ella) is a first generation US-born Cuban American. Her passions, and professional focuses, are in the areas of reproductive health and justice, criminal justice reform, and building LGBTQIA+ political power in the state. As a Cuban American raised in Hialeah, FL being a progressive, queer, pro-choice, woman was not something that was visible or acceptable in the Cuban community. Her strong desire to breakdown the stigma, and the rampant misinformation in Hispanic communities surrounding reproductive rights, queerness, the patriarchy and racial inequity motivated her to get involved, uplift, educate and advocate around these issues. She is an active member of the political community in Broward County. She currently serves as a Director for the Dolphin Democrats, the state's largest LBGTQIA+ caucus, a member of the Floridians for Reproductive Freedom coalition, a Steering Committee member for the Human Rights Campaign, and has previously served on the boards of Ruth's List Broward County, and Women's March Broward County. She is an activist and advocate with experience serving as a Field Organizer for a state House of Representatives campaign, a Deputy Campaign Manager for a State Attorney race in the largest judicial district in Florida, a volunteer and organizer for Planned Parenthood and in various volunteer/contracting roles on municipal campaigns contributing marketing assistance/materials, social media presence, and facilitation of both low and high dollar fundraisers. Outside of work, Mary enjoys spending time with her partner Zachary, and her Goldendoodle Baxter. She believes music is medicine (especially when it's live and loud), coffee should be black, and women should be in charge.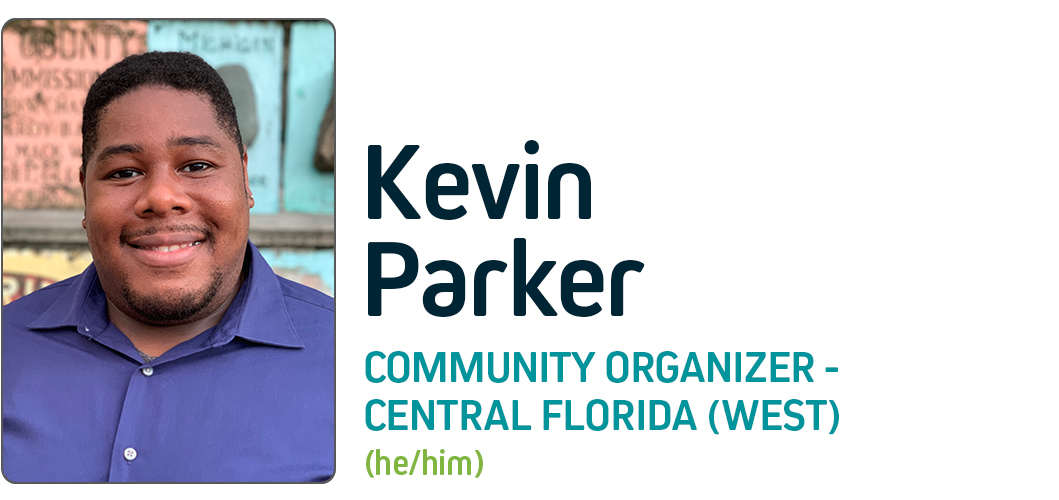 Kevin Parker (He/Him) is a long-time Central Florida resident and is one of the Central Florida Community Organizers. Kevin is highly involved in his community and currently serves as a member of his local democratic executive committee, president of Osceola Young Dems, a co-founder of his local coalition group, Osceola People's Coalition, and serves as a board member of the Democratic Progressive Caucus of Florida, and Progressives for Democracy in America FL Chapter.
Kevin has always had a passion for helping people and did whenever he could. After the 2020 Pandemic hit he knew that advocacy and fighting for people was what he wanted to do. As a queer black man, his advocacy centers around LGBTQIA+ and African American issues, but also does advocacy in intersectional issues such as Immigration, Gun Rights, Education, Housing, and Environmental Justice. Kevin has a double Bachelor of Fine Arts degree in Theatre from Florida Southern College in Lakeland, FL.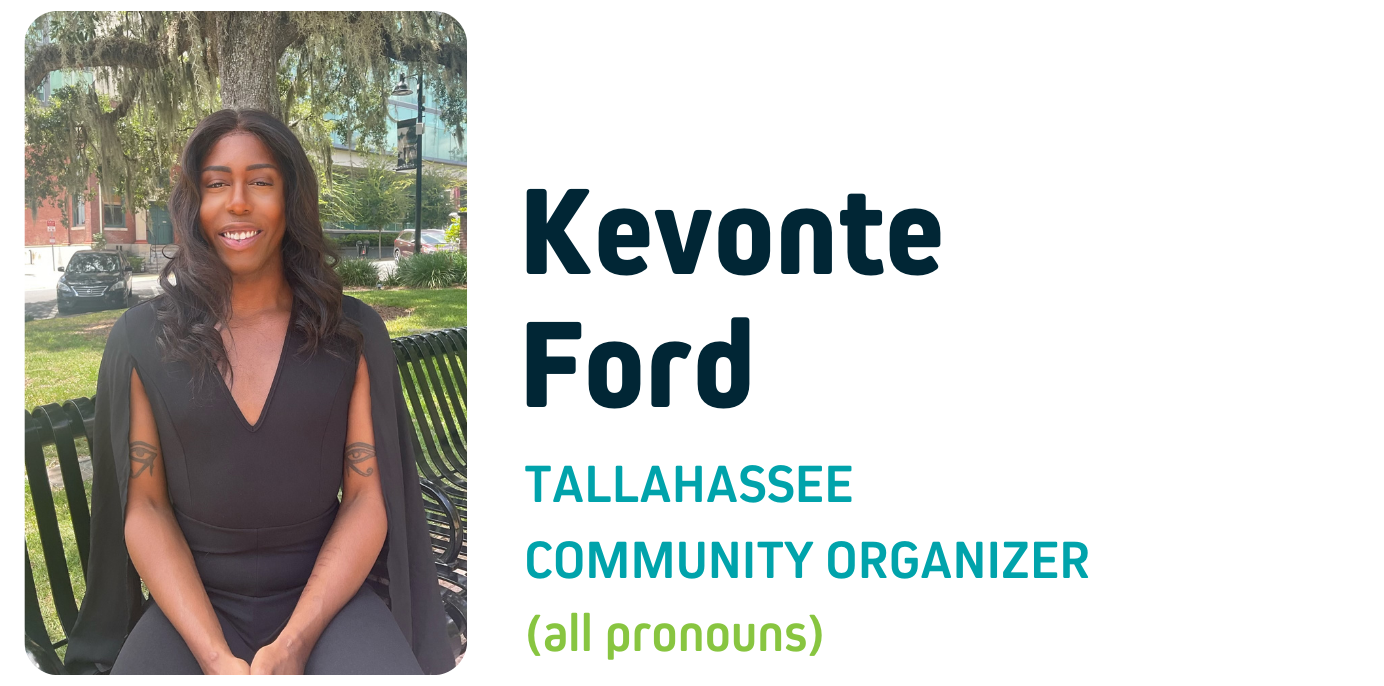 Coming Soon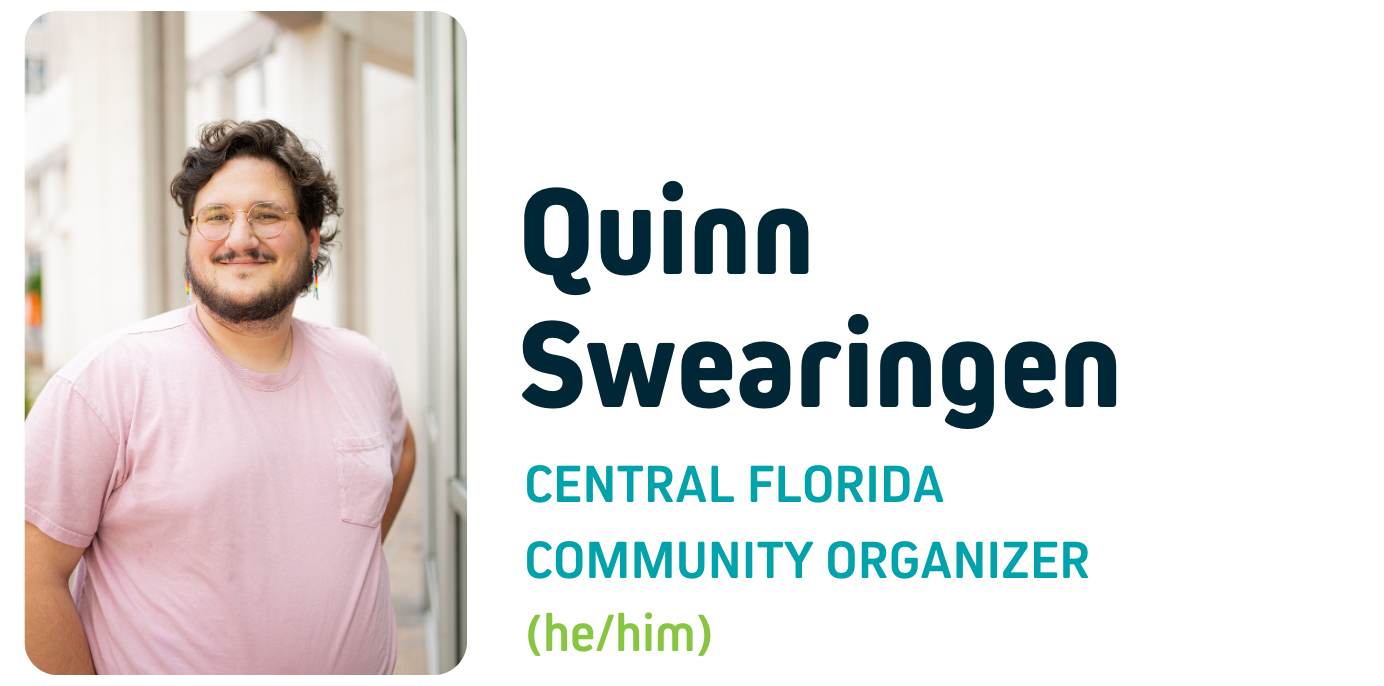 Quinn Warner Swearingen (He/Him/His) is one of the Community Organizers for Central Florida. In his role, he has had the pleasure of serving his community by fighting to ensure all students are protected and families are respected in the public school system. Quinn also works toward engaging college and university students to get involved during a time when all levels of the education system are under attack. He is also passionate about making civic and political engagement as safe and accessible as possible for as many people as possible, as he frequently leads training for volunteers and community partners across the state.
Originally from Broward County, the shooting at MSD pushed him to act against gun violence. He began his organizing career volunteering with NextGen Florida and other student organizations, fighting for gun control, expanded voting rights, and economic justice. While in college, he served as a Field and Advocacy Intern with Equality Florida for two Semesters and worked as a Field Organizer in Seminole County for the Biden-Harris 2020 campaign. He credits his experience as an intern at EQFL for granting him the skills and knowledge to become an effective community organizer. When he isn't working, Quinn likes to spend his time traveling, cooking for friends, or spending time with his cat Matcha!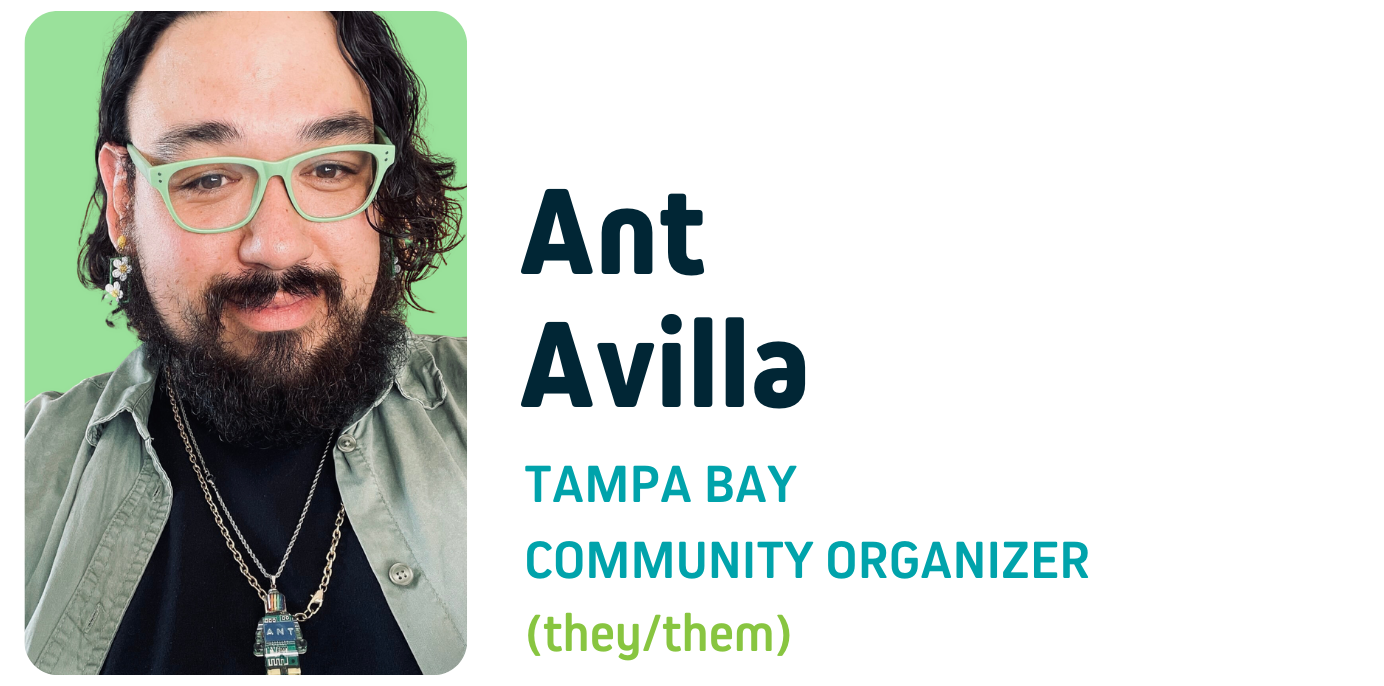 Ant is a longtime community organizer, nonprofit leader, and anti-fascist human rights advocate working toward liberation from oppression for more than a decade. With a dedication to fostering inclusive and sustainable communities of activism, they are excited to empower community leaders and to be a resource for passionate communities fighting for equality. As an experienced community organizer, Ant has tirelessly worked to empower marginalized communities to find their voices and take collective action. They have organized and led grassroots campaigns, amplifying the voices of those often overlooked and underrepresented in society. In their role as a nonprofit leader, Ant has played a pivotal role in advancing the missions of organizations dedicated to social change. Through strategic leadership and visionary guidance, they have overseen initiatives aimed at dismantling systemic oppression and creating pathways for marginalized individuals to thrive.
Ant is dedicated to building sustainable communities of activism and advocacy. They understand that the fight against oppression is an ongoing endeavor, and they work diligently to create spaces where activists can thrive, learn, and collaborate for the long haul. They envision a world where the harms of oppression are eradicated through collective, tenacious action.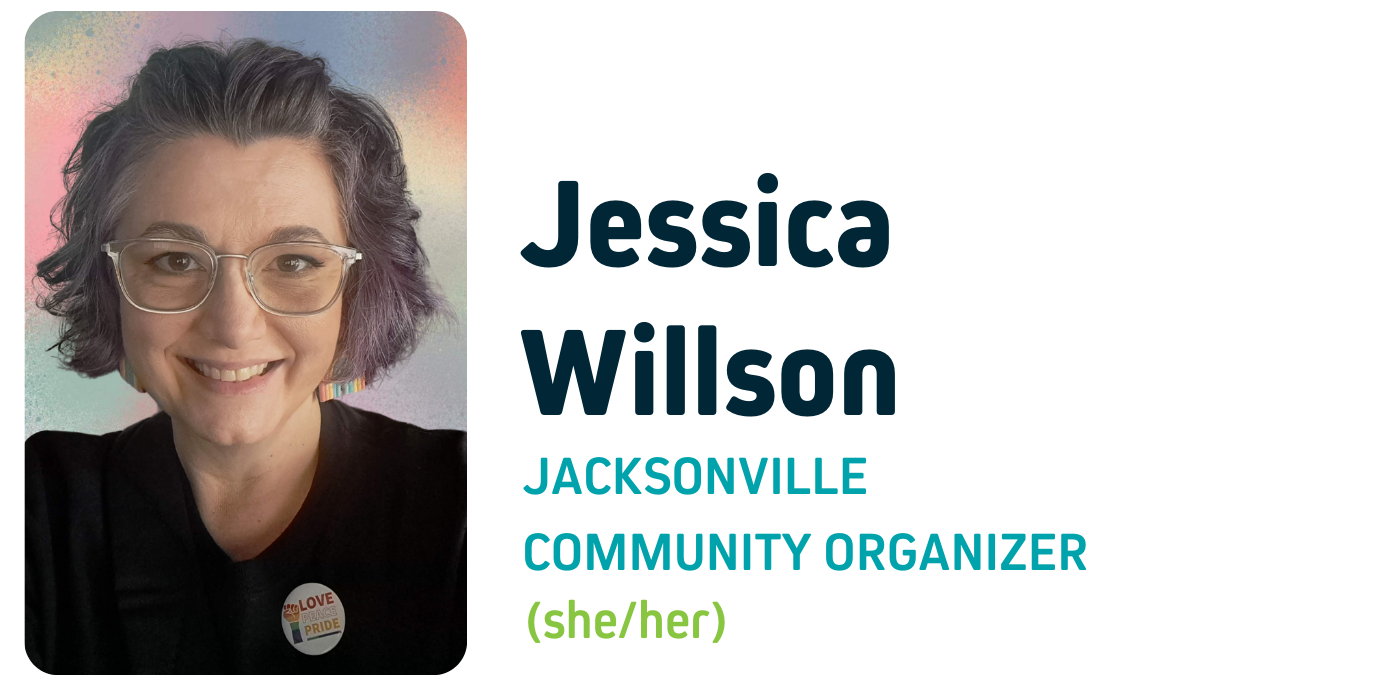 Jessica Willson is a Community Organizer for Equality Florida in Jacksonville. As the mother of two adult children in the LGBTQIA+ community, she is a fierce advocate and dedicated activist. Over the years, Jessica has spoken at rallies, advocated for students at school board meetings, given Free Mom Hugs at Pride celebrations, and rebuked state legislators in Tallahassee. In addition to her role as community organizer, Jessica is the Diversity, Equity, and Inclusion Chair of Jacksonville's chapter of the National Organization for Women (NOW). She also serves as precinct committeeperson with the Duval Democratic Executive Committee and has worked alongside community organizations including Public School Defenders and Florida Rising.
While Jessica believes in comprehensive social justice for all, her main priorities are trans rights and reproductive freedom. In her free time, she enjoys taking her granddaughter to the park, hiking in the woods, or singing karaoke.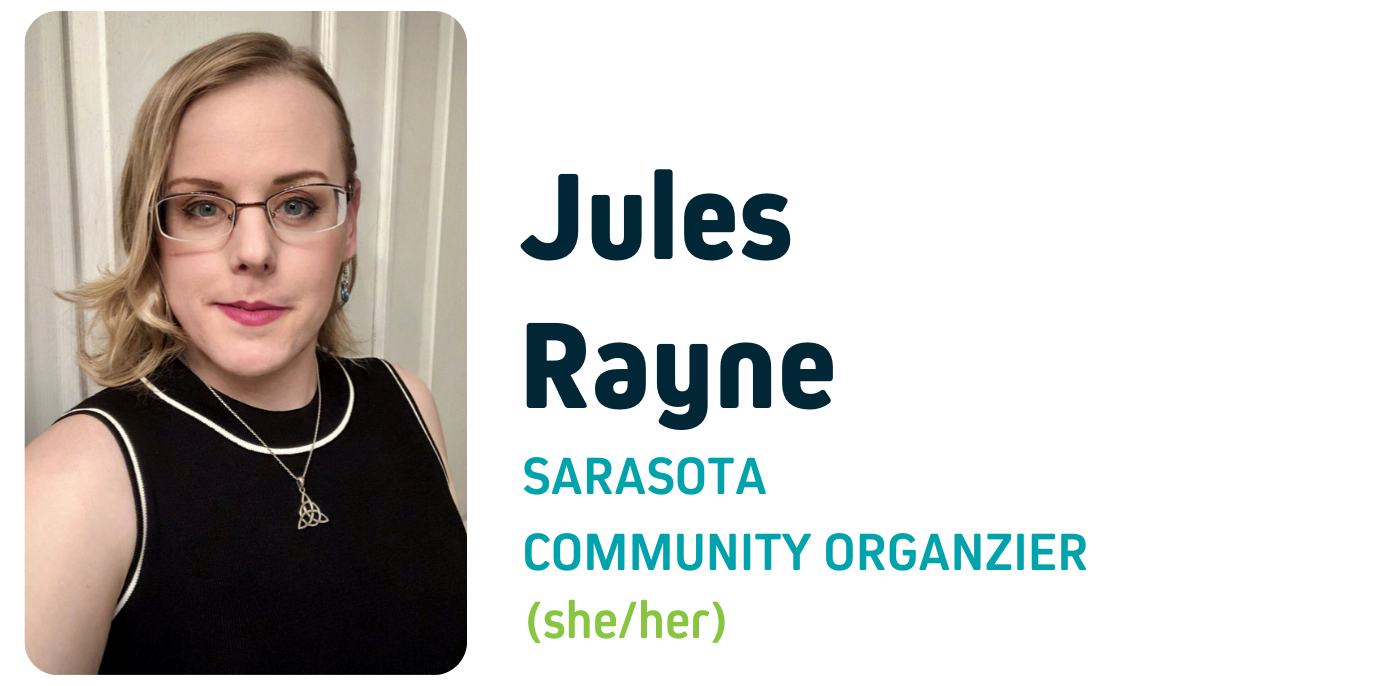 Jules is the Community Organizer for Equality Florida in the Manatee / Sarasota area. She is passionate in advocating for equal rights and is very active in the Manatee / Sarasota LGBTQ+ community.
Jules is a co-founder of Trinity Transgender Group which provides resources and peer-led support to Sarasota's transgender population and was a speaker at the dedication ceremony for Sarasota's Transgender Garden of Remembrance. She is also a founding member of Church of the Trinity MCC's Social Justice Committee, which works to advocate for all marginalized populations within the Manatee / Sarasota area.
Jules is a native of the Niagara Falls area of Western New York State. She graduated with a Bachelor's of Arts degree in History from Ithaca College and a Master's Degree in Education from Niagara University. In 2007 she moved to Bradenton to pursue a job working for Manatee County.
In addition to her advocacy work, Jules is a professional musician, sound engineer, and multi-instrumentalist who uses her talents to bring joy through the power of music to audiences worldwide. She is also a professional luthier and guitar tech. Her talents have been seen in Guitar Player Magazine, WMNF Radio 88.5, Watermark, and on Jimmy Kimmel Live.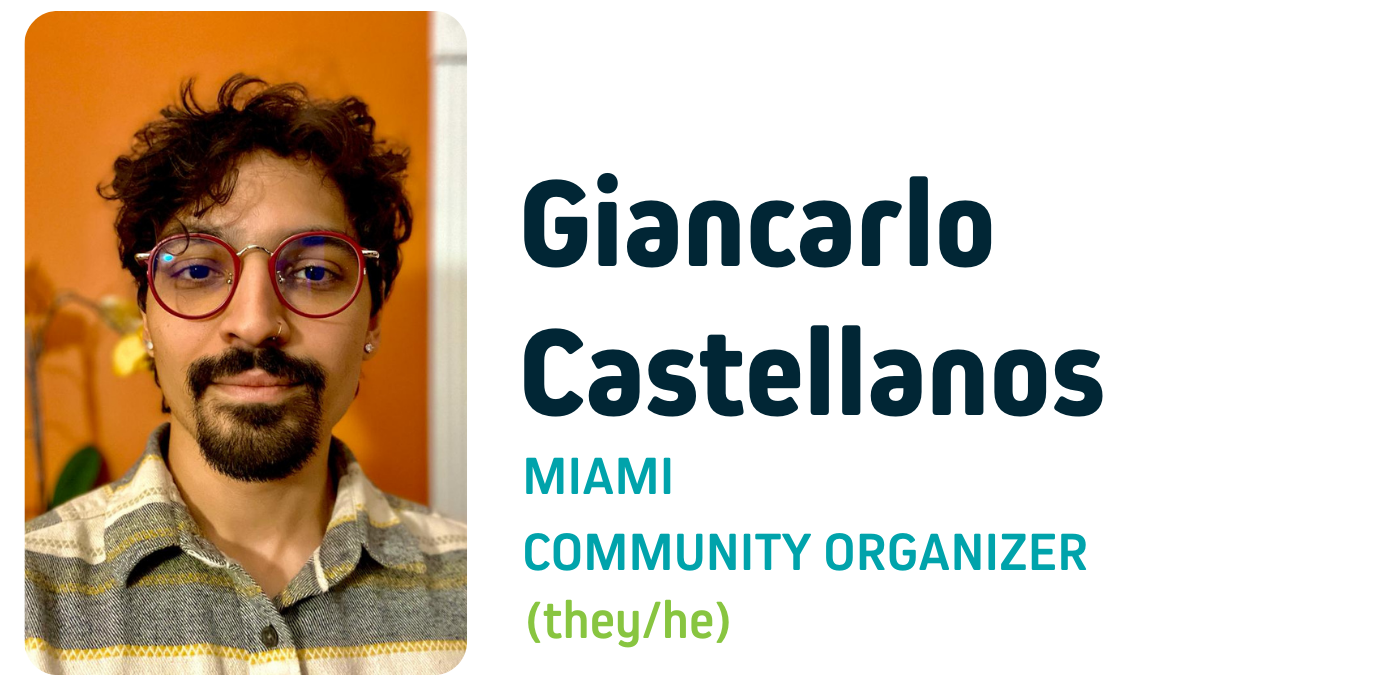 Giancarlo Castellanos, the Community Organizer in Miami, is a Cuban American native to the sunny city, who stands as a dedicated movement worker, with over a decade of experience in activism for a number of causes. At the heart of their mission lies their identity as queer and non-binary, fueling a passionate drive to champion LGBTQ+ rights and instigate positive transformation within the city while centralizing queer and marginalized communities at the forefront of their work.
Giancarlo's multifaceted activism has involved working with organizations such as Power U Center for Social Change, Miami Workers Center, and Puentes de Amor, to uplift and empower movements surrounding Housing Justice, Workers Rights, and LGBTQ+ rights for students and beyond. In local politics, through campaign initiatives and extensive canvassing, they have not only amplified progressive voices but also staunchly worked to harmonize Miami's government with the diverse needs of its queer and BIPOC populace.
As a co-founder of Caribepouvwa, a grassroots coalition devoted to fostering queer Caribbean solidarity within South Florida, they have fortified unity and amplified the influence of the LGBTQ+ voices within their community. Their dedication to the betterment of Miami continues to mold a more inclusive, compassionate, and equitable future for their beloved city and the vibrant LGBTQ+ community they ardently represent.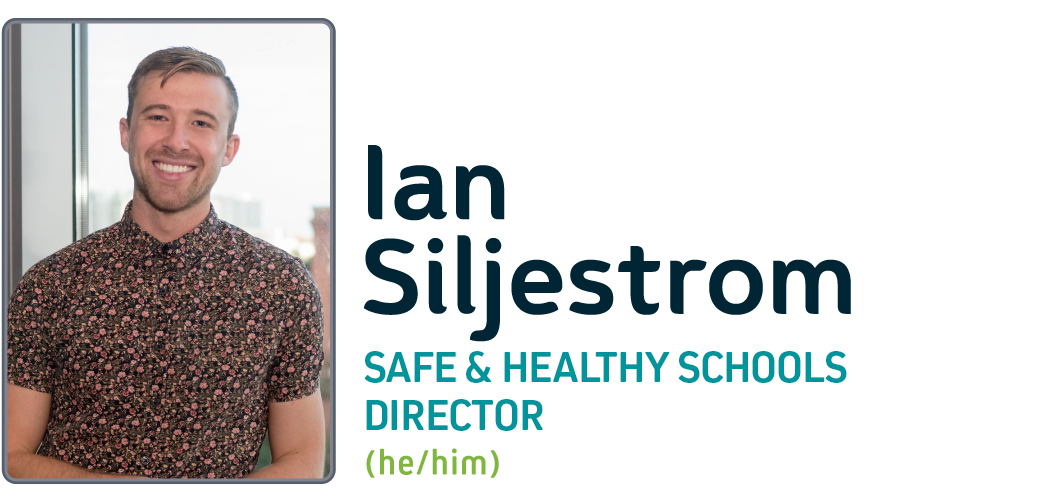 Ian Siljestrom is the Safe & Healthy Schools Director for Equality Florida. He is responsible for fighting the extensive risk factors, which disproportionately affect our LGBTQ youth in school including: bullying, homelessness, self-harm, and HIV transmission. He works directly with 20 school districts across Florida to assist in the implementation of professional development and comprehensive best practices to ensure the empowerment of all students' identities. Ian has extensive speaking and professional development experience, including at local, state, and national conferences.
Previous to joining Equality Florida, Ian also taught for several years in a Title 1 elementary school in Jacksonville, Florida as a 5th grade science/health teacher. In his classroom, he was dedicated to creating an inclusive environment for all students, while practicing culturally responsive pedagogy. 
Ian is a graduate of the University of Florida where he received a Bachelor's of Science in Sustainability and the Built Environment and is currently pursuing his Master's degree in Urban and Regional Planning.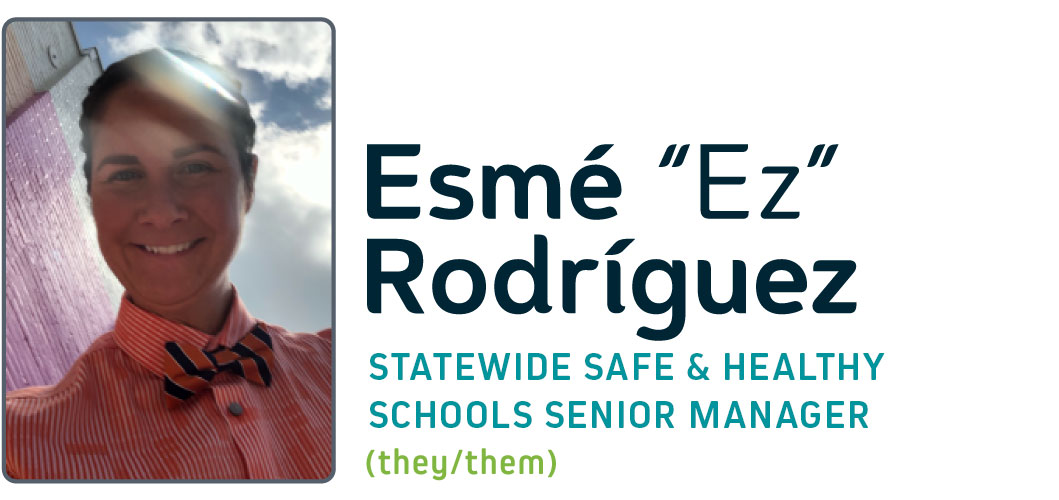 Esmé ("Ez") Rodríguez is the Statewide Safe & Healthy Schools Senior Manager and a transplant to Florida after 18 years in beautiful and snowy Minneapolis, MN. They are committed to working with administrators, teachers, parents, and school board members to ensure the creation of safe and healthy school environments in which LGBTQ+ and all students can thrive and strive to reach their full potential as whole, authentic individuals.
Esmé is a non-binary, Latinx educator, activist, and artist. Prior to working with Equality Florida, Esmé was the Statewide School Equity Director for OutFront Minnesota. Esmé also taught Gender Studies and Latin American Literature at the university level for 12 years and tours national colleges with their "Gender Show and Tell Program," which engages in intersectional discussions surrounding the performance of diverse gender identities and gender expressions from non-binary cultural perspectives.
Esmé has a Master's Degree from Boston College and studied their PhD at the University of Minnesota, Minneapolis. Much of their professional and creative work exhibits themes of transgender and gender diverse identities, the deconstructions of femininities and masculinities, and the creation of possibility spaces through engaging in work that promotes intersectional justice and community building. Esmé's personal and professional goals are to form coalitions and relationships, which aid in the breakdown of systems which create and maintain oppression, violence, and inequality.
One of Esmé's most exciting opportunities was being chosen to be a featured artist at The Walker Art Center (MN) in 2008 in conjunction with the International Touring FRIDA Kahlo Exhibit. Esmé also enjoys vegetarian sushi, downhill skiing, NFL, and college football.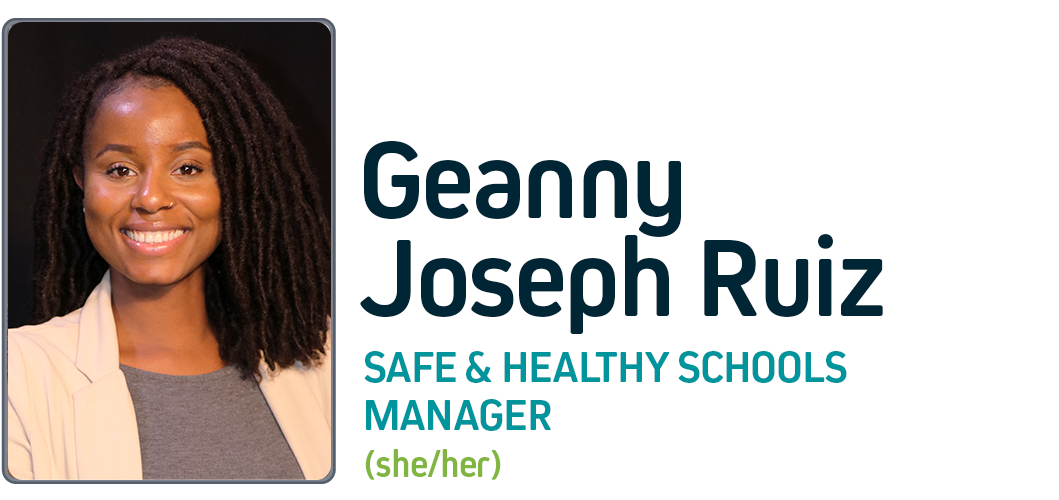 Geanny Joseph Ruiz serves as the Statewide Safe and Healthy Schools Manager for Equality Florida. She is a South Florida native of Haitan descent. Geanny has worked extensively within education systems providing professional development and resources to advance the health, safety and well-being of BIPOC and LGBTQ+ youth. Prior to her time at Equality Florida, she managed the Office of LGBTQ+ Initiatives and Allyship at Florida Atlantic Universitys' Center for Inclusion, Diversity Education and Advocacy. She has implemented policies, procedures and programs to foster inclusive environments for all students. Geanny holds a Bachelor's Degree in Public Communications and a Masters Degree in Education.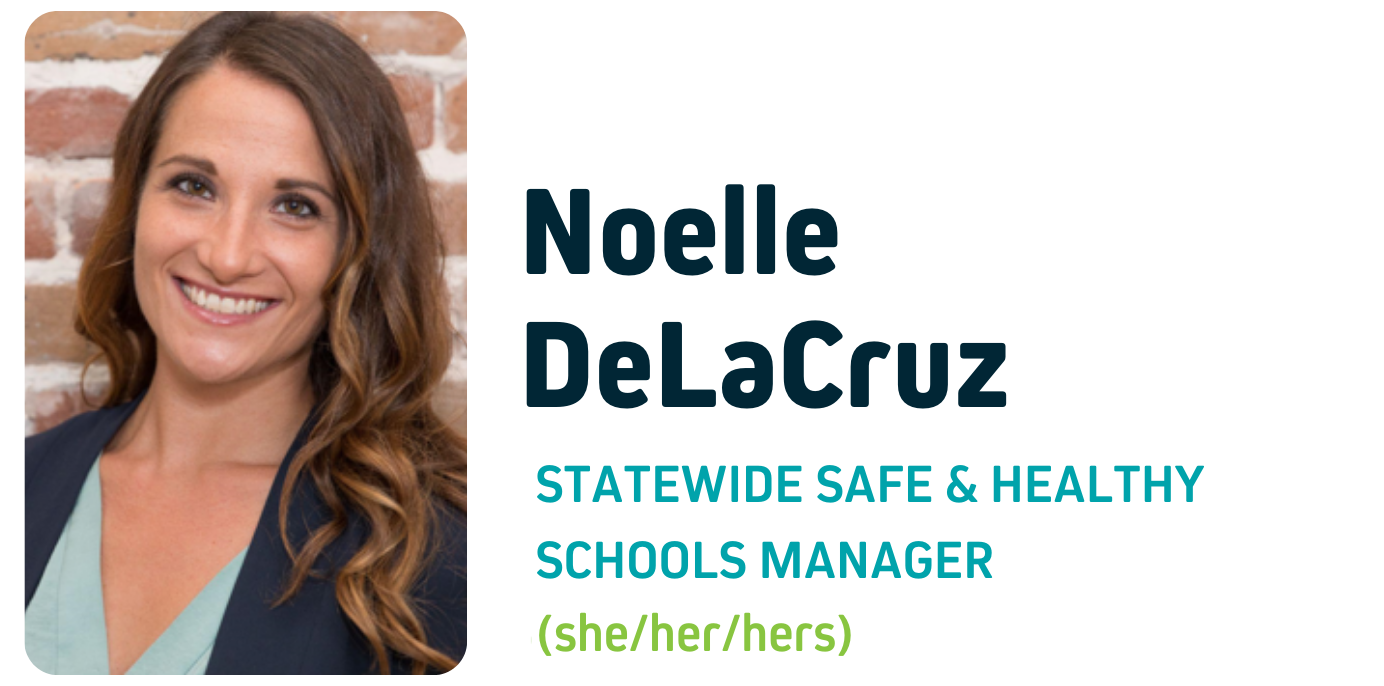 Noelle is a Licensed and Nationally Certified School Psychologist and Certified Child & Adolescent Trauma Professional. She began social justice work as early as high school where she received peer educator training through the Anti-Defamation League (ADL) and used anti-bias curriculum to teach fellow students about the importance of inclusion and acceptance. During college, Noelle followed her passion in the social sciences through the study of Psychology and Sociology and later went on to earn a Master's degree in School Psychology from the State University of New York University at Buffalo and Doctor of Psychology degree from Fairleigh Dickinson University in New Jersey.
Noelle was an Associate Instructor for the Crisis Prevention Institute and has been a practicing School Psychologist for the past 15 years in both New York and Florida. In 2017, Noelle initiated and co-chaired the Student Services LGBTQ+ Committee in her school district, and through this work, became connected to Equality Florida. As fate would have it, she is now a member of the Safe and Healthy Schools team where she provides structural and collaborative support to districts across the state to ensure that LGBTQ+ youth can thrive in safe and welcoming school environments.
In her free time, Noelle enjoys travelling and spending time with her husband and their two dogs, Jazzy and Ollie. She runs her private practice through The Thinking Center in Sarasota, Florida and is the Producer and Co-Host of "The Unpacked Project – A Social Justice Podcast".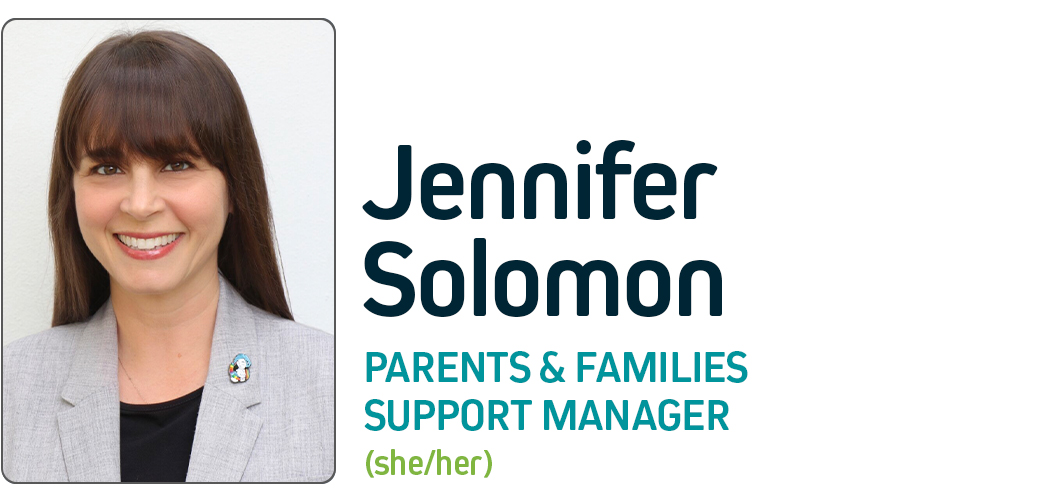 Jennifer Solomon (she/her) is the Parents and Families Support Manager for Equality Florida. She lives in Miami and is the proud parent of four children, two of whom are part of the LGBTQ+ community. Although a pediatric RN by profession, Jennifer's advocacy throughout the years has led her to her dream career at Equality Florida.
Jennifer's advocacy includes being the founder/president of PFLAG Miami where she has created a safe space for families to receive support, give advice and become allies for their loved ones. She co-leads the Miami Coalition for Queer Youth to ensure all students have access to a safe an equitable education. She is also the LGBTQ+ chair for Miami Dade Council of PTA/PTSA. Jennifer is an appointed member of HRC's Parents for Transgender Equality Council which allows her to advocate on the national level.
Equality Florida recently honored Jennifer as the 2023 Equality Florida's Voice for Equality Award. SAVE also honored her advocacy as a 2023 honoree Champion of Equality recipient.
You can find Jennifer speaking out at local school board meetings, the state legislature, and all the way to Capitol Hill fighting for families like hers. By sharing her parenting journey with others, she hopes to educate and empower parents so together we can make the world a kinder, gentler place for all children.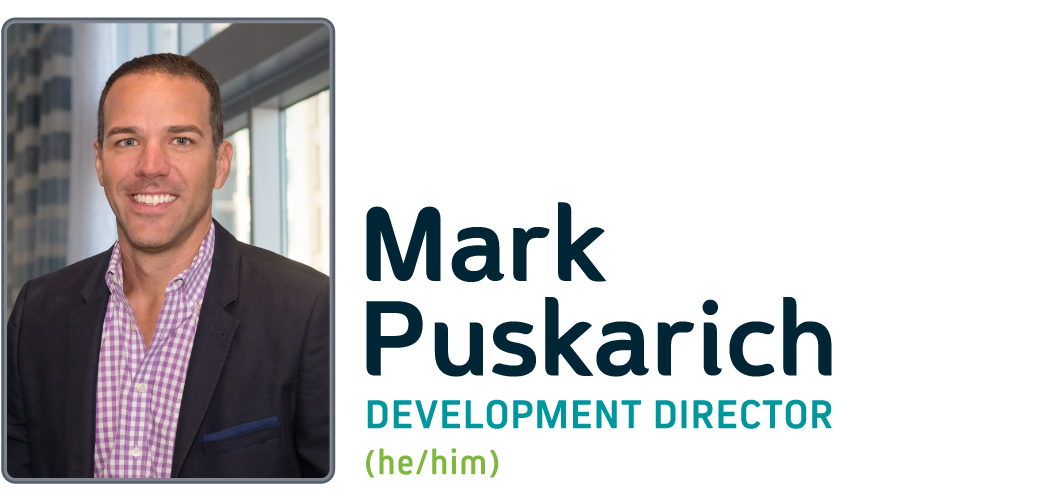 Mark is proud to be part of Equality Florida, raising support and awareness for the organization's important work throughout Florida. No stranger to the organization before joining full time, Mark served on Equality Florida's Tampa Gala Steering Committee in 2012, and as vice chair and chair of the committees for the 2014 and 2015 galas, respectively. As Development Director, Mark manages Equality Florida's major fundraising programs including membership, annual galas, corporate gifts, and legacy giving.
Prior to joining Equality Florida, Mark held positions in marketing and communication roles in universities and corporations located in the Tampa Bay area.
In his spare time, Mark volunteers as a digital crisis counselor for The Trevor Project, the world's largest suicide prevention and mental health organization for LGBTQ young people.
Mark graduated from the University of Miami with a bachelor's degree in communication with majors in public relations and political science. He lives with his husband, JT, in Tampa.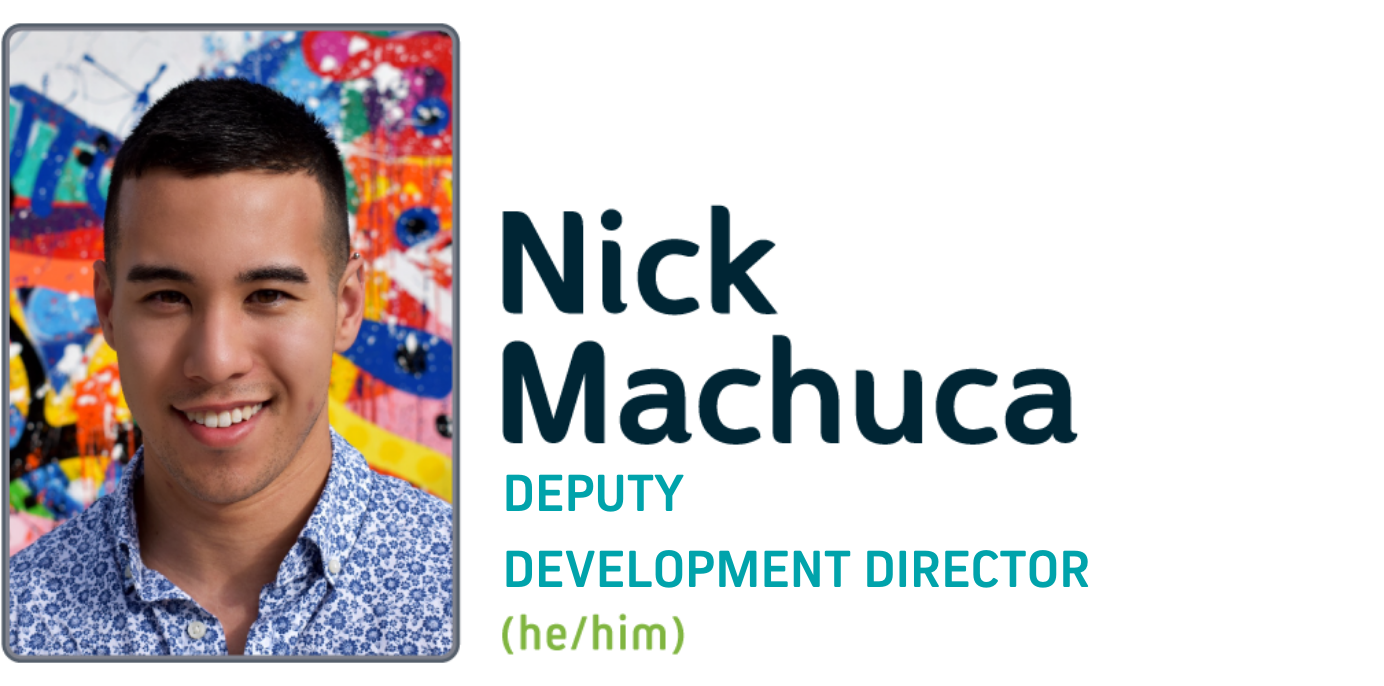 A longtime volunteer with Equality Florida, Nick is staffed as our Deputy Development Director, serving a number of communities across the state. Nick is a graduate of the University of South Florida and the University of Oregon, and his passions include exploring the natural world, expanding access to education, and fighting for human and LGBTQ+ rights. Prior to joining Equality Florida, Nick had committed himself to improving the world through higher education—teaching about topics ranging from ecological stewardship, climate change mitigation, U.S. immigration, imperialism, racial justice, and environmental justice.
Nick has helped direct an Oregon statewide environmental organization, and he currently helps direct the Florida Futures Project, a nonprofit organization that awards scholarships to college-bound high school graduates who exhibit bold ideas for Florida's progressive future.
A proud Tampeño, Nick lives in the city with his partner and their two rescue dogs. In his free time, Nick enjoys going to the gym, reading, writing, registering new voters, travelling internationally, doing DIY home improvement projects, and hanging out with his partner and dogs.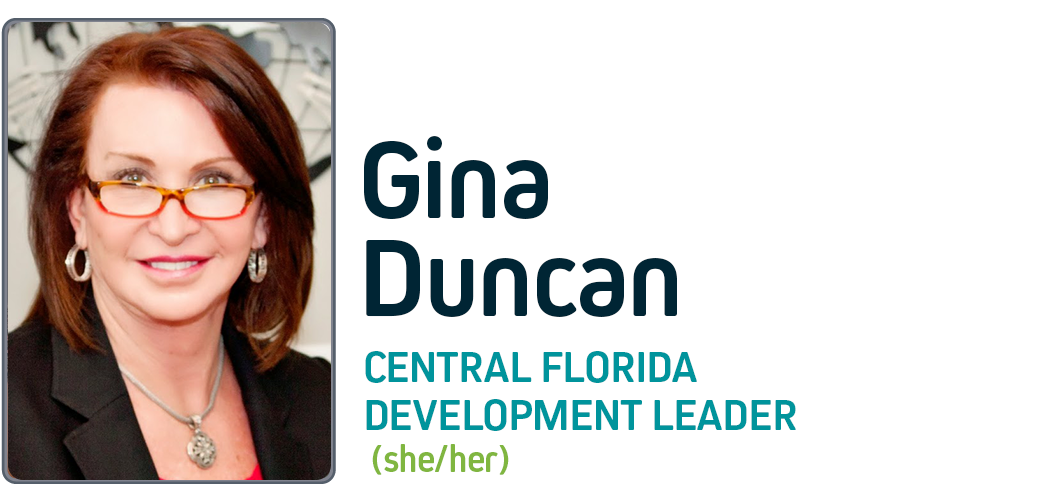 Gina Duncan was a corporate leader in the Mortgage Banking industry in Florida for over 30 years. She was with Wells Fargo Home Mortgage from 1997 to 2011, and served as their Area Manager of Central Florida, and then promoted to Regional Manager for East Florida, overseeing 26 branches, over 250 employees and a multimillion-dollar budget. Gina has also served in leadership roles with the Human Rights Campaign and the LGBTQ Chamber of Commerce in Central Florida, the PRIDE Chamber. Gina was the first elected transgender President of a major Chamber of Commerce in the United States. Gina Duncan served as the state Director of Equality Florida's Transgender Inclusion Initiative, TransAction Florida, from 2014 to 2021. She oversaw a statewide movement comprised of a 1,200+ person advocacy network and led by the TransAction Florida Advisory Council, advocating for transgender rights and protections through public policy, advocacy and educational efforts statewide.
Gina was chosen as one of the 100 LGBT Movers and Shakers in Florida (2015), has received the Equality Florida Lifetime Achievement Award (2021), Orlando LGBT Center's Trail Blazer Award (2017), the Diversity Champion's Award by the Florida Diversity Council (2016), the Debbie Simmons Community Excellence Award at Come Out with Pride in 2018, and the Pride Chamber's prestigious Community Champion of the Year, 2019. She has been featured on the cover of Orlando Weekly, Watermark and Florida Trend magazines.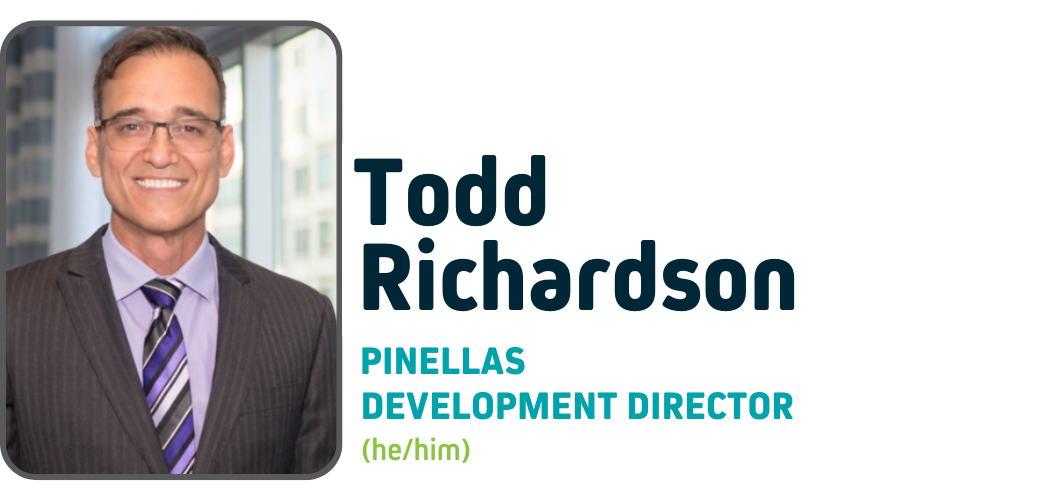 Todd Richardson is the Pinellas County Development Director for Equality Florida. He is a graduate of the University of South Florida College of Fine Arts, and a veteran of the United States Air Force. His life as an activist started with photographing the March on Washington in 1993. As a commercial photographer, Todd's work has been seen in advertisements for companies such as Dillard's, The Home Shopping Network, Esquire Magazine, The Huffington Post, Tampa Bay Times, Watermark, and Creative Loafing. As an exhibiting artist, Todd has raised almost 2 million dollars through art performance pieces and activism. His photograph, "The Lost Pages of The Bard," was accepted into the personal collection of Sir Elton John. He volunteers and supports, Equality Florida, Tampa International Gay and Lesbian Film Festival, Tampa AIDS network "Art for Life," Metro Inclusive Health, ASAP/Empath, and Hands Across The Bay. Originally from Salem, New Hampshire, he now calls St. Petersburg home.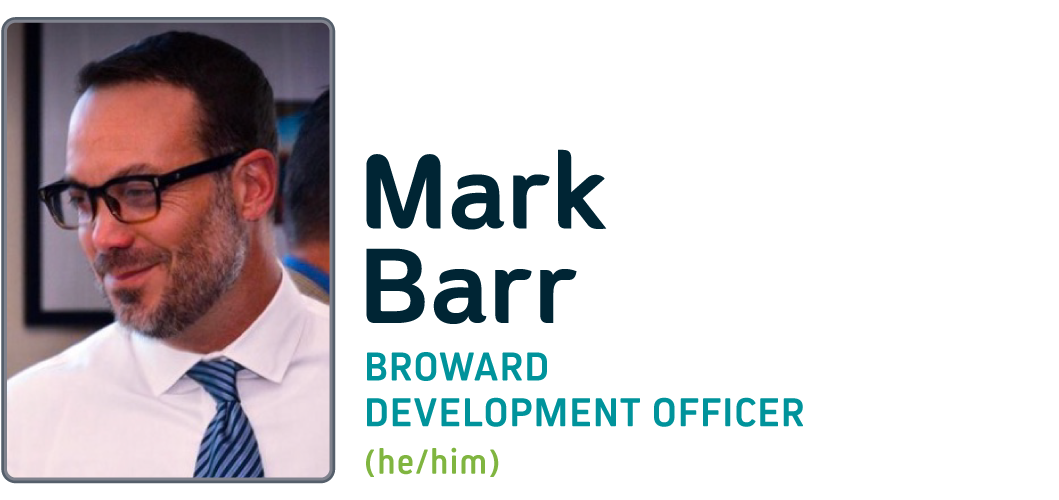 Mark is a graduate of Bowling Green State University in Telecommunications with a concentration in Radio/TV & Film.  He also holds Master's Degrees from the New School in Media Studies and the University of Utah in Social Work.
Mark is also the founder of the Salt Lake City Gay Athletic Association and the Tallahassee Gay Athletic Association both of which are dedicated to bringing the LGBTQ+ community together through athletics and social events.  Mark was inducted into the National Gay Flag Football League's Hall of Fame in 2013.
Mark and his husband have been involved in numerous Equality Utah, HRC and Equality Florida Galas, providing pro-bono video work, fundraising and leadership.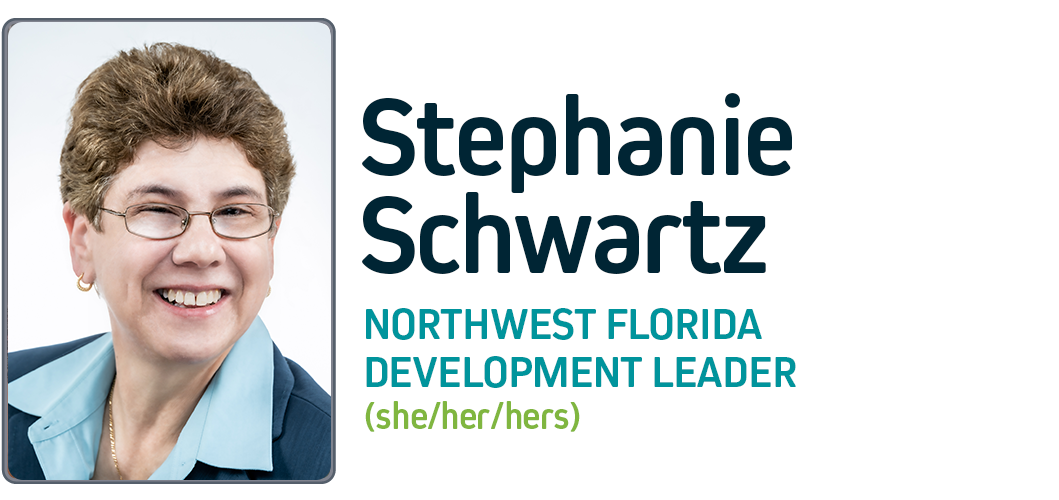 Based in Tallahassee, Stephanie Schwartz is the Tallahassee & Panama City Development Leader for Equality Florida – creating support and raising awareness of LGBTQ issues in the Big Bend.
Previously, Stephanie worked in development for a local HIV/AIDS advocacy nonprofit. Chosen as the agency's first front-line fundraiser, Stephanie worked to identify and cultivate relationships with existing and prospective donors, community stakeholders, volunteers, and corporate partners. Stephanie also worked for many years in local media sales and was a top producer in account sales and retention.
A UF Gator by degree (Bachelor of Science in Public Relations), today Stephanie loudly cheers for the FSU Seminoles in all sports, Go 'Noles! She is the President of the Big Bend Chapter of the Association of Fundraising Professionals and a member of the Sunrise Rotary. Stephanie and her partner, Laura, live with their four-legged children, Eli and Simone.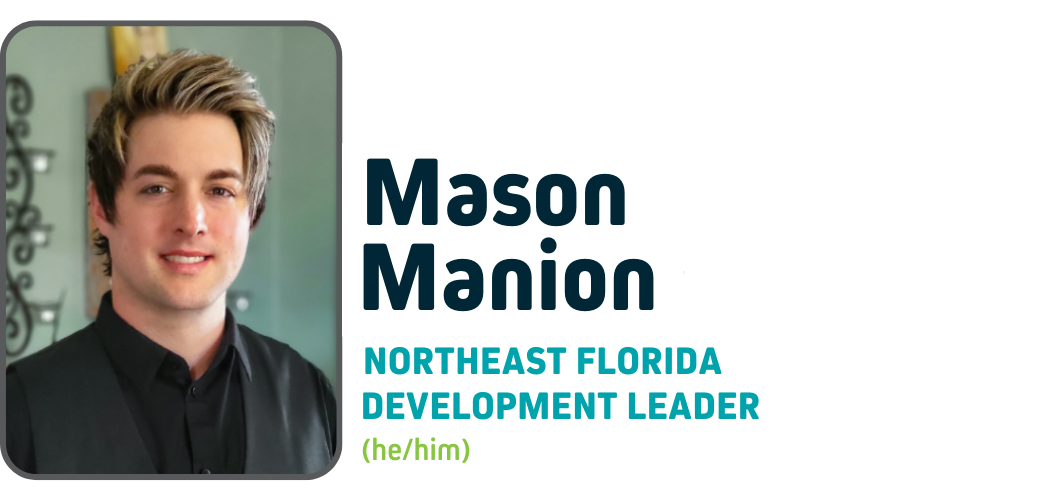 Mason Manion is a native of Jacksonville and leads all development efforts for Northeast Florida. He has always had a passion for this community, and strives to see Jacksonville become a more inclusive and fair place for everyone. Mason serves on the Advisory Board for the AIDS Memorial Project of Northeast Florida, as well as Assistant Music Director for Avondale United Methodist Church (an LGBTQ inclusive church).
Though there are challenges ahead, he is ready to meet those challenges and work in conjunction with the community to create a more loving and inclusive place for all!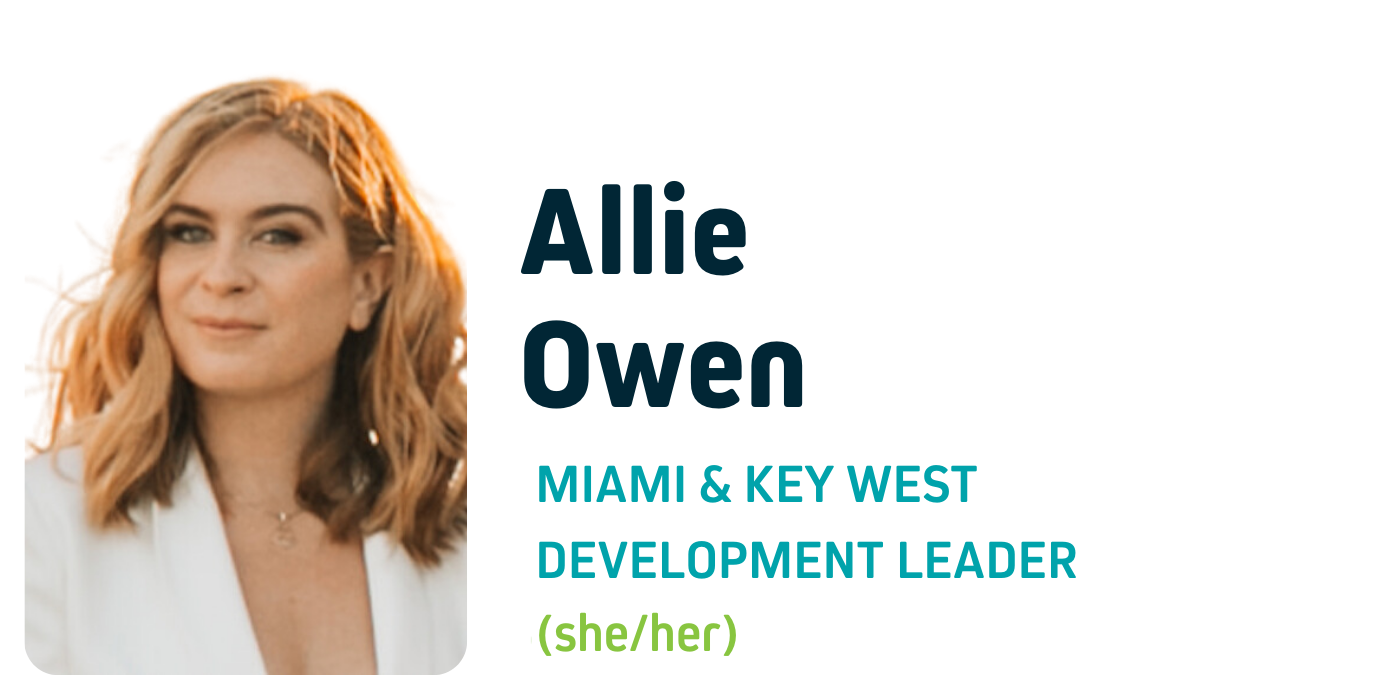 In 2022, Allie served as fundraising consultant for Equality Florida endorsed candidate Janelle Perez's campaign for State Senate (SD-38). She also served as fundraising consultant for Rep. Brian Sims' historic campaign for Lt. Governor of Pennsylvania, and as development director for Generator Collective, a 501c4 devoted to mobilizing millennial and Gen Z voters across the country. She previously served as Campaign Board Manager for LGBTQ Victory Fund, where she managed a candidate endorsement and bundling operation of more than 150 LGBTQ candidates running for office at all levels of government across the country. She also served as a Major Gifts Officer with LGBTQ Victory Fund, where she worked to expand and steward donor relations in the Southeast, Pacific Northwest, Midwest, New England, and Texas. Before joining Victory, Allie worked as a political fundraiser on several statewide, federal, and local campaigns, including Attorney General of Massachusetts Maura Healey, several incumbent Democrats in the United States Senate, and Congresswoman Debbie Mucarsel-Powell (FL-26), the first Latin American immigrant elected to the U.S. House of Representatives.
Allie graduated with a Bachelor of Arts in Global Studies with minors in Psychology, Spanish and Anthropology from Lesley College in Cambridge, Massachusetts. An openly bisexual woman, she is passionate about LGBTQ visibility in all levels of government and the political arena. She can usually be found professing the gospel of David Bowie, or telling candidates in the call time room: "Don't get mad—get elected."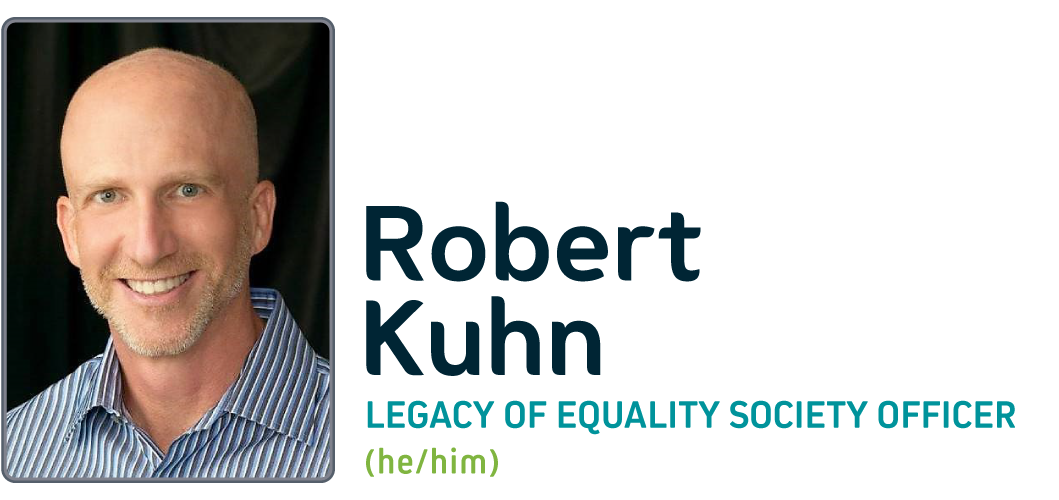 Robert leads our Legacy of Equality Society. In his role, he's responsible for managing all estate planning gifts and the statewide membership of the Legacy of Equality Society. 

Robert has a long history of activism in the LGBTQ+ and HIV movements. He has served in multiple volunteer leadership roles at GMHC, GLAAD, and as a Board member of Lambda Legal. Robert served as Chair/Co-Chair of Lambda Legal's Broward County annual fundraiser for six years, and built strong relationships with individuals and organizations throughout the area. Professionally, Robert most recently served as Community Educator and Outreach Coordinator for a regional domestic violence agency in Connecticut (where he and his husband lived for three years until moving back to Florida in October 2020). Prior to that, Robert has been an independent management consultant, a manufacturing company CEO, and a corporate attorney. 
Robert earned his B.A., cum laude, from Wesleyan University and his J.D. from Georgetown University. He graduated from The Hotchkiss School, where he now serves on the alumni association Board of Governors and its Diversity, Equity, and Inclusion Committee. Robert and his husband live in Fort Lauderdale with their two Irish Terriers.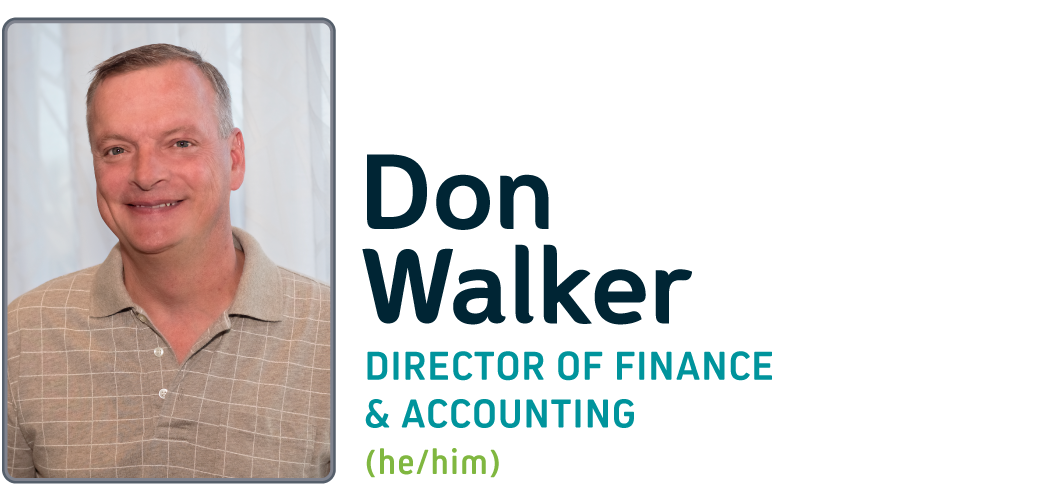 Don Walker joined the Equality Florida team in June, 2014. Licensed by the State of Florida's Department of Business & Professional Regulation as a Certified Public Accountant (CPA), he is a member of the Florida Institute of Certified Public Accountants (FICPA) and serves on the FICPA's LGBTQ Task Force.
Don has over 13 years experience in the public and private accounting sectors, and specializes in Not-For-Profit accounting. He graduated magna cum laude in 2011 from University of South Florida - St Petersburg with a B.S. in Accounting.
In 2013, at the request of then - FICPA chairman Ken Strauss, Don joined seven other Florida CPAs including the first openly gay Florida State Representative David Richardson to form the FICPA LGBTQ Task Force, ensuring Florida's LGBTQ community has a voice statewide within the accounting profession and preparing Florida CPAs to better serve their LGBTQ clients as the political and legal landscape shifted and evolved over the last decade.
Prior to entering the accounting profession, Don traveled extensively under the world's oceans, serving honorably as a U.S. Navy Chief onboard nuclear-powered fast attack submarines, managing a team of nuclear reactor operators and overseeing the maintenance of all reactor instrumentation, control and alarm systems.
Don married his late husband, Mike, in Maryland in July 2013, following a 17-year engagement, and lives in St Petersburg.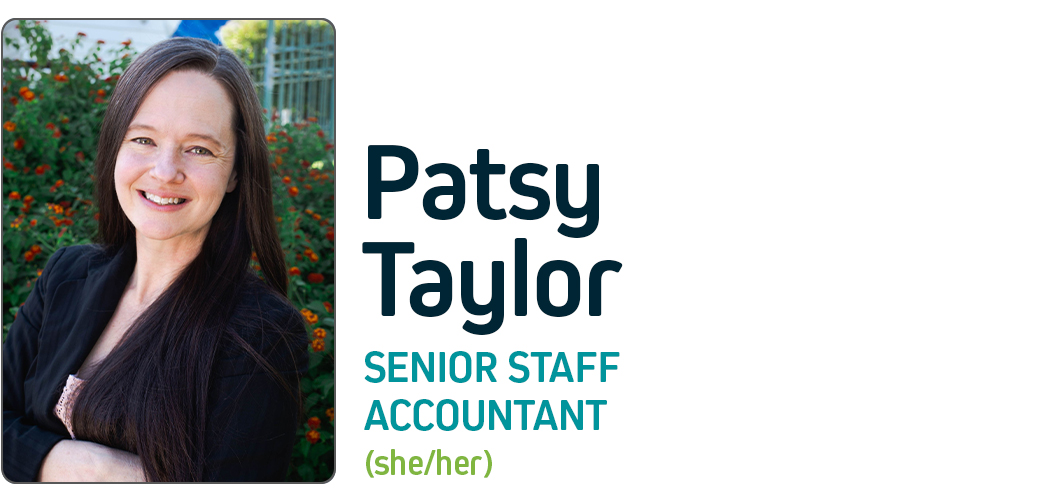 Patsy is Equality Florida's Senior Staff Accountant. She joined the staff at Equality Florida in October, 2022. Licensed by the State of Florida's Department of Business & Professional Regulation as a Certified Public Accountant (CPA), she is a member of the Florida Institute of Certified Public Accountants (FICPA).
Patsy graduated from Jacksonville State University with a Master of Business Administration in Accounting and from the University of Alabama with a Bachelor of Science in Communication and Information Sciences. Prior to joining Equality Florida, she worked in both public and private accounting roles.
She has proudly served in the Army National Guard for more than 20 years. As a member of the 151st Army Band, she has served as a clarinetist, saxophonist, and is currently the unit's Assistant Operations and Training NCO.
Patsy and her husband, Anthony, married in October, 2014. Through their marriage, Patsy is a proud stepmom to two teenage sons, Brandon and Aaron. They currently reside in Pensacola.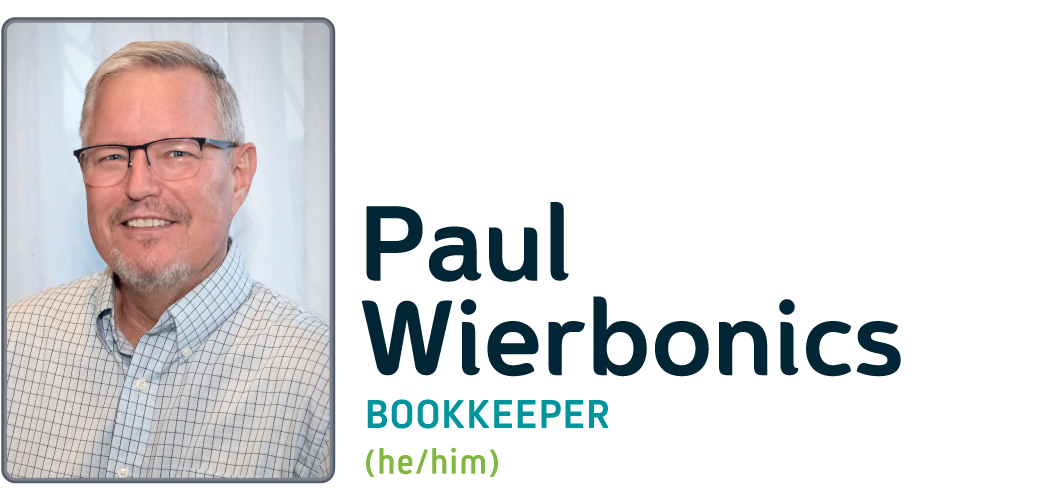 Paul is Equality Florida's Staff Accountant. He joined the staff at Equality Florida in August, 2016. He graduated from Brenau University with a Bachelor of Science degree in Business Administration.
In his prior career, Paul served as a U.S. Navy Master Chief (Chief of the Boat) onboard two nuclear-powered fast attack submarines. He served on six different submarines during his 23-year career. Immediately following his Naval retirement, he spent the next 10 years in the manufacturing and retail industries.
Paul and his wife Sue married in June 1985. They are the proud parents of two grown children. After living in seven states they now reside in Apollo Beach.