ORLANDO MAYOR, CITY COUNCIL FILE BRIEF IN SUPPORT OF FLORIDA MARRIAGE LAWSUITS
ORLANDO MAYOR, CITY COUNCIL FILE BRIEF IN
SUPPORT OF FLORIDA MARRIAGE EQUALITY LAWSUITS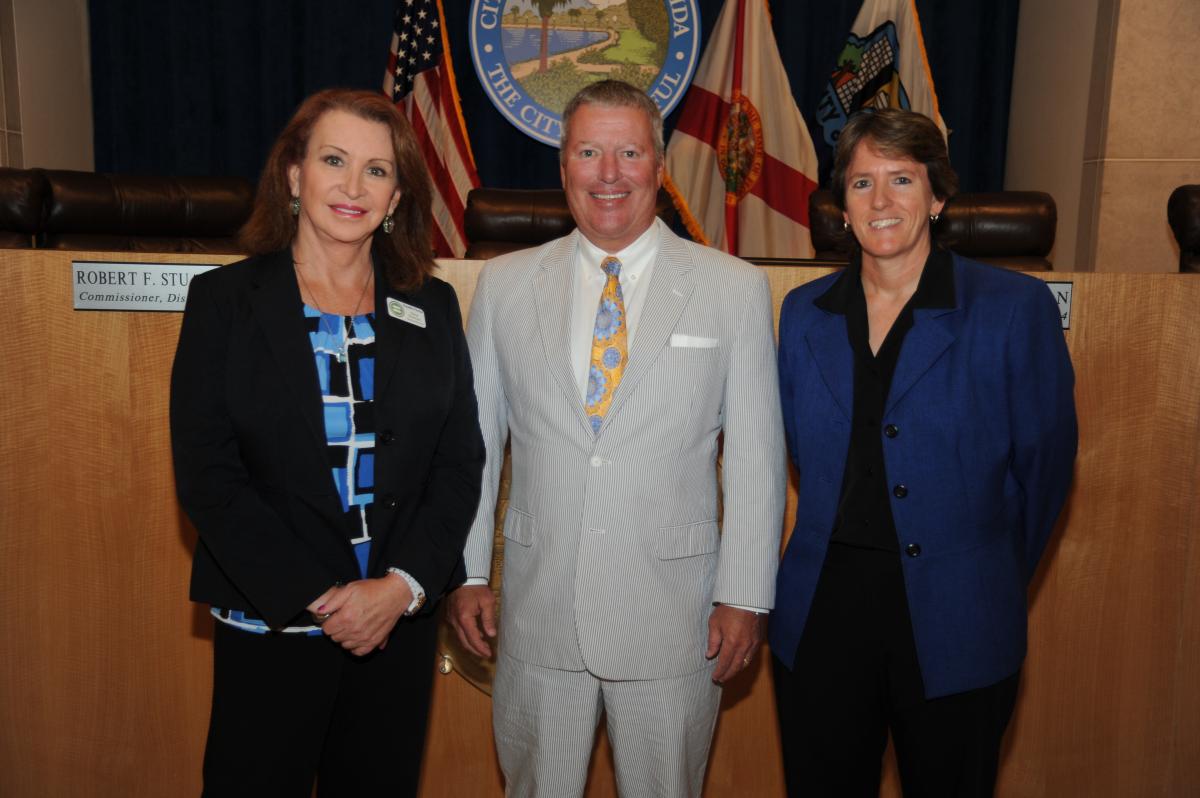 Photo: Equality Florida Board Member Gina Duncan, Orlando Mayor Buddy Dyer, Attorney Mary Meeks
(June 23, 2014) – The Orlando City Council voted today 5-2 to support Mayor Buddy Dyer in filing an amicus curiae brief in Florida's marriage equality lawsuits. Also known as an amicus brief, literally translated from Latin as a "friend of the court," the brief may be filed by someone who is not a party to the litigation, but who believes that the court's decision may affect its interest.
In the brief, the City of Orlando details why overturning the ban on same-sex marriage is good for the city, good for economic development, good for tourism and good for the state.
Orlando has a population which is richly diverse, and that is reflected in how the City regards its employees. In 2000, the City amended their Policy & Procedure "Employment & Recruitment" guidelines to add sexual orientation, and added sexual orientation to its policy governing harassment. Since 2009, City employees have had health insurance that includes coverage for same-sex partners.
"The City of Orlando is incredibly proud of the steps we've taken, including the implementation of the City's domestic partnership registry, that have made Orlando one of the most inclusive cities in America," said Mayor Dyer. "Our city remains committed to equality, and we understand this serves as an additional economic development tool as our community looks to attract talented, creative people and employers and create jobs for all of our residents."
The brief will be filed with Florida courts where four marriage equality cases are pending in the state. One lawsuit, Pareto v. Ruvin, is set for a hearing on July 2nd before Judge Sarah Zabel in the Eleventh Judicial Circuit Court in Miami. Judge Zabel will hear from attorneys who filed a lawsuit in January on behalf of six same-sex couples and Equality Florida Institute. The lawsuit argues that Florida's laws barring same-sex couples from marriage violate the United States Constitution by denying them the legal protections and equal dignity that having the freedom to marry provides.
Orlando joins with the City of Miami Beach in filing the amicus brief, which includes arguments on how lifting the ban alleviates hardships for same-sex couples and provides numerous benefits for citizens and employees to live in a non-discriminatory environment.
To read the the amicus brief, click here.