Weekly Public Policy Update - Issue 4
Public Policy Update, Issue 4

The Families First Bill Is Back
Next Tuesday, March 12th the Florida Senate Committee on Children, Families and Elder Affairs will hold a second hearing on the Families First bill. The bill, SB 196 by Senator Sobel, would create a statewide domestic partnership registry. The bill would allow same-sex couples and unmarried opposite-sex couples to register and receive important legal protections. This includes hospital visitation, correctional facility visitation, end of life decision-making and burial arrangements.
We need your help to ensure this bill passes out of committee! Click below to find out how to take ACTION today.
Call and/or send an email to the senators in support of the bill.
If you haven't already, sign the petition in support!
Leon County Commission To Vote On DPR
Next Tuesday, March 12 at 6pm the Leon County Commission is considering passage of a Domestic Partnership Registry that would provide essential legal protections for unmarried couples. It's critical that pro-equality supporters SHOW UP for the public hearing:
301 S. Monroe Street, 5th Floor,
Tallahassee, FL. 32301
and wear a RED shirt!
Click here to find out more about how YOU can take ACTION!
City Of Venice To Consider DPR Ordinance
Next Tuesday, March 12th the first reading of Venice's Domestic Partnership Registry Ordinance is on the City Council agenda. It should come up sometime between 9:30 AM to 10:30 AM.
It is open to public comment.
Lake County Schools To Vote On Allowing GSAs
On Monday, March 11th, the Lake County School Board will vote on whether to allow Gay-Straight Alliances (GSAs) in the district's high schools and middle schools. The Lake County School Board could be on the verge of voting to end ALL clubs in order to stop one brave student from forming a GSA in her school. GSA's are an important part of making schools a safe and inclusive place for LGBT youth and by attempting to block one, Lake Schools is perpetuating the anti-LGBT bullying that takes place in the halls of their school district.
SHOW UP: Wear Red to the School Board Meeting
What: Lake County School Board Meeting on GSA's
Where: The Old Round Courthouse, 315 W. Main Street, Tavares, FL 32778
When: Show up at 5:30p.m. on March 11th
Click here to see how YOU can take ACTION today!
Equality Florida's 2013 Annual Lobby Days! 
Florida Congresswoman Debbie Wasserman Schultz has a special video message for you about our Lobby Days on March 11th & 12th.
As a former state legislator, and now United States Congresswoman, Debbie Wasserman Schultz understands the power of personal stories in changing public policy. That's why she is urging you to attend Equality Florida Lobby Days 2013.
Today is the last day to register! Click here for more information!
Legislator Spotlight: Representative Raschein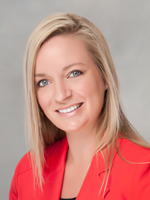 Representative Holly Merrill Raschein is a first-term Republican representing District 120, who served as a legislative aide to House Minority Leader Ron Saunders before being elected in November of 2012.
Representative Raschein is a fiscal conservative, advocating wise investments and is highly sensitive to the issue of job creation and the concerns of small businesses. She has consistently demonstrated her ability to "reach across the aisle" throughout her career in public service. Representative Raschein signed on to be a primary sponsor in the House, along with Representative Joe Saunders, for the The Florida Competitive Workforce Act, a bill that would prohibit discrimination in the workplace, including on the basis of sexual orientation and gender identity.