Senator Sobel to Honor Equality Florida & Six Marriage Equality Plaintiff Couples as "Champions of Change"
Senator Eleanor Sobel to Honor Equality Florida
and Six Marriage Equality Plaintiff Couples as
"Champions of Change"
Tuesday, January 13 @ 5 PM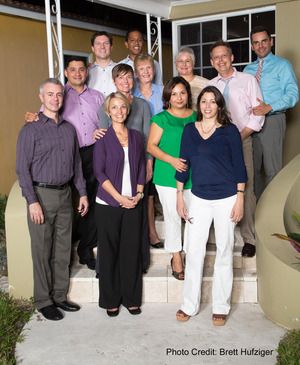 Florida Senator Eleanor Sobel (D-Hollywood) will honor six South Florida couples who successfully challenged Florida's ban on same-sex marriage. Sen. Sobel will present each couple with a "Champions of Change" award at a ceremony on Tuesday, January 13 at 5pm at her office in Hollywood.
"These 12 individuals placed themselves and their families under a barrage of scrutiny for nearly a year in order to secure marriage equality for all loving couples throughout our state," said Sen. Sobel. "They will forever be etched in the history of Florida for having demonstrated to the world that 'Love is Louder,' and discrimination has no place in our great state."
The couples were plaintiffs, along with Equality Florida Institute, in Pareto v. Ruvin, one of several lawsuits that prevailed in overturning the discriminatory ban on same-sex marriage. They are: Melanie & Vanessa Alenier, Karla Arguello & Catherina Pareto, Jeffrey & Todd Delmay, Jorge Diaz & Don Price Johnston, Pamela Faerber & Summer Greene, and David Price & Juan Carlos Rodriguez.
On Monday, January 5, Judge Sarah Zabel lifted her stay on Pareto v. Ruvin, allowing same-sex couples in Miami Dade County to marry one day before the rest of Florida. Shortly after the ruling, Judge Zabel married Karla Arguello & Catherina Pareto and Jeffrey & Todd Delmay, making them the first same-sex couples to legally marry in Florida. Melanie and Vanessa Alenier were married on Friday, January 9. The three remaining plaintiff couples are planning wedding celebrations for later this year.
Senator Sobel has been an unwavering advocate for LGBT equality. As chair of the Florida Senate Committee on Children, Families and Elder Affairs, in 2013 she introduced the "Families First" bill, garnering bipartisan support. She also participated in the first-ever Florida LGBT Town Hall, in Wilton Manors, to discuss LGBT legislative issues that uniquely affect Florida's LGBT community. Also in 2013, Senator Sobel was honored by Equality Florida with the prestigious Voice for Equality award, recognizing her distinguished service to the LGBT community gain respect before the law.
The celebration takes place on Tuesday, January 13 at 5 pm at Senator Eleanor Sobel's District Office, 2600 Hollywood Blvd., in The Old Library, 1ST Floor, Hollywood, FL 33020.