BREAKING: Hinkle Confirms Marriage Ruling - ALL Counties Must Issue Marriage Licenses To Same-Sex Couples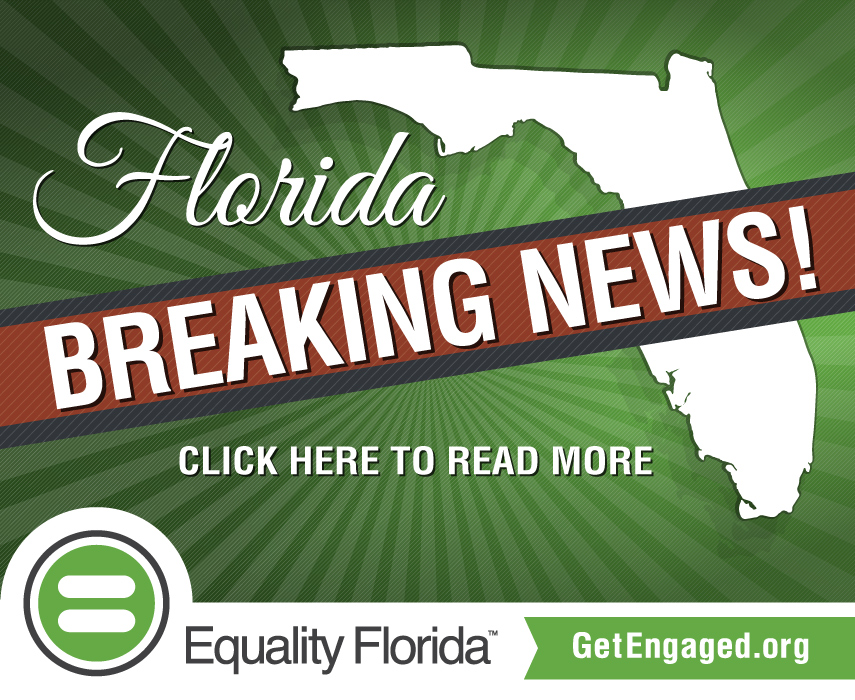 (January 1, 2015) – Today, federal district court Judge Robert L. Hinkle confirmed his marriage ruling in a new order stating that clerks of ALL Florida counties must issue marriage licenses to same-sex couples after his stay expires end of day January 5th.
When the stay of his prior order invalidating Florida's ban on marriage by same-sex couples expires on January 5, 2015, the federal Constitution requires that all Florida county clerks must issue marriage licenses to same-sex couples.
"We believe Judge Hinkle's order was clear from the beginning, said Nadine Smith, CEO of Equality Florida. "We are pleased that he has put an end to the unnecessary confusion caused by a misguided legal memo by a private law firm. We look forward to January 6th when couples who have waited for this day can finally be married, and those of us married elsewhere are finally able to fully protect our families."
On August 21, 2014, Judge Hinkle ruled that Florida's laws barring same-sex couples from marriage violate the equal protection and due process requirements of the federal Constitution and stayed his ruling until January 5, 2015. Both the Eleventh Circuit and the U.S. Supreme Court subsequently denied the State of Florida's request to extend the stay. Last week, the Washington County Clerk filed a motion asking Judge Hinkle to clarify his ruling following confusion generated when a private law firm issued a memorandum concluding that Judge Hinkle's ruling did not permit other county clerks to issue marriage licenses and that those who did so would face criminal prosecution.
On December 23, 2014 the National Center for Lesbian Rights (NCLR) and Equality Florida sent a memorandum to all of Florida's county clerks, explaining that they were required to issue marriage licenses to same-sex couples on January 6, 2015, based on Judge Hinkle's decision.
On December 29, 2014, NCLR submitted an amicus brief on behalf of Equality Florida, urging Judge Hinkle urging Judge Hinkle to confirm the statewide scope of his earlier ruling.
"Today's ruling confirms that all Florida officials, including county clerks, must comply with the federal Constitution and must therefore treat same-sex couples equally under the law by issuing marriage licenses to qualified same-sex couples and by treating their marriages equally in all respects," said Shannon Minter, Legal Director of NCLR.
Read Judge Hinkle's order here. 
Stay tuned for more information and visit eqfl.org/marriage