BREAKING: Equality Florida Action PAC Endorses Michele Rayner for State House District 70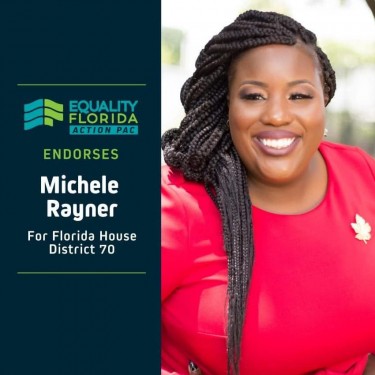 Florida's Largest LGBTQ Civil Rights Organization, Equality Florida Action PAC, endorsed Michele Rayner for State House District 70 in the Democratic Primary.
"As a civil rights lawyer, Michele has an impressive record as a champion fighting for racial justice and an advocate for equality. She is poised to make history as the first out Black queer woman elected in our state," said Nadine Smith, Executive Director of Equality Florida. "Equality Florida is headquartered in St. Petersburg and I am a voter in District 70. I know this community will be inspired by her history of standing up for the most vulnerable, for her fearlessness in calling out injustice and her commitment to finding solutions rooted in the values of equality for all."
"I am truly honored and grateful to have the support of Equality Florida," said Michele Rayner. "Their commitment to fighting for justice and equality for all Floridians is the embodiment of who I am and the work I have done. However, our work is not finished. This is a critical moment in our nation's and state's history, one that not only demands that all people have full access to their civil and human rights, but as equally important have access to quality public education, affordable housing, accessible healthcare, and economic opportunity. I stand to be one of, if not the first, openly queer Black women ever elected to office in Florida office so the significance of this endorsement is not lost on me.
Born and raised in Pinellas County, Michele Rayner is a widely respected civil rights attorney and social justice advocate and lead counsel of Civil Liberty Law. Prior to opening her own law firm, Ms. Rayner served as an Assistant Public Defender and Legislative Aide. Ms. Rayner earned her B.S. in Political Science and International Affairs and M.S. in International Affairs from Florida State University and her J.D. from Florida Coastal School of Law. Currently, she serves as local counsel for the NAACP Legal Defense fund, a member of Delta Sigma Theta Sorority, Inc., and the Fred G. Minnis Bar Association.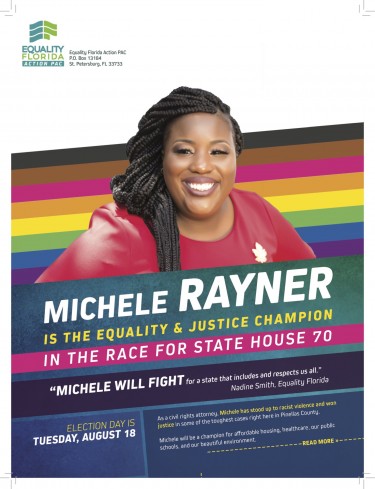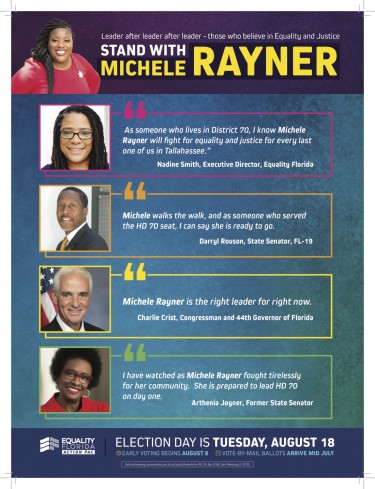 Political advertisement paid for and approved by Michele Rayner, Democrat, for State House District 70.
###