Resistance Report Week 5: They're rubber stamping DeSantis' Slate of Hate – But we're still fighting back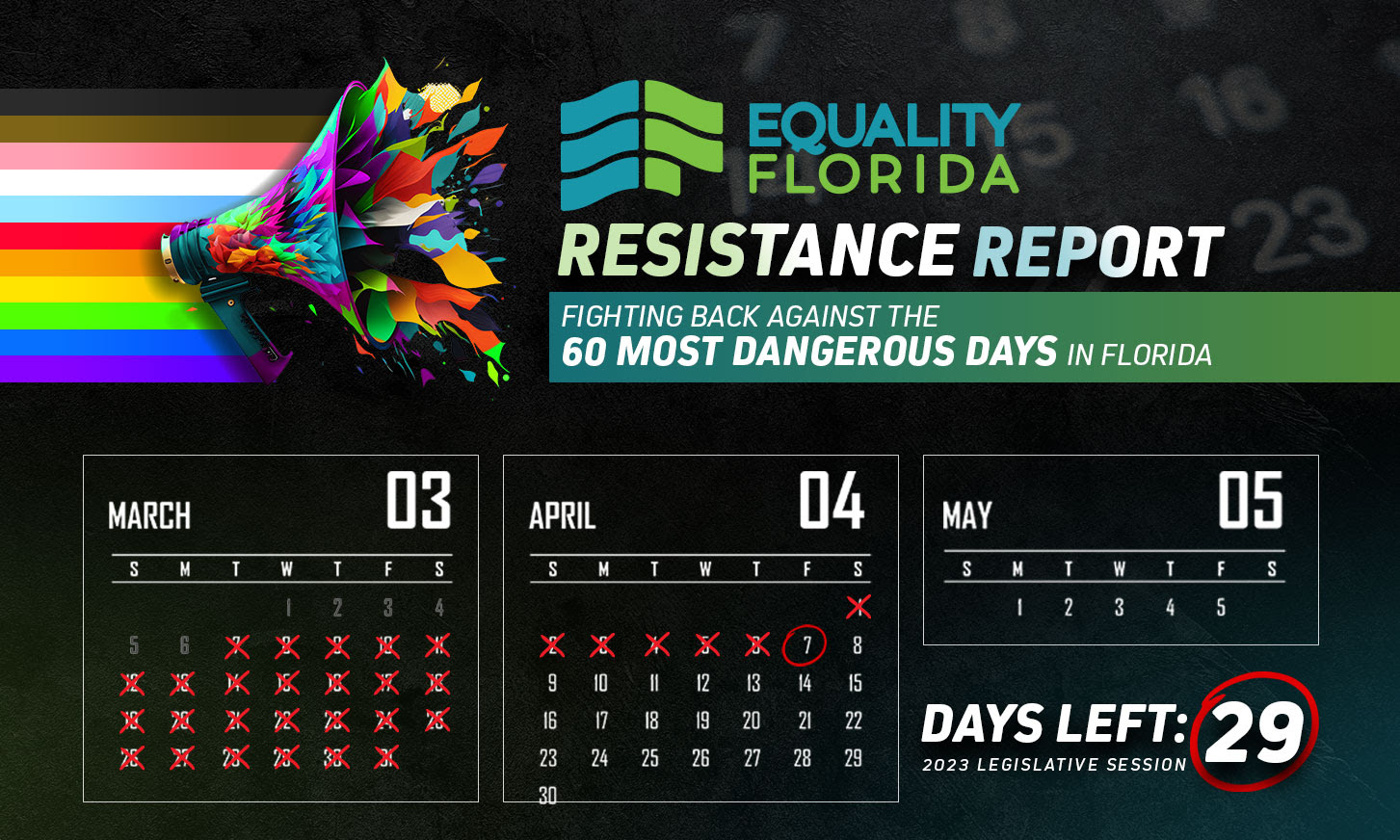 We're halfway through legislative session, and it's clear that the Republican supermajority in the Florida legislature is ready to rubber stamp Governor DeSantis' Slate of Hate.
The final 4 weeks of session will be an uphill battle. But no matter what — Equality Florida will be in the Capitol every single day of this 60-day session to fight back by defeating as many bills as possible, trying to mitigate the harm of bills that do pass, and exposing the cruelty of DeSantis' agenda.
THANK YOU to our volunteer advocates who joined us in Tallahassee this week to attend hearings and testify on various bad bills as a part of our session-long Pride at the Capitol Campaign. We couldn't do this work without you!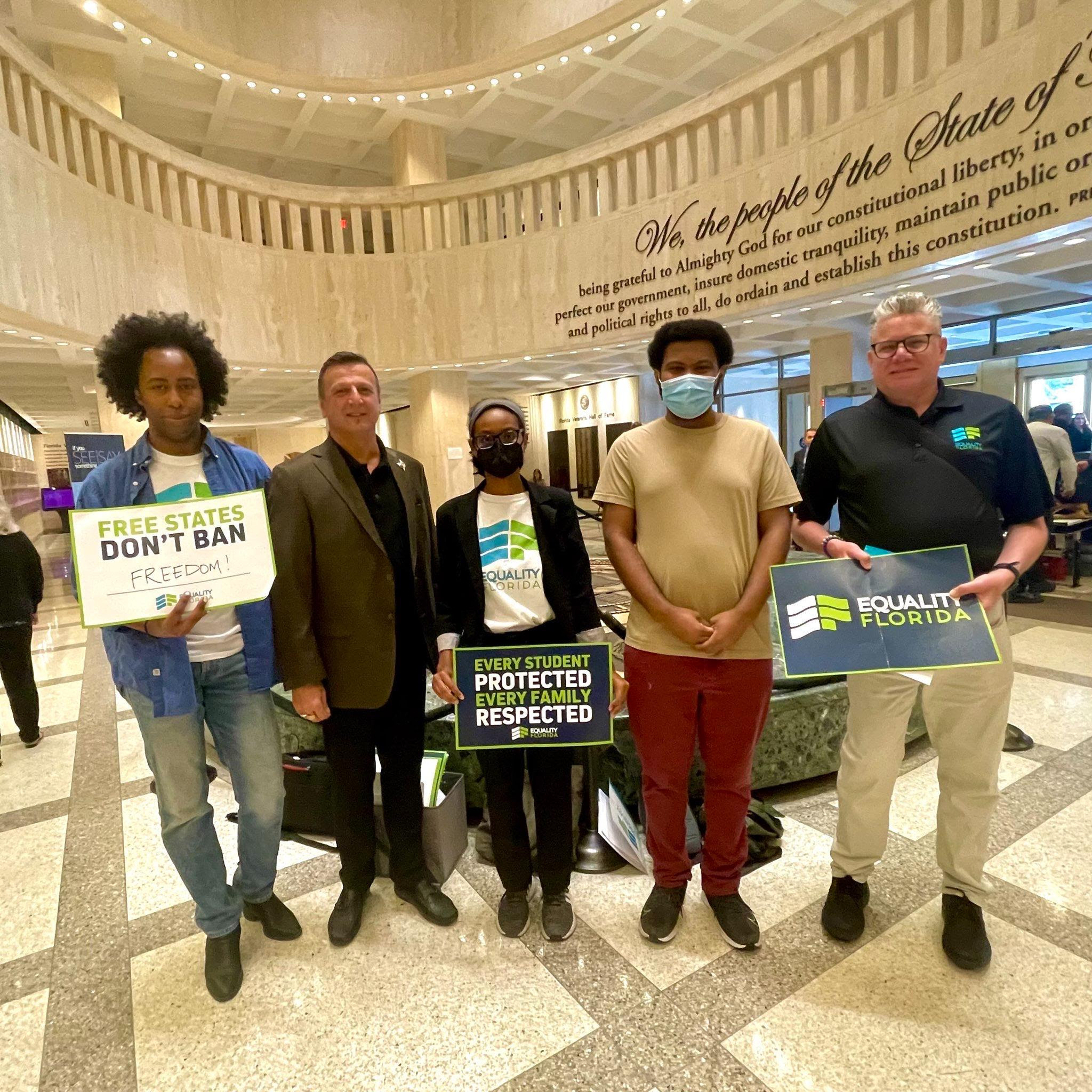 Volunteer advocated joining Equality Florida for this week's Pride at the Capitol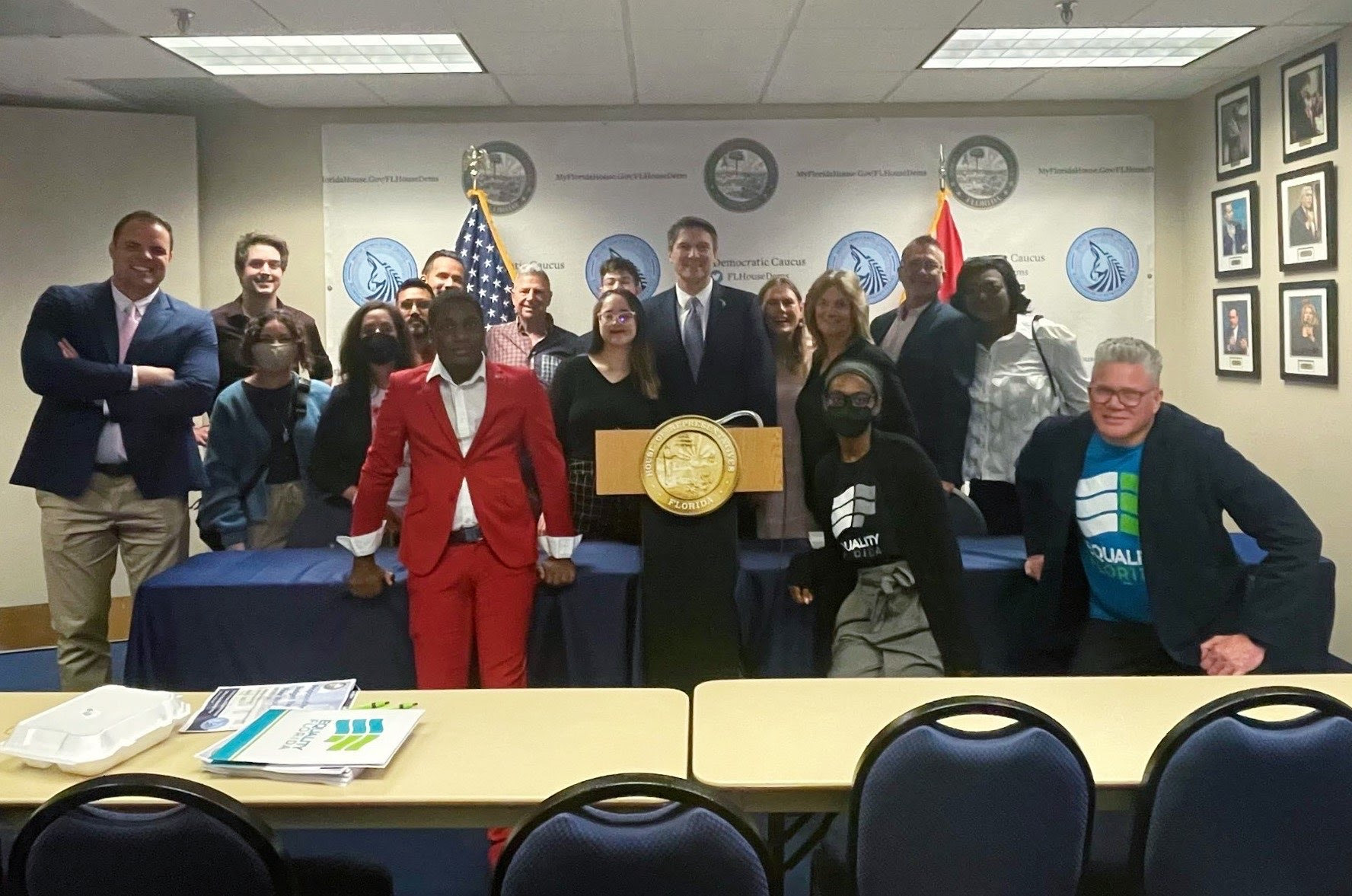 The Dolphin Democrats from Broward County participating in Equality Florida's Pride at the Capitol
We're mobilizing weekly, in-person and virtually, to fight back against DeSantis' fascist agenda. Will you stand with us and join the resistance?

We're mobilizing and organizing across the state, in-person, online, in small groups and in big groups, because we know what we're up against. We know that there are a lot of attacks coming from Tallahassee right now. This is the highest number of anti-LGBTQ bills that we have ever faced in the history of our organization, which is why we have to take every opportunity to oppose and challenge these bills, no matter what. 
Everyday, we have pro-equality champions who are doing just that. Our WINNER of the week is Senate Democratic Leader Lauren Book who peacefully protested alongside activists outside the Capitol after the passage of the near-total abortion ban bill in the Senate. She was ARRESTED by the Tallahassee Police Department along with many of the protestors and Florida Democratic Party Chair Nikki Fried. Leader Book has been a strong and vocal opponent of the abortion ban both IN and OUT of the chamber. 
The LOSER of the week is Senator Clay Yarborough. He led the charge to push through the Criminalizing Gender Affirming Care Bill (SB 254) this week AND he also brought the Anti-Drag Bill (SB 1438) to the Senate floor for its second reading. On top of that, he's filed numerous amendments throughout session to WORSEN already terrible bills that he's proposed, including one to SB 254 that would expand the scope of the public funding ban for gender affirming care and define gender affirming care as a "serious physical harm" for minors. He also proposed a last-minute amendment to SB 1438 as a maneuver intended to censor drag at local pride parades using vague and subjective language that threatens misdemeanor crimes, $10,000 fines, and license revocation for violations.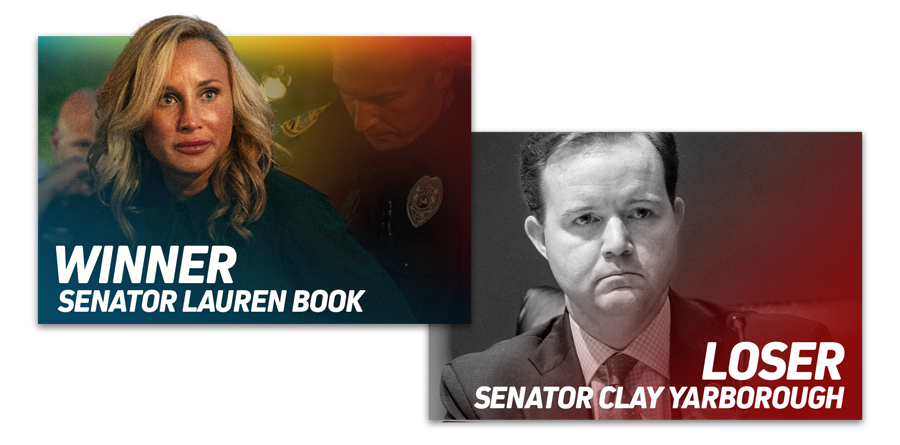 This week, the House only met through Tuesday, and the Senate through Wednesday, but there's still a lot to cover as Republican lawmakers continued to push bad bills forward at an alarming speed. 
Here's what happened during week 5 of session and what you need to know about bills that are still pending passage: 
The Criminalizing Gender Affirming Care Bill (SB 254) 
What you need to know: This bill threatens doctors with jail time for providing essential medical care to transgender children as well as makes access to care more difficult for transgender adults. It weaponizes the state's custody courts against an affirming parent, effectively permitting kidnapping by an unsupportive parent seeking to take away parental rights. An amendment proposed to allow prescribed medical care in severe cases of gender dysphoria to prevent suicide was REJECTED by Republican members. 

This week, the bill was heard on the floor of the Senate and passed with a vote of 27-12.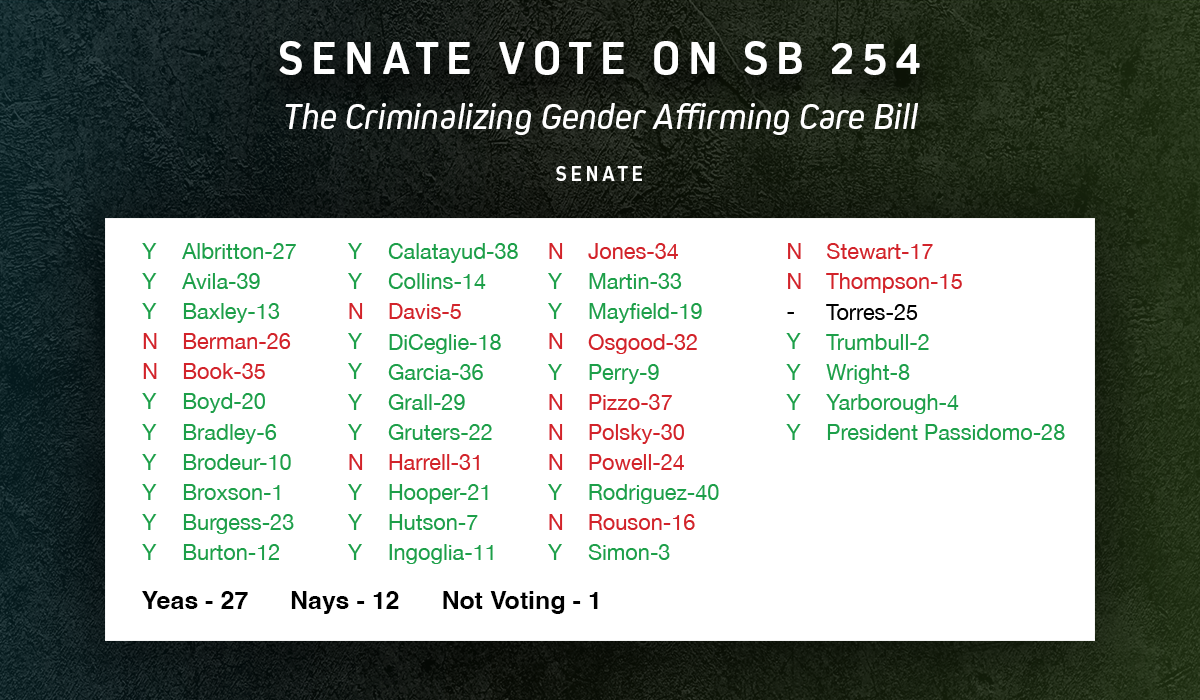 *Senator Gayle Harrell (R-Martin) was the only Republican to vote against SB 254
How you can get involved: We need to hold Senators accountable for their votes on this cruel bill - several who represent districts with large blocs of pro-equality voters. Call these Senators right away to express your disappointment: 

Senate President Kathleen Passidomo (SD 28) - (850) 487-5028
Senator Corey Simon (SD 3) - (850) 487-5003
Senator Joe Gruters (SD 22) - (850) 487-5022
Senator Jay Collins (SD 14) - (850) 487-5014
Senator Illeana Garcia (SD 36) - (850) 487-5036
Senator Alexis Calatayud (SD 38) - (850) 487-5038
The Trans Ban Bill (HB 1421) 
What you need to know: This bill is a direct attack on the existence of transgender youth and adults, including state forced detransition for minors currently accessing gender-affirming healthcare. It seeks to deny legal recognition via birth certificates for all ages, deny ALL gender-affirming care to minors, dramatically restrict access to care for adults, deny private insurance coverage to the extent care is available, and revoke licensure for health care providers who follow standards of medical care for transgender Floridians that are endorsed by the American Academy of Pediatrics, the American Medical Association, and other leading medical authorities. The bill was also amended to allow courts to modify custody agreements in favor of a non-affirming parent and against the interest of an affirming parent, and to add a ban on the use of telehealth for gender-affirming care for trans adults. 

This sweeping assault on the lives and medical freedoms of transgender Floridians passed its FINAL House Committee last week, despite fierce opposition from Democratic representatives and impassioned parents who testified against it.

How you can get involved: This bill is eligible for a FULL HOUSE VOTE anytime in the next few weeks. Send a message to House lawmakers telling them to VOTE NO on HB 1421. You can also CALL these Representatives and keep the pressure on!

Rep. Susan Plasencia - (850) 717-5037
Rep. David Smith - (850) 717-5038
Rep. Carolina Amesty - (850) 717-5045
Rep. Paula Stark - (850) 717-5047
Rep. Fabian Basabe - (850) 717-5106
Rep. Peggy Gossett-Seidman - (850) 717-5091
Rep. Vicki Lopez - (850) 717-5113
Rep. Chip LaMarca - (850) 717-5100
Rep. Will Robinson - (850) 717-5071
Rep. Jim Mooney - (850) 717-5120
The License to Discriminate in Healthcare Bill (HB 1403/SB 1580)
What you need to know: This bill prioritizes personal beliefs over patient well-being. It would allow healthcare providers and insurers to deny a patient care on the basis of religious, moral or ethical beliefs. It creates a license to discriminate by allowing healthcare employers to discriminate in hiring, and it bars medical Boards from disciplining doctors for spreading misinformation. No one should be denied access to critical medical care. 

On Monday, the House version of this bill (HB 1403) was heard in the Healthcare Regulation Subcommittee. It advanced after a vote of 12-5. On Tuesday, the Senate version of this bill (SB 1580) passed through the Senate Health Policy Committee on a vote of 9-3.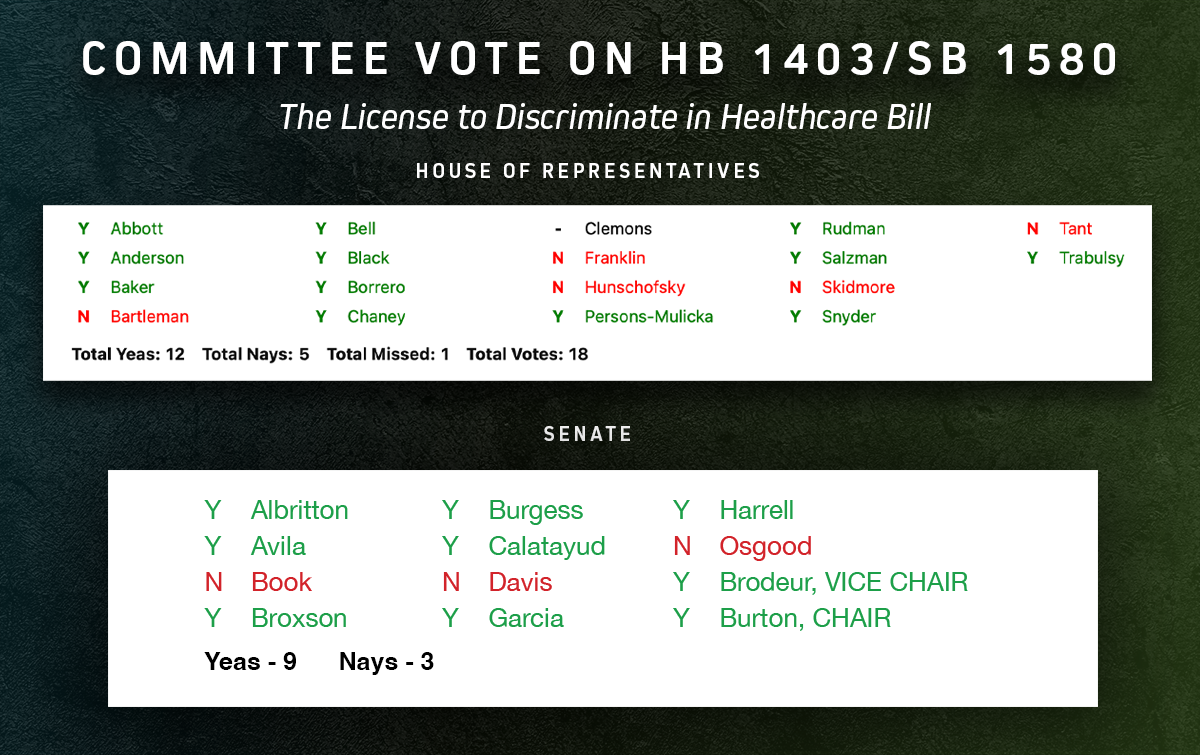 "Don't Say LGBTQ" Expansion Bill (HB 1069/SB 1320)
What you need to know: This bill would expand the Don't Say LGBTQ law's censorship provisions to 8th grade and revoke the right of parents to determine which pronouns the school system will use to address their own children. It would also permit MORE book-banning and mandate IMMEDIATE REMOVAL of school books targeted for objection before they're even reviewed. 

During last week's House debate on HB 1069, Rep. Angie Nixon (D-Jacksonville) delivered powerful testimony on the harms that this bill poses to the mental health of LGBTQ youth. Click here to watch and share (TW: Suicide).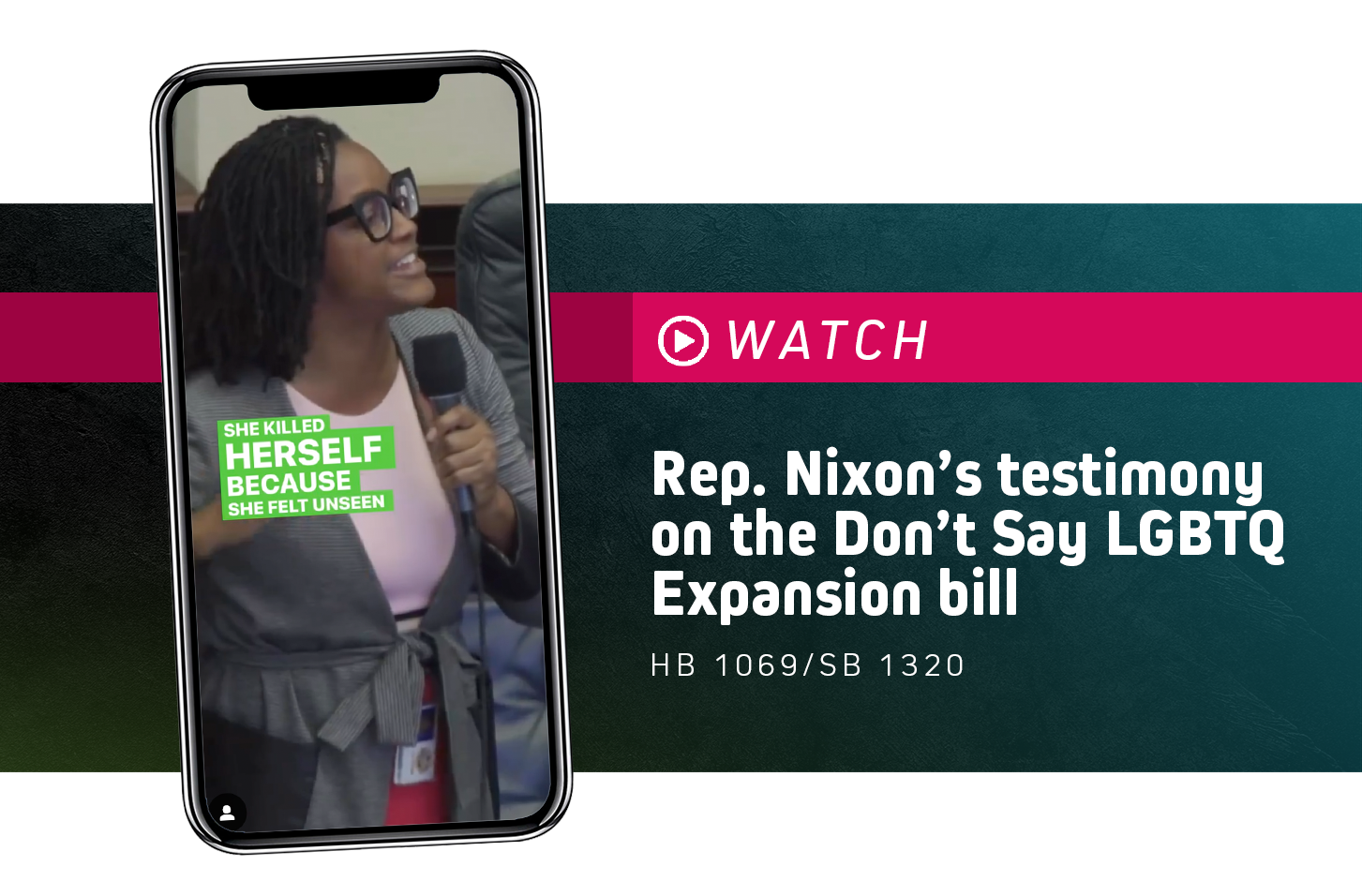 The Anti-Drag Bill (HB 1423/SB 1438)
What you need to know:  Florida law already prohibits exposing minors to shows considered sexually explicit or harmful, but this discriminatory and unnecessary bill expands state law to include vague language that can be used to attack our drag community. It gives state agencies the power to politically target, fine, and shut down LGBTQ-friendly businesses and it revokes a parent's right to determine what art and entertainment content is appropriate for their own family. The bill is so extreme that it threatens misdemeanor charges and jail time for anyone who admits a minor to certain drag shows. Republican lawmakers also introduced an amendment this week to expand their bill to include drag shows at city pride parades in an attempt to scare LGBTQ-friendly cities out of permitting any drag at all. 

The Senate version of this bill (SB 1438) was heard on the floor this week and it is scheduled for a final Senate vote next Tuesday. 

How you can get involved: Send a message to Senators and let them know to VOTE NO on SB 1438 ahead of next Tuesday's vote!
The 6-Week Abortion Ban Bill (HB 7/SB 300)
What you need to know: This bill would BAN abortion in Florida after 6 weeks, a dramatic escalation from last year's already extreme 15-week ban. Because of how early the ban kicks in, this is a near-total abortion ban, meaning many will be forced by our state government to carry their pregnancies to term. This bill is a direct attack on bodily autonomy and personal freedom.

SB 300 faced its final vote on the Senate floor on Monday and passed after a vote of 26-13.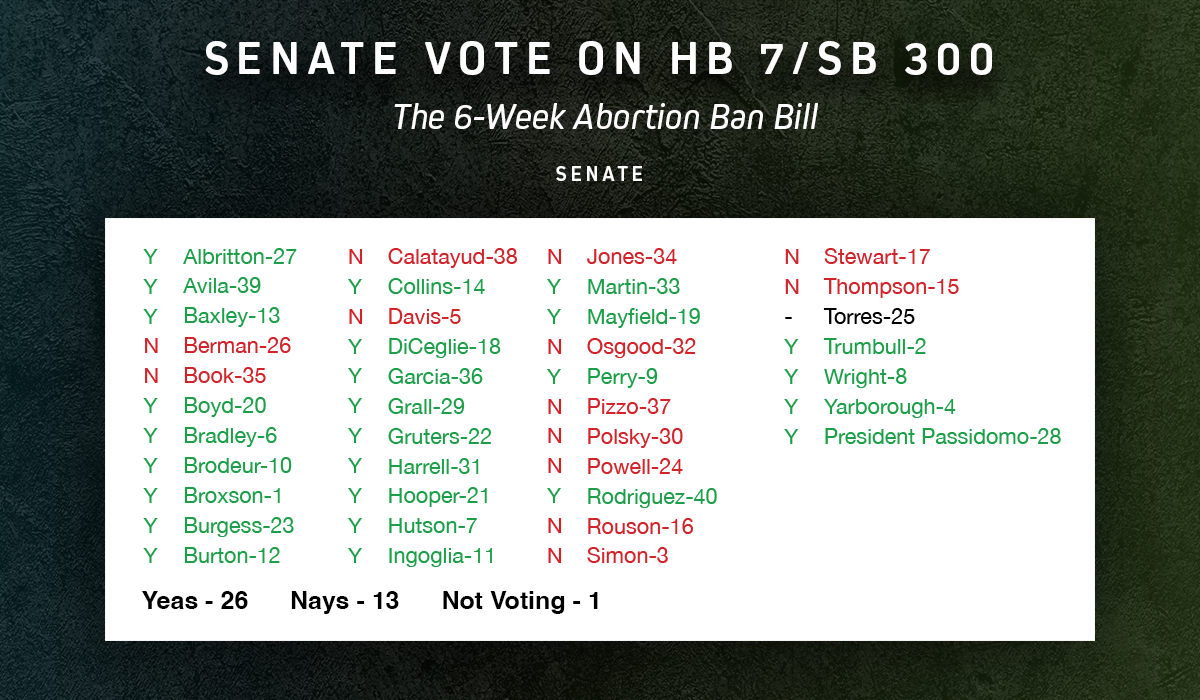 *Senator Alexis Calatayud (R-Miami) and Corey Simon (R-Tallahassee) were the only Republicans who voted against SB 300
The Defamation Censorship Bill (HB 991/SB 1220) 
What you need to know: This bill would make it easier to sue the media or members of the public over criticism of public officials. It's a direct attack on the right to free speech, going against Supreme Court precedent. The House version of the bill (HB 991) makes it so claims of sexism, racism, homophobia, and transphobia are presumed to be false and defamatory, while restricting how the claims can be proved. 

SB 1220 was originally scheduled to be heard in the Rules Committee this Wednesday but the bill was temporarily postponed. 

How you can get involved: HB 991 will now head to the House floor – tell Representatives to VOTE NO on this bill. And SB 1220 is schedule for a vote in the Senate Rules Committee on Tuesday at 8:30am – urge committee members to OPPOSE this bill. 
On top of all that, the governor also quietly signed into law the highly unpopular Permitless Carry bill on Monday, which puts our community and other marginalized groups directly at risk by making it far easier for Floridians to secretly carry a weapon in public. 
DeSantis and his allies have made it their goal to push bad bills through as fast as possible this year to bolster the governor's presidential platform – disregarding how any of this legislation might adversely affect the people who actually live in the state he is supposed to be leading. 
Our resistance will continue to fight back every day of this session and beyond. We won't stay silent while we're used as pawns in a political game. 
But the resistance doesn't stop in Tallahassee! This week, we also held a town hall in Sarasota on Monday with our community partners at Project Pride SRQ, Women's Voices of SW Florida, Church of the Trinity MCC, Planned Parenthood of Southwest & Central Florida, and the Unitarian Universalist Church of Sarasota. Over 200 people showed up to strategize on how to fight back against DeSantis' agenda. But Sarasota didn't stop there. The next day, more than 300 pro-equality supporters showed up to the Sarasota County School Board meeting to demand that DeSantis-endorsed Board Chair Bridget Ziegler ensure ALL students are protected and ALL families are respected in the school district.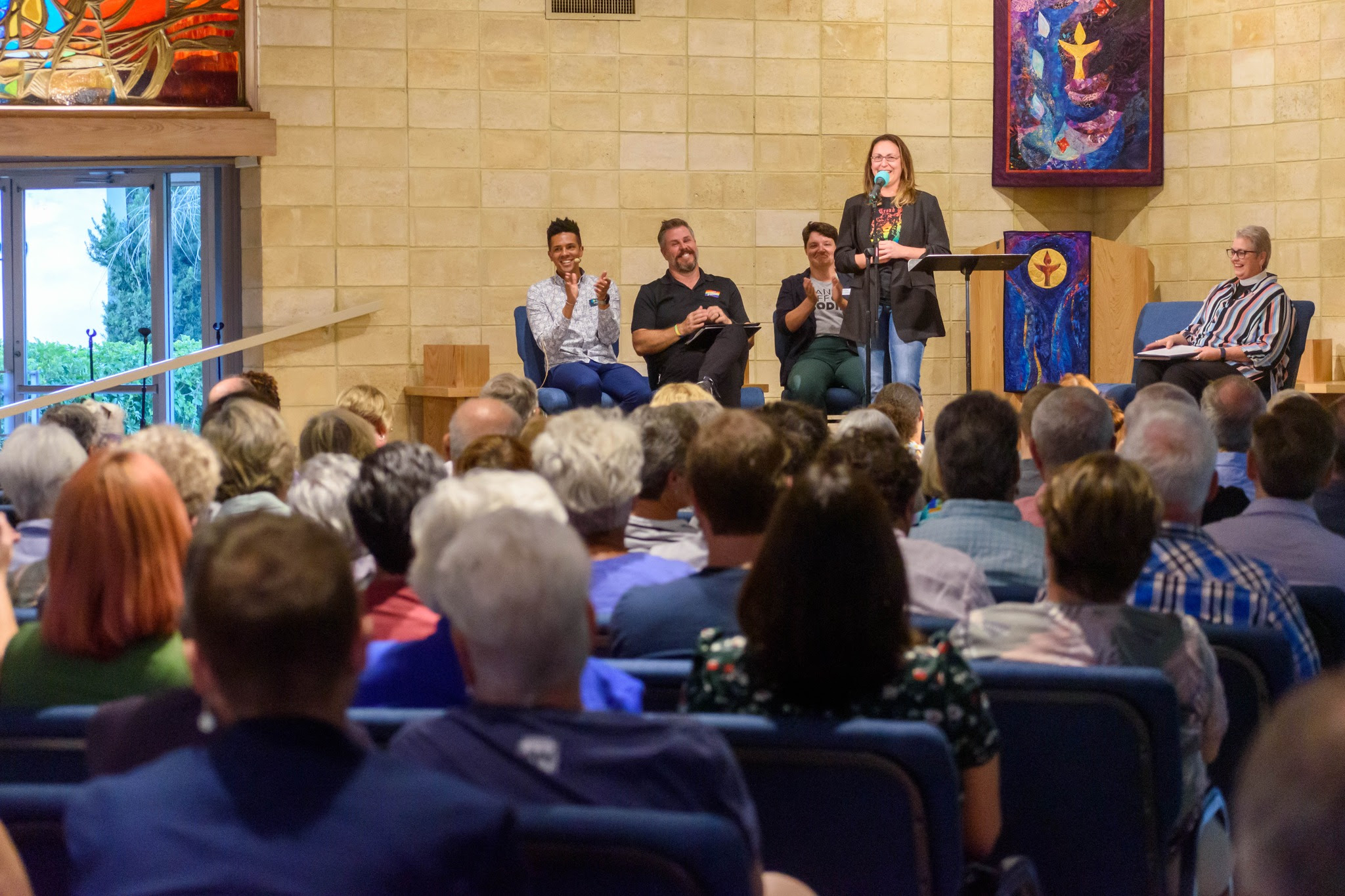 Photo Credit: Samantha Ponzillo Media
On Wednesday, a Florida Senate committee also confirmed seven extreme, conservative DeSantis appointees to the board at New College — an LGBTQ-friendly, liberal arts college in Sarasota — with the intent of changing the very fiber of this school. They will hold a voting majority and will have the power to change the curriculum or admissions policies. And make no mistake, New College is just a testing ground – this is the beginning of a hostile, right-wing takeover of higher education in Florida. Our own Press Secretary Brandon Wolf breaks down what's happening at New College, including some of these new board members, in a new video that you can watch on TikTok, Instagram, or Facebook.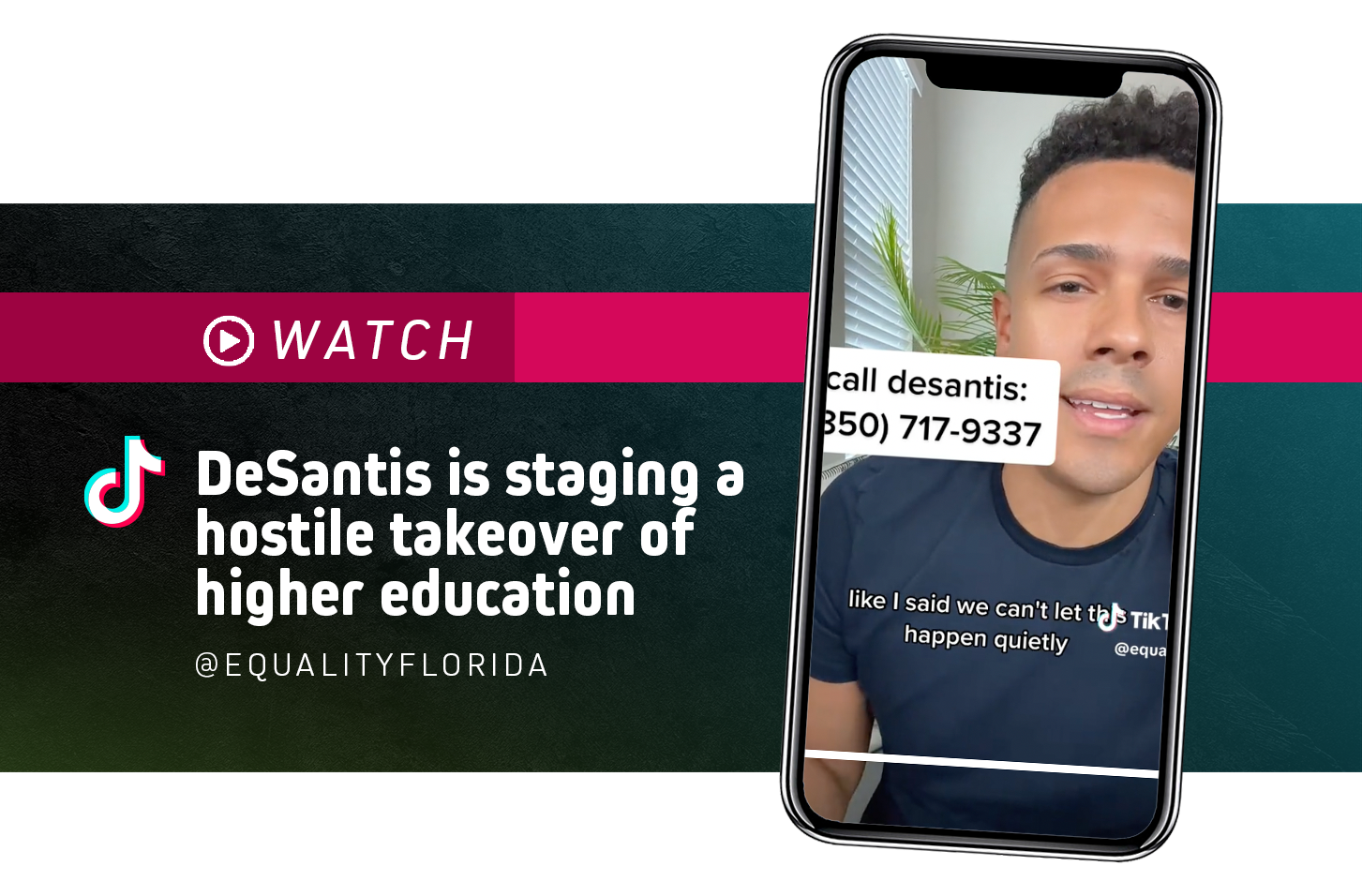 Students and community leaders are hosting rallies throughout the state opposing DeSantis' fascist agenda and speaking out against his Slate of Hate. We're keeping track of upcoming rallies — find one near you! 

Throughout the rest of session, we're going to be continuing our Pride at the Capitol campaign in-person in Tallahassee, hosting virtual events, and using our social media to post updates, call out Florida lawmakers, and more. 
Make sure you're following us on Twitter, Facebook, Instagram, and TikTok for the latest updates. And sign up to be a part of our Pride at the Capitol campaign by clicking here.