Outlier Ruling Endangers Minors, Enables Abusive Conversion Therapy in Tampa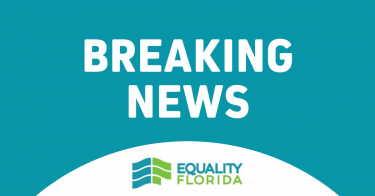 Outlier Ruling Endangers Minors, Enables Abusive Conversion Therapy in Tampa
TAMPA, FL - Today, a federal trial court departed from numerous Florida and national rulings by striking down Tampa's protections against conversion therapy for minors. Plaintiffs and the extremist, far-right Liberty Counsel brought the Vazzo v. City of Tampa lawsuit seeking to subject minors to the widely discredited and dangerous practice of conversion therapy.
"This is a harmful decision that puts some of our most vulnerable young people at risk," said Jon Harris Maurer, Equality Florida's Director of Public Policy. "The decision for Tampa stands completely alone in its reasoning. Regardless of this decision, experts agree that conversion therapy is a dangerous and sometimes deadly practice, and we know it is still routinely practiced on children and teens in Florida. We support the City of Tampa's leadership in protecting minors, and the Florida Legislature can and should also act immediately to protect children from this fraudulent practice."
So-called "conversion therapy" purports to change a person's sexual orientation or gender identity. Not only is this practice completely ineffective at actually changing a person's sexual orientation or gender identity, it puts LGBTQ youth and their families at serious risk. The practice has been debunked by every mainstream medical and mental health association.
Conversion therapy remains a huge problem. According to a report by The Williams Institute, "An estimated 20,000 LGBT youth ages 13 to 17 will undergo conversion therapy from a licensed health care professional before the age of 18." Approximately 698,000 LGBT adults in the U.S have received conversion therapy at some point in their lives, including about 350,000 who received it as adolescents. Nearly half a dozen large scale conversion therapy events are planned in Florida in the coming months.
Subjecting minors to conversion therapy is unsafe and dangerous. A 2018 peer-reviewed study by Dr. Caitlin Ryan found that LGBT youth who were subjected to conversion therapy were more than three times more likely to attempt suicide than LGBT youth who are not subjected to conversion therapy. And a 2019 study published in the Journal of the American Medical Association found that transgender people who were subjected to conversion therapy as children were four times more likely to attempt suicide than other transgender people.
"No child should endure this form of child abuse. Today's decision doesn't change the fact that this archaic, traumatizing, and fraudulent practice needs to be ended forever. Our local governments are acting where our state legislature has failed to protect young Floridians being subjected to conversion therapy," added Maurer.
Multiple federal courts have upheld similar laws, including another federal district court in Florida that earlier this year upheld virtually identical laws passed in West Palm Beach and Boca Raton. Eighteen states have enacted similar laws protecting against conversion therapy, as have 20 local governments in Florida.