BREAKING: MARRIAGES TO START END OF DAY JANUARY 5TH!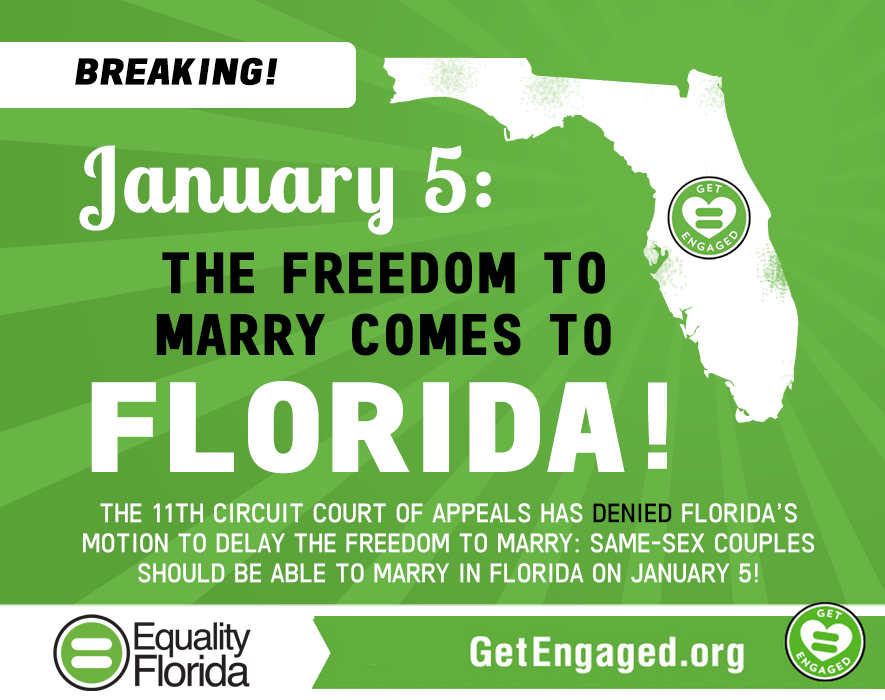 Today the 11th Circuit Court of Appeals has denied the state's motion for stay of a District Court ruling that overturned the state's ban on marriage for same-sex couples. The stay is scheduled to expire at the end of the day on January 5th, enabling same-sex couples to apply for marriage licenses at that time.
"We are thrilled that the 11th Circuit has denied the state's request to delay marriages in Florida. Every day of delay is another day of harm experienced by thousands of loving and committed same-sex couples in Florida. Now it's time to break out the wedding bells," said Nadine Smith, CEO of Equality Florida. "Florida is ready for the freedom to marry!"
On August 21, US District Court Judge Robert Hinkle ruled in favor of the freedom to marry and respect for marriage legally performed between same-sex couples in other states in these two consolidated federal marriage cases, Brenner v. Scott and Grimsley and Albu v. Scott.
The District Court placed a stay of their decision to allow time for appeals. The stay is scheduled to expire on January 5th. The state of Florida had requested an extension of the stay from the 11th Circuit Court until the appeals process if fully finished, while lawyers for the plaintiff couples had opposed any extension pointing to federal court ruling that struck down similar gay-marriage bans in other states.
UPDATE: This is the Federal Case. Federal Judge Hinkle set January 5th as the date he would automatically lift the stay in the federal case in Florida. Once the stay is gone, even though the case has not had a final decision, marriages would begin in Florida. He denied Bondi's motion to extend the stay. The big surprise today is that the 11th Circuit just also denied Bondi's request to extend the stay. She can ask the U.S. Supreme Court to extend the stay, but they have shown no willingness to stay other decisions. The only other way marriage is delayed in Florida is if the 11th circuit rules before Jan. 5th (highly unlikely) and rules against us. Otherwise, Florida gets marriage January 5th.
Click here to read the order from the 11th Circuit. 
Get ready for January 5th by checking out our marriage FAQ (click here).
More information coming soon...