BREAKING: Huge Development For The Freedom To Marry In Florida
UPDATE: (9/9/2014) Earlier this afternoon, Broward Circuit Judge Dale Cohen cancelled the Wednesday, September 10 hearing on the same sex divorce case. According to the judge's order, the Florida Attorney General was not properly informed to appeal the ruling. The plaintiff may refile their motion for a re-hearing.
Read Judge Cohen's order by clicking here.
---
STORY IN DEVELOPMENT...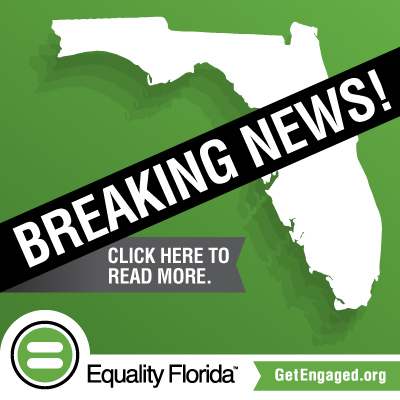 (September 5, 2014) On August 4, Broward County Judge Cohen ruled Florida's ban on marriage for same-sex couples unconstitutional - and included the state must recognize legal out of state marriages. 
The judge stayed the ruling allowing for a 30-day appeal period. But as of Thursday, the deadline has passed and no appeal was made to the ruling. 
The case involved a woman from Lake Worth, Heather Brassner, who was seeking a divorce from her estranged partner. The couple had a civil union in Vermont back in 2002. 
According to Steve Rothaus of the Miami Herald, a hearing in the case, before Broward Circuit Judge Dale Cohen, is scheduled for 1:30 p.m. Wednesday for the divorce to become final.
The Broward County Clerk is contemplating whether or not to start issuing marriage licenses to same-sex couples next week. 
UPDATE: (September 5, 2014) Attorney General Pam Bondi has formally asked Broward County Judge Cohen not to lift the stay on his August 4th ruling declaring the state's marriage ban unconstitutional.
ANOTHER UPDATE: The Florida Supreme Court has said they will not take up the Hillsborough marriage case explaining the 2nd District Court of Appeal should rule on the case first. 
More updates coming soon - We will post here as we receive more information!