RELEASE: Equality Florida Action PAC Backs Crist for Governor
Equality Florida Action PAC Backs Crist for Governor
Announces $100,000 LGBTQ Fundraiser for Crist is Over Two-Thirds to Goal in Just 24 hours
ST PETERSBURG, FL - Today, Equality Florida Action PAC, the state's largest LGBTQ political action committee, announced its endorsement of the Charlie Crist/Karla Hernández ticket in the upcoming general election. In their endorsement, Equality Florida Action PAC drew attention to Congressman Crist's record of support for the LGBTQ community and laid out, in stark terms, what is at stake in this election. The group also announced its plans for a $100,000 LGBTQ fundraiser for the Crist to take place Oct. 3rd. Within 24 hours of the announcement, Equality Florida Action PAC raised over $70,000 toward the goal, a demonstration of how energized the community is to defeat Ron DeSantis and send Crist back to the governor's mansion.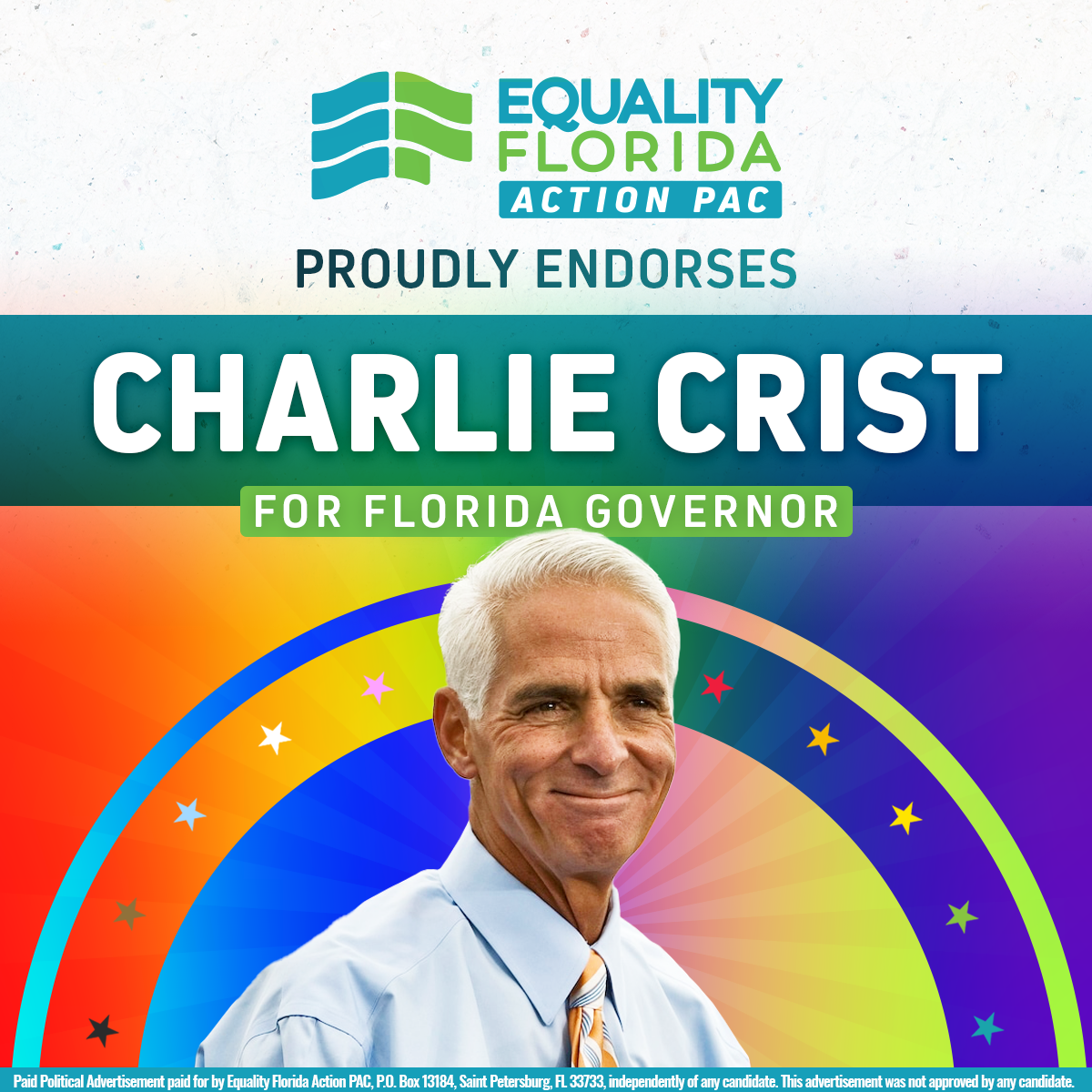 "The LGBTQ community is all-in for Charlie Crist," said Stratton Pollitzer, Equality Florida Action PAC Chair.  "Charlie Crist's resounding primary victory has given him tremendous momentum with polls much closer than many people realize. We are going to do all we can to stop Ron DeSantis' extremist policies. Pro-equality Floridians are energized to elect Charlie Crist and end DeSantis' all-out war on public education, his government mandated intrusion into our medical decisions, and his efforts to whitewash history. Charlie Crist is a proven champion of LGBTQ equality and exactly the person we need right now to make our state a place where everyone is treated with fairness and respect - at school, at their doctor's office, at work, and in their community."
"I'm honored to have earned the support of Equality Florida in our campaign's fight against Ron DeSantis," said Charlie Crist. "Make no mistake, our LGBTQ+ community and its allies are under attack by this governor. That ends this November. The people deserve a champion back in Tallahassee. Someone who will listen to them, respect them, and fight for them – I vow to be that governor."
Polling shows the race tight, with a clear path to victory for the Crist Campaign. In the first polling conducted following last week's primary, DeSantis leads Charlie Crist by only 5 points, within the margin of error for the poll. And, as evidence of the corrosive impacts of his extremism mounts, DeSantis finds himself underwater with No Party Affiliation voters, losing 52%-39% in the same poll. These results are the latest reminder that Florida remains the nation's largest swing state and a serious test of the governor's destructive brand of politics.
Crist's choice of Karla Hernández, a public education champion, stands in stark contrast to DeSantis' assault on public education and vulnerable students and families. The chilling effects of his bigoted Don't Say LGBTQ law have swept across the state as students return to schools, with rainbow "safe space" stickers being peeled from classroom windows, conversations about families being censored, and crucial resources for LGBTQ young people being eliminated. In selecting United Teachers of Dade President and former Teacher of the Year Hernández, Charlie Crist has spotlighted his commitment to fighting the DeSantis agenda of censorship and book banning and ensuring that every student in Florida is protected and that every family is respected.
Charlie Crist has an outstanding record of fighting for the LGBTQ community including his recent vote in favor of the Respect For Marriage Act and acting as a leading voice in the call for a better response to the national outbreak of Monkeypox, which has disproportionately impacted LGBTQ Floridians. Crist has been a vocal opponent to DeSantis' virulent policy assault on the LGBTQ community, calling for an end to the infamous Don't Say LGBTQ law and decrying DeSantis for putting "quacks and right-wing ideologues" at the helm of his attacks on health care for transgender Floridians.
###
Paid political advertisement sponsored and paid for in-kind by Equality Florida Action PAC P.O. Box 13184 St. Petersburg, FL 33733.  Approved by Charlie Crist for Governor.