#JaxHRO To Be Withdrawn; Community Rally Taking Place Thursday
Like many in the community, Equality Florida is reacting to recent news that Councilman Tommy Hazouri will move to withdraw his own human rights ordinance bill, 2016-002 at the City Council meeting this Thursday. This is a setback to be sure, but by no means a defeat. Councilman Hazouri has been a steadfast champion for equality, and we know that he remains committed to passing a fully-inclusive amendment to our human rights ordinance. He, along with Aaron Bowman and Jim Love, have been great leaders on this issue and show no signs of abandoning this work.
While we are frustrated, we must remember that we have come very far on the path to equality in Jacksonville. Last year, Jacksonville voters made our city's lack of a fully-inclusive human rights ordinance one of the top issues in the Council and Mayoral election. Following a series of Community Conversations led by Mayor Curry, bills relating to the human rights ordinance were filed by Councilman Hazouri and Councilman Gullford.
Today's news should serve as a clarion call to the LGBT and allied community in Jacksonville that our work continues. We must continue to hold our leaders accountable to the commitments they've made. We must educate our friends, family, and coworkers about what a fully-inclusive HRO is, and challenge the hateful transphobic and homophobic rhetoric of our opponents.
We know that Council Members Hazouri, Bowman, and Love are committed to passing this legislation, and we look forward to the reintroduction of a fully-inclusive HRO bill in the near future.
After the City Council meeting on Thursday, February 18, join Equality Florida and the Jacksonville Coalition for Equality for a community rally in support of a fully-inclusive HRO. Details in the flyer below: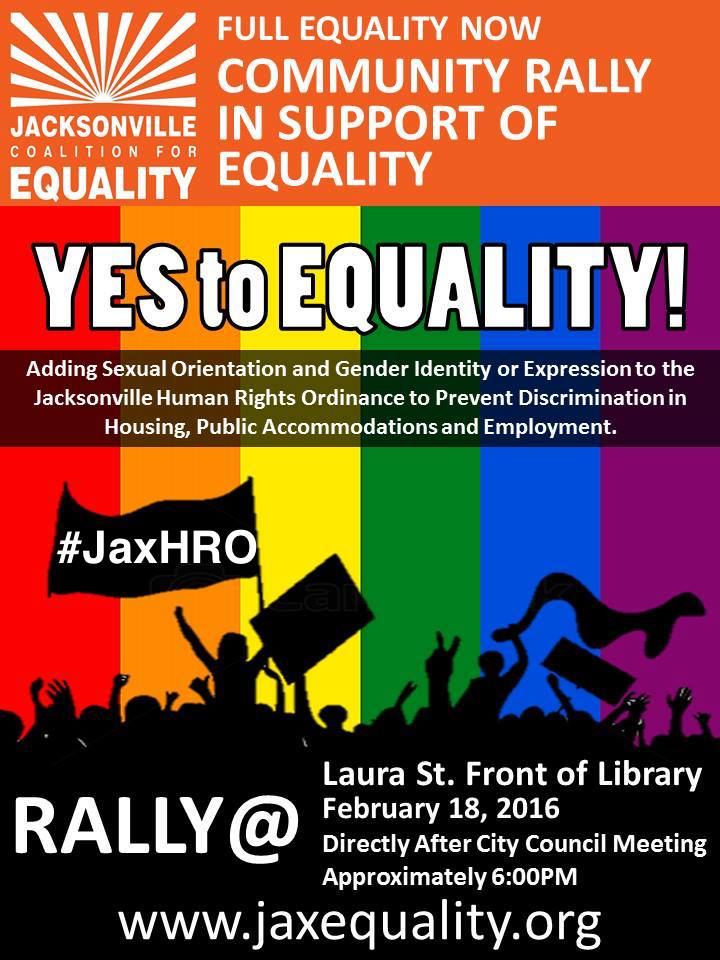 Equality Florida is a proud member of the Jacksonville Coalition for Equality. The Jacksonville Coalition for Equality consists of many organizations including Jacksonville Chapter of the National Organization for Women (NOW), Human Rights Campaign, Equality Florida, We Are Straight Allies, ACLU of North Florida, PFLAG Jacksonville, JASMYN, OneJax and JAXX Black Pride as well as many other civic leaders, businesses and business owners, faith leaders and individuals. More information about the JCE is available at www.jaxequality.org.