Equality Florida Executive Director Nadine Smith To Receive the Key to St. Petersburg
Equality Florida Executive Director Nadine Smith To Receive the Key to St. Petersburg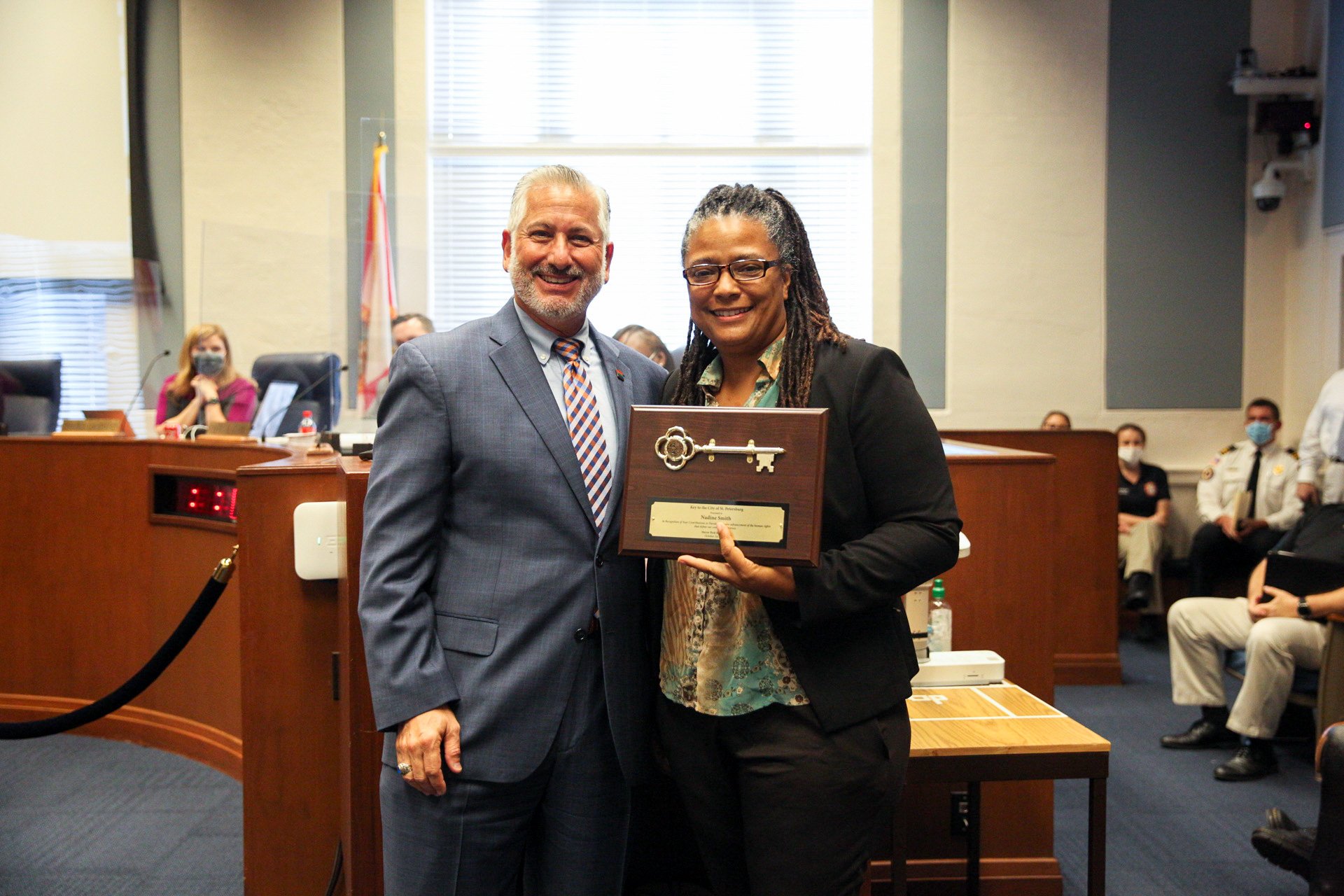 ST.PETERSBURG, FL - Equality Florida Co-Founder and Executive Director, Nadine Smith, will receive the key to the City of St. Petersburg from Mayor Rick Kriseman at City Hall on October 14th. The key to the city is the highest civilian honor by the mayor.
"Nadine Smith has been a community organizer, a trailblazer, and a leader all her life," said Mayor Kriseman. "From helping convene the first Oval Office meeting between a sitting President and LGBTQ community leaders in the 1990s to serving as the executive director of Equality Florida, Nadine is a leading voice for the LGBTQ community. She and her work are also an important part of what makes St. Pete so special. That is why I am incredibly honored to give my friend Nadine Smith a Key to the City of St. Petersburg."
Equality Florida was founded in St. Petersburg in 1997 in response to the passage of the Defense of Marriage Act (DOMA), a statute declaring that Florida only recognized marriage between a man and a woman. Under Smith's leadership, Equality Florida has worked tirelessly to ensure no one suffers harassment or discrimination on the basis of their sexual orientation or gender identity or expression.
"As we approach the 25th anniversary of Equality Florida's founding, I am honored to receive the key to a city that has become a beacon of fairness and equality for the LGBTQ community", said Smith. "While the state legislature escalates attacks on our community, Florida's cities continue to lead the state in LGBTQ inclusion. Mayor Kriseman's leadership in St. Petersburg has made this a welcoming place for my wife and I to raise our child. We must continue to uplift the values of fairness and equal treatment under the law and ensure our city and our state are welcoming and inclusive places for everyone to live, work, and visit."
The public ceremony recognizing Smith will take place in a special ceremony at the St. Pete City Council meeting on October 14th at 3:00pm. The event will also be live-streamed on St. Pete TV.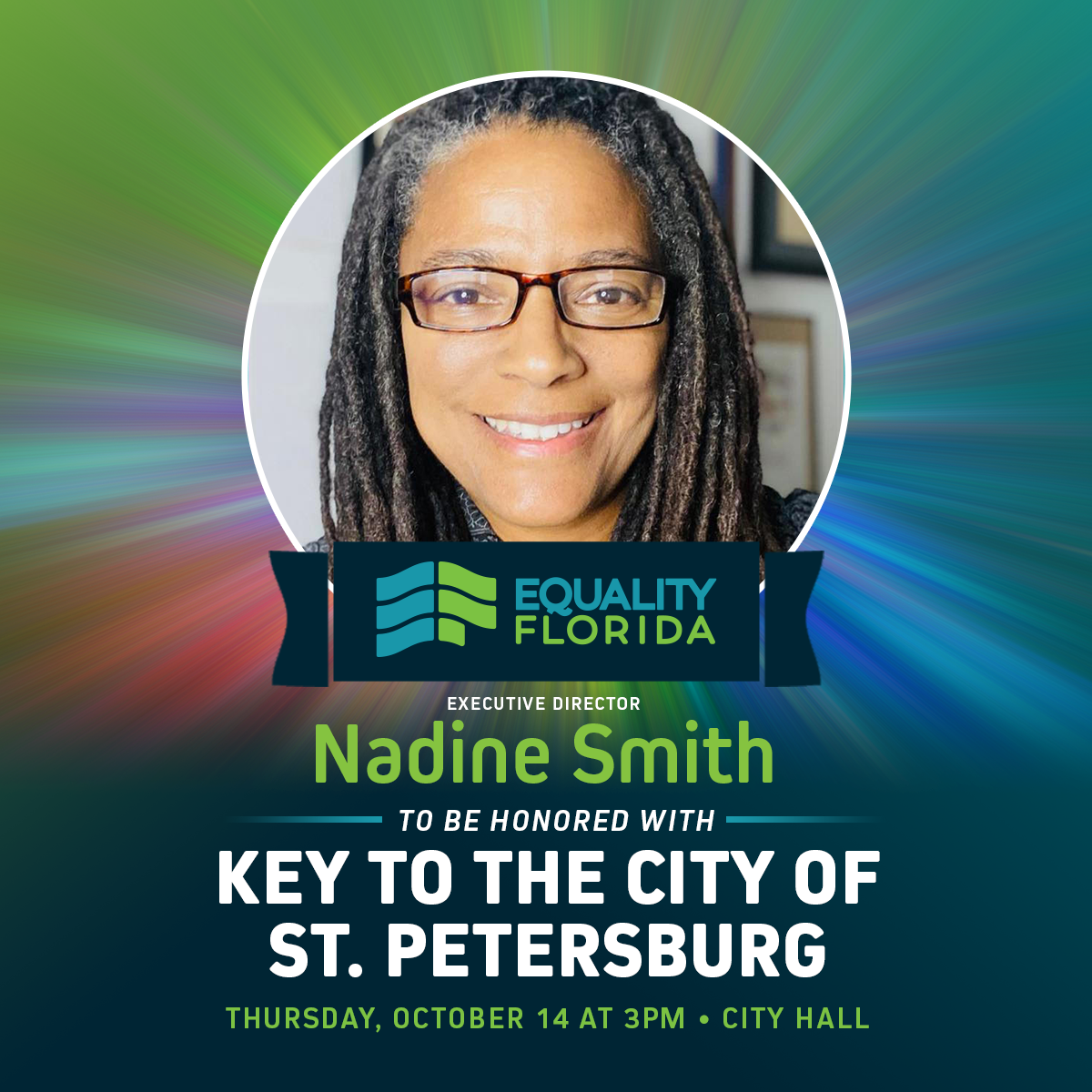 About Nadine Smith:
Nadine Smith is the Executive Director of Equality Florida, the state's largest organization dedicated to ending discrimination based on sexual orientation and gender identity.
An award-winning journalist turned organizer, Nadine was one of four national co-chairs of the 1993 March on Washington. She was part of the historic meeting between then - President Clinton - the first Oval Office meeting between a sitting President and LGBTQ community leaders. She served on the founding board of the International Gay and Lesbian Youth Organization.
She is a Florida Chamber Foundation Trustee and served on President Obama's National Finance Committee.
Nadine has been named one of the state's "Most Powerful and Influential Women" by the Florida Diversity Council. She has received the League of Women Voters' Woman of Distinction Award and in 2018 was named one of the 100 Most Influential Floridians by Influence Magazine. She currently serves as chair of the U.S. Commission on Civil Rights Florida Advisory Committee.
She lives in St. Petersburg with her wife Andrea and son Logan.