Equality Florida Join Families and Advocates of Transgender Youth to Condemn Signing of Transgender Youth Sports Ban
Equality Florida Join Families and Advocates of Transgender Youth to Condemn Signing of Transgender Youth Sports Ban
TALLAHASSEE, FL - Governor Ron DeSantis chose the beginning of Pride Month to sign the first anti-LGBTQ legislation to pass the Florida legislature in 23 years. DeSantis signed the Transgender Youth Sports Ban, barring trans youth from playing sports and allowing humiliating gender checks to be demanded by competitors.
"We need to be clear about the message of this hateful bill: Governor DeSantis and GOP leaders in the legislature are not concerned about athletics, they simply don't believe that transgender people exist," said Gina Duncan, Equality Florida Director of Transgender Equality. "That is the kind of erasure that makes life more dangerous for those who are already at the highest risk of violence. Last week, we saw a horrifying story of violence against a transgender girl in her school in Deerfield Beach. It's not an accident that when transphobia is spewed from the highest levels of leadership, trans kids take the brunt of the bigotry. This bill is shameful, violent, and just made the world less safe for our most vulnerable young people."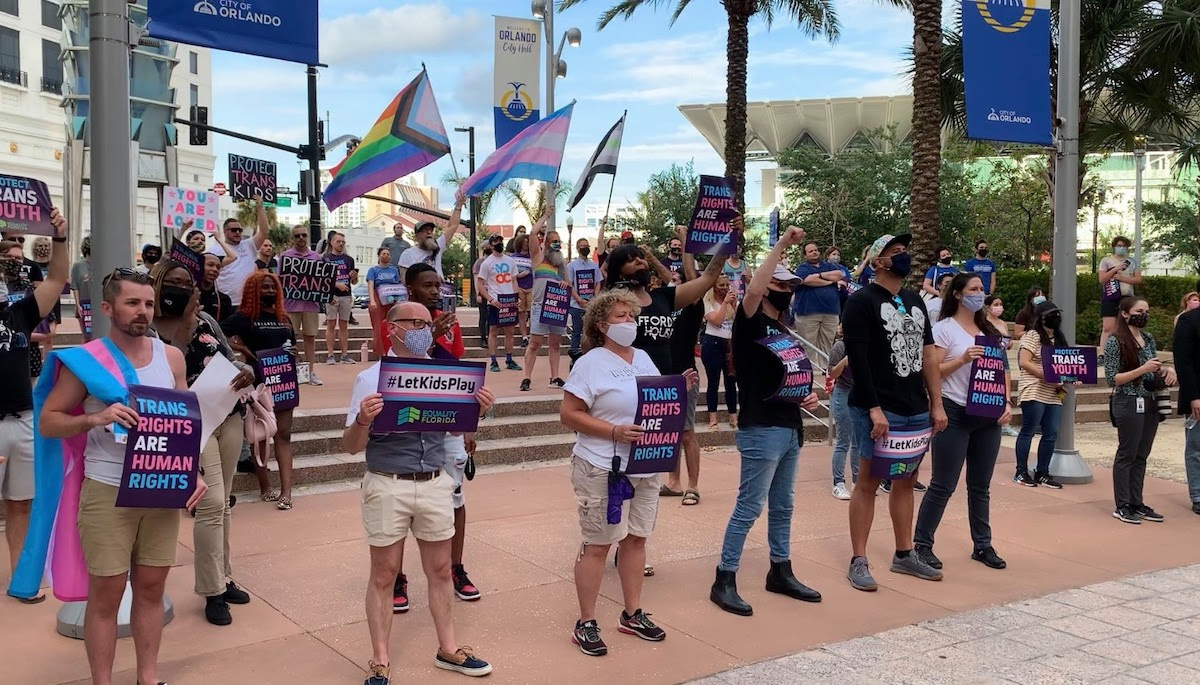 Similar bills that banned sports and criminalized medical care for trans youth were introduced this year in more than 30 states as part of a nationally coordinated attack on the transgender community in advance of the upcoming elections.
"The Governor and Republican leaders in Tallahassee chose to make Florida more dangerous for our community, for no reason but political gain in an election-driven culture war," said Nadine Smith, Equality Florida Executive Director. "Even previously moderate Republicans capitulated to the most extreme wing of their party."
Florida has resisted enacting any expressly anti-LGBTQ state law since the passage of the Defense of Marriage Act in 1997—until today. Equality Florida joined local advocates to condemn the bill and to admonish Governor DeSantis for his refusal to meet with directly impacted families. Even as states like Texas reject opportunities to ban transgender girls from sports, Governor DeSantis' signature ensures Florida will join states like Arkansas, Tennessee, West Virginia, and Mississippi from enacting legislative bans.
Florida's Transgender Youth Sports Ban had stalled in the face of overwhelming public opposition, but it was resurrected by Florida House leadership in an 11th-hour amendment to an unrelated bill. As passed, it expels students as young as middle schoolers from their teams and denies them access to the critical life lessons learned on the field.
The work to protect trans kids and hold lawmakers accountable for their fast-tracking of this transphobic legislation continues in earnest. Litigation is anticipated and groups including Equality Florida and HRC are committed to ensuring that the people of Florida know where their elected officials stood when the most vulnerable among us were under assault.
"Protect Trans Kids" Rallies were held across the state. Footage from Orlando's rally. 
###