Dr. Morgan Mayfaire Joins Equality Florida's TransAction Florida Advisory Council!
From Equality Florida's Director of Transgender Equality, Gina Dunan: "TransAction, Equality Florida's Transgender Inclusion Initiative, is very pleased to announce the addition of Dr. Morgan Mayfaire to the TransAction Advisory Council. Dr. Mayfaire is recognized for his outstanding work at the TransSocial support network as well as his work in supporting the transgender and gender-nonconforming communities in South Florida. Dr. Mayfaire is an extraordinary addition to our transgender inclusion efforts and we look forward to his leadership as we expand our transgender equality efforts throughout Florida."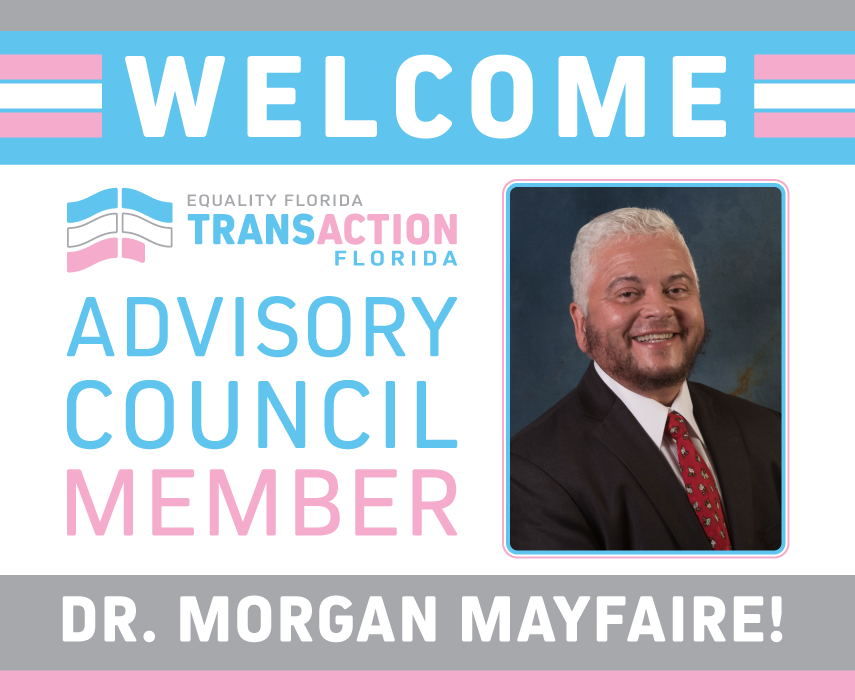 Dr. Morgan Mayfaire
Executive Director of TransSOCIAL, Inc.
Dr. Morgan Mayfaire's passion for building acceptance and equality for Trans people in society guides his work in the community. Named one of the Out 50 by South Florida Gay News in 2017, he co-founded TransSOCIAL, Inc. with his wife Ashley to link Trans people to resources he found difficult to access during his own gender transition from female to male. With his doctorate in Clinical Psychology, Morgan also counsels fellow Trans people and their loved ones in TransSOCIAL's support groups. Morgan is a passionate advocate for HIV prevention and treatment programs in South Florida, participating in the South Florida AIDS Network, serving on multiple advisory groups for the Florida Department of Health in Broward County, as well as being named the At-Large Transgender Prevention Alternate for the 2017-2019 term of the Florida Comprehensive HIV/AIDS Planning Network, Prevention Planning Group. His personal history as a young feminist and member of Act Up and the Names Project inform his participation in multiple LGBTQ+ organizations, including board seats at Unity Coalition and Pride Fort Lauderdale. When Morgan is not busy using his visibility as a Trans man to educate others about the Trans experience, you can find him tending to his orchid collection or modifying his Jeep Wrangler.