Resistance Report Week 7: 3 Anti-LGBTQ bills passed the House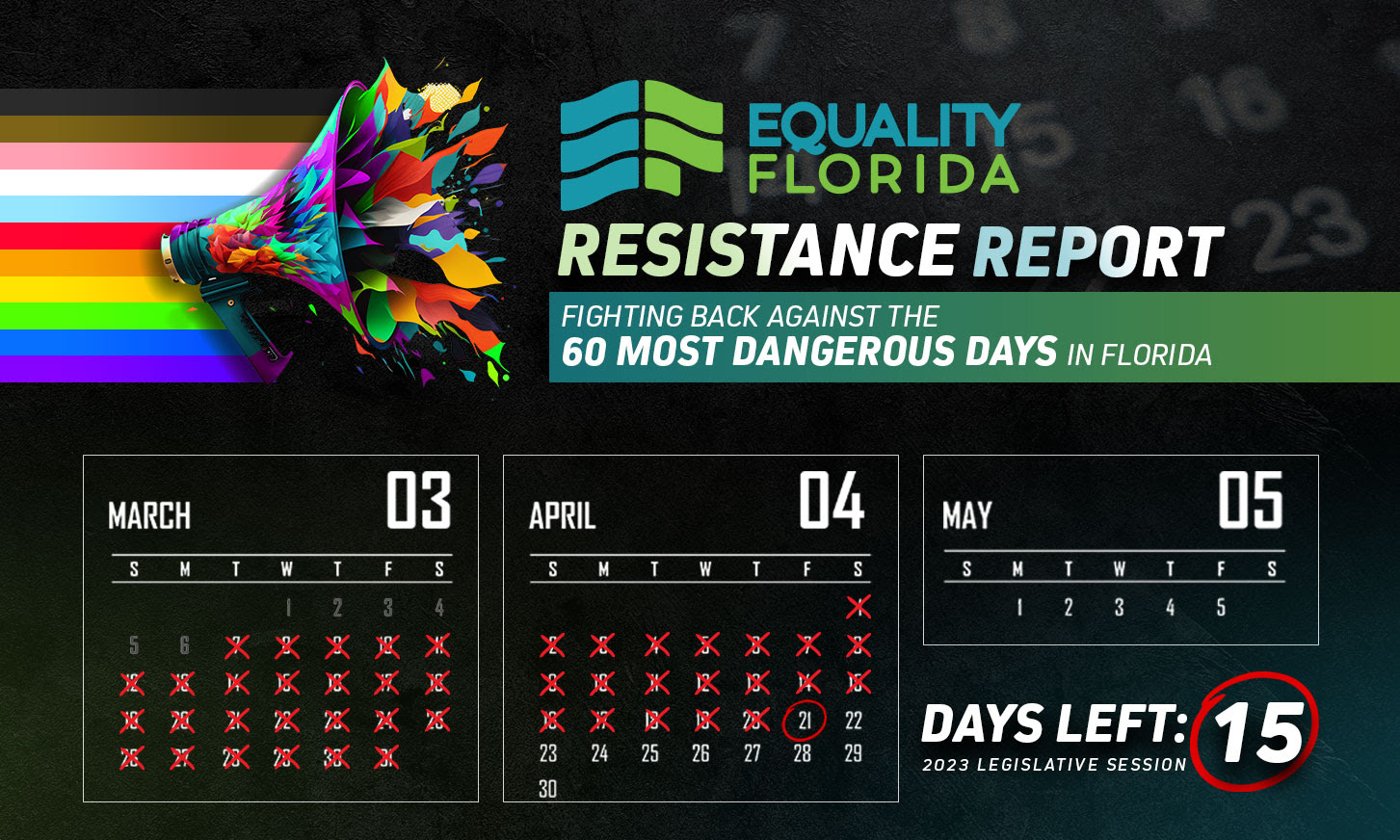 This week, three anti-LGBTQ bills targeting the transgender community passed the Florida House – including the Anti-Drag Bill (HB 1438) that now heads to Governor DeSantis's desk for signature. The Florida Board of Education also met this week in Tallahassee and voted to expand DeSantis's Don't Say LGBTQ through 12th grade. This policy will escalate the government censorship sweeping our state, exacerbate our educator exodus, drive hardworking families from Florida, and further stigmatize and isolate a population of young people who need our support now more than ever. 
We knew going into this legislative session that DeSantis's GOP legislature would use their supermajority to ram through an unprecedented Slate of Hate – but that doesn't make these bills passing any less frightening or dangerous. In the sections below, we explain what these bills do (and don't do!), their impacts, where they're at in the legislative process, and how to take action. 
We were prepared for this session to be the most anti-LGBTQ  we've ever seen, and that's why we've been showing up every day, in the Capitol and throughout our communities, making our voices heard and building our resistance.
On Wednesday, Equality Florida hosted a roundtable conversation in Tallahassee with leaders of the Human Rights Campaign on the dangers of Governor DeSantis and Florida Legislators' escalated attacks on LGBTQ Floridians. We were joined by teachers, students, and parents. We're so grateful to everyone who continues to speak out and fight back!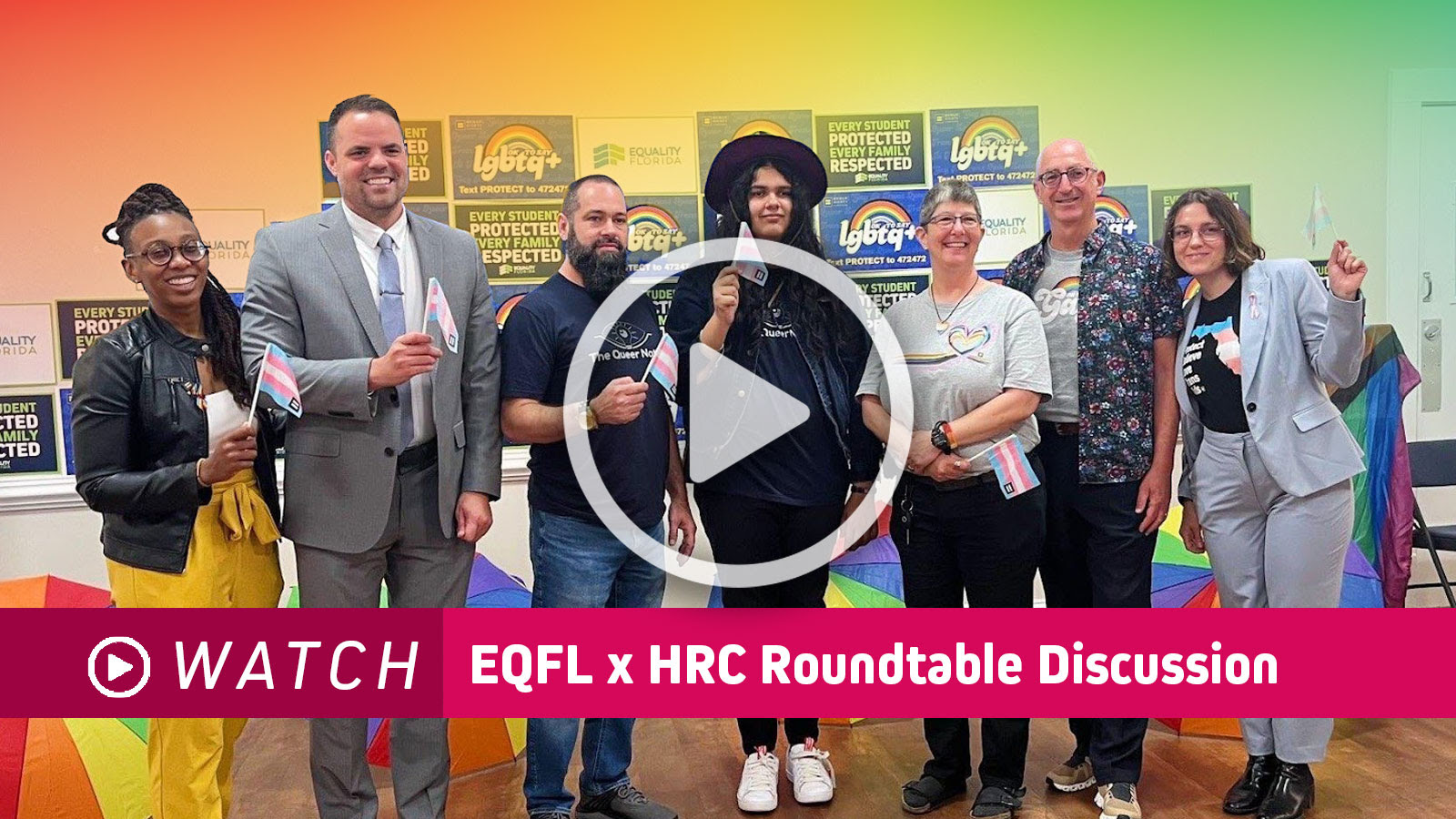 We were also hard at work again in Tallahassee this week. We want to thank our volunteer advocates who joined us to attend hearings and testify on various bad bills as part of our session-long Pride at the Capitol Campaign.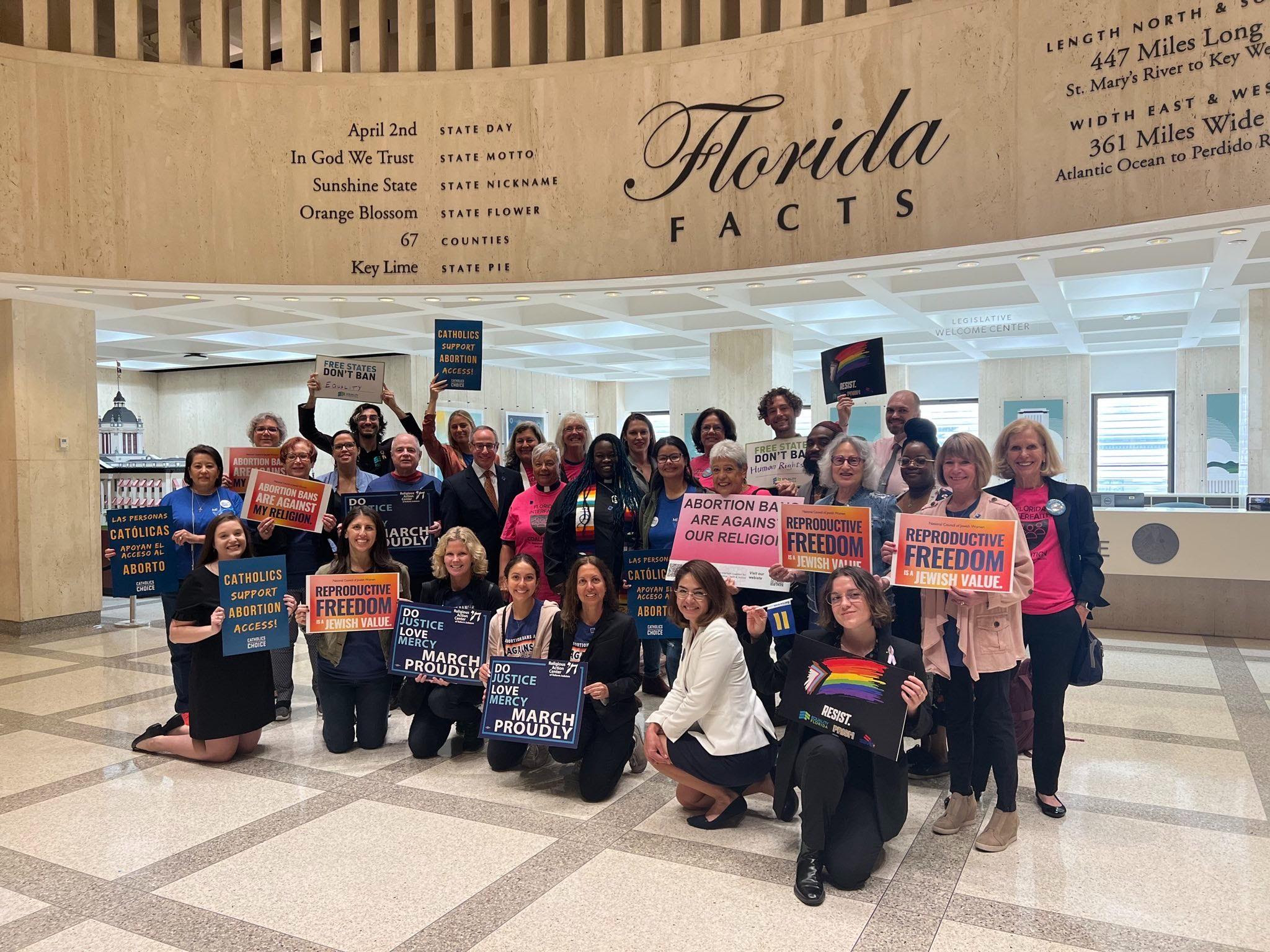 Equality Florida and volunteer advocates joined the Interfaith Coalition for their press conference to uplift faith leaders standing for all rights.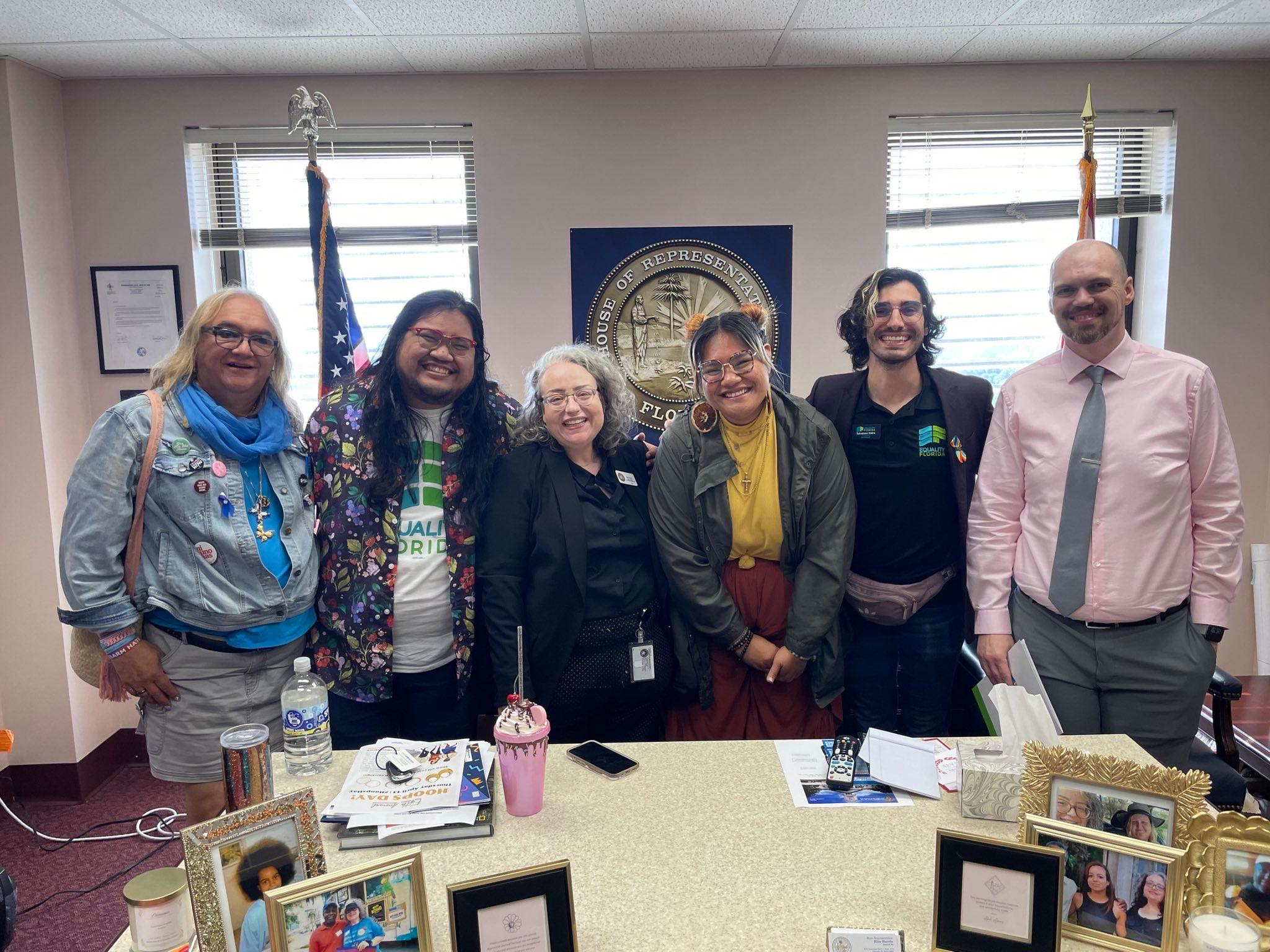 Volunteer advocates with pro-equality champion Representative Rita Harris.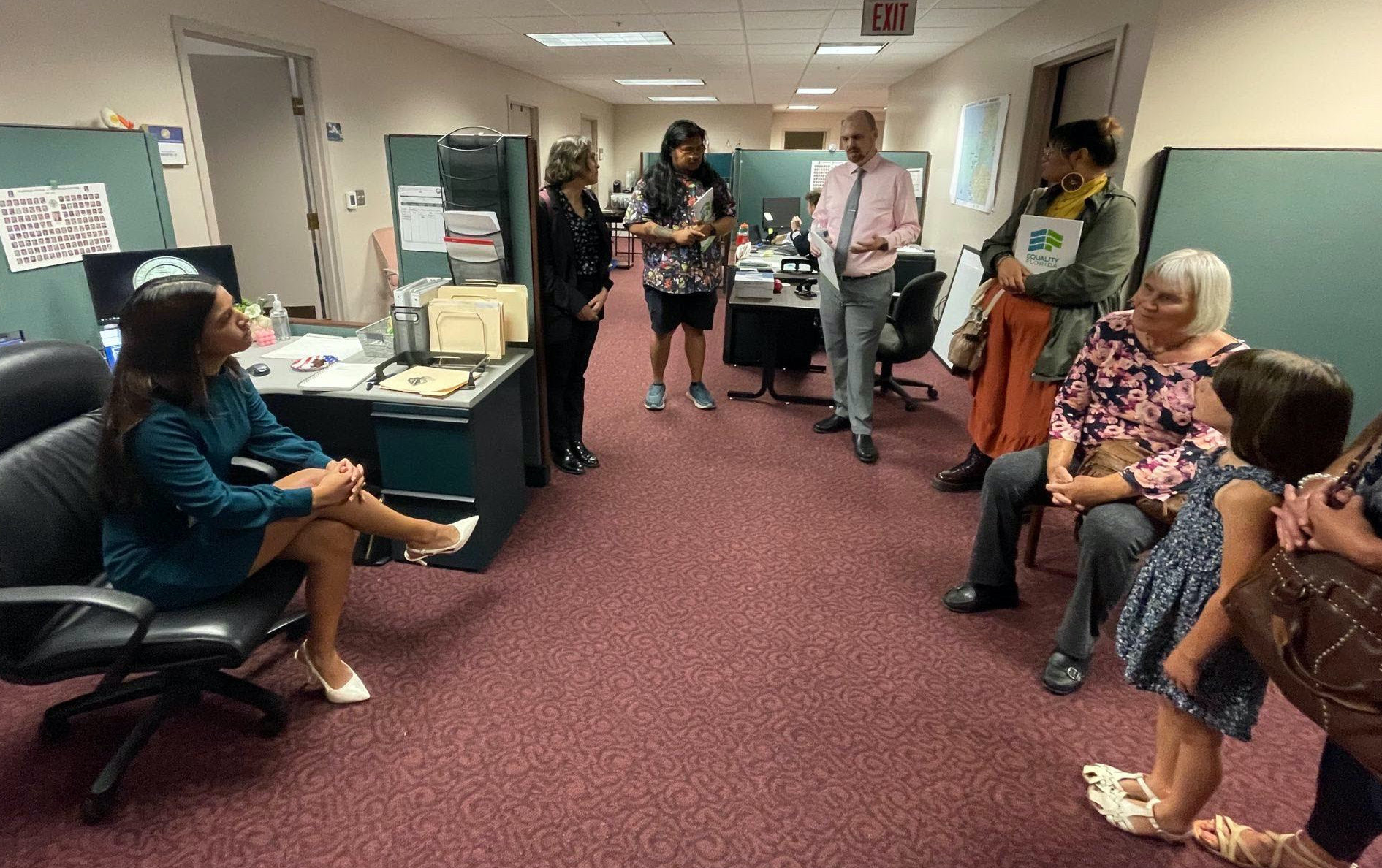 Families from across Florida have come to the Capitol to share their stories with lawmakers on how anti-trans bills are impacting their lives.
We're mobilizing weekly, in-person and virtually, to fight back against DeSantis' fascist agenda. Will you stand with us and join the resistance?

We're facing an unprecedented level of attacks from the Florida GOP, but together, we will continue our resistance. 
This week's WINNERS are openly-LGBTQ Rep. Michele Rayner and community ally Rep. Anna V. Eskamani – two pro-equality champions who have courageously defended our fundamental rights and freedoms all session long, and during their entire careers as public servants. This week specifically, they piled on a series of amendments to slow down and lampoon three anti-trans bills and led the Democratic resistance on the House Floor. We really 
 this duo! 
This week's LOSER (and really for the entire 2023 legislative session) is the notoriously anti-LGBTQ GOP Rep. Randy Fine who has repeatedly launched vitriolic and bigoted attacks against our community, like when he said the LGBTQ community should be 'erased' during a legislative committee. As the sponsor of both the Anti-Drag Bill (HB 1438) and Trans Ban Bill (HB 1421), he's leading the legislature's unhinged obsession with drag queens and the effort to revoke access to essential medical care for trans Floridians of all ages.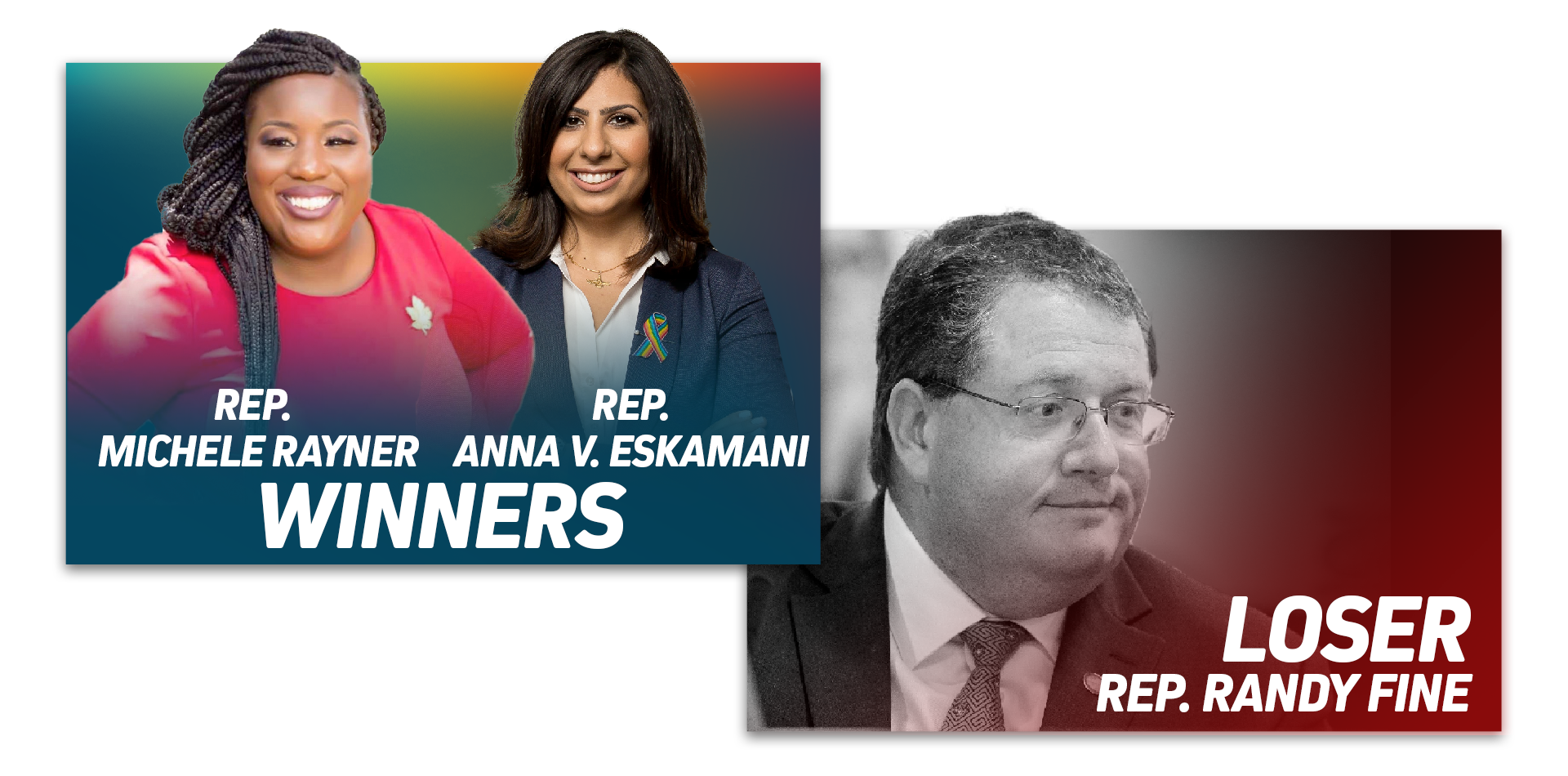 As the end of session approaches, the Florida GOP is continuing to push through several bad bills, so there was once again a LOT of movement in Tallahassee this week. We're going to take you through exactly what happened and what you can do to get involved. 
To start, here are legislative updates on the THREE anti-LGBTQ bills targeting the trans community that saw the most movement during week 7 of session:
The Trans Ban Bill (HB 1421/SB 254) 
What you need to know: This bill is a direct attack on the existence of transgender youth and adults, including government-forced detransition for minors currently accessing gender-affirming healthcare. It seeks to deny legal recognition via birth certificates for all ages, deny ALL gender-affirming care to minors, dramatically restrict access to care for adults, deny private insurance coverage to the extent care is available, and revoke licensure for health care providers who follow standards of medical care for transgender Floridians that are endorsed by the American Academy of Pediatrics, the American Medical Association, and other leading medical authorities. The bill was also amended to allow courts to modify custody agreements in favor of a non-affirming parent and against the interest of an affirming parent, and to add a ban on the use of telehealth for gender-affirming care for trans adults. 
The Senate version of this bill (SB 254) was taken up by the House this week, but it was amended to include the more harmful language from the House version (HB 1421). It passed with a vote of 82-31.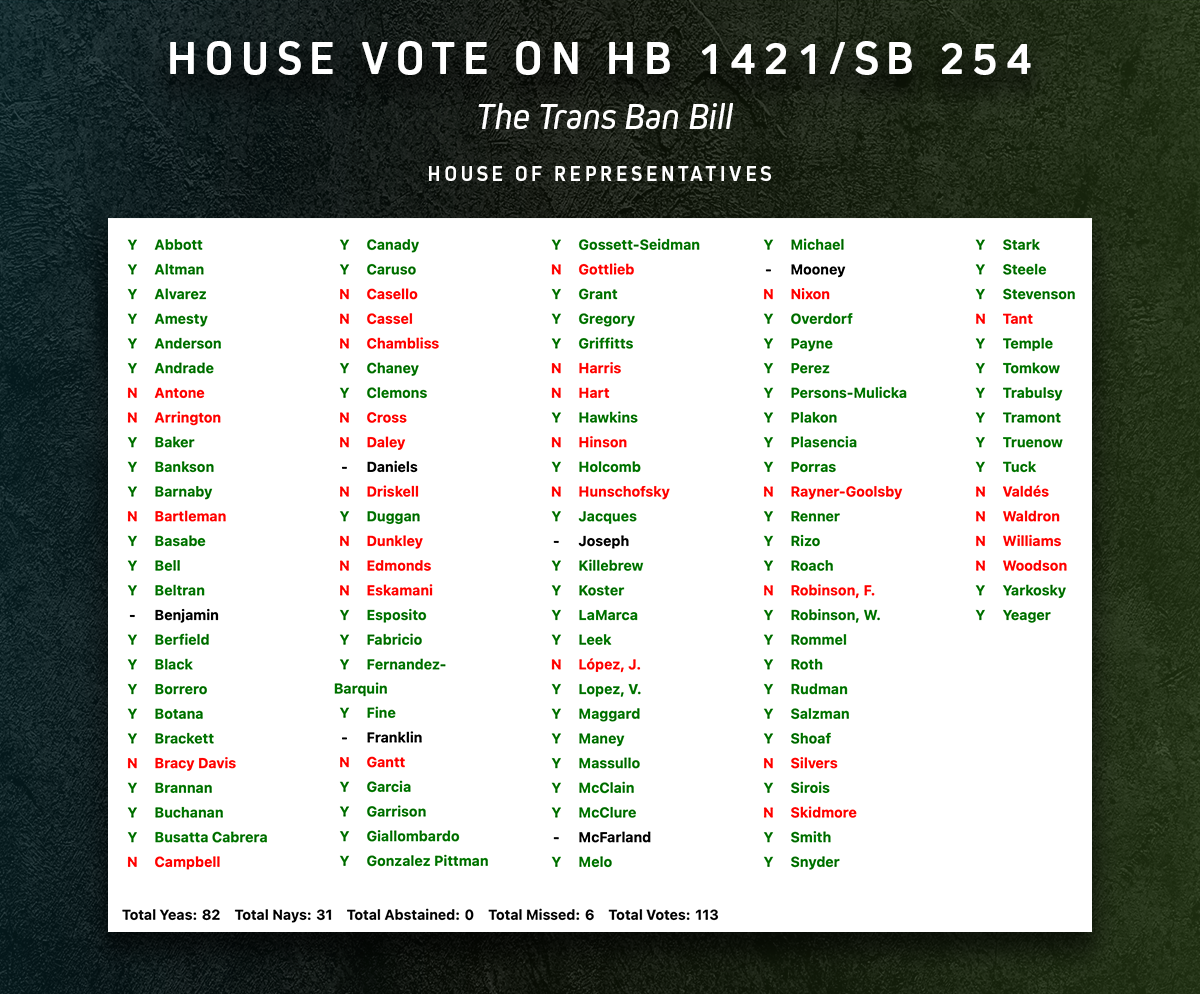 How you can get involved: Because of the changes added to SB 254 on the House floor, it will now head back to the Senate for them to revisit it. Click here to send a message to Senate lawmakers asking them to OPPOSE on SB 254.
We also want to hold the House members accountable who voted for the changes to make this bill WORSE and to then pass it on the House floor. Call these House members, who represent districts with large pro-equality voter blocs, and tell them hate has no place in Florida: 
Rep. Susan Plasencia - (850) 717-5037
Rep. David Smith - (850) 717-5038
Rep. Carolina Amesty - (850) 717-5045
Rep. Paula Stark - (850) 717-5047
Rep. Fabian Basabe - (850) 717-5106
Rep. Peggy Gossett-Seidman - (850) 717-5091
Rep. Vicki Lopez - (850) 717-5113
Rep. Chip LaMarca - (850) 717-5100
Rep. Will Robinson - (850) 717-5071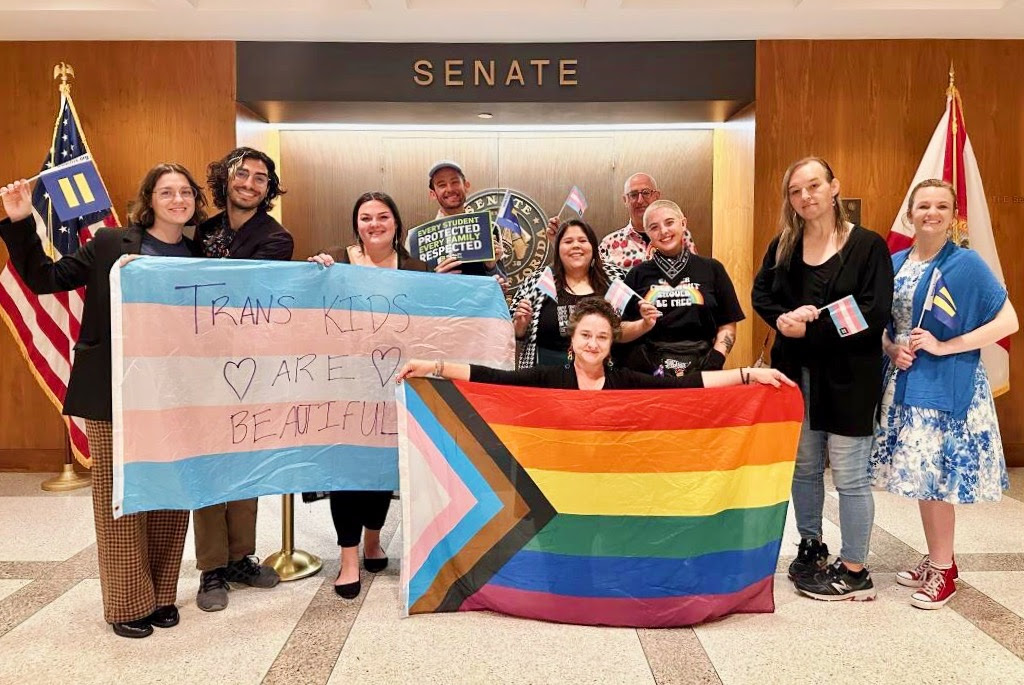 Advocates joined Equality Florida to speak with Senators about the amended SB 254 before it heads back to the floor for another vote.
The Anti-Trans Bathroom Bill (HB 1521/ SB 1674) 
What you need to know: This bill criminalizes transgender people for using the restroom that matches the gender they live every day. It prohibits gender-inclusive restrooms and changing facilities in schools, private businesses, public shelters, healthcare facilities, and jails. Transgender people are part of our families, workplaces, and our neighborhoods, and this law makes it impossible for them to go about their daily lives like other Floridians. It also opens the door to abuse, mistreatment, and more. 
The House version of this bill (HB 1521) was heard on the House floor this week and passed after a vote of 80-37.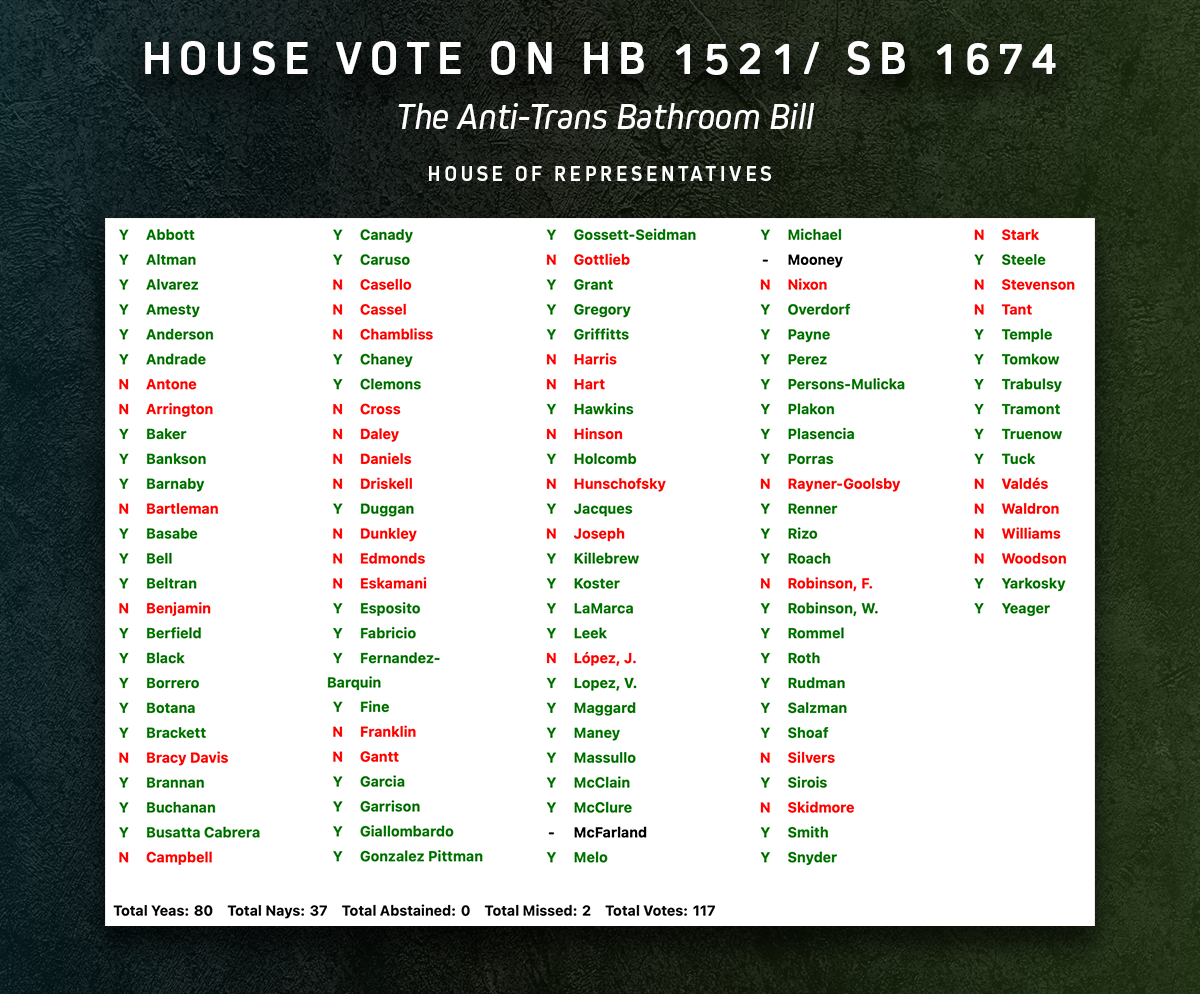 How you can get involved: The Senate version of this bill (SB 1674) will be heard in the Fiscal Policy Committee next Tuesday – its final committee stop before heading to the Senate floor. Click here to send a message to Senate lawmakers to OPPOSE SB 1674.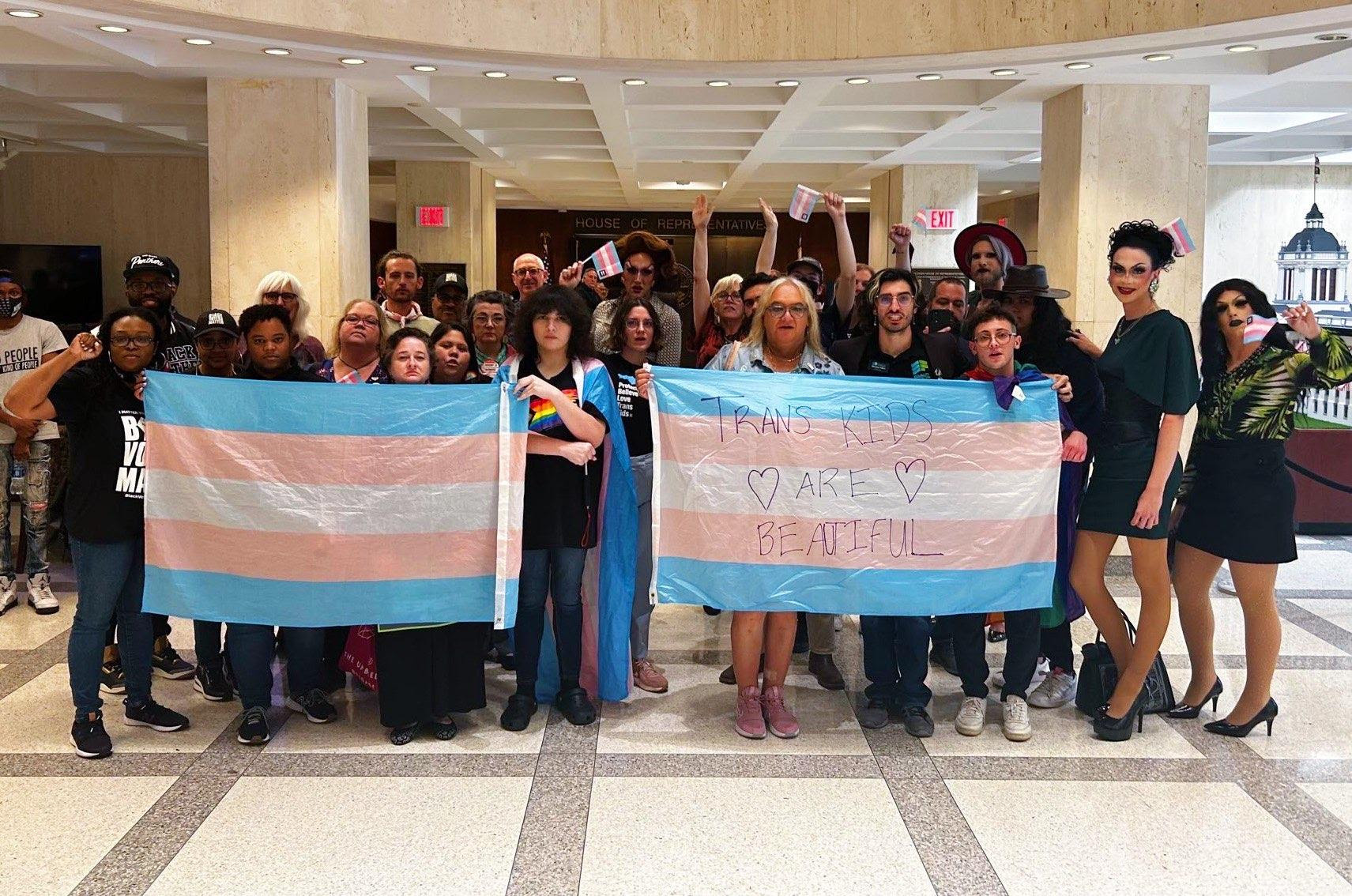 Advocates marches for transgender liberation ahead of the final votes on 3 anti-trans bills in the FL House.
The Anti-Drag Bill (HB 1423/ SB 1438)
What you need to know: It's important to know that this bill is NOT an outright ban on drag or prides. Here's what this discriminatory bill does do...It threatens excessive fines and license revocation against LGBTQ-friendly businesses, and possible jail time for individuals who admit minors into "adult live performances." It uses vague and subjective language that will have a chilling effect on drag shows, an intended consequence of the bill. Like book bans and curriculum censorship, heavy-handed government regulation of drag is part of an ongoing effort to marginalize the LGBTQ community and their allies. Republican lawmakers also amended their bill to include "adult live performances" at city pride parades in an attempt to intimidate LGBTQ-friendly cities out of permitting any drag at all. Now is the time for our community and our allies to STAND STRONG, to proudly carry on with pride celebrations and drag performances, and to join us in the fight against our state's all-out assaults on our democracy and our freedom. 
The Senate version of this bill (SB 1438) was substituted for the House version and was heard on the House floor this week. It passed with a vote of 82-32.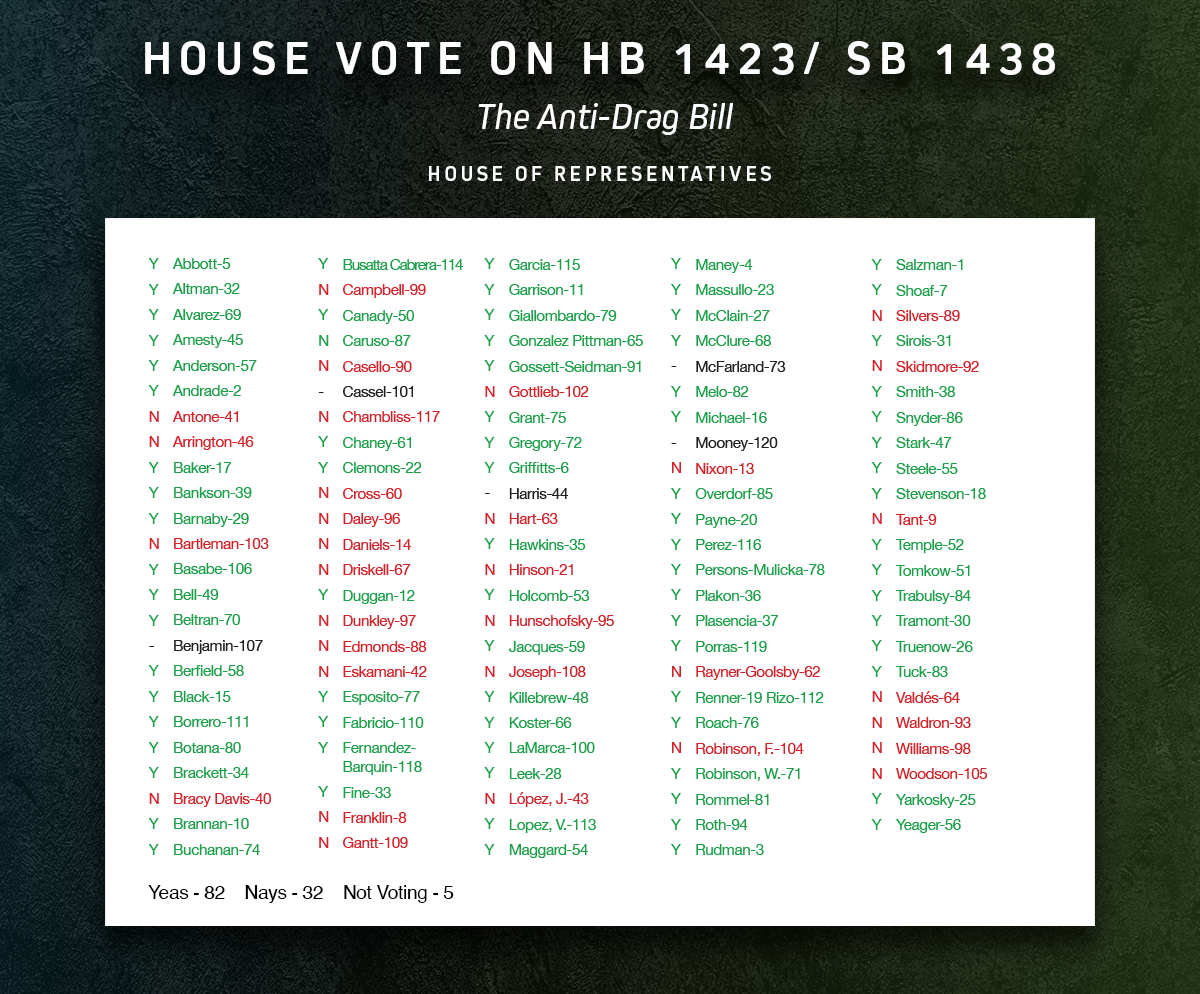 How you can get involved: The Anti-Drag Bill is now headed to Governor DeSantis desk for his signature. We are asking you to CALL Ron DeSantis at 850-717-9337 and tell him hate has NO place in Florida. 
Equality Florida worked with Democratic lawmakers to get ready for the fights on these three bills, and they filed more than 50 amendments that would have lessened their harms. ALL of these amendments were rejected as the legislature continues to rubber stamp DeSantis' hateful agenda. But no matter what, we'll continue to show up and fight back to make our voices heard.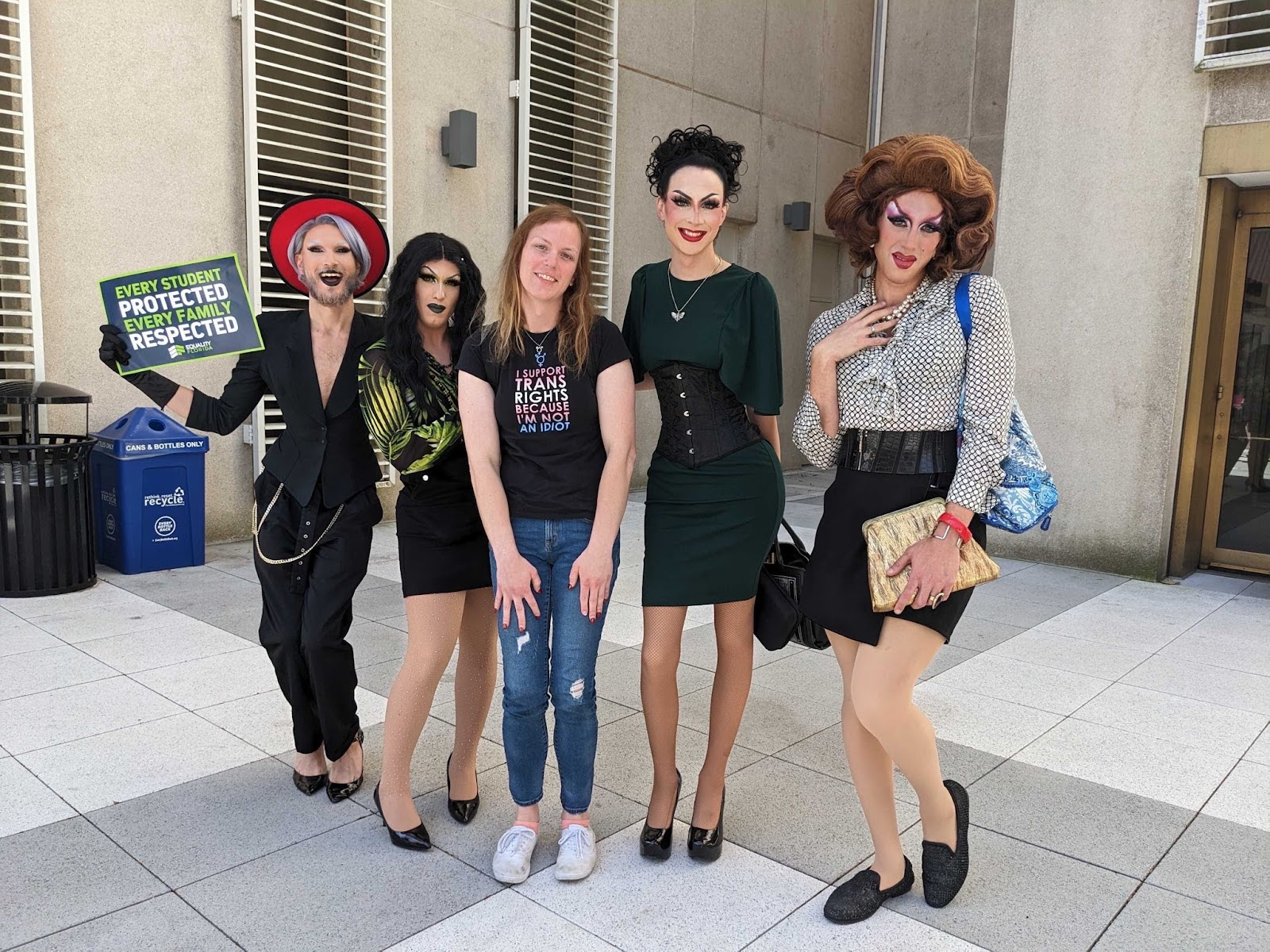 Drag performers and advocates in Tallahassee to fight for their rights!
In addition to the three bills above, there was movement on a number of other bills this week, as well. Here's what else you need to know: 
The License to Discriminate in Healthcare Bill (HB 1403/SB 1580)
What you need to know: This bill prioritizes personal beliefs over patient well-being. It would allow healthcare providers and insurers to deny a patient care on the basis of religious, moral or ethical beliefs. It creates a license to discriminate by allowing healthcare employers to discriminate in hiring, and it bars medical Boards from disciplining doctors for spreading misinformation. No one should be denied access to critical medical care. 
The Senate version of this bill (SB 1580) advanced out of its second and FINAL committee stop on Wednesday with a vote of 14-5.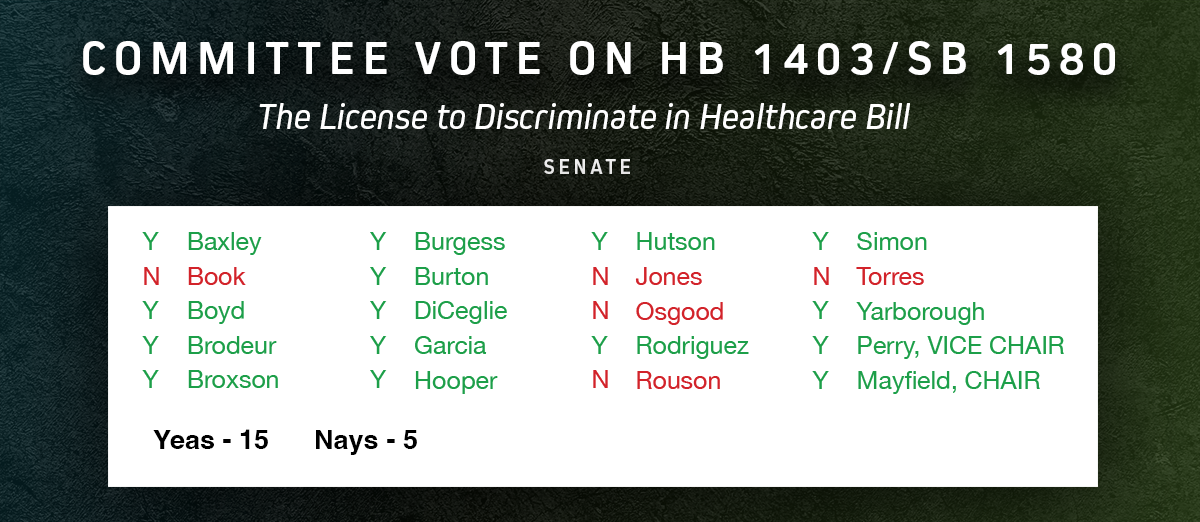 How you can get involved: Both the House and Senate versions of this bill are eligible for a floor vote in their respective chambers any day now. Click here to send a message to lawmakers urging them to OPPOSE HB 1403 and SB 1580.
The Defamation Censorship Bill (HB 991/SB 1220) 
What you need to know: This bill would make it easier to sue the media or members of the public over criticism of public officials. It's a direct attack on the right to free speech, going against Supreme Court precedent. The House version of the bill (HB 991) makes it so claims of sexism, racism, homophobia, and transphobia are presumed to be false and defamatory, while restricting how the claims can be proved.  
It's facing stiff opposition from the right and the left. The Senate version of this bill (SB 1220) was scheduled to be heard in the Rules Committee this week but was postponed once again. 
How you can get involved: Both the House and Senate versions of this bill still have committee stops to get through. Click here to tell lawmakers to OPPOSE these bills.
Partisan School Board Elections (HB 31/SB 94) 
What you need to know: This resolution seeks to make Florida school board elections partisan. School Boards have been nonpartisan since 1998. Now they are under fire, targeted by extremists for putting children's needs and safety first. School Boards should be about student success – not partisan battlefields.
The Senate version of this resolution (SB 94) was substituted with the House version (HB 31) and heard on the Senate Floor this week. It passed with a vote of 29-11, moving it closer to appearing on the ballot for consideration by Florida voters.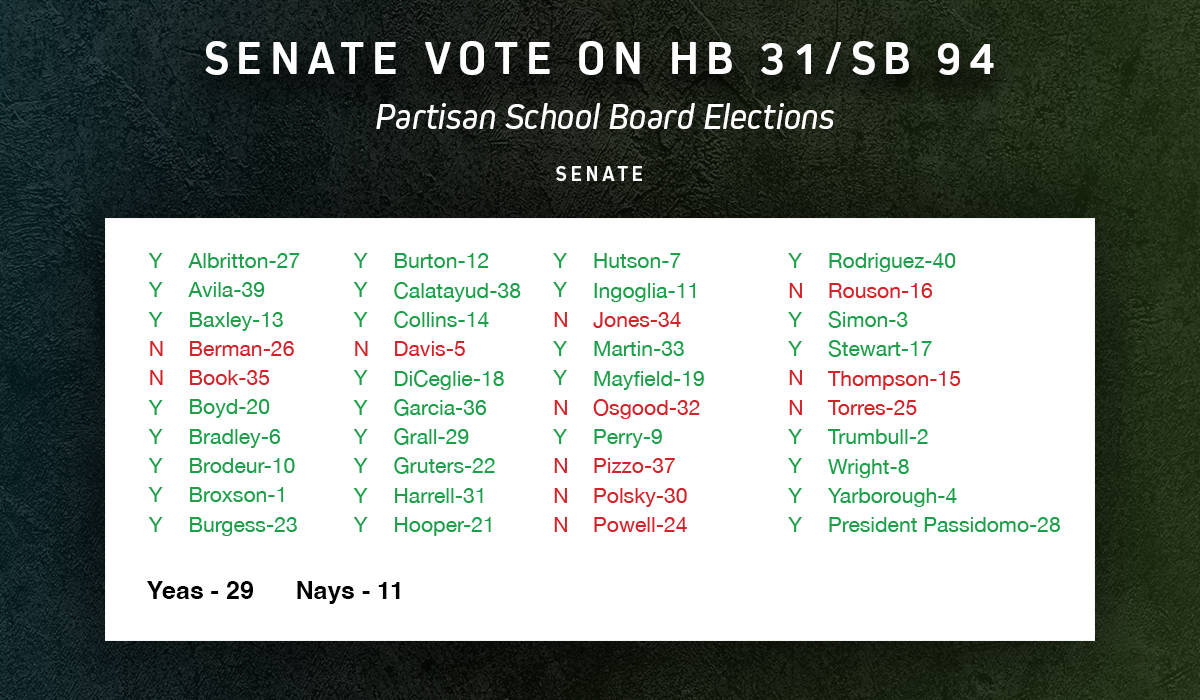 How you can get involved: The Partisan School Board Elections bill is now headed to Governor DeSantis desk for his signature. We are asking you to CALL Ron DeSantis at 850-717-9337 and tell him not to sign this bill. 
The Florida GOP and Governor DeSantis are continuing to get national news as they push forward one of the most extreme right-wing agendas in the country. But we're fighting back, and we're getting attention, too.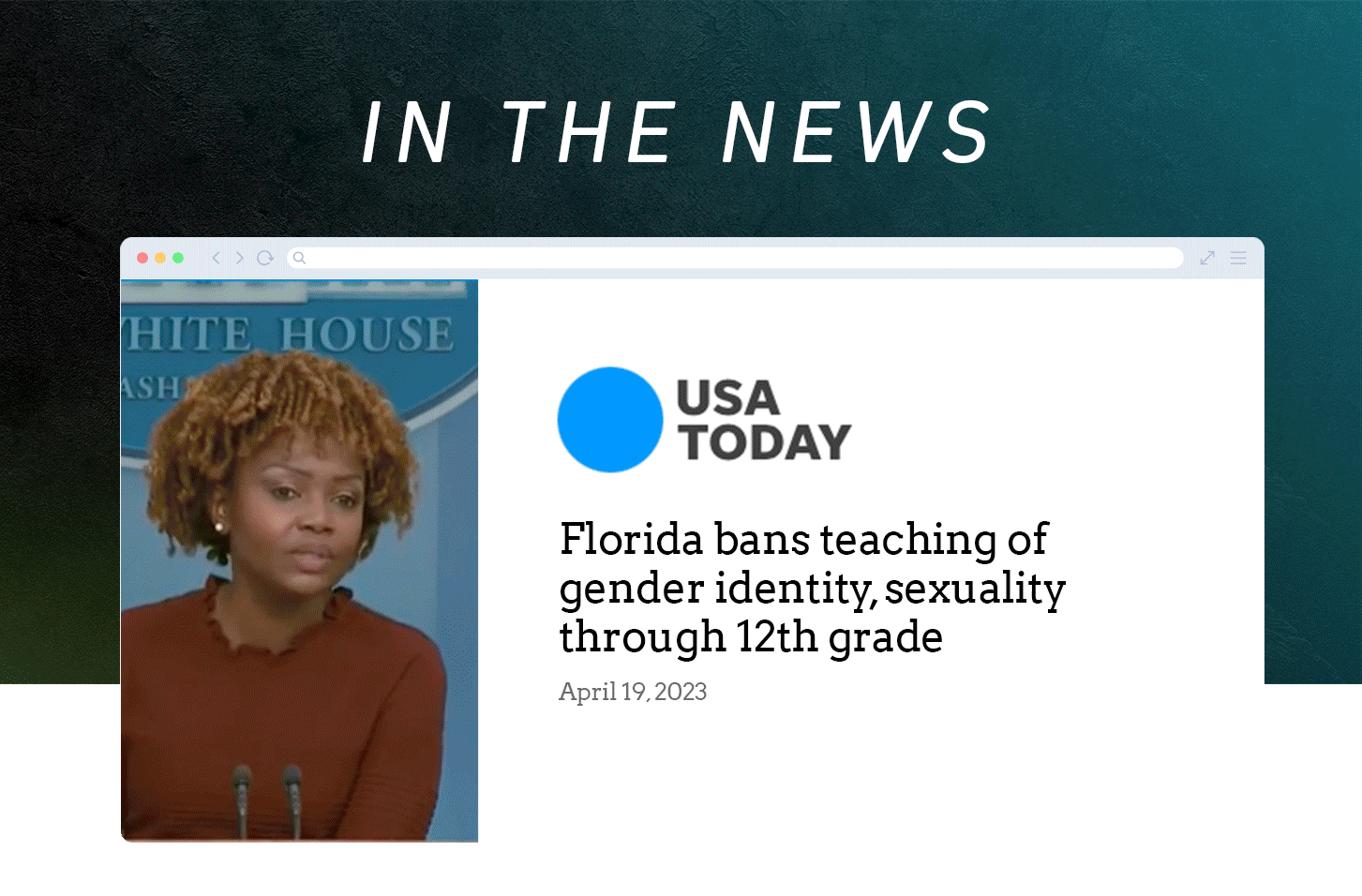 With your help, we're going to continue this fight until the last day of session and beyond. 
And we're not just fighting in Tallahassee, we're showing up throughout our communities, too.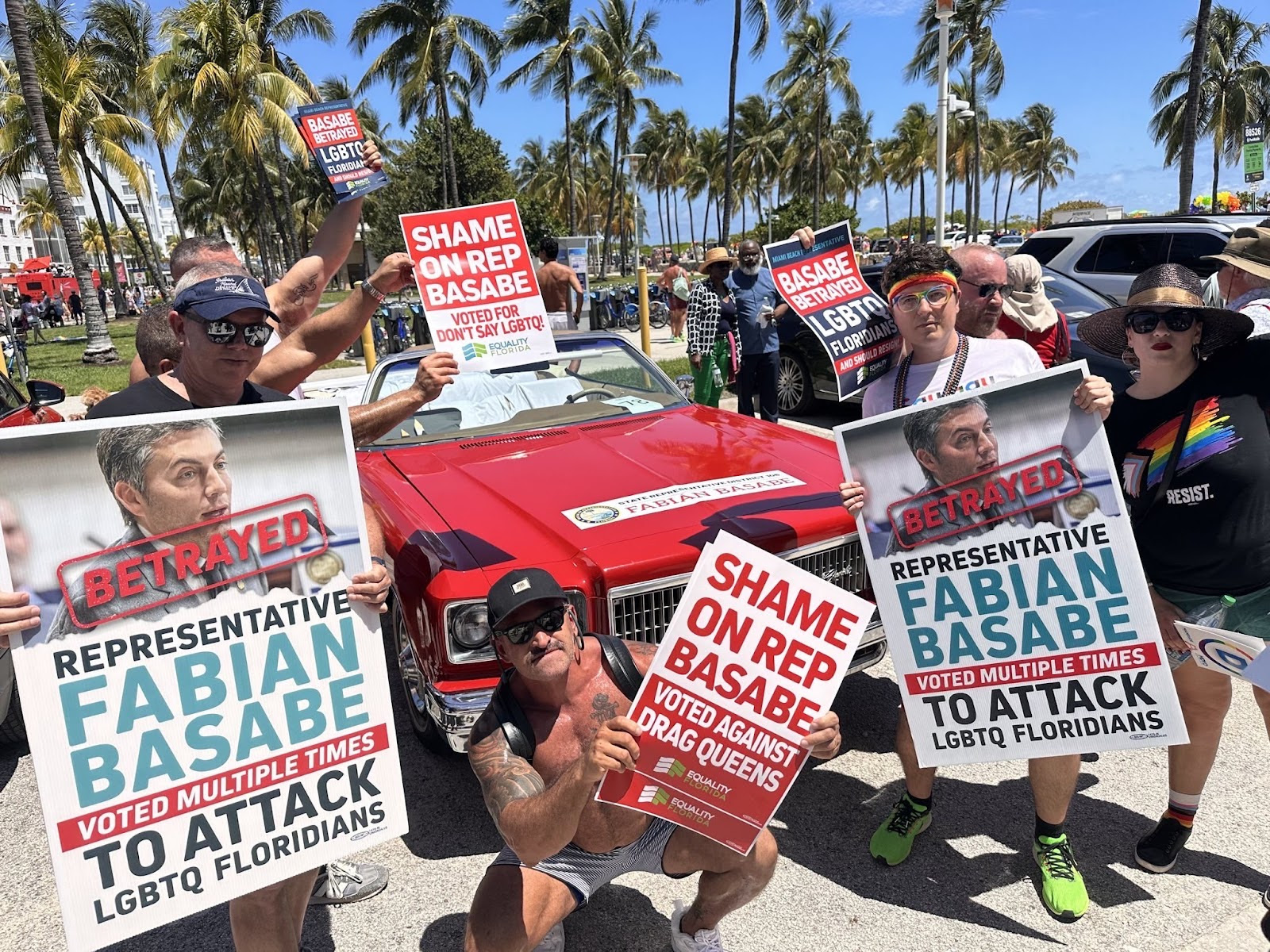 Last weekend, Miami Beach held its annual Pride Parade, and our community showed up in full force to protest Rep. Fabian Basabe, the Republican lawmaker who represents the area and who campaigned on protecting the LGBTQ community — but instead has been voting in lockstep with Governor DeSantis's extreme anti-LGBTQ Agenda. You can watch the video posted by our Press Secretary, Brandon Wolf, by clicking here.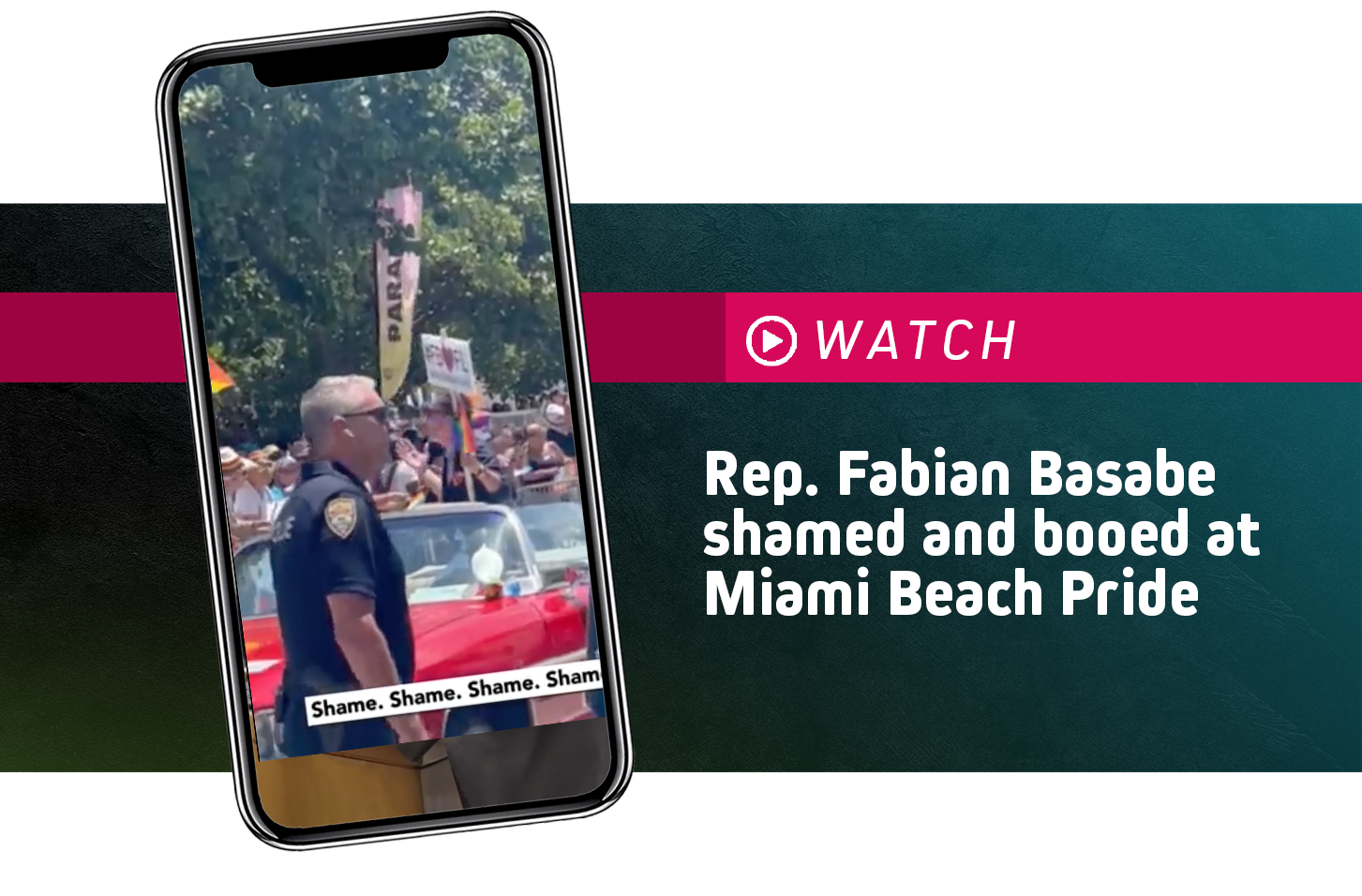 Today, our friends at Walkout 2 Learn organized student walk-outs at more than 300 high schools and colleges across Florida to show Governor DeSantis and his rubber-stamping GOP legislature that students won't stand for bans or censorship of Black, queer, and trans history, culture, and identity.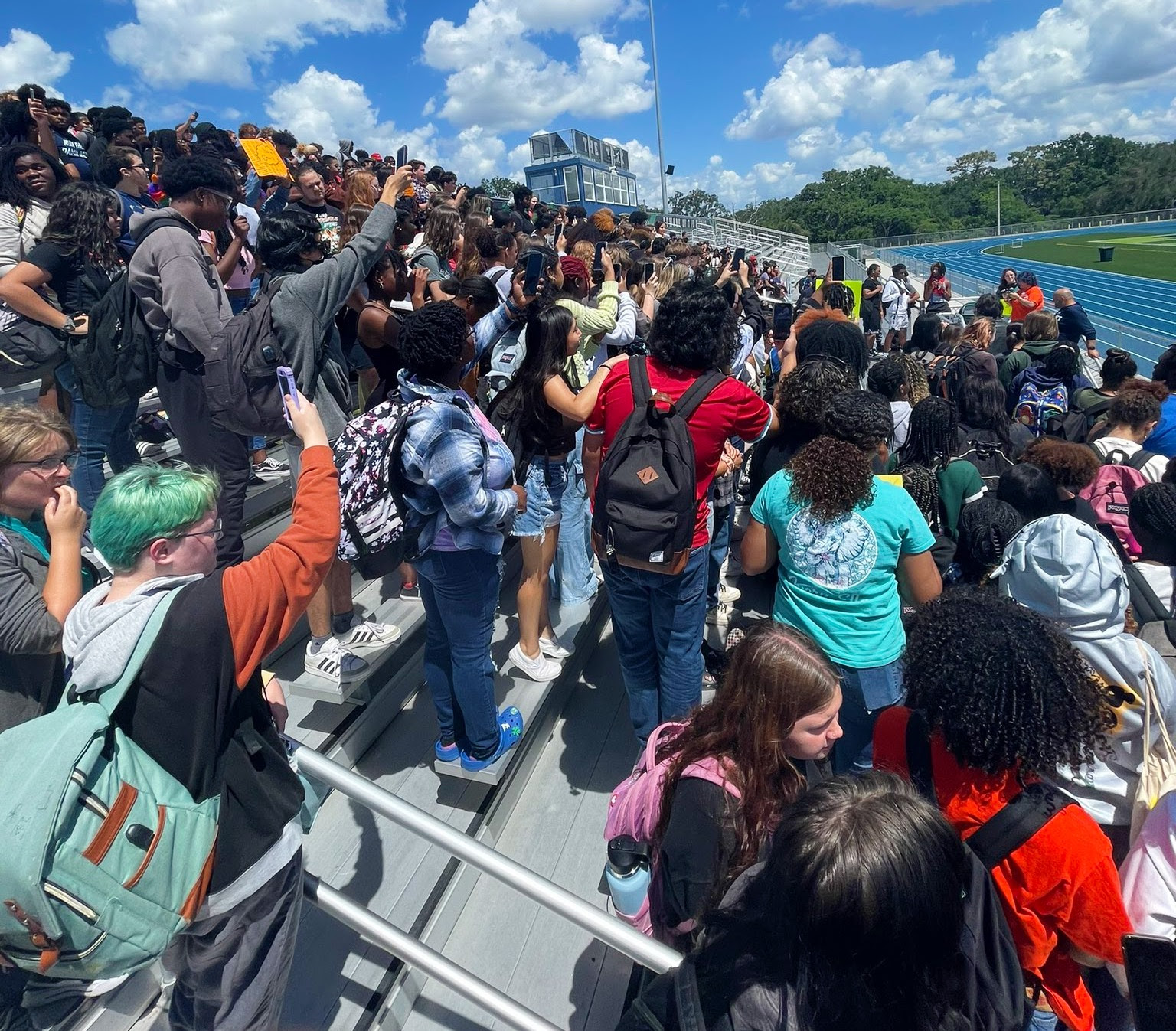 High school Student-led Walkout in Tampa Protesting DeSantis' Censorship Agenda And Attacks On Academic Freedom (Courtesy of Aron Mueller)
And TONIGHT, starting at 6pm ET, there will be off-campus rallies with elected officials, influencers and performers in the following locations: 
Miami - located on Harvey Milk Blvd (the block in between Pride Park and Miami Beach City Hall)
Orlando - located at Orlando City Hall (400 South Orange Avenue Orlando, Florida 3280)
Sarasota - located at Selby Five Points Park (1 Central Ave, Sarasota, FL 34236)
Jacksonville - located at A Philip Randolph Park (1096 A Philip Randolph Blvd)
These rallies will be a great opportunity to stand in solidarity with thousands of students across the state, as well as to register to vote, sign the Active Pledge, and enroll in a college-level African American history course. Click here for more information.
Students and community leaders are hosting rallies throughout the state opposing DeSantis' fascist agenda and speaking out against his Slate of Hate. We're keeping track of upcoming rallies — find one near you! 

Throughout the rest of session, we're going to be continuing our Pride at the Capitol campaign in-person in Tallahassee, hosting virtual events, and using our social media to post updates, call out Florida lawmakers, and more. 
Make sure you're following us on Twitter, Facebook, Instagram, and TikTok for the latest updates. And sign up to be a part of our Pride at the Capitol campaign by clicking here.