Equality Florida Action PAC Makes Its First Clerk of Court Endorsement Ever, Jimmy Midyette
Jacksonville, Fla - Equality Florida Action PAC, the state's largest LGBTQ PAC, has vetted and endorsed thousands of Florida candidates over the last two decades, but never before has it endorsed in a clerk of courts race - until today.
"For the first time in our history we are endorsing a candidate for Clerk of Court because we cannot ignore the dynamics of this race," said Stratton Pollitzer, Deputy Director of Equality Florida. "On one side you have Jimmy Midyette, a hometown hero fighting for a city that will respect and protect everyone in Duval County, and on the other side you have a candidate who would rather stop all weddings at the Duval courthouse chapel to bar same-sex couples from marrying there. Now she has resorted to disgraceful anti-LGBT attacks in her campaign that must be challenged. Jacksonville residents take pride in a strong nondiscrimination ordinance and she is out of touch with the values of fairness and equal treatment under the law."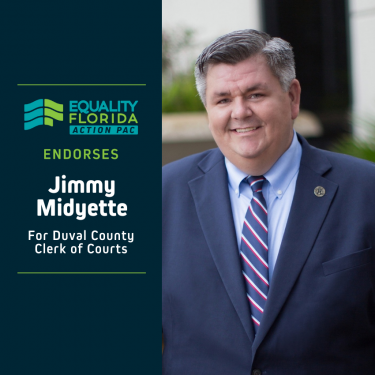 Same-sex marriages were legally recognized in 2015, and a handful of Florida Clerks of Court decided to retaliate by ending all civil marriage ceremonies in their courthouses. Duval County incumbent Ronnie Fussel was one such clerk and now his protege, Jody Phillips, is running against Mr. Midyette and will continue to keep Jacksonville's courthouse chapel closed.
"The Courthouse chapel should be a place of joyous celebrations, but because of Jody Phillips and her boss, it's now used as a storage closet for old furniture," Pollitzer said.
Jimmy is a lifelong Jacksonville resident who went to public schools in Baldwin and became the first person in his family to go to college, graduating Summa Cum Laude from the University of North Florida and attending law school at Florida State University. Jimmy has always been a champion of Jacksonville's most vulnerable and began his law career at Legal Aid where he fought for children and mothers terrorized by domestic abuse. He has always been a leader and champion on issues of equality and justice and has been active in LGBTQ youth support organization JASMYN, the Ryan White Planning Council, and the civil rights organization Jacksonville Coalition for Equality. He earned his law degree in 2001 from FSU and went to work as an attorney at Legal Aid primarily in cases of domestic abuse. ​​​​​​
​​​​​​​### ​​​​​​​
Equality Florida Action PAC is the largest organization in Florida devoted to electing pro-equality candidates to all levels of government. Through mobilization, advocacy and education we engage and turn out pro-equality voters in Florida in support of LGBTQ and pro-equality candidates.
Paid Political Advertisement paid for in-kind by Equality Florida Action PAC, P.O. Box 13184, Saint Petersburg, FL 33733, independently of any candidate. This advertisement was not approved by any candidate.