Meet the Interns: Summer 2019
Equality Florida is proud to announce our Summer 2019 intern cohort! We have representation from all over the state, including cities such as Gainesville, Tallahassee, Jacksonville, Lakeland, Miami, Palm Beach, Orlando and many more! Learn a little about our interns and help us welcome them to the team:
Field & Policy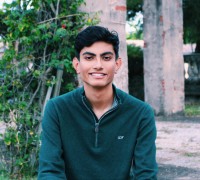 Shrey Patel
Shrey Patel is a current student at the University of Miami in Coral Gables, Florida. He is a sophomore double majoring in Political Science and Communications in Public Advocacy, while also double minoring in Public Relations and Public Health. This summer he will be taking classes at the University of Florida as a non-degree seeking student, while interning for Equality Florida. He is considering a further full time position with Joe Biden as he will continue into his sophomore year of studies at the University of Miami. He previously was a fellow for gubernatorial candidate Mayor Philip Levine and also worked with the DNC Headquarters on Public Policy. He is an active member of the University of Miami Student Government as he was elected the Public Relations Chair of the Student Body Senate.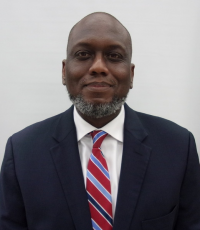 Oscar Smalls
Oscar (he/him/his) is pursuing a Masters in Computer Science at the University of Central Florida. He is involved with the Orange County NAACP and serves on their executive committee as 2nd Vice President of the chapter. After retiring from a career as a Senior Systems Analyst at Charleston Water System in Charleston, South Carolina and serving as president of the World Chapter of the Disneyana Fan Club in Orlando, FL, he enjoys learning how to be a better civil rights and social justice advocate and attending tai chi classes.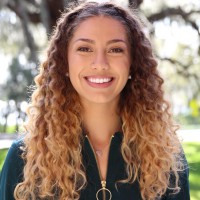 Mikaela Guido
Mikaela (she/her) graduated in May from Florida Southern College with a Bachelor of Science in Political Science and a minor in Psychology. She will be attending the University of Florida's Levin College of Law in the fall. She is involved in College Democrats and currently serves on the national executive board as the Director of Programs. Both of her parents are immigrants and social justice is important to her, as she wishes to achieve a career in law that advocates for those who are marginalized. Mikaela also enjoys yoga and reading, and served as an intern for the Polk County Public Defender's Office and the Lakeland Downtown Development Authority in the past.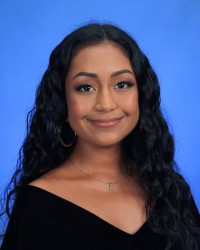 Krystell Fienco
Krystell (She/Her) is a Sophomore at the University of Florida pursuing a Bachelors in Criminology and Cognitive Psychology, along with a minor in Computer Science. With hopes to pursue a career in the legal field, Krystell is passionate about criminal justice reforms as well as other social issues including, but not limited to,those revolving around gender, ethnicity, race and sexuality. Fighting for LGBTQ+ rights hits home and she is excited to work alongside other amazing individuals interning with Equality Florida.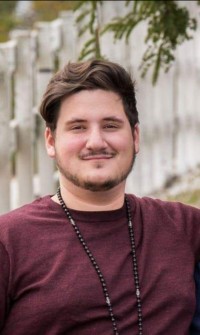 Quinn Swearingean
Quinn (he/him/his) is a junior at the University of Central Florida pursuing dual degrees in Political Science with an International Relations track and in Clinical Psychology, as well as two certificates in Diplomacy and National Security and Intelligence Studies. He spent the last fall during the 2018 midterms volunteering with Next Gen. Florida to register voters and canvas for progressive candidates and policy. He currently works for the housing Department at UCF and is treasurer of the International Relations Club which aims to educate and start conversations on topics of international affairs. He hopes to one day go to grad school in D.C., pursue a career in the Foreign Service, and to continue advocating for social justice issues.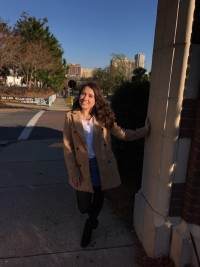 Samantha Sanchez
Samantha is a senior at The Florida State University with a double major in political science and psychology. She is from the beautiful Miami, FL, and identifies as Cuban and Honduran. She is a student senator for Florida State's College of Arts and Sciences. She has plans to pursue a legal career in immigration law or civil rights. With her interest in politics and her passion for her various identities, make her proud of the work that she is taking on as an intern with Equality Florida.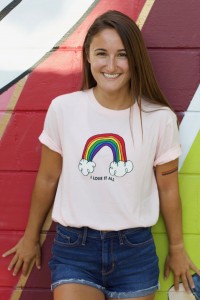 Allison Fusaro
Allison (she/her) is a recent graduate of the University of South Florida with a degree in Interdisciplinary Sciences, with concentrations in Sociology & Criminology. Allison is passionate about social advocacy and hopes to pursue a graduate program this fall at the University of Colorado in Denver to achieve a Masters in Criminal Justice with a concentration in Gender-Based Violence. She hopes to spend her career working alongside victims of sexual/domestic violence, particularly those in the LGBTQ+ community. In her free time, you can catch her in a bookstore reading a true crime book or indulging in a true crime documentary on Netflix, as well as traveling around Florida and enjoying some of its hidden gems.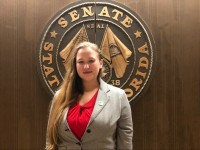 Brielle Cannavino
Brielle (she/her) is a junior at Rollins College pursuing a Bachelor's in Political Science with minors in Mathematics and Sexuality, Women's, and Gender Studies. At school, she is a member of the Honors Program as well as a Dean's Scholar. When not in class, she spends time working in the Office of External and Competitive Scholarship Advisement and as president of the National Society of Collegiate Scholars. She is planning a career dedicated to minority rights, and is particularly passionate about LGBTQ+ issues. She is excited to be interning with Equality Florida to further causes that affect her community.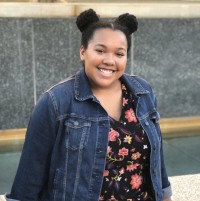 Reagan Bass
Reagan is a senior at the University of North Florida majoring in Political Science, with a concentration in Public Administration and minors in Environmental Studies and Social Welfare. Reagan has a passion for advocacy and humanitarianism, and used that passion to advocate for humanitarian reform to senior government officials at the White House, Department of Defense, and State Department this past fall in Washington, D.C. After graduation, she hopes to work for a non-profit organization that works to ensure environmental, economic, and social equality for all. In her free time she enjoys dancing, listening to music, and hanging out with her little sisters.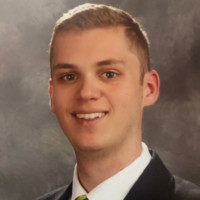 Austin Vogt
Austin (he/him) is a senior at UCF intending to graduate this December with a Bachelors in Social Sciences. During his collegiate career he has participated in a variety of community and advocacy organizations. For the last two years, Austin was a fundraiser for CMN where he led his fraternity to raise $60,000 as an organization. Currently, he is working on the re-election campaign for local Orange County Commissioner, Emily Bonilla, as well as interning with the United Nations Association of Orlando. Austin is extremely proud to be an ally for Equality FL and the greater LGBTQ+ community by raising awareness and helping to ensure equal rights are provided for all.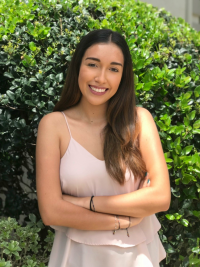 Maria Paula Velasco
Maria Paula is a senior at Florida State University double majoring in Political Science and International Affairs, along with a certificate in U.S. Intelligence. She has interned for the nonprofit Hope Community Center in Central Florida and Equality Florida. Also, Maria Paula is passionate about social advocacy that works toward improving the lives of minority groups, especially immigrants in the U.S. After graduation, she wants to take a year off and volunteer in South America to help deprived communities and get in touch with her roots.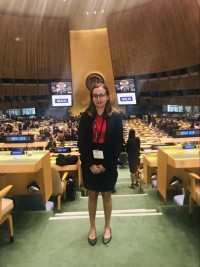 Ashling Boyle
Ashling is a senior at FAU in Boca Raton and is set to graduate in December with a major in Anthropology, a minor in Sociology and a certificate in Peace, Justice, and Human Rights. Her parents are both immigrants from Ireland and Cuba and she's proud of her cultural diversity. She also works at Brinkley Morgan Attorneys at Law as a file clerk. She wants to continue onto law school after graduation to eventually work as a human rights lawyer for global human rights violations. She hopes to work at the UN or an NGO that effectively helps those in need.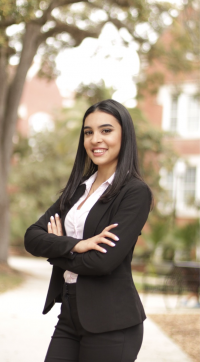 Thalia Diaz
Thalia is a second year Finance major and Philosophy minor at the University of Florida. In the future she plans to attend law school and pursue a career in Corporate law. Thalia was born and raised in Cuba, but now lives in Miami, FL. She is currently a liason for the Hispanic Student Association and its 13 sub-organizations at UF, she serves as the International Affairs Cabinet director for Student Government and is a state director for the Florida Latinx-Hispanic American Student Union. In her free time you can find her at pageants or fashion shows. As a supportive ally, Thalia is ready and excited to work with Equality Florida and all the amazing, qualified interns to make Florida a safe and inclusive environment for all members of the community.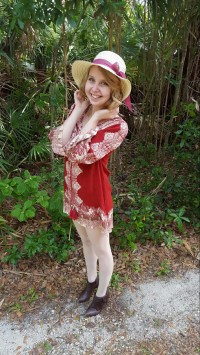 Cheyenne Drews
Cheyenne (she/her) is a graduate of the University of Central Florida and calls Orlando home. Her advocacy work has centered on reproductive and racial justice, electoral engagement, and she is a lifetime ally and dancer with the LGBTQ+ community. In 2018, she was a proud Field Organizer for District 47's State House Representative Anna V. Eskamani. She is a vegan, thespian, and loves poetry. On most days, you can find her in Orlando outside a coffee shop petting someone else's dog.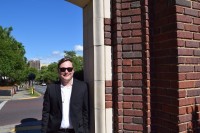 Tyler Phillips
Tyler is a rising Senior at Florida State University studying Interdisciplinary Social Sciences. He aspires to be a political activist and a government official. Eventually, down the road he would like to run for office. As a gay man, fighting for LGBTQ rights is fundamental, because without these rights he wouldn't be able to be himself. He has experience working on campaigns, and in the legislative process. He is very excited to be working alongside such qualified and dedicated individuals and looks forward to fighting to make Florida a place where no one is discriminated against for who they love or who they are.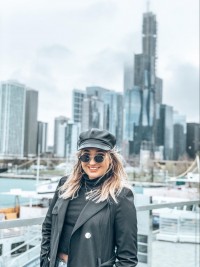 Mairyn Harris-Jones
Mairyn, aka Ryn, is going into her sophomore year at Florida State University. There, she is working towards a double major in business management and marketing, and a minor in social entrepreneurship. She lives in Tampa, FL, and has in the past, spent her summers interning for US Congresswoman Kathy Castor and the James A Haley Veteran's Hospital. When not working or studying for class, you can probably find her in a coffee shop scheming up her next road trip or in the boxing gym. Ryn is a supportive ally, and first started volunteering with Equality Florida as a freshman in High School. Her immediate plans for post-college life include joining the Peace Corps.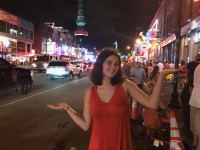 Rachel Thomas
Rachel (she/her/hers) is a rising sophomore at the University of Pennsylvania. She lives in Miami Beach, FL. She is planning on majoring in Sociology, but is not sure what she wants to do with her degree yet. Throughout high school, she worked with the Melanoma Research Foundation and Diller Teen Fellows. She was involved in various affinity and advocacy groups working to ensure equal opportunities and a safe learning environment for all students. At Penn, Rachel worked with Grassroots Campaigns canvassing for Doctors Without Boarders. She also was a member of the Philanthropy Committee in her sorority, Chi Omega. In her free time, you can find her and her friends at art shows around Miami, at the beach, or watching movies.
Communications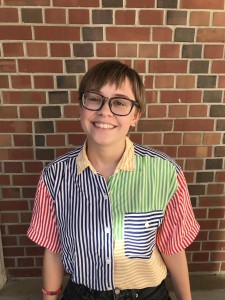 Ava Borchuck
Ava Borchuck is currently a freshman at Florida State University. She is perusing a dual degree in both Creative Writing and Women's Studies. Outside school she enjoys reading (her favorite genres are historical fiction and post- apocalyptic) and painting.
TransAction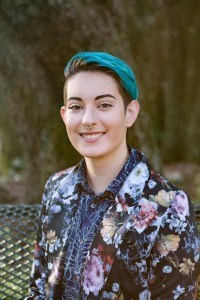 Prin Ocea
A Women's and Gender Studies graduate from USF, Prin Ocea is a passionate advocate and activist for social justice. In 2013, Prin founded the Trans+ Student Union at USF, a student organization that is still thriving and creating community for trans and nonbinary students. In 2017, Prin founded Safe Home at USF which operates with an intersectional lens in order to empower student leaders to create positive change on campus. They were hired by the Office of Multicultural Affairs as Student Assistant for LGBTQ+ initiatives so they could help create queer-specific programing and expand and facilitate USF's "Safe Zone" training program. Looking back on their time at USF, Prin would say that their greatest achievement was developing a proposal and programming plan for Stonewall Suites, USF's LGBTQ+ Living Learning Community in the residence halls, which launched Fall 2018. During their final year of university, they dedicated Friday and Saturday evenings to volunteering with LGBTQ+ youth at Metro Inclusive Health. Prin also began facilitating a nonbinary peer support group in 2016, called Outside the Binary, which now meets three times a month and holds regular social events in both Tampa and St Pete. As for their future, Prin plans to continue courageously following their passions while also working to create safe, inclusive, and empowering spaces for queer folx, as well as other marginalized communities.
HIV Advocacy Project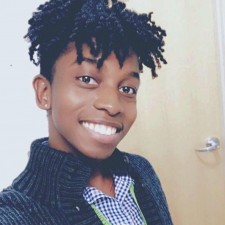 Terrell Jackson
Terrell Jackson grew up in the nations oldest city of Saint Augustine, Fl. He is currently part of a scholars graduate cohort program at the University of South Florida focusing on Translational Research and Adolescent Behavioral Health. He received his bachelors degree in biological sciences from Florida Atlantic University. Terrell serves as the Care Coordinator for PReP at JASMYN (Jacksonville Area Sexual Minority Youth Network) , A non- profit located in Jacksonville, Fl. His duties focus around linking and maintaining LGBT youth to Prep and providing sexual education programs for the youth community. Terrell has a passion for social justice and public health, especially as it pertains to biomedical research and youth cognitive development. In 2018, Terrell was a guest speaker on the Society and Culture Podcast "DckAndDaBox" and a Presenter at the United States Conference On Aids for the " Act Up! Turning Your Narrative Into initiative" Youth Panel. Furthermore, Terrell serves as the 2018 BABI (Build A Brother Institute) institute scholar, which focuses on leadership development of Black Gay and Bisexual Men in the south. He is also the founder of The RootED Initiative, a social media based campaign focused on promoting self-care practices and advocating its importance in LGBT Mental and Sexual health.
Safe & Healthy Schools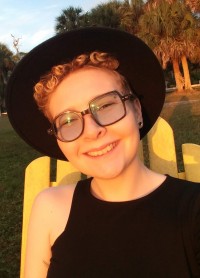 Hal Trejo
Hal Trejo (they, them, theirs), is a recent graduate of the New College of Florida, where they focused on anthropology and completed their senior thesis on the history of gender and sexuality diversity in Florida. They are the president of All Rainbow and Allied Youth Inc., a Charlotte County, Florida based nonprofit that helps LGBTQ+ youth connect with the resources and support necessary to succeed. As an intern with the Safe and Healthy Schools Department, they're looking forward to helping spread equity for LGBTQ+ students across the state!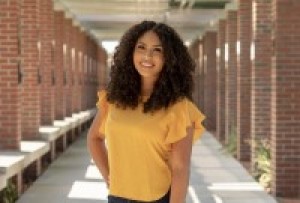 Yameeliz Fret
Yameeliz Fret is a Florida native of Latinx descent who uses she/her/hers pronouns and identifies as a cisgender lesbian. She is beginning her fourth and final year of undergraduate studies at the University of South Florida and is pursuing a Bachelor's degree in Sociology with a concentration in social justice and inequalities. Yameeliz is passionate about social justice and activism and she dreams of founding her own nonprofit human rights organization in the future. Her activism began her freshman year of college with the undocumented community and has grown to encompass the homelessness epidemic, LGBTQ+ rights, education reform, and more. She applied for an internship with Equality Florida because she was driven by her own experiences within the educational system, as well as those of her LGBTQ+ siblings, and wanted to help make a positive impact on the lives of LGBTQ+ students.