NEWS: Gina Duncan Featured On Florida's Leading Business Magazine
Making the case for equality
Florida's leading business magazine features transgender woman Gina Duncan
Nov. 17, 2015
As support continues to grow for a new statewide law to protect LGBT people from discrimination, Florida Trend magazine has chimed in by putting a transgender woman and longtime bank executive, Gina Duncan, on its November cover.
Duncan, who is now Equality Florida's director of transgender inclusion, describes in a feature article how her former employer, Wells Fargo, fully supported her in her transition from male to female gender nine years ago, when she was 50.
That support, Duncan says in the article, "was critical. What transgender people fear the most is social isolation and a deterioration of their quality of life. And your quality of life depends on your employment situation. For Wells Fargo to say, we support you in this, your job is not in jeopardy… It enables people to have a successful transition."
Florida Trend's current issue, available at newsstands and at www.floridatrend.com, focuses on the demographic diversity of the state -- an important consideration for businesses of all types that want to excel.
The magazine includes a separate article about the Florida Competitive Workforce Act, a legislative proposal to add sexual orientation and gender identity to the state's 1992 anti-discrimination law. The proposal now has 17 sponsors -- 9 Republicans and 8 Democrats -- and a growing list of supporters from businesses both large and small. (See Florida Businesses for a Competitive Workforce and Equality Means Business.) But, as the article explains, supporters have struggled to get a hearing from socially conservative legislative leaders.
The article about Duncan describes her former life as a scholarship football player at East Carolina University, a married father of two, and a regional manager supervising about a third of Wells Fargo's Florida workforce. When, as she puts it, she could no longer live an "inauthentic life," she told her family first, then her boss.
As she recalls in the article, he told her, "Well, I have to tell you I don't know a great deal about this. But I would like to discuss it with HR and all of the experts and then we will get back to you with a plan on how we can support you in this life decision."
Duncan later learned that she was the 17th employee at Wells Fargo to transition between genders.
One of the largest banks in the world, with $1.7-trillion in assets, Wells Fargo has long made a point of seeking a diverse workforce and customer base, the article says. It began advertising in Spanish-language newspapers in the 1850s. It hired female tellers in the 1940s, before most other banks would.
"We know that when we create environments that champion diversity and inclusion," Derek Jones, the bank's central Florida regional president, told Trend, "it helps us attract and retain diverse team members and it helps us connect with the communities that we live and work in."
Florida Trend is the state's oldest and largest business magazine, with a monthly print circulation of about 250,000 readers, more than 80 percent of whom are professionals, executives and managers. Its website gets 673,700 page views a month.
Duncan is the first transgender person ever featured on the magazine's cover, longtime art director Gary Bernloehr said.
"Personally that was a nice surprise," said Duncan. "I didn't know beforehand that I would be on the cover.
"What's more important, though, is that it increases the awareness and visibility of the transgender community as a whole. And it shines a light on the growing resolve of employers and others in Florida to create a truly inclusive workplace and community."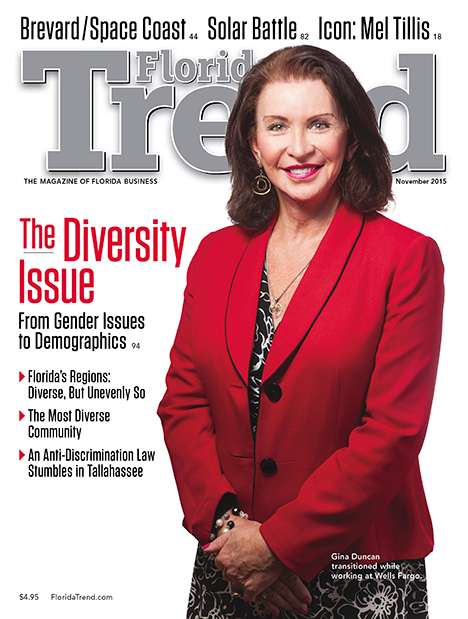 Photo credit: Norma Lopez Molina / Florida Trend
Link to Duncan article: http://www.floridatrend.com/article/19137/in-good-company-gina-duncans-story