Meet Our Safe And Healthy Schools Team
Meet Our Safe And Healthy Schools Team
Do you remember what school was like? Were you ever bullied? Experienced isolation? Never quite felt connected to your school or classmates? For many of us, that's our experience too.
That's why we started our Safe and Healthy Schools program: to help create a culture of inclusion within our schools — supporting teachers, administrators, and district staff — to adopt nationally recognized best practices for meeting the needs of LGBTQ students across Florida's 67 school districts.
We've been at it for over 6 years, and we've changed so many lives along the way.
I've been part of our Safe and Healthy Schools program since its early days, and I'm so proud to be stepping into the role of Director at such a critical time. I grew up in a family of educators, and came to Equality Florida after teaching 5th grade science in Jacksonville. As a teacher, I was very focused on creating a safe classroom environment, because I knew that was the first step to ensure my students could succeed academically. I'm still working to ensure that all students feel safe and welcome in their classrooms, but I get to do that all across Florida now.
I know what it's like to be an LGBTQ kid in school, and I know what it's like to be an LGBTQ educator in Florida too. That understanding has shaped my work for the Safe and Healthy Schools program. Our team has trained close to 40,000 teachers, mental health professionals, and school district staff in my time at Equality Florida. We know that LGBTQ youth are disproportionately impacted by bullying, homelessness, self harm, and HIV transmission, and as a team, our Safe and Healthy Schools program is dedicated to addressing the needs of our LGBTQ youth and their families in Florida schools.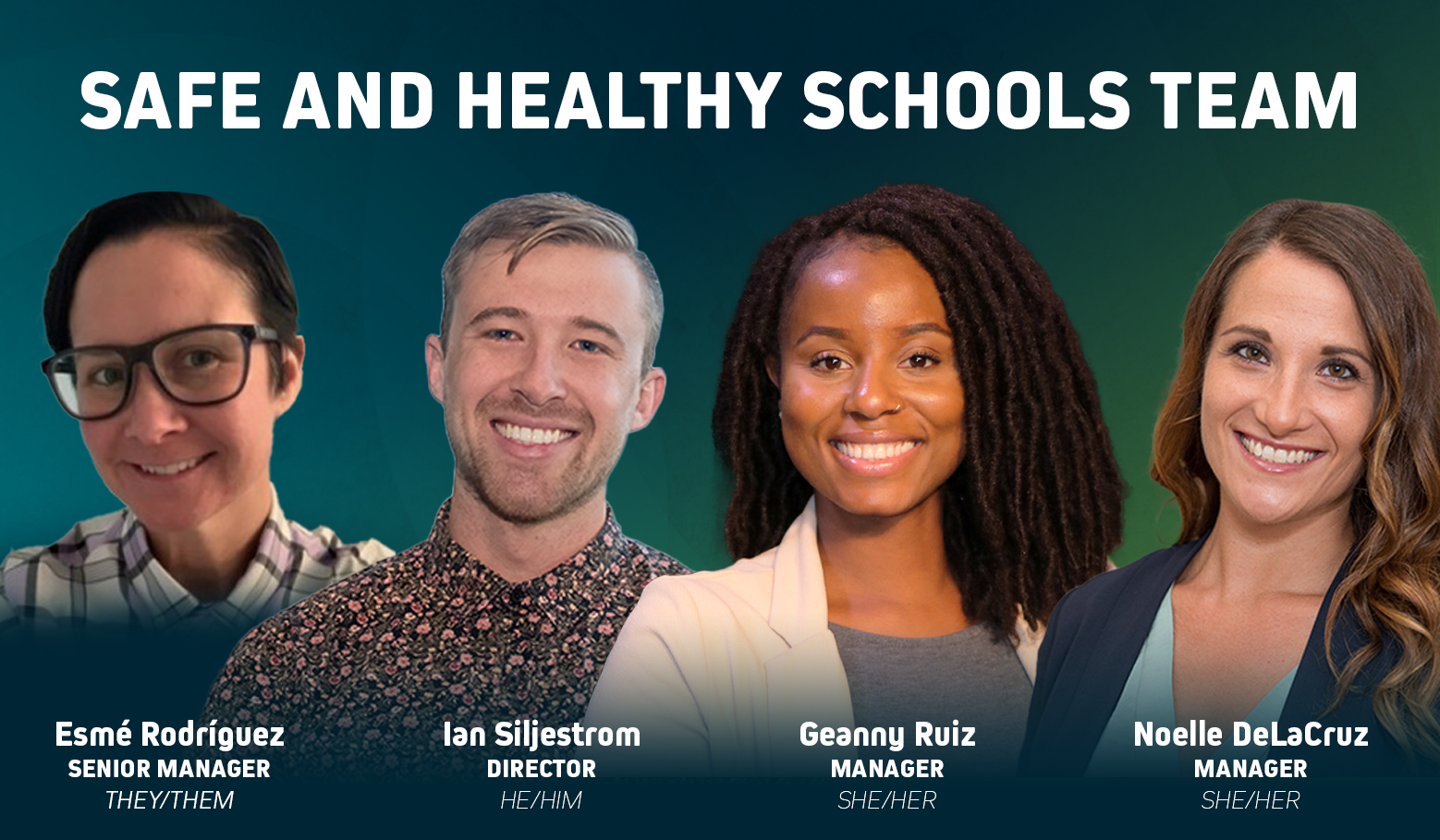 This is such an important and growing program, and we're set to do even more to make sure that every student is protected and every family is respected. Because what we're doing to create safe and healthy schools here in Florida should be adopted in every school district across the country. But this is an ongoing effort, and we're in it every year, every day, for every LGBTQ student.
This is one of Equality Florida's largest and most important programs, and I am so excited to introduce you to our incredible Safe Schools team your support has made possible.
Esmé "Ez" Rodríguez (they/them) is our Statewide Safe and Healthy Schools Senior Manager. Ez is a non-binary, Latinx educator, activist and artist. They have both a Masters and PhD, and taught Gender Studies and Latin American Literature at the university level for 12 years before joining Equality Florida. Ez is committed to making sure that all students can reach their full potential as whole, authentic people.
Geanny Joseph Ruiz (she/her) is our Statewide Safe and Healthy Schools Manager. She's a South Florida native of Haitian descent. Geanny has a Masters in Education and has done extensive work within higher education in South Florida. She works to provide professional development and resources to advance the health, safety and well-being of BIPOC and LGBTQ youth.
Noelle DeLaCruz (she/her) is our Statewide Safe and Healthy Schools Manager. Noelle is a Licensed and Nationally Certified School Psychologist and Certified Child and Adolescent Trauma Professional, who's practiced in Florida and New York for the past 15 years. She initiated and co-chaired the Student Services LGBTQ Committee in her school district, which is where she connected with Equality Florida. Noelle provides structural and collaborative support to districts across the state to ensure that LGBTQ youth can thrive in safe and welcoming school environments.
That's our team, and I couldn't be prouder to work with folks with so much experience, love, and energy to share. I've seen first hand the difference we've made in the lives of teachers, students, and parents across this state.
Every student deserves to have a fair chance to succeed in school, and to be provided the same opportunities as their classmates.
I'm so proud of our work on the Safe and Healthy Schools program, and I hope you'll support us as we strive to make every classroom safe, affirming, and inclusive for all students.
Thank you for standing with us as we continue to fight to protect and empower Florida's LGBTQ youth and their families!
Appreciatively,
Ian Siljestrom (he/him)
Safe and Healthy Schools Director
Equality Florida