Breaking Legislative Update: State Affairs Hearing on HB 3 and threats to local protections
A bill that threatens to repeal every local LGBTQ inclusive nondiscrimination ordinance and conversion therapy ban in Florida was heard on March 14 in the second of three committee stops before a final vote in the House.
The bad news: The bill is moving forward with an amendment that falls short of eliminating the threat.
The good news: The bill sponsor has committed to working with Equality Florida to address our concerns about the impact on laws that provide local LGBTQ protections. That promise comes just days after nearly 100 grassroots activists came to Tallahassee for Equality Florida Lobby Days. On Tuesday we held a press conference with the Human Rights Campaign and out elected leaders to sound the alarm. Our voices are being heard, but until that language is changed, this legislation remains a serious threat and your voice is needed.
ACTION REQUEST:
Click here to send an email to members of the Florida House Commerce Committee TODAY and remind them that rolling back protections for 13 million Floridians would be devastating. The call is clear - Don't Repeal Equality!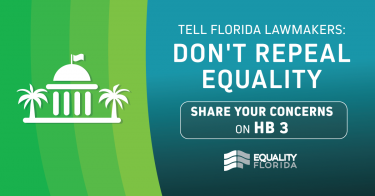 BACKGROUND:
For weeks Equality Florida has been raising the alarm about Florida House Bill 3 (HB 3) which, as introduced, would repeal every local LGBTQ rights law our community has fought for and won in the last twenty years.
Florida leads the South in local protections for the LGBTQ community. Sixty percent of Floridians can count on protections from anti-LGBTQ discrimination at the local level. Two counties and eighteen cities have passed local "conversion therapy" bans to protect children from abuse by licensed mental health professionals, and a number of cities and counties in Florida have passed equal benefits ordinances guaranteeing that contractors and vendors that do business with local government provide the same benefits to employees regardless of who you call family.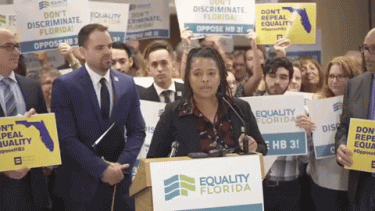 On Tuesday, Equality Florida invited the Human Rights Campaign and partners to help us lead a press conference of advocates and LGBTQ legislators to sound the alarm about the sweeping implications of this bill. We reminded elected leaders about the economic damage anti-LGBTQ bills have caused in states like Indiana, Georgia, and Texas. This is in addition to the $630 million North Carolina lost in tourism, conventions, and canceled events in the aftermath of passing a repeal of local protections.
We've made our concerns about HB 3's impacts loud and clear. You've sent hundreds of emails and made phone calls to legislators. We also shared those concerns in a letter sent to the bill sponsor and full committee, which you can review here, and during today's committee hearing, which you can watch here. Today, bill sponsor Rep. Michael Grant (R - Port Charlotte) presented significant revisions to HB 3 in the House State Affairs Committee, and our pro-equality champions in the committee asked questions to emphasize the legislation's harmful impacts. Rep. Grant ultimately made clear that the new bill language was, in part, intended to address concerns raised by supporters of equality. This is a hopeful sign.
Unfortunately, the revisions to HB 3 do not fully protect our local laws from repeal. As amended, HB 3 will still repeal every "conversion therapy" ban passed in Florida, making Florida the first state in the country to preempt and repeal these bans and stain our reputation in a way no one wants for Florida. In addition, the broad definitions in the amended bill leave local anti-discrimination protections at risk.
Today, Equality Florida members and supporters demonstrated that our smart and focused advocacy can shift the conversation in Tallahassee. We are not yet out of the woods. In the coming weeks, it's essential that we continue educating about the harm HB 3 could cause to our families and how it, as written, rolls back progress. There is one committee left before this bill hits the House floor. We have one more chance to protect what we've won.
Sincerely,
Joe Saunders, Senior Political Director
Jon Harris Maurer, Public Policy Director