​TransAction Florida Releases Statewide Transgender Resource Guide

Responding to the urgent need for quality health care and service providers for transgender Floridians, TransAction Florida has released a statewide Transgender Resource Guide.
The Transgender Resource Guide, a project one-year in the making, has been developed to provide a directory of quality trans-friendly service providers from across the state. Resources listed in the guide have been submitted, reviewed and verified by TransAction Florida Advisory Board Members.
"We sincerely hope this is a valuable tool for transgender Floridians and their families," stated Gina Duncan, Equality Florida's Transgender Inclusion Director. "I know when I transitioned in 2007, connecting with quality health care providers and resources was very frustrating. We need immediate and accurate access to resources for all Floridians, in every part of our state, and we hope this guide will provide that support."
The guide will be a living resource that will be updated regularly, and TransAction Florida will add necessary resources as the needs of the transgender community continue to grow. Due to the scale of this project, the guide will be updated each quarter starting October 1, 2015.
"We look forward to the resource guide's expansion and providing even more support of our community in the years to come," said Gina Duncan.
You can download the Transgender Resource Guide here: http://www.eqfl.org/transactionfl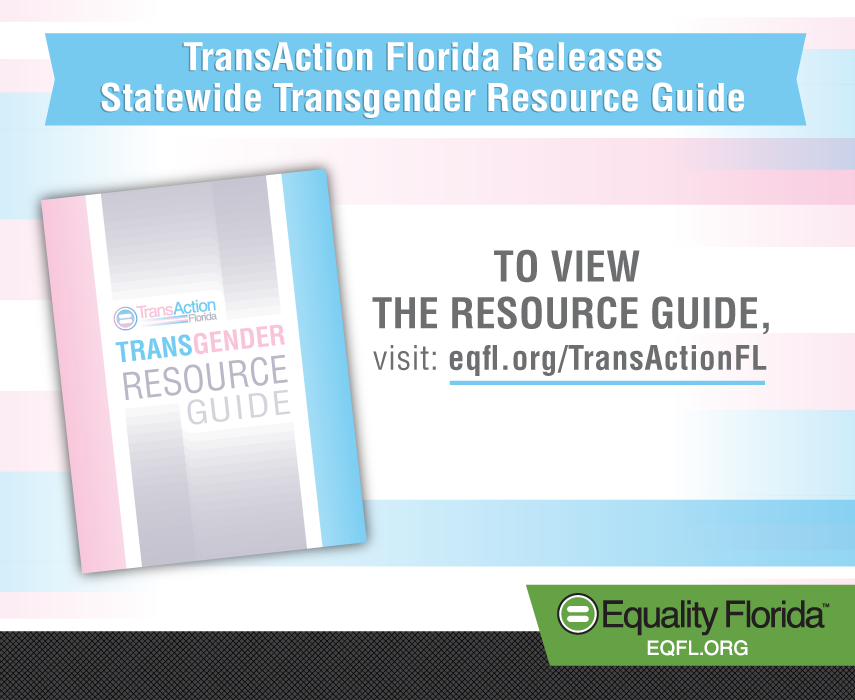 Current guide contains the following:
• Crisis hotlines
• Mental health therapists
• Primary care physicians
• Endocrinologists
• National legal resources
• Florida-specific information on updating legal documents
Additional resources provided will include:
• Gynecologists
• HIV/STD Testing
• Surgery resources
• Support centers & social groups
• Hair & Makeup services
• Vocal coaching
• Electrolysis
• Veteran services
• Youth services
TransAction Florida is an initiative of Equality Florida, the largest civil rights organization in Florida dedicated to ending discrimination based on sexual orientation and gender identity or expression. This initiative was launched in 2014 with three broad objectives: To educate Florida's major employers on effective transgender inclusion protocol, to advocate for the trans community in a broader and more structured way, and to be an integral part of all public policy that involved transgender rights. To achieve these, and even broader goals across the Sunshine State, TransAction Florida was formed, which consists of transgender community leaders from all parts of our state.
Please "like" TransAction Florida on Facebook (http://on.fb.me/13qEta8), and check back for valuable information and resources designed to support all members of the transgender community.