Nadine Smith Named Honorary Co-Chair of National Equality March for Unity and Pride
IMMEDIATE RELEASE: 
Wednesday, June 7, 2017
MEDIA CONTACTS: 
Nadine Smith, CEO
[email protected]
Hannah Willard, Public Policy Director
[email protected]
Nadine Smith Named Honorary Co-Chair of National Equality March for Unity and Pride
Equality March Cites Smith's "Inspiring" Legacy of Leadership 
ST. PETERSBURG, FL -- Nadine Smith is the co-founder and CEO of Equality Florida, the state's largest organization dedicated to ending discrimination based on sexual orientation and gender identity. Equality Florida proudly endorsed the 
Equality March for Unity & Pride alongside 20+ LGBTQ advocacy organizations across the country. 
"The Equality March on June 11th is the day before we commemorate the Pulse massacre, and I'm grateful to the March's leadership for making our #HonorThemWithAction campaign a centerpiece of the march," said Nadine Smith, Executive Director of Equality Florida. "We must ensure the lasting memorial of Pulse and the legacy of marching is the real change of uprooting hatred, discrimination, and violence of all kinds in our culture." 
A former award-winning journalist turned organizer, Nadine was one of four national co-chairs of the 1993 March on Washington. She was part of the historic oval office meeting with President Bill Clinton, the first such meeting between a sitting President and gay community leaders. She served on the founding board of the International Gay and Lesbian Youth Organization, which celebrated 30 years in 2014. 
Smith is a Florida Chamber Foundation Trustee, board member for Green Florida and served on President Obama's National Finance Committee. In 2013, was named one of the the state's "Most Powerful and Influential Women" by the Florida Diversity Council. She was also given the League of Women Voter's Woman of Distinction Award earlier this year. She currently serves on the U.S. Commission on Civil Rights Florida Advisory Committee.
"We are deeply humbled to have Nadine Smith - venerable advocate and inspiring leader - join us as an honorary co-chair for the Equality March for Unity and Pride," said Anika Simpson, a national co-chair for the March. "We are privileged to march in the wake of her legacy as national co-chair of the 1993 March on Washington and dedicated steward of Equality Florida."
The "Equality March for Unity & Pride" is a grassroots movement which will mobilize the diverse LGBTQ+ communities to peacefully and clearly address concerns about the current political landscape, and how it is contributing to the persecution and discrimination of LGBTQ+ individuals. The Equality March is an official Pulse Partner organization of the #HonorThemWithAction campaign alongside 160+ organizations. For more information, visit www.equalitymarch2017.org.
Equality Florida will be marching with the LGBTQ National Task Force at the Equality March in DC. For those interested in marching with us, the meet up point is at 14th and K street at Franklin Square at 9 AM. Look for the tall Task Force flag. This is 2 blocks from the McPherson Square Metro. For more information visit:www.honorthemwithaction.org/events/
​####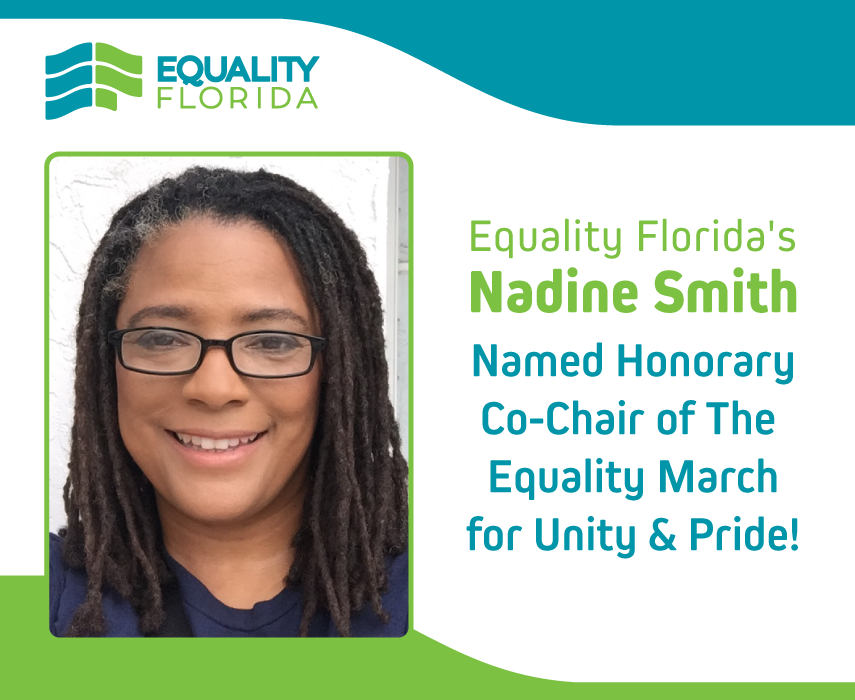 Equality Florida Institute is the largest civil rights organization dedicated to securing full equality for Florida's lesbian, gay, bisexual and transgender community. 
www.eqfl.org