TransAction Leadership Academy

Equality Florida Announces its TransAction Leadership Academy:
Equality Florida's Transgender Inclusion Initiative, TransAction Florida, is excited to announce our TransAction Leadership Academy (TALA). The TransAction Leadership Academy is designed to train and develop selected youth leaders from our rapidly emerging trans and enby community in areas or organizing, advocacy, public policy, public speaking, and program management.
The TransAction Leadership Academy invites transgender and enby youth, ages 18-30 to apply for this leadership development opportunity in your city. Coming to Orlando in January! We are now accepting applications!
The 2020 Orlando TALA program curriculum:
The program includes one 2 ½ hour, live meeting per month, writing reviews on topics discussed at each meeting and writing a dissertation at the end of the program:
January 16: Introduction, TransAction history, structure, and mission
February 20: Safe and Healthy Schools Program
March 19: Florida Public Policy
April 16: HIV/AIDS and Equality Means Business Program Training
May 21: Message and Media/Advocacy Workshops, Facilitation Skill Training 
June 18: Final Dissertation Presentations/Graduation Ceremony
APPLY NOW FOR THE 2020 ORLANDO TRANSACTION LEADERSHIP ACADEMY!
(DEADLINE TO APPLY: DECEMBER 20, 2019)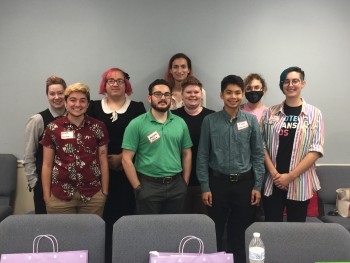 (Picture above are the participants of the 2019 St. Pete TransAction Leadership Academy)
---
"In my opinion, nothing is more important than growing future leaders and providing a platform for their voices to be heard. Now, more than ever, we must support the future leaders of the trans/enby movement and ensure that the progress we have fought so hard to achieve, continues until all Floridians are treated fairly and equally under the law. We know our fight for social equality is a marathon, not a sprint, and we need leaders to whom we can pass the torch. Let the next generation progress further than the generation preceding it because it stands on the shoulders of that generation." - Gina Duncan, Director of Transgender Equality and Equality Florida's TransAction Network.