Safe & Healthy Schools Staff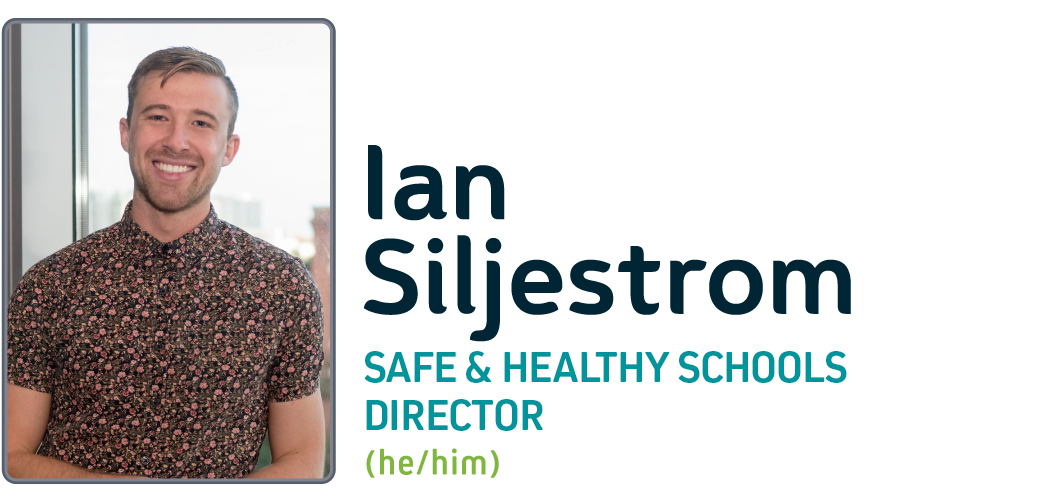 Ian Siljestrom is the Safe & Healthy Schools Director for Equality Florida. He is responsible for fighting the extensive risk factors, which disproportionately affect our LGBTQ youth in school including: bullying, homelessness, self-harm, and HIV transmission. He works directly with 20 school districts across Florida to assist in the implementation of professional development and comprehensive best practices to ensure the empowerment of all students' identities. Ian has extensive speaking and professional development experience, including at local, state, and national conferences.
Previous to joining Equality Florida, Ian also taught for several years in a Title 1 elementary school in Jacksonville, Florida as a 5th grade science/health teacher. In his classroom, he was dedicated to creating an inclusive environment for all students, while practicing culturally responsive pedagogy. 
Ian is a graduate of the University of Florida where he received a Bachelor's of Science in Sustainability and the Built Environment and is currently pursuing his Master's degree in Urban and Regional Planning.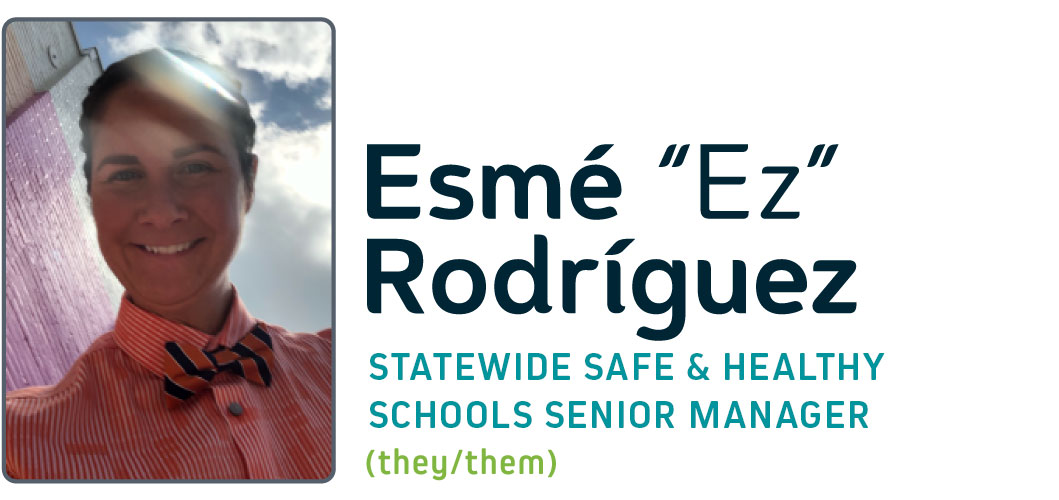 Esmé ("Ez") Rodríguez is the Statewide Safe & Healthy Schools Senior Manager and a transplant to Florida after 18 years in beautiful and snowy Minneapolis, MN. They are committed to working with administrators, teachers, parents, and school board members to ensure the creation of safe and healthy school environments in which LGBTQ+ and all students can thrive and strive to reach their full potential as whole, authentic individuals.
Esmé is a non-binary, Latinx educator, activist, and artist. Prior to working with Equality Florida, Esmé was the Statewide School Equity Director for OutFront Minnesota. Esmé also taught Gender Studies and Latin American Literature at the university level for 12 years and tours national colleges with their "Gender Show and Tell Program," which engages in intersectional discussions surrounding the performance of diverse gender identities and gender expressions from non-binary cultural perspectives.
Esmé has a Master's Degree from Boston College and studied their PhD at the University of Minnesota, Minneapolis. Much of their professional and creative work exhibits themes of transgender and gender diverse identities, the deconstructions of femininities and masculinities, and the creation of possibility spaces through engaging in work that promotes intersectional justice and community building. Esmé's personal and professional goals are to form coalitions and relationships, which aid in the breakdown of systems which create and maintain oppression, violence, and inequality.
One of Esmé's most exciting opportunities was being chosen to be a featured artist at The Walker Art Center (MN) in 2008 in conjunction with the International Touring FRIDA Kahlo Exhibit. Esmé also enjoys vegetarian sushi, downhill skiing, NFL, and college football.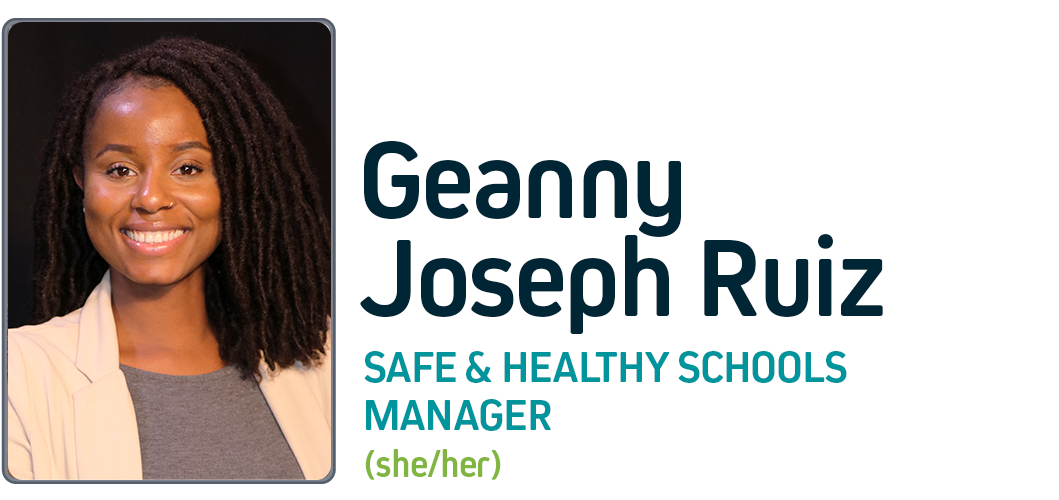 Geanny Joseph Ruiz serves as the Statewide Safe and Healthy Schools Manager for Equality Florida. She is a South Florida native of Haitan descent. Geanny has worked extensively within education systems providing professional development and resources to advance the health, safety and well-being of BIPOC and LGBTQ+ youth. Prior to her time at Equality Florida, she managed the Office of LGBTQ+ Initiatives and Allyship at Florida Atlantic Universitys' Center for Inclusion, Diversity Education and Advocacy. She has implemented policies, procedures and programs to foster inclusive environments for all students. Geanny holds a Bachelor's Degree in Public Communications and a Masters Degree in Education.

Noelle is a Licensed and Nationally Certified School Psychologist and Certified Child & Adolescent Trauma Professional. She began social justice work as early as high school where she received peer educator training through the Anti-Defamation League (ADL) and used anti-bias curriculum to teach fellow students about the importance of inclusion and acceptance. During college, Noelle followed her passion in the social sciences through the study of Psychology and Sociology and later went on to earn a Master's degree in School Psychology from the State University of New York University at Buffalo and Doctor of Psychology degree from Fairleigh Dickinson University in New Jersey.
Noelle was an Associate Instructor for the Crisis Prevention Institute and has been a practicing School Psychologist for the past 15 years in both New York and Florida. In 2017, Noelle initiated and co-chaired the Student Services LGBTQ+ Committee in her school district, and through this work, became connected to Equality Florida. As fate would have it, she is now a member of the Safe and Healthy Schools team where she provides structural and collaborative support to districts across the state to ensure that LGBTQ+ youth can thrive in safe and welcoming school environments.
In her free time, Noelle enjoys travelling and spending time with her husband and their two dogs, Jazzy and Ollie. She runs her private practice through The Thinking Center in Sarasota, Florida and is the Producer and Co-Host of "The Unpacked Project – A Social Justice Podcast".