Joe Saunders, Senior Political Director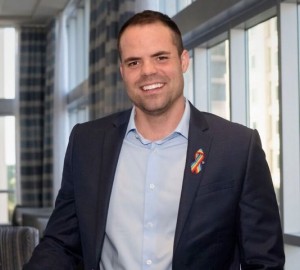 As Equality Florida's Senior Political Director, Joe is charged with leading Equality Florida's civic engagement, mobilization, field, electoral and candidate programs.
For nearly ten years Joe served as Equality Florida's Field Director, representing the organization in major campaigns including municipal non-discrimination efforts, the statewide campaign against Florida's anti-marriage constitutional amendment and the successful effort to protect Gainesville's human rights ordinance from repeal at the ballot. In 2012, Joe ran for and won an east Orlando seat in the Florida House of Representatives becoming one of the first openly gay Floridians elected to the legislature. As a state representative Joe served as the lead sponsor of the "Competitive Workforce Act", legislation that would finally ban discrimination against LGBTQ Floridians.
Following his tenure in the Florida House, Saunders joined the staff of the Human Rights Campaign, the country's largest LGBTQ advocacy organization. In this role he held leadership positions in LGBTQ campaigns across the Southern U.S. In 2016, Joe helped lead Turn Out North Carolina the successful effort in North Carolina to defeat anti-LGBTQ incumbent Gov. Pat McCrory - a champion of the notoriously anti-LGBTQ HB 2. In 2017, Joe worked across the pond as the Director of GOTV Programs for former United Kingdom Minister of Justice and openly LGBT candidate for U.K. Parliament, Simon Hughes.
A nationally recognized progressive leader and strategist, Joe has been recognized by Out Magazine as part of the 2016 "Out 100" and is a regular commentator in national and state press outlets.