Join us on YouTube before the show for live chat!
To watch on your TV, open this page on your mobile device, tap here to open the video in the YouTube app, then send it via AirPlay or Chromecast
Backup stream: in case the video above stops working, you can visit [fromhere.com] to watch an alternative stream

Donate to #HonorThemWithAction
Your support helps ensure the lasting memorial of the 2016 Pulse massacre is the real change of uprooting hatred, discrimination, and violence of all kinds.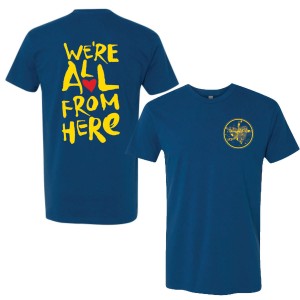 More about this remembrance event:
To commemorate the 4th year since the tragic shooting at Pulse Nightclub, Equality Florida has teamed up with the creative team behind a new musical, From Here. Written by Orlando-based playwright Donald Rupe (with orchestrations and arrangements by Jason M. Bailey), From Here is about a 30-something gay man (Daniel) and his tight-knit group of friends and their lives before, during, and after the shooting that changed their community (and our's) forever.
Beginning at 9 PM EDT on June 12, Equality Florida is proud to stream this tragic, funny, beautiful piece of Theatre here on our website as part of our #HonorThemWithAction campaign. Donations made from this page will go to support our program intended to encourage all Equality-minded individuals to #HonorThemWithAction by making a plan to vote this November.
Check back beginning at 9 PM EDT on June 12 to see this wonderful production and to commemorate the 2016 shooting at Pulse Nightclub.