Today, Millions of Floridians Become Eligible for Affordable Health Insurance
Today, October 1st, nearly 3 million more Floridians become eligible to receive quality, affordable health insurance through the Insurance Marketplace (previously called "Exchanges") created by the Affordable Care Act (ACA), also known as "Obamacare."
Visiting HealthCare.gov is your first step toward obtaining quality, affordable health insurance through the Marketplace.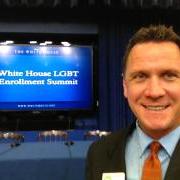 On September 12th, I had the pleasure of attending a White House briefing that featured keynote remarks from U.S. Health and Human Services Secretary Kathleen Sebelius. The purpose of this event was to educate the attendees on the benefits of Obamacare to the LGBT community, members of which are much more likely to be uninsured than the general public. Event organizers also provided resources to help the LGBT community learn more about Obamacare and to get enrolled in the Marketplace. The briefing can be viewed here.
Florida has not created state-based exchanges and a majority of Florida's elected officials continue to do everything they can to make it difficult for uninsured Floridians to get the insurance they need. Earlier this month, Florida health officials banned counselors trained to help people sign up for health insurance from conducting outreach on their property. During the 2013 session, the Florida Legislature voted to turn down $50 billion in federal money to expand Medicaid because of concerns that the federal dollars would fall through later on. The federal government is paying 100-percent of the cost through 2016 and 90 percent after that.


Although Florida leaders chose not to create an exchange to help people obtain health coverage, federal programs are available because Florida is part of the federally facilitated exchange.
It is also important that LGBT Floridians understand that Obamacare does not only benefit low-income Americans. A family of four making up to $97,000 a year would qualify for federal tax credits to help supplement the cost of insurance. And the ACA eliminates "pre-existing condition" exclusions. So, even if you've been turned down previously because of prior health issues, you can now obtain health coverage. Out2Enroll.org is a new campaign to connect LGBT people with affordable health coverage. Health reform can help the LGBT community get the care we need, when we need it.
If you or a loved one is uninsured, visit www.healthcare.gov today to lean more about accessing quality health insurance at affordable rates. Also, sign up for LGBT-specific information regarding Obamacare at Out2Enroll.org.
A healthier Florida benefits everyone.
#GetEnrolled 

#EQFL @whitehouse #obamacare #LGBT #Out2Enroll @EqualityFL @brianwinfield1