I was told that I was "in an anti-gay city and state"
For the first time, a statewide domestic partner registry bill will be voted on in Tallahassee. Entitled "Families First", SB 196 was scheduled for a vote earlier this month but has been postponed until later in the session.
But right now, as legislators debate whether to protect our families and the Supreme Court takes up marriage legislation, I must share with you the story of one woman who traveled from Seattle to Tallahassee last week, prepared to testify to the committee, and how she has turned a tragedy into a mission to secure recognition for all of us. - Nadine
Take Action by signing the petition and lending your name to the fight for legal protections for our families in Florida.
---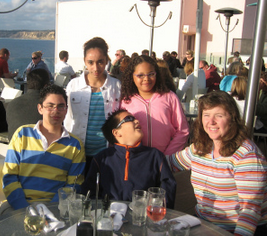 [March 12, 2013 ] I traveled all the way from Washington State to Tallahassee because my family's story is forever entwined with the State of Florida and specifically with Miami and Jackson Memorial Hospital.
Lisa and I met in 1988, we became the first openly gay foster parents in our county in 1992. We fostered 25 children and adopted 4 children – all special needs from cocaine, heroin or HIV from their birth mothers. While adopting our children, Lisa chose to stay home with them full-time, because it was her dream. I continued to work full-time and complete a Master's degree. Lisa grew up as a Girl Scout so when our daughters reached scouting age, Lisa started a troop which had 29 girls at the time of her death. Lisa took our youngest two children to the HIV clinic weekly and followed their medication regime. Because of her hard work, we are blessed that our youngest children turned HIV negative. Lisa volunteered in each of our children's classes once a week, year around, and became our elementary school's PTA Volunteer Coordinator for two years. We did everything as a family, including worship together; I converted to Catholicism, so we could share our faith with our children. Lisa not only taught baptism classes but also first communion class for each of our children. Lisa lived life unselfishly and was always there for her friends, her family and our children.
I decided to surprise Lisa and get her out of the gray, drab winters in western Washington and paid for a cruise on R Family Vacations out of Miami. In February 2007, Lisa and three of our jointly adopted children arrived in Miami looking for a week of sun, relaxation and playing on the beaches.
Unfortunately, before we left port on Feb 18, 2007, Lisa – just 39 years old – collapsed and was rushed to Ryder Trauma Center at JMH. I was in shock. Lisa was the healthy one – I was the one dealing with Multiple Sclerosis. After arriving at Ryder, I was told to go wait in their tiny waiting room. So with seven large suitcase and all our bags, the children and I began to wait.
A gentleman came out and introduced himself as the social worker, Mr. Garnet Frederick. He told me in a warning tone that I was "in an anti-gay city and state" and would not see Lisa or know about her condition without a healthcare proxy". He turned to leave and I had enough sense to call him back over and ask for his fax, because Lisa and I did have a Living Will and Durable Power of Attorney for Health Care decisions as well as a will. Mr. Frederick tore off a tiny piece of paper and gave me his fax number.
From that first encounter with Mr. Frederick and for the ensuing eight hours, staff and employees at JMH/Ryder systematically ignored my family. I didn't learn what was wrong with Lisa until over two hours into my waiting when a surgeon told me that she had a massive brain aneurysm.  When that doctor left me, I was alone again. After three hours, two surgeons brought me into a tiny 6 x 6 room, sat me down and explained that Lisa was likely not going to survive but if she did – she would be in a persistent vegetative state. Ironically, it was the South Florida – Terry Schiavo situation which prompted Lisa to see our attorney and spell out our end of life wishes. I let the surgeons know Lisa was an organ donor and would not want to be kept alive in a vegetative state. I asked again to see Lisa, because I needed to know I was making an informed decision about my wife. The surgeons left me and never returned.
After waiting just over eight hours, Lisa's sister, who had been driving all day from Jacksonville, arrived just before midnight. The clerk who had dismissed me at every turn told Lisa's sister that Lisa was moved an hour prior to the NeuroICU. Not only were the kids and I denied the opportunity to be with Lisa in her final moments, we were so insignificant to JMH they didn't let me know they moved Lisa to an entirely new place in the hospital. But Lisa's sister- who didn't even need to show ID - was given complete access. Only then were the children and I finally let in for ten minutes. Exhausted and distraught, the children were able to hold Lisa's hands and tell her we loved her.
At 10:45am on February 2007, Lisa Marie Pond was declared brain dead and was prepared for organ donation, per Lisa's wishes. Lisa's organs helped save a man in Jacksonville with her heart, a woman in Gainesville with her Liver and two other individuals with her kidneys.
I emailed JMH hospital asking for apologies for how our family was treated and it fell on deaf ears. All I wanted was, "I'm sorry you were ignored". But treating my family as "less than" continued. I can't receive Lisa's death certificate from Florida. I have to go through the funeral home who made the arrangements. I can't get the autopsy report, and more importantly, I was denied access to Lisa's medical records. This went on for years. It took a call to the Secretary of Health and Human Services, Kathleen Sibelius who ordered Lisa's records be released. I finally received them nearly four years after Lisa's death.
I sued JMH for emotional distress for what happened to our family. JMH got the suit dismissed 9/29/09 and I chose not to appeal. However, I believe it's important to take Judge Jordon's words in his conclusion:
"If the plaintiffs' allegations are true, which I assume that they are when deciding the defendants' 12(b)(6) motion to dismiss, the defendants' lack of sensitivity and attention to Ms. Langbehn, Ms. Pond, and their children caused them needless distress during a time of vulnerability.

The defendants' failure to provide Ms. Langbehn and her children frequent updates on Ms. Pond's status, to allow Ms. Langbehn and her children to visit Ms. Pond after emergency medical care ceased; to inform Ms. Langbehn that Ms. Pond had been transferred to the intensive care unit, and to provide Ms. Langbehn Ms. Pond's medical records as she requested, exhibited a lack of compassion and was unbecoming of a renowned trauma center like Ryder. Unfortunately, no relief is available for these failures based on the allegations plead in the amended complaint."
Beth Littrell from Lambda Legal summed up the absurdity by stating:
"Janice was able to tell the doctors that Lisa did not want to be kept alive by artificial means, but Janice was not able to tell her partner goodbye. Janice was unable to comfort Lisa as she passed away, and she was unable to get the kids by their mother's side while Lisa could still perceive their presence. A Power of Attorney could not do what a marriage license would have done: the Power of Attorney did not open the locked doors to the hospital room."
It has been six years and one month since Lisa's passing, and no one at JMH has seen it fit to reach out to me with a simple "I'm sorry". I hope the legislature will act right now so that no one else goes through what my family has endured.
I implore you as a legislative body to make these rights and responsibilities available to Floridians and those of us who come as visitors.
– Janice K. Langbehn
Janice's story made national news and led President Obama to sign an Executive Memo requiring hospitals that receive federal funding to allow hospital visitation for domestic partners. That memo makes passage of a Domestic Partnership Registry all the more urgent. Janice has spoken out all over the country, and her activism earned her the Presidential Citizen Medal at the White House in 2011. Please share with your friends. And "thank you," Janice for reaching out, after all you've been through, to help Florida be a better place for us all.  - Nadine Smith
Take Action by signing the petition and lending your name to the fight for legal protections for all of our families in Florida.