Florida Rep Ileana Ros-Lehtinen introduces legislation to gain Social Security for Same-Sex Married Couples!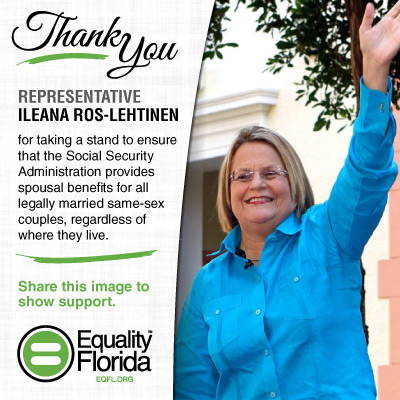 Florida Representative Ileana Ros-Lehtinen (R-FL), joined by Representative Ron Kind (D-WI), Allyson Schwartz (D-PA) and Elizabeth Esty (D-CT), introduced the Social Security and Marriage Equality (SAME) Act, legislation to amend the federal code to ensure all lawfully married same-sex couples will receive Social Security spousal benefits. 
Since the Supreme Court decision last June in Windsor v. U.S. striking down a key section of the so-called Defense of Marriage Act (DOMA), the Obama Administration has proceeded in implementing the decision across the federal government. 
While the Social Security Administration has moved forward on spousal benefits for people living in marriage states, as well as Supplemental Security Income (SSI) and Medicare, it has not yet addressed spousal retirement, spousal survivor, and lump sum death benefits for married couples living in states that do not allow same-sex couples to marry. Nor has it determined that those joined in civil unions and registered domestic partnerships are eligible for spousal benefits based on their ability to inherit from their spouses/partners without a will under state law. This leaves thousands of legally married same-sex couples, most of whom are living on fixed incomes, without financial support they have earned and are entitled to by law.
The SAME Act would guarantee that all legally married same-sex couples are provided access to social security benefit regardless of where they live. We thank Reps. Kind, Ros-Lehtinen, Schwartz and Esty—as well as Sens. Patty Murray (D-WA), Mark Udall (D-CO) and Tammy Baldwin (D-WI), who are leading the Senate companion bill—for bringing attention to the essential protections provided by Social Security.