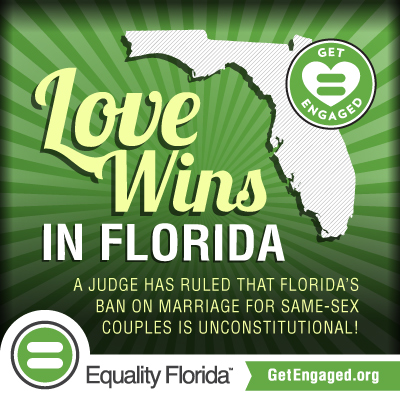 Court Rules in Favor of Marriage Equality in Florida
(Miami, FL, July 17, 2014)—Today, a state trial court in Monroe County issued a decision striking down Florida's ban on marriage for same-sex couples and ordering Monroe County to allow same-sex couples to marry. The Court's order provides that the Monroe County Clerk can begin issuing marriage licenses to same-sex couples on July 22, 2014.
The case was brought by Key West residents Aaron Hunstman and William Lee Jones. They are represented by Bernadette Restivo of the law firm Restivo, Reilly & Vigil-Farinas LLC.
On July 7, 2014, Judge Luis Garcia, Monroe County Circuit Court heard oral argument in the case. The couples argued that Florida's ban on marriage equality cannot stand in light of the United States Supreme Court's ruling in June 2013 that the federal "Defense of Marriage Act" violates the federal constitutional guarantees of equal protection and due process.
Every court to consider these federal constitutional claims since last summer's Supreme Court decision has ruled in favor of the freedom to marry, including federal and state courts in Utah, Ohio, Oklahoma, Arkansas, Kentucky, Idaho, Illinois, Indiana, Michigan, Oregon, Pennsylvania, Tennessee, Texas, Virginia, and Wisconsin.
Said Nadine Smith, CEO, Equality Florida Institute: "This is a monumental step forward for Florida. Today's historic ruling affirms what the majority of Florida residents already know to be true: All couples and their families deserve to be treated equally by their government."
Media Contacts:
Bernadette Restivo Esq.
Attorney at Law
Restivo, Reilly & Vigil-Farinas LLC
103400 Overseas Highway, Suite 237
Key Largo, FL  33037
305-453-4961 TEL  [email protected]
Equality Florida:          
Sharon Kersten, 954.314.7288 (office), 305.458.3639 (cell), [email protected]
Sue Hoffman, 727.667.8188 (office), [email protected]
Information for Florida couples seeking to marry in Florida:  http://www.eqfl.org/marriagefaq