Runoff Election Brings Jacksonville A Leap Closer to Equality
Written by Morgan Baker, Media Intern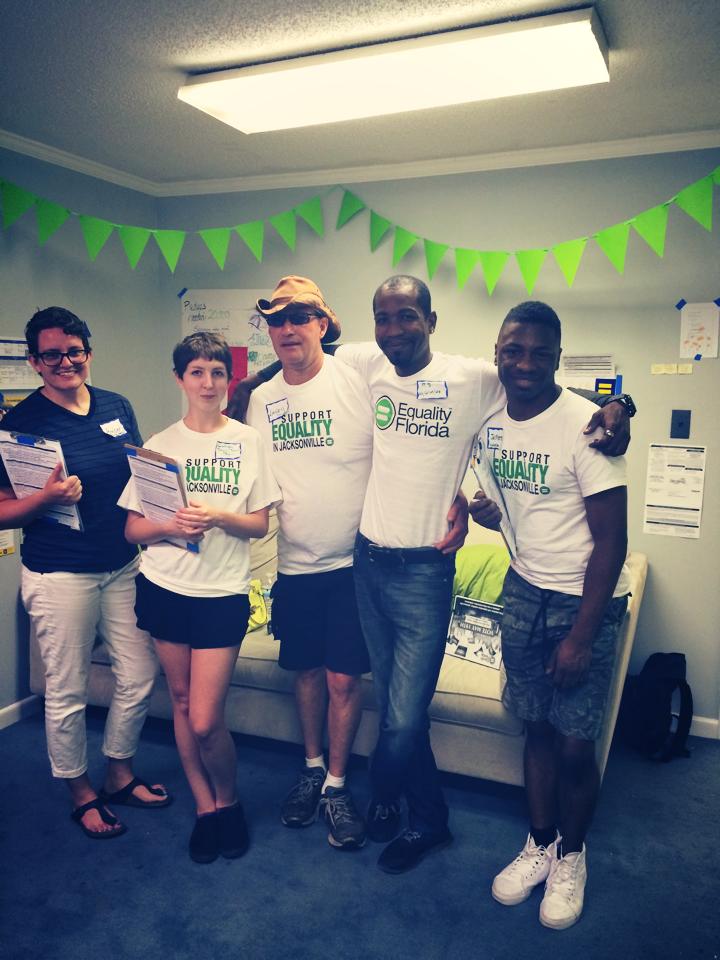 Jacksonville's municipal election sparked serious buzz about LGBT equality. This election had the power to bring great hope to one of the key cities in the movement toward securing LGBT equality. The Human Rights Ordinance quickly defined itself as one of the major talking points for campaign teams and Equality Florida was able to transform the conversation into the perfect catalyst for change in Jacksonville.
The primary goal in this election was focused on securing the election of at least three additional council members that pledge to vote in favor of the Human Rights Ordinance.  Jacksonville is the last major city in Florida and one of the last major cities in the US that doesn't offer a protective ordinance for the LGBT community in housing, the workplace and public accommodations.
A vast majority of the people that we have contacted over the span of this election know that Jacksonville needs this policy. Alongside the Human Rights Campaign and the Jacksonville Coalition for Equality, Equality Florida was on a distinct mission. Elect Equality.
Throughout our canvassing travels we encountered many people who were elated over the possibility of enacting this HRO. Our volunteers returned with stories of roaring support and inspiring testimonies of discriminatory acts that have happened to LGBT Jacksonvillians. Many homes that were visited offered thanks to show how much they appreciated that our team was on the ground working. One woman stopped a volunteer halfway through their script to tell a story of her cousin's experience in Atlanta, being fired from his position because of his sexual orientation. Her cousin had asked if he could add his husband to the insurance policy and was let go from his position shortly after. She was thankful that we were working to make sure that this behavior doesn't affect her immediately family, living in this city.
The effort was nonstop. Phone calls and door-to-door canvass efforts consumed the days leading up to the election. Hours were constant, with 8AM sign waving and late evening canvassing completing days filled with voter contact. Our supporters were present and actively engaged in the election. The Equality Florida office in downtown Jacksonville was filled to the brim with bodies anticipating a pro-equality turnout in the election. We were able to maintain a consistent task force dedicated to street canvassing, voter contact and volunteer recruitment calls- every volunteer returning for multiple shifts.
The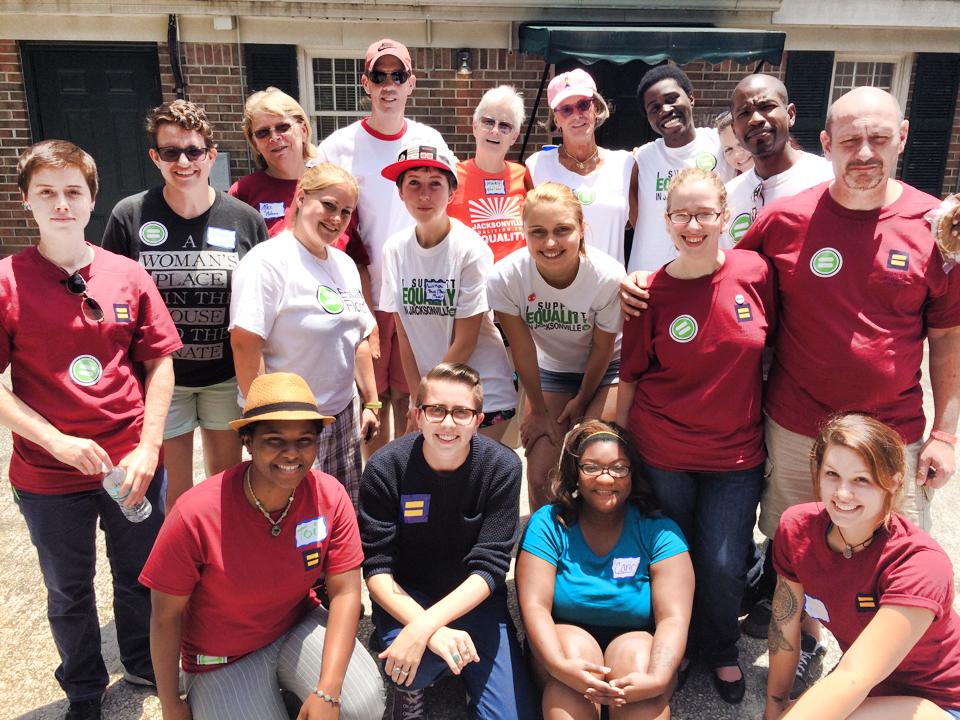 Saturday preceding the election brought the highest volunteer turnout rate, a whopping 20 volunteers showing up for the morning training. Overall we were able to schedule over 200 volunteer shifts. The impressive volunteer turnout throughout the month allowed us to divide and conquer the city by foot. Volunteers offered their stories and support, creating a team with a large heart and purpose.
We remained organized throughout the insanity of Get Out The Vote season. We were even able to feature volunteer events that outlined different minorities within the LGBT community, defining their specific and integral place in the progress toward passing an all-inclusive ordinance. Community leaders co-led volunteer events steered toward strengthening the Trans/Genderqueer, QPOC and recovering community members. These events were dual-purposed, creating an educational open forum that led into phone banking. Phone Banks were held every weeknight in the EQFL office.
Utilizing volunteer phone banks in conjunction with paid callers, we were able to dial over 10,000 local numbers of voters and potential volunteers. Canvassing efforts were wildly successful. We were able to hit nearly 6,500 Jacksonville homes. Paid and volunteer canvassers were able to hit 150 homes during each of their scheduled shifts, working two per day. We averaged around 5 canvassers per day, with days far exceeding that boundary. We were able to target areas that needed that most attention using a program called America Votes Van, focusing on those who support the ordinance and are registered to vote. We were able to make sure LGBT and ally voices were heard through their vote.
Looking at final impact results, Equality Florida and neighboring allies were able to attend over 30 community events and reach thousands of voters. The spectrum of participation in May was vast and diverse, attending meetings for all like-minded organizations created bonds that will be vital in the next steps toward passing the all-inclusive ordinance.
This election season served to promote equality and strengthen the LGBT and allied communities in Jacksonville. The Jacksonville Coalition for Equality is highly focused now that we know exactly what the council is comprised of. All of the tiring days were well worth it as May 19th finally arrived. Numerous city council candidates pledged to support the HRO in agreeance that discrimination needs to come to an end in Jacksonville. After receiving election results, we are now able to feel secure that at least ten council members pledge support for the HRO. The battle continues to move forward as we work on putting the ordinance before council and gaining those votes.
The job is far from done and the next level will bring a world of new challenges and opportunities. Let's keep working to Pass that HRO!