We Are Straight Allies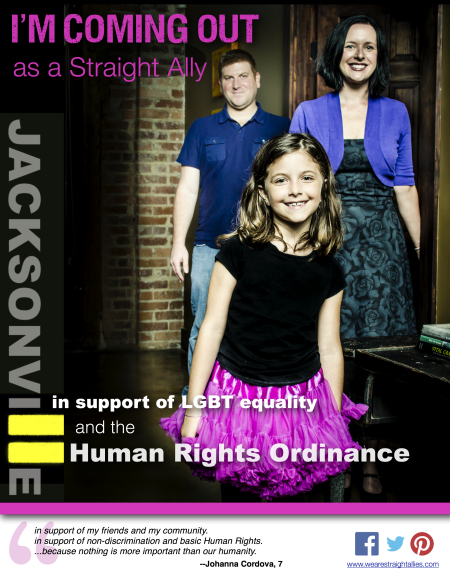 Equality Florida has been on location in Jacksonville working to pass a fully-inclusive Human Rights Ordinance (HRO), an anti-discrimination policy based on sexual orientation and gender identity or expression. Equality Florida has been working in partnerhsip with the Human Rights Campaign and the Jacksonville Committee for Equality. Together we have been overwhelmed with support from the community. We canvassed and spoke at several organizations' gatherings and venues such as the Riverside Arts Market, Beaches Town Center, the LGBTQ Resources Center at the University of North Florida and their Pride student union, First Fridays, and the Unitarian Universalist Church! Thus far, we've collected over 1000 pledges from our community, many of whom have signed up to volunteer to help spread the support. Stemming from the Jacksonville Committee for Equality, we also work closely with the We Are Straight Allies campaign. To pass this HRO, we will all need to work together, including our straight allies.
Their mission:
"We Are Straight Allies seeks to inform, educate, engage and "call to action" the business, faith-based, military, government, nonprofit, educational, arts and private sectors as we move towards passage of a comprehensive policy that protects the LGBT community against discrimination. We aim to reaffirm those who currently support fundamental human rights for all citizens and to further engage those who are ambivalent, voted against the ordinance, or who are uninformed about the real challenges that face members of our LGBT community."
Working with them has already given us the opportunity to have open conversations with straight allies about the importance of passing this bill and why we need their help. It has also given hope and motivation to the LGBT community, sending a message that says, "we're in this together." Visit their website at www.wearestraightallies.com and sign the pledge! www.eqfl.org/jax/straightallypledge.
Check out their Facebook page: www.facebook.com/wearestraightallies
If you have an organization or are an individual who would like to volunteer or have us visit your event please contact Jess Osborn, Statewide Outreach Coordinator for EQFL, who is on location, at [email protected]. We also offer internships.