Jacksonville HRO Town Halls Moving Forward!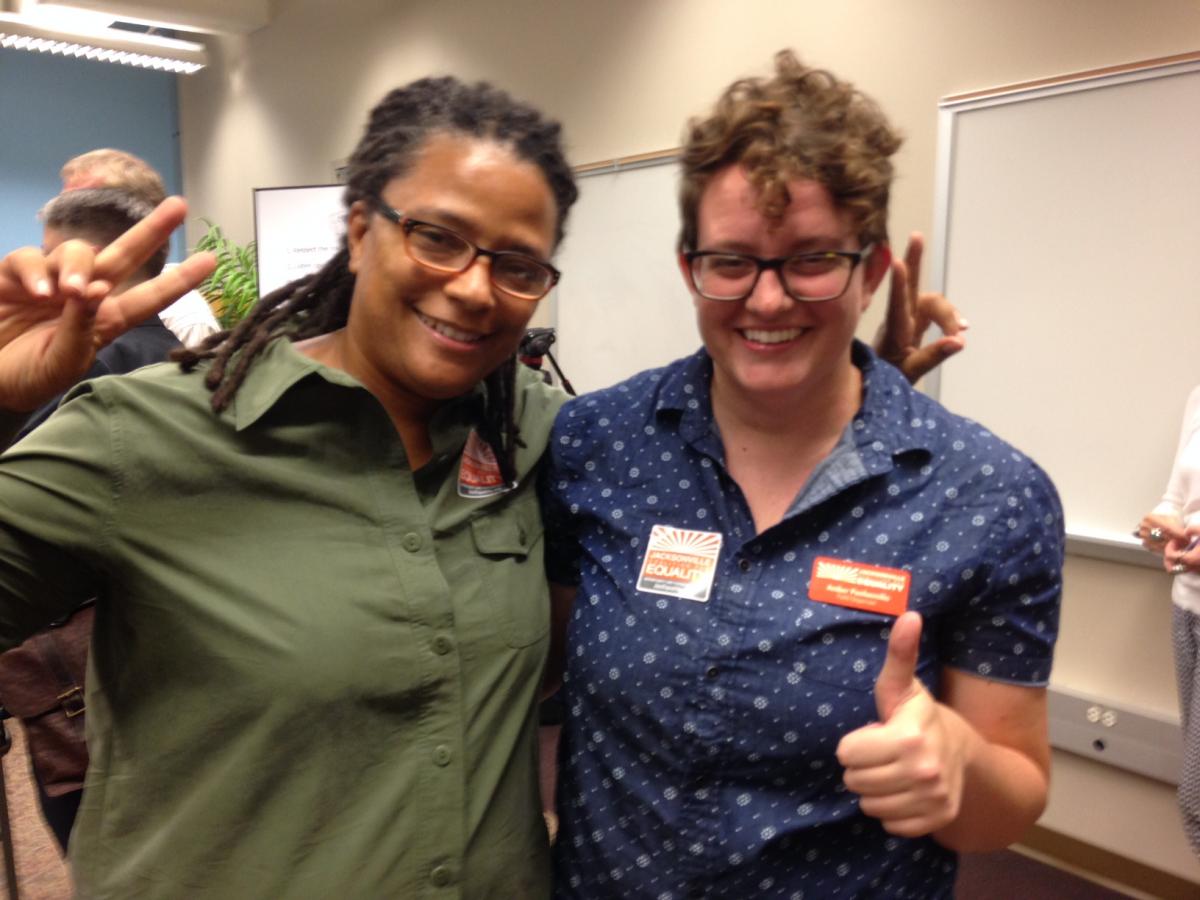 Every day more community leaders, business owners and faith leaders are stepping up to support LGBT equality in Jacksonville. Even opponents of the HRO in 2012 have now acknowledged it's time for an updated Human Rights Ordinance. Help us keep up the momentum by attending one of the December HRO town halls. RSVP to the town halls by clicking here.
Tuesday, November 17th was the first of three mayoral community forums on the HRO. Nearly 300 pro-equality supporters attended the event! Our team worked hard to RSVP hundreds of people, confirm their attendance, and help the crowd feel prepared to show their support.
A panel of six "experts" from both sides of the debate answered questions and then responded to audience testimony. One highlight of the evening was when an 11 year old girl asked the mayor directly if he should support an HRO. She mentioned a letter she wrote to the mayor in June that he still has not answered. We know the mayor is taking notice of all the Jacksonville residents who are in support of updating the Human Rights Ordinance to include LGBT people, and we admire this young girl's courage and advocacy!
Another highlight of the evening was when one person asked the audience to raise their hand if they've ever faced discrimination in Jacksonville. Dozens of hands went up in response. That was a chilling moment for our team and every attendee, and served as a visual reminder of the urgent need for this HRO.
Lastly, women's groups, law enforcement, families, and transgender, and gender nonconforming folks came from all over town to share their stories, ask questions, and show the mayor the overwhelming support for equality in Jacksonville. To people from all walks of life reminded our team just how much this HRO can and will affect all of us by making our city safer and more inclusive.
Tuesday proved to be a wonderful kickoff to what I know will be a successful campaign. Tons of supporters showed up- and the mayor took notice. But, our work isn't done. We have to continue the momentum and show the mayor why every citizen in Jacksonville deserve the opportunity to work hard, earn a living, and provide for themselves and their families. If you've been thinking of getting involved- now is the time!
Join us, along with the Jacksonville Coalition for Equality, for the second community forum to discuss the Human Rights Ordinance: "Religious Freedoms, Thoughts, and Beliefs" on December 3rd. RSVP by clicking here.