Help Elect Pro-Equality Candidates!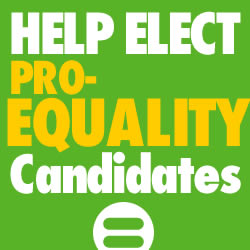 The Council of 1000 is a growing team of donors who have committed to donating at least $1,000 each major election cycle directly to candidates who will fight for the full legal rights of the LGBT community.
As a Council of 1000 member you'll get in-depth analysis of top races in the state where your donation can have the biggest impact.
Whether we are backing the first openly LGBT candidate to win a State Senate race or protecting a longtime straight ally from an anti-gay challenger, the Council of 1000 will ensure that donors can invest wisely in races where every dollar makes a difference.
Join Today - It's Free!
There is no cost to join the Council of 1000
You choose who to support
You give directly to your candidates
As a member of the Council of 1000 you'll receive:
Candidate Spotlights - analyzing key races across the state
Invitations to Briefing Calls where you'll hear from and ask questions of top candidates
Invitations to Candidate Events in your area.