Written By: Connie Siu, Equality Florida Field Intern, Orlando, Florida.
Equality in Lake City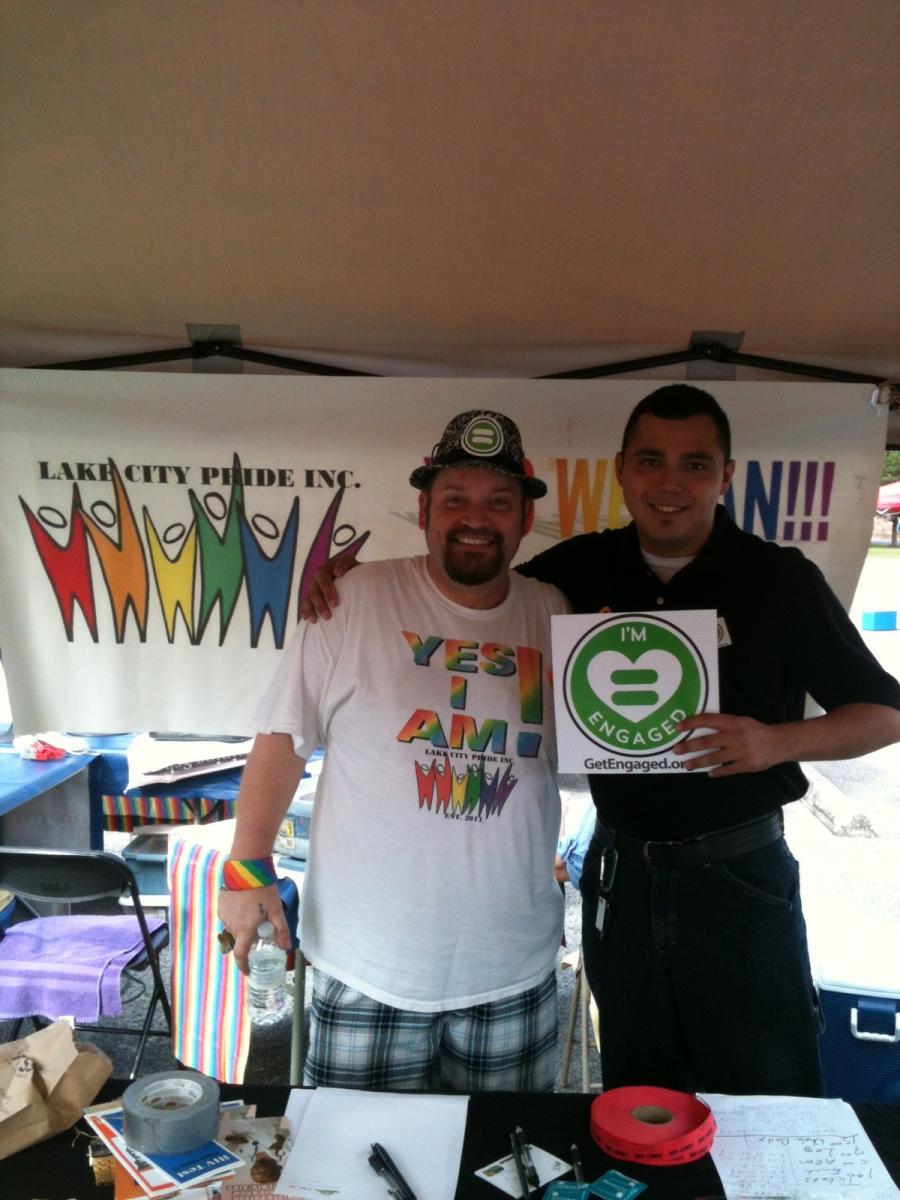 Lake City is located in North Florida about one hour away from Gainesville and Jacksonville. This small town recently had their third annual pride in downtown Lake City. Many businesses, LGBT organizations, and Florida Gateway College's GSA came out and showed their pride and support for this wonderful event. This was a great feat considering the severe lack of support for LGBT rights in Columbia county. Jason Futch, Vice President of Lake Pride Inc., said, "I founded Lake City Pride in 2011 because I truly believe in a bright future for Columbia County's LGBT citizens; and that the community could get together and understand the importance of being gay in North Florida."
I had the opportunity to speak about Equality Florida's "Get Engaged" campaign (www.getengaged.org). I spoke about how we're winning the fight for marriage equality in Florida, but also how far we've still got to go to achieve and secure full equality and justice for Florida's LGBT citizens. I also spoke about the need to pass a human rights ordinance, which adds sexual orientation and gender identity or expression to the anti-discrimination policy so that people are protected from being fired, denied housing and public accommodation simply because of their sexual orientation and gender identity. Many people at the pride didn't know about this fact. One Lake City citizen said he believes he was fired from his job because of his sexual orientation. His boss told him multiple times to "tone down the gay." Jason Futch comments: My friend was fired from his job because of his sexual orientation; something that I have always found to be the most heinous thing to do to someone who has put all of his or her effort into their job. They try their hardest to do great, and they do; but their orientation is not good enough for the business. It's wrong and immoral to fire someone because of that. Things need to change in Columbia County; and the best way to do it is to get a Human Rights Ordinance in the county charter!
LGBT people and straight allies alike are engaged in this important work and realize that if they want justice and equality secured, they have to go out and engage the community in this work. To make sure of this, activists are going out and networking gay friendly Lake City businesses together, getting pro-equality candidates elected for a human rights ordinance push, making sure pride happens every year, and coordinating rallies and events geared toward LGBT rights in Lake City.
I loved attending Lake City's pride event. This wonderful community was filled with some of the nicest people I've met in my lifetime! Thank you to Michael Polk and Jason Futch of Lake City Pride, Inc. and the Irene Wertley of Keipsake Body Emporium for hosting me. 137 people signed our pledge in support for marriage equality. Let's join Lake City in the fight for marriage equality and combat discrimination. Let's fight hate with love, education, and advocacy!