Equality Florida goes hardcore with Against Me!
Last week, Equality Florida staff members unintentionally (and super excitedly) became band groupies as we followed acclaimed band Against Me! around the state, tabling and canvassing at their concerts here in Florida. The frontwoman of Against Me! is a transgender woman named Laura Jane Grace, and the band's most recent album is titled, "Transgender Dysphoria Blues." Needless to say, most Against Me! fans are familiar with the LGBT experience, albeit generally, and so many people we spoke to articulated their support for Laura throughout her coming out journey. However, there is still a lack of awareness around the everyday discrimination that LGBT people still face here in Florida in employment, housing, and public accommodations. Equality Florida was so excited to speak with these concert attendees and demonstrate that #DiscriminationExists, and we'll need all hands on deck to pass the Florida Competetive Workforce Act, putting an end to this discrimination once and for all.
Below are personal accounts of the Tampa and Gainesville Against Me! concerts, written by three of our rockstar interns. I think they sum up the experience perfectly, and I was so proud watching our team work the crowd, articulately and passionately talking about EQFL and the important work we do!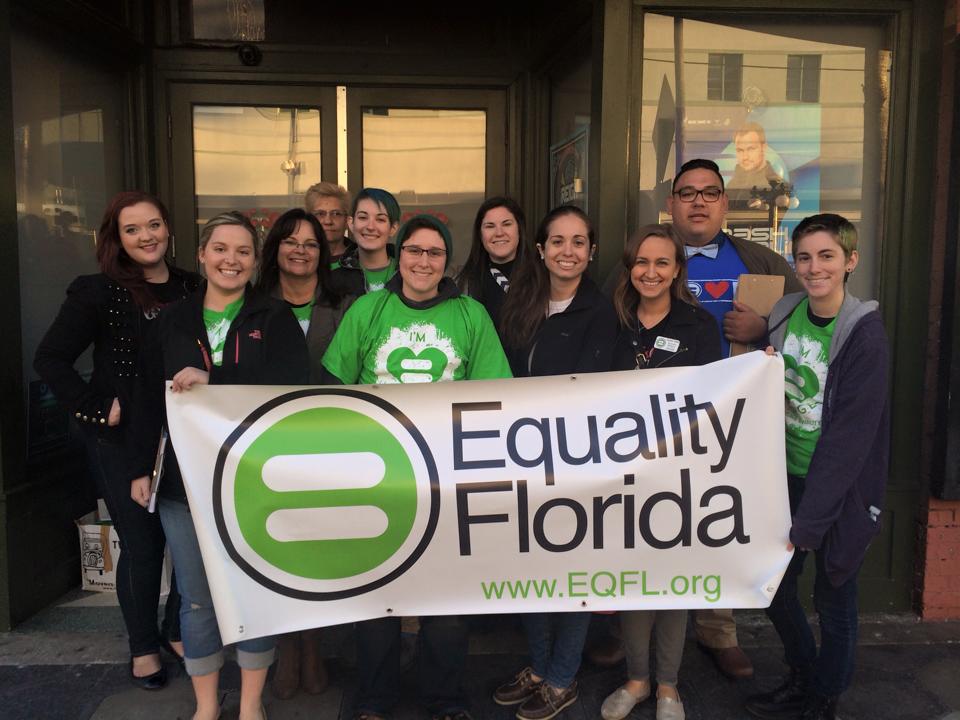 Lauren Ingledue, Tampa Intern:
As a new intern with Equality Florida, my first canvassing experience took place at the Against Me! concert in Tampa with the task of gathering support for the Florida Competitive Workforce Act. With no experience in community outreach activities, this task intimidated me. I feared I lacked the knowledge to connect to my audience and I dreaded the possible negativity of others. However, with the support of Equality Florida's employees as my leaders and the help of other passionate volunteers, my first experience crushed these fears. With almost no negative responses, the individuals I encountered patiently listened and willingly signed to help us stop discrimination. Before I became one myself, when an activist stopped me on the street, I was neither impolite nor receptive to their cause, but simply continued on my way. This experience altered my previously unintentional lack of appreciation for the hard work and dedication of activists. While I always respected those who fought for equality and considered myself an ally, after this opportunity, I have a stronger understanding of their efforts and I am unbelievable excited to be a member of this movement.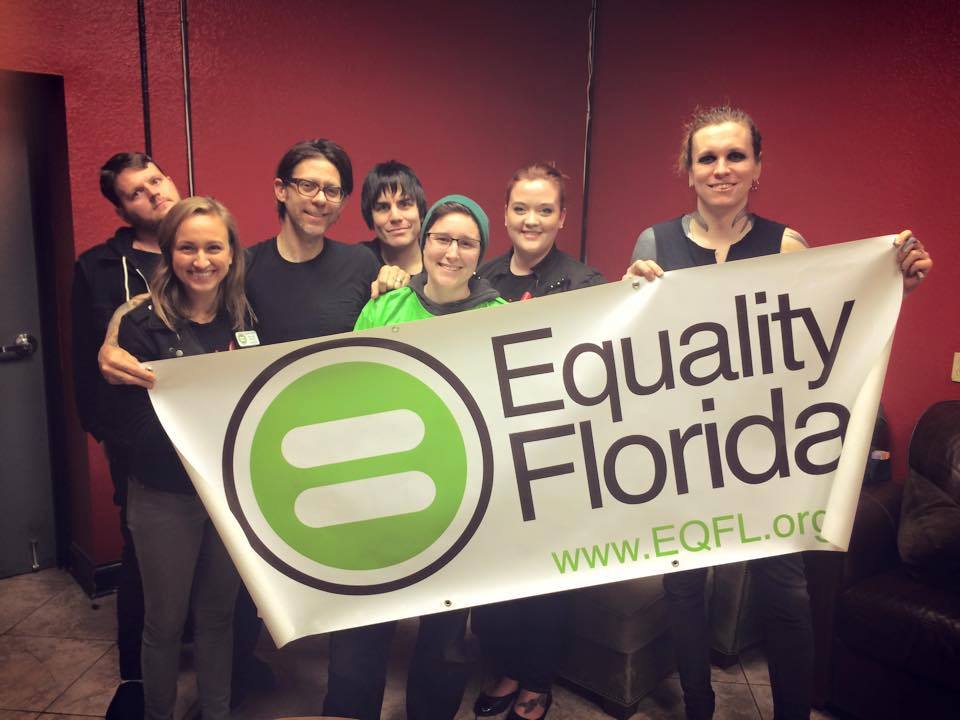 Eli Jackson, Tampa Intern:
Wednesday night, Equality Florida and a team of volunteers were at the Against Me! concert at The Ritz Ybor. We has a blast talking to concert attendees and staff about the Competitive Workforce Act and what Equality Florida is doing for the community. Some of our volunteers started out a little nervous approaching the crowd but we were soon overwhelmed with the kindness and overwhelming support we received. To our surprise the venue right next door was hosting a huge lesbian wedding and it was an amazing sight to see so many Equality Florida stickers on tuxes and gowns right beside jean jackets and 8 inch mohawks. The best part of the night had to be when we had the opportunity to meet the band including the beautiful and very punk rock Laura Jane Grace. Just one of the many perks of working with such an amazing group of people.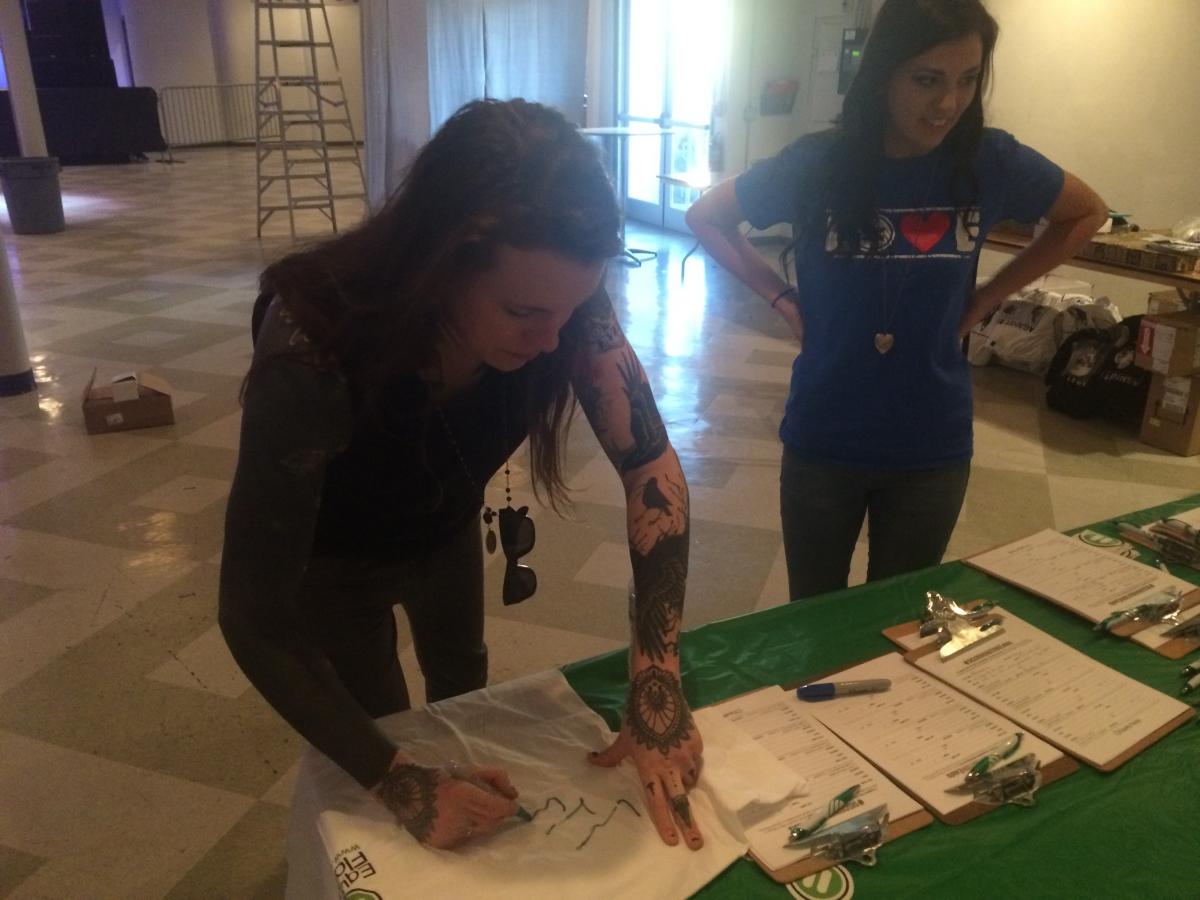 Mackenzie Hagen, Gainesville Intern:
On the notoriously unlucky day Friday, February 13th, Equality Florida set out to gain support for the Competitive Workforce Act at the amazing Against Me! concert and had the best of luck. This was my first canvassing experience, but being a huge fan of punk-rock I felt right at home in this crowd. I felt a connection with so many of the concert attendees and I was thrilled when I was met with the same passion for equality from so many. I had a great conversation with one woman in particular who was visiting from out of state and shared with me her struggle of being transgender in a state that relentlessly attempts to pass anti-transgender laws. I'm so thankful to have had this experience working with Equality Florida and to be a part of this important movement that will have an enormous impact on so many lives.