Does Your Mayor Support the Freedom to Marry?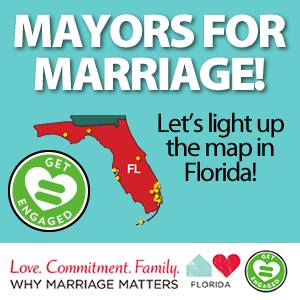 Florida is a massive state with approximately 400 mayors serving the wonderful citizens who call this sunny state home. And it is my job to get those mayors to support marriage equality.
My name is Jordan and I am the Public Policy intern for Equality Florida in Gainesville. For the past two weeks, I have reached out to all the current mayors of Florida asking them to sign onto the Mayors for the Freedom to Marry campaign to show that they are supporters of marriage equality for all.
As a resident of this beautiful state, I went into this project expecting a copious amount of Florida mayors to either already be signed onto the campaign, or to sign on with haste. However, from the start of this project, only 32 mayors (out of 400) throughout all of Florida had signed onto this campaign and after contacting all the mayors of Florida. With marriage equality being such a salient issue throughout the nation, all of our mayors need to step up as leaders on this issue.  
Together, we can spread how important this cause is to us, the residents of Florida. While undergo the task of calling each Mayor's office, I ask you to contact your own mayor to tell them why marriage equality is important to you and why they should sign onto the Mayors for the Freedom to Marry. When we all work together for this cause, mayors across Florida will hear our voices.
Mayors for the Freedom to Marry is a national campaign that aims to rally the support of individual mayors to show that they back marriage equality for all. The goal is that a large portion of mayors across the state will show support for this cause. By doing so, our state officials will begin to see how much support exists in every corner of our state for marriage equality.
I personally feel that it is important for all mayors to sign onto the Mayors for the Freedom to Marry campaign for a number of equally important reasons. Diversity within a community can have a very positive impact as it fosters creative thinking, innovation, and brings new entrepreneurs and business. By supporting this campaign, mayors across Florida will create a positive and attractive environment for people to work and live in that is shaped by these concepts of diversity and innovation. By signing onto this campaign, mayors will also show respect to same-sex couples and their families who live and contribute to the civic life in their community on a daily basis.
If your mayor has not signed onto the Mayors for the Freedom to Marry campaign, you can petition for them to sign on at:
http://www.freedomtomarry.org/pages/mayors-for-the-freedom-to-marry