Meet The Interns: Shavion Robinson
Shavion Robinson
(Field Intern - Jacksonville Office)
1.     Tell us a little about yourself.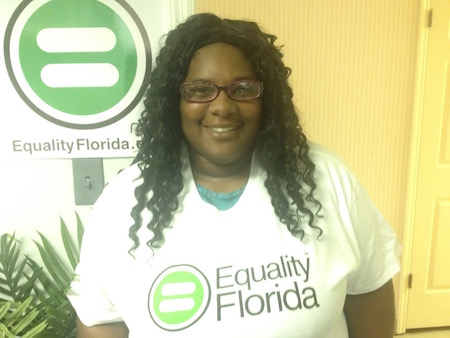 My name is Shavion Robinson, I'm 24 years old and am a married lesbian. I've been married for one year. I'm from Jacksonville, Florida. I've lived here all my life, except when I was in the job corps for a year when I lived in Kentucky. My hobbies are music, art, cooking, reading, going to the beach, and volunteering.
2.     Why are you involved with LGBT activism?
I'm involved with the LGBT community because I myself am a part of the LGBT community. I would like the for our community to have the same rights as everyone else. I feel strongly about the equal rights for all.
3.     Why did you want to intern at Equality Florida?
I chose to intern with Equality Florida because I support the work they do. Also I would like to be part of something much bigger than myself. I'm hoping that this internship will help get me to a place where I can work for EQFL. I just want to be part of an amazing staff.
4.     What are your plans after you graduate?
I am not currently in school but I would like to return some day soon. I'd like to take up something new to better myself for the future. I'd love to get the right education for a position at Equality Florida.