ALERT! Send the Message that Biogotry is no way to win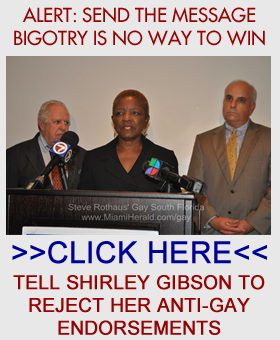 No candidate should appeal to homophobia or attack our families for political gain. But when one does, it's important that we speak up.
Recently Miami Dade Commission District 1 candidate and sitting Miami Gardens Mayor, Shirley Gibson, threatened to "review" the human rights ordinance and domestic partnership registry if elected.
Tell Shirley Gibson that appealing to anti-gay bigotry is no way to win.
During a press conference held by the Christian Family Coalition and Catholic Cultural Fund, Gibson announced she will seek a "cost review" of the two ordinances that protect gays and lesbians from discrimination in work and housing, and also provides health benefits for same-sex and opposite-sex domestic partners.
Send Shirley Gibson an email, let her know that her appeal to homophobia or attack our families will not go unnoticed.
Her commitment to do a "cost review" isn't simply a vague threat. Miami-Dade County has a long history of enduring attacks on LGBT equality led by extremist far-right groups like the Christian Family Coalition. When Gibson committed to place gay and lesbian rights up for review, she signaled to all anti-equality voters that she was standing with them.
Miami Dade has worked for decades to be an inclusive and welcoming place for LGBT people and we won't let anyone turn back the clock. Click here to pledge to vote on August 14 and to tell Shirley Gibson to reject anti-gay bigotry.
Please share! Forward this to your circle of friends. Post it to your social network. Make sure that our voices are heard.